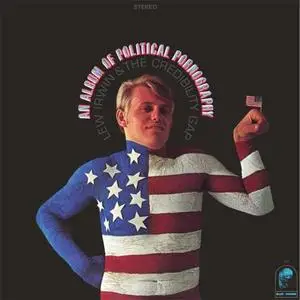 Lew Irwin & The Credibility Gap - An Album Of Political Pornography (vinyl rip) (1968) {Blue Thumb}
MP3 CBR 320kbps | RAR | 91 mb
Genre: comedy
An Album Of Political Pornography
is the 1968 debut album by Lew Irwin & The Credibility Gap, who began by doing news-oriented skits on the radio. Along with Irwin, The Credibility Gap consisted of John Gilliland, Thom Beck, Len Chandler, and Richard Beebe. Beck would leave the group, who was replaced by Harry Shearer. Irwin then left the project, who was replaced by David L. Lander, which would help the Gap enter its next, more popular and familiar phase. Despite the title,
An Album Of Political Pornography
does not feature any pornographic material whatsoever. The album was released by Blue Thumb Records.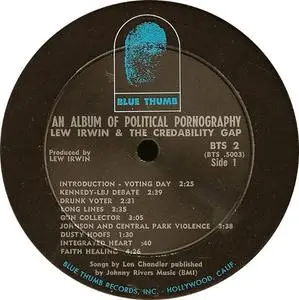 1. Introduction - Voting Day 2:25
2. Kennedy - LBJ Debtae 2:39
3. Drunk Voter 2:31
4. Long Lines 3:35
5. Gun Collector 3:05
6. Johnson And Central Park Violence 3:38
7. Dusty Hoofs 1:30
8. Integrated Heart 0:40
9. Faith Healing 4:26
10. Icarus 2:52
11. Abominable Snow Man 3:22
12. Soul On Ice 3:02
13. Poway 2:43
14. Conventional Convention 3:26
15. Nixon-Agnew Dealer 1:42
16. Humphrey Vs. Demonstrators 4:54