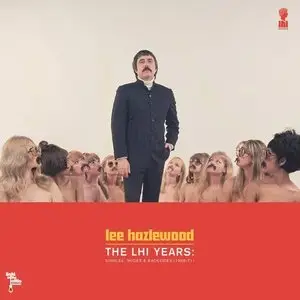 Lee Hazlewood - The LHI Years: Singles, Nudes and Backsides (1968-71) (2012)
Folk, Baroque Pop, Singer-Songwriter | MP3 320 kbps CBR | Cover | 53 min | 124 MB
Label: Light In The Attic | Rel: 2012
One could go off the rails trying to explain the odd genius of Lee Hazlewood. A born wanderer, a natural iconoclast, and a man who simply heard music his own way and was somehow able to sail the shark-infested waters of the music business on his own terms by out-sharking the sharks and doing what he pleased, Hazlewood defied easy definitions. He was a fascinating songwriter with a sort of desert Vegas cowboy vision of life, and he was a subtle, brilliant, and innovative producer in the studio, crafting recordings that had enough echo, space, and surprises that Phil Spector viewed him as a mentor. Hazlewood was every bit as eccentric as Spector, too, and at the close of the '60s, he suddenly moved to Stockholm, started his own label, LHI (Lee Hazlewood Industries), and turned out a fair amount of extremely interesting material, most of which wasn't even remotely aimed at commercial success. Light in the Attic Records has begun an archival reissue series of some of these rare Hazlewood sides, and this set, which covers 1968 to 1971, is the first of these. With a sparse and yet somehow strangely lush production sound full of reverb and echo, spooky strings, and hushed percussion, Hazlewood sounds here like a resigned and weary ex-patriot cowboy version of Leonard Cohen crossed with Sun Records-era Johnny Cash, all of which would make these recordings simply curios if the songs weren't so good and they're good. "No Train to Stockholm" is brilliant, and so, too, is the bleak beauty of "If It's Monday Morning" and the weary wisdom of "I Just Learned to Run." Hazlewood manages to sound resigned, lightly disgusted, heartbroken, and deathbed wise as he sings his way through these songs, none of which ever hit anywhere near an AM radio station. It's easy to be excited for more volumes in this series after hearing this one.
Tracklist:
01. Califia (Stone Rider) (02:48)
02. The Bed (02:42)
03. Sleep In The Grass (03:22)
04. Leather And Lace (03:08)
05. If It's Monday Morning (04:02)
06. The Night Before (03:18)
07. Bye Babe (03:38)
08. Victims Of The Night (02:39)
09. Chico (02:42)
10. Hey Cowboy (03:22)
11. No Train To Stockholm (02:23)
12. Won't You Tell Your Dreams (03:57)
13. Nobody Like You (02:57)
14. Trouble Maker (02:32)
15. What's More I Don't Need Her (03:37)
16. Come On Home To Me (03:01)
17. I Just Learned To Run (03:05)