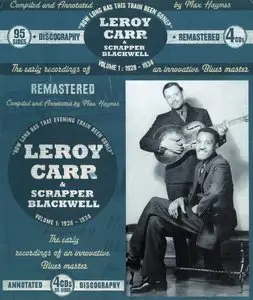 Leroy Carr & Scrapper Blackwell - Vol. 1, 1928-1934 How Long Has That Evening Train Been Gone (2008) [BOX SET]
Mp3 (CBR 320 kbps): 709 Mb | Original Release Date: April 14, 2008 | Covers | Number of Discs: 4 | Audio CD (May 13, 2008)
Format: Box set - Label: Jsp Records (Catalog # JSP77104 ) - ASIN: B0014VBUAI
Blues
Product Description: The very first complete set on Leroy Carr who was a hugely influential early blues artist who can be credited with creating Urban Blues and who gave the music a sophisticated edge that would be taken up by many future artists. This is where Rhythm & Blues started! Leroy Carr was also a huge influence on Robert Johnson. Over the course of its four discs and 95 songs, this box set tells you pretty much all you could wish to know about pianist Leroy Carr and guitarist Scrapper Blackwell. They did plenty of solo work during this period, but between 1928 and 1934 they were also one of the most successful blues duos in America. Though this comprehensive collection is described as "early recordings," there's not much more to the pair's story, since Carr died in 1935, driving a mournful Blackwell into decades of retirement. From the classic "How Long, How Long Blues" to later sides like the sorrowful "Blues Before Sunrise," Blackwell's jazz-schooled guitar licks and Carr's urban piano style combined for a more sophisticated sound that foreshadowed blues's eventual move from the country to the city.




Review (credits to Jeff on http://sundayblues.org/): While there are no shortage of Leroy Carr collections on the market now it wasn't always the case. It was at the Jazz Record Center in Manhattan when I got my hands on the out-of-print Blues Before Sunrise LP which I grudgingly forked over 25 dollars for - a good chunk of money in my teenage years. A couple of weeks later I made my weekly trip down to my favorite record store, Finyl Vinyl on Second Ave. only to be confronted with a an exact reissue of the album for a third of the price. It didn't help my ego when I related the story to the guy behind the counter who promptly snickered to his partner - "Hey this kid just paid 25 bucks for this record!" I'll try not to let that experience cloud my judgment of JSP's Leroy Carr & Scrapper Blackwell Volume 1: 1928 - 1934.
JSP's hefty low-priced sets are hard to resist although it begs the question do we really need another Leroy Carr collection? My answer is a resounding maybe. Those who need all 120 sides probably already own Document's six volume series which was issued in 1992 (several test pressing appear on another collection) with rather indifferent sound. For non-completists there have been several 2-CD collections including the unfortunately out-of-print Sloppy Drunk on Catfish sporting 44 of his best numbers well remastered, The Essential Leroy Carr on Document with much superior sound and the surprising 2004 major label release of Whiskey Is My Habit, Women Is All I Crave with 40 superbly remastered cuts. In fact the Columbia boasts the best sound, outside of a couple of murky transfers, and is the standard others should be judged. So how does the JSP stack up? First I should say that I've been a bit ambivalent about JSP's remastering; they generally do a decent job removing surface noise which usually result in a significant upgrade to Document although in fairness to Document, JSP probably has better masters to work with. That being said JSP's remastering at times is a bit heavy handed, removing noise but not showing all that much sensitivity to the music itself in contrast to say a label like Yazoo. JSP has done quite a good job with the Carr material, in most cases significantly improving on Document but also besting the Catfish. JSP has submerged the noise quit a bit although some transfers are a bit muddy. At times the JSP comes close to the Columbia in overall sound and in many cases their transfers offer less noise but less noise doesn't necessarily mean better. Columbia, like Yazoo, doesn't seem as worried about surface noise as saying extracting the best, clearest sound from the grooves which is preference I share. Hence overlapping songs such as "Straight Alky Blues Part 1?, "Corn Licker Blues", "Gambler's Blues" and "Prison Bound Blues", to name a few examples, have less noise on the JSP but Columbia's transfers sound brighter and more lively.
Now as for the artistry of Leroy Carr and Scrapper Blackwell there can be no denying the remarkably high level of quality they achieved over the course of their eight year recording partnership. The duo would inspire many imitators but as Paul Oliver noted their music seemed merely an "echo" of Carr's "fatalism." Indeed Carr was a singer of rare poignancy, delivering his heart-worn tales of loneliness, no good women, drinking, jails and trains with a conversational tone that spoke directly to the listener. There's an almost palpable ambiance of sadness and longing on numbers that show a poet's touch; songs such as "Alabama Women Blues", "Midnight Hour Blues", "Gone Mother Blues", "Hurry Down Blues" and "Blues Before Sunrise" to name but a few. Tony Russell eloquently writes that these songs "distill the raw liqueur of grief into a spirit of complex and lingering flavor." Carr had the good fortune to record with Scrapper Blackwell who's ever tasteful ringing single string work was a perfect foil to Carr's sedate piano work and melancholy vocals. It might even be said that Carr's records would be much more conventional if not for Scrapper's ever lively playing. While the bulk of the duo's output was slow to medium tempo they were more than capable on buoyant material like "There Ain't Nobody Got It Like She Got It", "Court Room Blues" and "Baby Don't You Leave Me No More." One of the pleasures of listening to these recordings in their entirety are the surprising variety of songs tucked in with the mostly conventional twelve bar blues such as the bouncy hokum of "Papa's on the House Top", "Carried Water for the Elephant" and "Papa Wants To Knock A Jug", pop oriented material like "Hold Them Puppies" and "How About Me" which anticipates 1940's crooners like Cecil Gant and certainly Nat King Cole, to the stop-time scat chorus of "Naptown Blues" to some wonderful uptempo duets such as "Gettin' All Wet" and the marvelous "Memphis Town."
As the Volume 1 in the title suggests this is not Carr's complete output with the remaining thirty or so sides set for the second volume. There's much to be looked forward to including gems like "I Believe I'll Make A Change", "Barrelhouse Woman No.2?, "Big Four Blues", Shinin' Pistol", "Bread Baker" and "When the Sun Goes Down." I presume that in addition to the remaining Carr sides the next volume will include the some two-dozen sides Scrapper cut under his own name, possibly some of the session work he did with other artists and perhaps some of his fine post-war work. Max Haymes provides the set's notes and while he's certainly done his research they come off as rather dry and academic, the same problems that plagued his notes to the Ma Rainey JSP set. Oh and if you couldn't tell he has an obsession with railroads (yes he wrote a book on the subject), an obsession that seems to overshadow Carr and Blackwell's narrative.
Very few artists can hold up artistically or for that matter for sheer listenability when their records are compiled chronologically and in their entirety. The records of Leroy Carr and his contemporaries were meant to be savored one 78 at a time and while I don't have the stamina to listen to Carr's oeuvre at length, listening at long stretches is a rewarding experience and only deepens my respect for his artistry. More urbane, popular blues singers like Carr, Lonnie Johnson and Tampa Red often get pushed aside in favor of the obscure, rougher voice artists of Mississippi as though their unpolished sound and obscurity equates to more authenticity. Nonsense of course but a view that still persists; there was obviously something artists like Carr had that made a deep connection with the thousands who bought their records and their opinion shouldn't be discounted. In that light it's worth quoting the following lines from the May 4th edition of the Indianapolis Recorder just days after Carr's untimely death: "Thousands of persons thronged the Patton Funeral Home Thursday afternoon for one last look at the man whose bizarre combination of bluish notes struck a deep sympathetic response in the souls of thousands of colored people throughout the country." Amen.
Track Listing
Disc A
01. My Own Lonesome Blues [0:03:03.42]
02. How Long, How Long Blues [0:03:08.18]
03. Broken Spoke Blues [0:03:00.21]
04. Tennessee Blues [0:03:03.18]
05. Truthful Blues [0:02:55.69]
06. Mean Old Train Blues [0:03:02.43]
07. You Got To Reap What You Saw [0:02:53.44]
08. Low Down Dirty Blues [0:03:07.38]
09. Box Car Blues [0:03:12.11]
10. How Long, How Long Blues N°2 [0:02:47.36]
11. How Long, How Long Blues N°3 [0:03:11.51]
12. Baby Dont'You Leave Me No More [0:03:15.27]
13. Tired Of Your Low Down Ways [0:03:13.28]
14. I'm Going Away And Leave My Baby [0:03:08.67]
15. Prison Bound Blues [0:03:07.66]
16. You Don't Mean Me No Good [0:03:16.47]
17. How About Me [0:03:28.11]
18. Straight Alky Blues Part 1 [0:03:02.34]
19. Think Of Me Thinking Of You [0:03:08.00]
20. The Truth About The Thing [0:03:13.50]
21. Straight Alky Blues Part 2 [0:03:22.56]
22. Straight Alky Blues Part 3 [0:03:22.35]
23. Lifeboat Blues [0:03:01.07]
24. Gambler's Blues [0:03:09.40]
25. There Ain't Nobody Got It Like She Got It [0:03:21.67]
Disc B
01. That's All Right For You [0:03:17.62]
02. Wrong Man Blues [0:03:15.30]
03. Naptown Blues [0:02:46.27]
04. The New How Long Blues [0:03:07.24]
05. Love Rides All [0:03:02.01]
06. I Know That I'll Be Blue [0:03:22.22]
07. Gettin' All Wet [0:03:27.32]
08. Rainy Day Blues [0:03:22.43]
09. Blue With The Blues [0:03:28.01]
10. Just Worryin' Blues [0:02:52.01]
11. Baby You Done Put That Thing On Me [0:03:21.55]
12. I Won't Miss You When You're Gone [0:03:14.16]
13. Don't You Get Tired [0:03:07.20]
14. I'm Going Back to Tennessee [0:03:15.38]
15. Christmas in Jail [0:03:13.43]
16. Prison Cell Blues [0:02:49.55]
17. That's Tellin' 'Em [0:03:00.61]
18. Papa Wants a Cookie [0:02:44.44]
19. Memphis Town [0:02:49.44]
20. Don't Say Goodbye [0:02:55.62]
21. I Ain't Got No Gal [0:03:13.74]
22. Goodbye Blues [0:02:48.60]
23. The Dirty Dozen [0:02:53.32]
24. Workhouse Blues [0:03:17.17]
Disc C
01. Let's Make Up and Be Friends Again [0:03:11.55]
02. Let's Disagree [0:02:55.18]
03. Sloppy Drunk Blues [0:02:58.27]
04. Hard Times Done Drove Me to Drink [0:03:28.51]
05. Long Road Blues [0:03:13.47]
06. Jail Cell Blues [0:03:11.41]
07. Four Day Rider [0:03:03.26]
08. Alabama Women Blues [0:02:50.46]
09. Papa's on the House Top [0:02:58.02]
10. Carried Water for the Elephant [0:03:03.60]
11. Low Down Dog Blues [0:02:47.74]
12. Nineteen Thirty One Blues [0:02:59.54]
13. Love Crying Blues [0:02:59.31]
14. Papa's Got Your Water On [0:03:13.03]
15. Big House Blues [0:03:04.19]
16. How Long, How Long Blues Part 2 [0:02:49.37]
17. What More Can I Do [0:03:07.15]
18. Papa Wants To Knock A Jug [0:02:32.25]
19. How Long Has That Evening Train Been Gone [0:02:53.43]
20. Quittin' Papa [0:03:11.31]
21. Lonesome Nights [0:03:05.57]
22. I Keep the Blues [0:02:56.63]
Disc D
01. Gone Mother Blues [0:03:03.65]
02. Midnight Hour Blues [0:03:06.52]
03. Moonlight Blues [0:03:11.05]
04. The Depression Blues [0:03:04.53]
05. Mean Mistreater Mama [0:03:06.29]
06. Mean Mistreater Mama [0:02:56.24]
07. Mean Mistreater Mama No. 2 [0:03:29.23]
08. Court Room Blues [0:03:13.32]
09. Hurry Down Blues [0:03:35.59]
10. Corn Licker Blues [0:03:40.48]
11. Hold Them Puppies [0:03:38.63]
12. Shady Lane Blues [0:03:44.04]
13. Blues She Gave Me [0:03:03.16]
14. You Can't Run My Business No More [0:03:13.46]
15. Blues Before Sunrise [0:03:33.57]
16. Blues Before Sunrise [0:03:37.70]
17. Ain't Got No Money Now [0:03:10.55]
18. Sometimes I Feel Like A Motherless Child [0:02:44.31]
19. Sometimes I Feel Like A Motherless Child [0:02:43.61]
20. Stormy Night Blues [0:02:38.09]
21. Take A Walk Round The Corner [0:03:07.23]
22. Baby Come Back To Me [0:02:26.23]
23. Blue Night Blues [0:02:57.63]
24. My Woman's Gone Wrong [0:02:31.55]
Have a nice day.