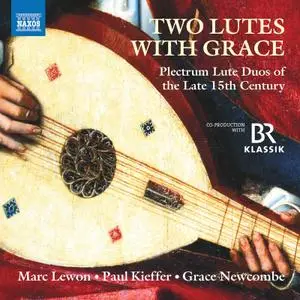 Marc Lewon, Paul Kieffer, Grace Newcombe - Two Lutes with Grace: Plectrum Lute Duos of the Late 15th Century (2020)
WEB FLAC (tracks+booklet) - 326 MB | Tracks: 31 | 61:37 min
Style: Classical | Label: Naxos
The plectrum lute duo was one of the most popular ensembles for professional instrumentalists in late 15th-century Western Europe. This recording presents for the first time the bulk of a surviving repertoire that can arguably be considered for the lute duo, performed on two equal plectrum lutes or with a combination of lute and gittern - a smaller member of the lute family. The album, inspired by the Ferrarese virtuoso Pietrobono dal Chitarino (c. 1417–1497), acclaimed in his lifetime as 'the foremost lutenist in the world', includes the earliest printed lute duos by Francesco Spinacino and Joan Ambrosio Dalza and the two-voice instrumental works by Johannes Tinctoris. The often highly ornamented instrumental duos are mostly reworkings of songs, some of which are given here in a performance with the singer Grace Newcombe to provide the context for the lute arrangements that follow.
Tracklist:
01. La Bernardina (Arr. F. Spinacino for Lute Duo)
02. Lute Duo (I)
03. Calata a doi lauti
04. J'ay pris amours (Arr. J. Martini for Lute Duo & Voice)
05. J'ay pris amours (Arr. for Lute Duo)
06. J'ay pris amours (Arr. F. Spinacino for Lute Duo)
07. De tous biens playne (Arr. Roelkin for Lute Duo)
08. La Spagna (Arr. for Lute & Gittern)
09. Alleluja, M 128 (Arr. for Lute Duo)
10. Je ne fay (Arr. F. Spinacino for Lute Duo)
11. Comme femme desconfortée (Arr. for Lute Duo & Voice)
12. Comme femme desconfortée (Arr. for Lute & Gittern)
13. Comme femme, M 144 (Arr. M. Lewon for Lute & Gittern)
14. Fecit potentiam, M 129 (Arr. for Lute Duo)
15. Fortune Alas (Arr. D. Fallows for Lute Duo & Voice)
16. Fortune Alas (Arr. for Lute & Gittern)
17. Fortuna desperata (Arr. F. Spinacino for Lute Duo)
18. Le souvenir, M 137 (Arr. for Lute & Gittern)
19. Juli amours (Arr. F. Spinacino for Lute Duo)
20. Tenor so ys enprentyd
21. So ys empretid (Arr. for Lute Duo & Voice)
22. Tout a par moy, M 138 (Arr. for Lute Duo)
23. Saltarello e piva: I. Saltarello (Arr. for Lute Duo)
24. Saltarello e piva: II. Piva (Arr. for Lute Duo)
25. Lute Duo (II)
26. D'ung aultre amer, M 143 (Arr. for Lute Duo)
27. De tous biens playne (Arr. J. Tinctoris for Lute & Gittern)
28. De tous biens playne (Arr. F. Spinacino for Lute Duo)
29. Gaudeamus omnes in Domino (Arr. for Lute Duo)
30. Mit ganzem Willen (Arr. M. Lewon for Lute Duo & Voice)
31. Mit ganzem Willen wünsch ich dir (Arr. C. Young & P. Kieffer for Lute Duo)


FILE: 01. La Bernardina (Arr. F. Spinacino for Lute Duo).flac
Size: 7790369 Hash: F81844B5E4F58C4E7E95C05174EABD98 Accuracy: -m0
Conclusion: CDDA 100%
Signature: 8E314617B558E5B2AC56A78E0FD41955CC378415
FILE: 02. Lute Duo (I).flac
Size: 9934304 Hash: CAAE69EF77B34C2AA146D21ED2E9423D Accuracy: -m0
Conclusion: CDDA 100%
Signature: 130F2B5361237857025B079B02FEB6F1A7920667
FILE: 03. Calata a doi lauti.flac
Size: 10191578 Hash: 0AEE1AEE0A5A22DCBFE44BBB236E9951 Accuracy: -m0
Conclusion: CDDA 100%
Signature: 4B6EF9F4376AE89B45BE05EE03F701E0D41679B5
FILE: 04. J'ay pris amours (Arr. J. Martini for Lute Duo & Voice).flac
Size: 23901299 Hash: 45DE129E9B5B52C4CD837E40E63105AB Accuracy: -m0
Conclusion: CDDA 100%
Signature: B1540755AEADADD04BBF4661AAB8425AD848BE60
FILE: 05. J'ay pris amours (Arr. for Lute Duo).flac
Size: 6737010 Hash: 1C86EBF30A697163380B7241B2BF00BE Accuracy: -m0
Conclusion: CDDA 100%
Signature: DC93D524FC8BDA38FBF2607E43EF3996989F253F
FILE: 06. J'ay pris amours (Arr. F. Spinacino for Lute Duo).flac
Size: 8270849 Hash: 93DC66B1B66981C2A4E81E5EB50F7C63 Accuracy: -m0
Conclusion: CDDA 100%
Signature: 8DF842241958FA2C7A3D5E2B8F1ACF8348E8350B
FILE: 07. De tous biens playne (Arr. Roelkin for Lute Duo).flac
Size: 6576681 Hash: F9D8B1C9E0B2C290BBD2F20A7DC0AB16 Accuracy: -m0
Conclusion: CDDA 100%
Signature: C459F47C9CA7540D85DA85DB3DEA2BE89210F90D
FILE: 08. La Spagna (Arr. for Lute & Gittern).flac
Size: 6987187 Hash: 5B3C7B44196765B8AB2EFE1D14FEE279 Accuracy: -m0
Conclusion: CDDA 100%
Signature: 1DD34094775E932AF4DE57D7F3D9395C3E100C85
FILE: 09. Alleluja, M 128 (Arr. for Lute Duo).flac
Size: 10068914 Hash: CBD3D312E86BB41280586956D8A1F2C1 Accuracy: -m0
Conclusion: CDDA 100%
Signature: 0E256E3BE707813E275024F6536D361030F0F43D
FILE: 10. Je ne fay (Arr. F. Spinacino for Lute Duo).flac
Size: 8478344 Hash: FD7090D7C29313C77E370019B6F71CE3 Accuracy: -m0
Conclusion: CDDA 100%
Signature: 2F1F7517AED00DA5E0F50AEE332D22D4FBCAE730
FILE: 11. Comme femme desconfortée (Arr. for Lute Duo & Voice).flac
Size: 25481168 Hash: B9DB408462743EEA90B0BBD852B069AF Accuracy: -m0
Conclusion: CDDA 100%
Signature: BF2C73AB831BAA99770C5328B994AA7340CAEF10
FILE: 12. Comme femme desconfortée (Arr. for Lute & Gittern).flac
Size: 8821183 Hash: A41728DBFA911D17919240E2A60B3162 Accuracy: -m0
Conclusion: CDDA 100%
Signature: DCCEC37C109AE18CF035E43C2C9D357A3B3D91B8
FILE: 13. Comme femme, M 144 (Arr. M. Lewon for Lute & Gittern).flac
Size: 10086687 Hash: 26847AE5EB652D29AAFF97D81E9A5111 Accuracy: -m0
Conclusion: CDDA 100%
Signature: 0BE6D0CC7DCEA5E283253127098D6BA3ED3FE9AF
FILE: 14. Fecit potentiam, M 129 (Arr. for Lute Duo).flac
Size: 8798412 Hash: 995C331A0682DA559239B51B24B07BF6 Accuracy: -m0
Conclusion: CDDA 100%
Signature: 0E835DDFA3FB0F0E5F4F788807FE2345A72F2535
FILE: 15. Fortune Alas (Arr. D. Fallows for Lute Duo & Voice).flac
Size: 10848781 Hash: 413529EED26A03918B65EA027883D70A Accuracy: -m0
Conclusion: CDDA 100%
Signature: 17CE8CCC9FD9339572DB27CBD37B144E478199F3
FILE: 16. Fortune Alas (Arr. for Lute & Gittern).flac
Size: 9810676 Hash: 798293C9CE1FAF7D1778CE287F510C51 Accuracy: -m0
Conclusion: CDDA 100%
Signature: A63D109AF1591E3B27B1CA48635F8EE5D7EC79AB
FILE: 17. Fortuna desperata (Arr. F. Spinacino for Lute Duo).flac
Size: 8617702 Hash: 4AC1BE7142DCD3F6EF7B961A42C84D7E Accuracy: -m0
Conclusion: CDDA 100%
Signature: DA38C65C81DEC0EF82D4158CFC3569DCC2D9C3E9
FILE: 18. Le souvenir, M 137 (Arr. for Lute & Gittern).flac
Size: 6112848 Hash: DB99982A04940FD5464A14E2AA0244E8 Accuracy: -m0
Conclusion: CDDA 100%
Signature: BDA7FCC36F12E44476F3B5A6C3FDCB7C243B34C9
FILE: 19. Juli amours (Arr. F. Spinacino for Lute Duo).flac
Size: 17028239 Hash: B4089DAFBDA1E1A201A20AA2282F7551 Accuracy: -m0
Conclusion: CDDA 100%
Signature: C8308BC3277928125B767F8A2BB7BD80B27C31EB
FILE: 20. Tenor so ys enprentyd.flac
Size: 8167995 Hash: 5070A729C41E1635FEF3FD52708BB78A Accuracy: -m0
Conclusion: CDDA 100%
Signature: C5F9CADF613117C4690035684DD8B4D7AE9B4816
FILE: 21. So ys empretid (Arr. for Lute Duo & Voice).flac
Size: 14191249 Hash: AF1C4507F769BCD205EB7AA4E37BC20D Accuracy: -m0
Conclusion: CDDA 100%
Signature: D32AEFEDF8CECE83C8B2CDB9B1D150386EF6864E
FILE: 22. Tout a par moy, M 138 (Arr. for Lute Duo).flac
Size: 11791336 Hash: 2A85F3E734B86C80F373B72AF686E51B Accuracy: -m0
Conclusion: CDDA 100%
Signature: E6DB17B285CC8987AFD3849EC7302B30393692B6
FILE: 23. Saltarello e piva I. Saltarello (Arr. for Lute Duo).flac
Size: 15813795 Hash: 3C36176ADC212A23C7A06CB04ACAC3A0 Accuracy: -m0
Conclusion: CDDA 99%
Signature: E2ECF4EABF6BCFDB7ED7582BF257C94E9313C7B3
FILE: 24. Saltarello e piva II. Piva (Arr. for Lute Duo).flac
Size: 12195813 Hash: 03B3D1C4AE670BB106CEA59DDDE5F17A Accuracy: -m0
Conclusion: CDDA 100%
Signature: 356141AB34E97EF3B8ACAA66CC2BB7A04520F8A2
FILE: 25. Lute Duo (II).flac
Size: 5891784 Hash: CB73787CC11F32F5D7F0B016DF09C340 Accuracy: -m0
Conclusion: CDDA 100%
Signature: F624D3B1CAFE6307A8231ADE784FF6A6B02EF51D
FILE: 26. D'ung aultre amer, M 143 (Arr. for Lute Duo).flac
Size: 6042968 Hash: 3BD02DED6D3C5FB6FD2348ECB677B7F4 Accuracy: -m0
Conclusion: CDDA 100%
Signature: D8CBE3858C4392FFF77B3236C7421C7499A0C382
FILE: 27. De tous biens playne (Arr. J. Tinctoris for Lute & Gittern).flac
Size: 6709541 Hash: FD5DE5D65EB2A9925D609B6D475A38C6 Accuracy: -m0
Conclusion: CDDA 100%
Signature: 43022E2DC2995C160AD2E9F18DC6A3BD14FFDFAA
FILE: 28. De tous biens playne (Arr. F. Spinacino for Lute Duo).flac
Size: 8751427 Hash: FA32BBCDEFC65C155877390F59F74D79 Accuracy: -m0
Conclusion: CDDA 100%
Signature: BD79D044248675C79D8267E4783761EC838C17CB
FILE: 29. Gaudeamus omnes in Domino (Arr. for Lute Duo).flac
Size: 12615042 Hash: 7EAA225823B457E6F17DBF51F812DCF6 Accuracy: -m0
Conclusion: CDDA 100%
Signature: 293BDBFD61865815EA666320E6A58C4FDFEFD50B
FILE: 30. Mit ganzem Willen (Arr. M. Lewon for Lute Duo & Voice).flac
Size: 13493622 Hash: 8E2F45C550893AFBE1AD75A170CD8F9C Accuracy: -m0
Conclusion: CDDA 100%
Signature: AAC22378464DB5AC7F4BC41C6073E49C2D3E4F46
FILE: 31. Mit ganzem Willen wünsch ich dir (Arr. C. Young & P. Kieffer for Lute Duo).flac
Size: 19153168 Hash: E87DF06FB6673F28036811D4FE8DC272 Accuracy: -m0
Conclusion: CDDA 100%
Signature: F254F5CCF02A4937F30F3DDEB73220BAF731AAC1