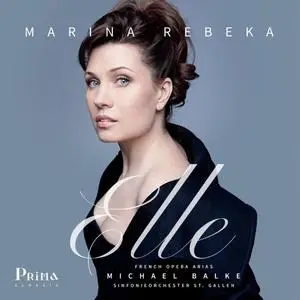 Marina Rebeka, Sinfonieorchester St. Gallen & Michael Balke - Elle: French Opera Arias (2020)
WEB FLAC (Tracks) 169 MB | Cover | 01:12:29 | MP3 CBR 320 kbps | 294 MB
Classical, Vocal | Label: Prima Classic
"Elle" is Marina Rebeka's new solo album, celebrating the diversity of the female roles in some of the greatest French Opera Arias of the canon. From a sweet recounting of the pleasures of love in Charpentier's Louise, to the steely determination of Juliette in Gounod's last scene, passing through the new-found piety of Thaïs, Carmen's indomitably wild character, Chimène's extreme sadness in Le Cid, and Marguerite's transformation from an innocent girl in love into a woman longing for a man who will not return, these and the many more arias that fill this recording explore the emotional spectrum of the female roles in French Opera.
A perfect modern introduction to French Opera for the new listener as well as a valuable addition to the library of the connoisseur, Elle showcases the extraordinary art of Marina Rebeka, one of the most complete sopranos of our times, with not only a unique vocal prowess and range extension but with an unusually deep interpretative emotion, making each aria come to life in a new way.
Elle is a studio recording featuring the Sinfonieorchester St. Gallen (Switzerland) conducted by Michael Balke, marking Marina Rebeka's fourth solo album.
Latvian soprano Marina Rebeka is one of the leading opera singers of our time and has gained a wide reputation as one of the greatest Verdi, Rossini and Mozart interpreters in the world. Since her international breakthrough at the Salzburg Festival in 2009 under the baton of Riccardo Muti, Rebeka has been a regular guest at the world's most prestigious concert halls and opera houses, such as the Teatro alla Scala (Milan), the Opéra National de Paris, the Metropolitan Opera and Carnegie Hall (New York), the Royal Opera House Covent Garden (London), the Concertgebouw (Amsterdam), the Bavarian State Opera (Munich), the Vienna State Opera and the Musikverein (Vienna), and the Zurich Opera House, among others. In the 2017/18 season, she was named the first ever artist in residence by the Münchner Rundfunkorchester. In December 2016, Rebeka was granted the Order of the Three Stars, the highest award of the Republic of Latvia, for her cultural achievements.
Marina Rebeka, soprano
Sinfonieorchester St. Gallen
Michael Balke, conductor
TRACKLIST
1. Marina Rebeka - Louise, Act 3: Depuis le jour où je me suis donnée
2. Marina Rebeka - Hérodiade, Act 1: Celui dont la parole… Il est doux, il est bon
3. Marina Rebeka - Le Cid, Act 3: De cet affreux combat… Pleurez, pleurez mes yeux
4. Marina Rebeka - Faust, Act 2: Les grands seigneurs… Ah! Je ris de me voir si belle
5. Marina Rebeka - Carmen, Act 1: Quand je vous aimerai?… L'amour est un oiseau rebelle
6. Marina Rebeka - Les pêcheurs de perles, Act 2: Me voilà seule dans la nuit… Comme autrefois
7. Marina Rebeka - Manon, Act 2: Allons! Il le faut!… Adieu, notre petite table
8. Marina Rebeka - Roméo et Juliette, Act 1: Ah! Je veux vivre
9. Marina Rebeka - Thaïs, Act 2: Ah, je suis seule… Dis-moi que je suis belle
10. Marina Rebeka - Faust, Act 3: Elles ne sont plus là… Il ne revient pas
11. Marina Rebeka - Thaïs, Act 3: O messager de Dieu
12. Marina Rebeka - L'enfant prodigue: L'année, envain chasse l'année… Azaël! Azaël!
13. Marina Rebeka - Roméo et Juliette, Act 4: Dieu! Quel frisson… Amour ranime mon courage
–––––––––––-
DON'T MODIFY THIS FILE
–––––––––––-
PERFORMER: auCDtect Task Manager, ver. 1.6.0 RC1 build 1.6.0.1
Copyright © 2008-2010 y-soft. All rights reserved
http://y-soft.org
ANALYZER: auCDtect: CD records authenticity detector, version 0.8.2
Copyright © 2004 Oleg Berngardt. All rights reserved.
Copyright © 2004 Alexander Djourik. All rights reserved.
FILE: 9 - Thaïs, Act 2_ Ah, je suis seule… Dis-moi que je suis belle.flac
Size: 28661228 Hash: 197343ECC683B31AACE11E77C9268182 Accuracy: -m0
Conclusion: CDDA 100%
Signature: AB68856AF4CC50AC2CE7E07E430ADE45D0C98F85
FILE: 8 - Roméo et Juliette, Act 1_ Ah! Je veux vivre.flac
Size: 17645707 Hash: 1DD9C5FC22863760F3FAEAFE7738B590 Accuracy: -m0
Conclusion: CDDA 100%
Signature: 204DBD263CA79AE50890FF73140FA2CB31C10025
FILE: 7 - Manon, Act 2_ Allons! Il le faut!… Adieu, notre petite table.flac
Size: 17885769 Hash: 16C0017E14A692A2087BA6D465997A83 Accuracy: -m0
Conclusion: CDDA 100%
Signature: B4E3DAE331462F20FC819ECBBA62E071D57EF7A0
FILE: 6 - Les pêcheurs de perles, Act 2_ Me voilà seule dans la nuit… Comme autrefois.flac
Size: 27744973 Hash: 464FD359639DB636A08029D5BFC0BBE6 Accuracy: -m0
Conclusion: CDDA 100%
Signature: 95FE7B37678DF3C72870A83C23B148A67A214B61
FILE: 5 - Carmen, Act 1_ Quand je vous aimerai_… L'amour est un oiseau rebelle.flac
Size: 20876036 Hash: 0C0E59902C7108F52060BBB32672A40B Accuracy: -m0
Conclusion: CDDA 100%
Signature: 35ECC388C5131B2FE7A54CE400661C398B1AEAA3
FILE: 4 - Faust, Act 2_ Les grands seigneurs… Ah! Je ris de me voir si belle.flac
Size: 27933022 Hash: BCA37A2D526B45711AA417C152A0D63E Accuracy: -m0
Conclusion: CDDA 100%
Signature: 37A623E60C2D962FC41DAFF6C26EA06708D8A315
FILE: 3 - Le Cid, Act 3_ De cet affreux combat… Pleurez, pleurez mes yeux.flac
Size: 25665744 Hash: EE8FFF41D09B607FB5D8B17D322EB02F Accuracy: -m0
Conclusion: CDDA 100%
Signature: 7A8B96EBA46883A41DCB2469CEDA88BD5B0E2FC9
FILE: 2 - Hérodiade, Act 1_ Celui dont la parole… Il est doux, il est bon.flac
Size: 25483957 Hash: 0B31C4F016F7A215C127419FB60B5348 Accuracy: -m0
Conclusion: CDDA 100%
Signature: D244A2C9313C2853A67D2ADCC659DFC3ECC4D185
FILE: 13 - Roméo et Juliette, Act 4_ Dieu! Quel frisson… Amour ranime mon courage.flac
Size: 28051034 Hash: B8CEF65E056A4491589C858805732BD9 Accuracy: -m0
Conclusion: CDDA 100%
Signature: EDE397586FE73B2101298804A61507C769D3C8CA
FILE: 12 - L'enfant prodigue_ L'année, envain chasse l'année… Azaël! Azaël!.flac
Size: 23677618 Hash: 8023819FFF6D0AEA3DCE8F521BDEB728 Accuracy: -m0
Conclusion: CDDA 100%
Signature: F3B2266FA87323DD40E00D5605B660C585B07798
FILE: 11 - Thaïs, Act 3_ O messager de Dieu.flac
Size: 10132112 Hash: 56E96795E51B34601461D7DD86389361 Accuracy: -m0
Conclusion: CDDA 100%
Signature: DB2DC75689CAC17A3C67367D865B2EA30008D66A
FILE: 10 - Faust, Act 3_ Elles ne sont plus là… Il ne revient pas.flac
Size: 30346862 Hash: BE1306F509CDDDAAADE8C655173184EF Accuracy: -m0
Conclusion: CDDA 100%
Signature: 71DBAA2BA4203D57F3DD06A4F8A06020D8465730
FILE: 1 - Louise, Act 3_ Depuis le jour où je me suis donnée.flac
Size: 23933674 Hash: 8F9CBFA8BCEA280E64499AA90ACDF84E Accuracy: -m0
Conclusion: CDDA 100%
Signature: 83B5D1648603EBB115AEFF1CF7C67B6F6108725D