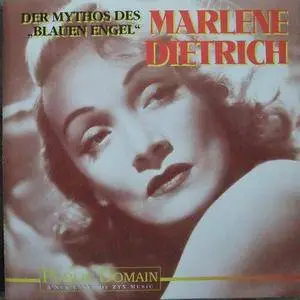 Marlene Dietrich - Der Mythos des "Blauen Engel" (1993)
MP3 (CBR 320 kbps) | 48:35 | 118 MB
Genre: Pop, Chanson | Label: Public Domain
The most exotic actress of the 1930s and '40s, Marlene Dietrich performed her cabaret act around the world and recorded for Decca, Columbia and Capitol in the post-war period, after her film career had slowed. A thick German accent and her odd sung-spoken vocal style proved no barrier to international popular success and adoration. Born near Berlin in 1901, she began studying acting as a teenager, and auditioned with director Max Reinhardt several times before entering his drama school. She worked in the German theater and film world during the 1920s, gradually assuming star status until her international breakout at the end of the decade, when she appeared in The Blue Angel, directed by American Josef von Sternberg.
The film's success led directly to Hollywood, where she became one of the major female stars of the 1930s, in such films as Song of Songs, The Scarlet Empress, Knight Without Armour and Destry Rides Again. Because of her German heritage, the newly American citizen made a large mark in the war effort, performing the favorite "Lilli Marlene" on USO tours and recording anti-Nazi propaganda in German. She was awarded the Medal of Freedom and Chevalier of the French Legion of Honor after war's end. She had recorded music in Germany as early as the late '20s, but Dietrich returned again to the vocal industry in the '50s, first with Decca and then a long-standing contract with Columbia. The label released many live albums, preserving her wild cabaret act from various European capitals (several of them recorded with a young Burt Bacharach serving as musical director).
After her Columbia contract expired, Marlene Dietrich began to record with Capitol in the mid-'60s but retired a decade later, returning only for two roles – one in the 1979 film Just a Gigolo with David Bowie, the other a 1984 documentary name Marlene, with her recorded interviews but no glimpse of the present-day Dietrich. Just after her death in 1992, a new musical opened based on her life, titled Sag Mir Wo Die Blumen Sind ("Where Have All the Flowers Gone?").
Track List:
01. Ich bin von Kopf bis Fuß auf Liebe eingestellt (3:17)
02. Allein in einer großen Stadt (3:44)
03. Mein blondes Baby (3:54)
04. Johnny, wenn du Geburtstag hast (2:55)
05. Lili Marleen (3:06)
06. Die Antwort weiß ganz allein der Wind (3:59)
07. Paff, der Zauberdrachen (4:06)
08. Ich weiß nicht, zu wem ich gehöre (2:29)
09. Für alles kommt die Zeit (Glaub', glaub') (2:45)
10. Peter (3:26)
11. Lola (2:11)
12. Kisses sweeter than wine (3:06)
13. Wenn die Soldaten (3:03)
14. Ich hab' noch einer Koffer in Berlin (3:04)
15. Das Lied ist aus (Frag' nicht, warum ich gehe) (2:36)
Download: