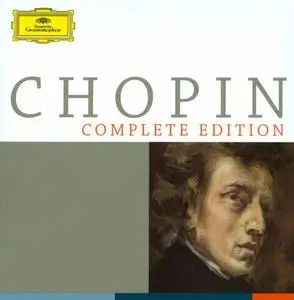 Martha Argerich / Claudio Arrau - Chopin: Complete Edition (2009) (17 CDs Box Set)
EAC Rip | FLAC (Tracks+.cue, log) | 17 CDs, 18:40:35 min | 3,6 Gb | Scans->8 mb
Genre: Classical / Label: Deutsche Grammophon
In celebration of Chopin's 200th anniversary in 2010, here is the ultimate, complete, in particular priced 17-CD edition of the composer's works, combining the very best recordings from the Deutsche Grammophon and Decca catalogs. Featured are some of the great Chopin interpreters of our time–Argerich, Pires, Pollini, Zimerman–with substantial contributions from particular pianists of the younger generation such as Rafał Blechacz and Yundi Li. The capbox includes a booklet with finish track information, an essay on Chopin's career and works and a chronology of his life from 1810-1849.
CDs:
CD 1: Piano Concertos Krystian Zimerman
CD 2: Works for Piano and Orchestra Claudio Arrau; London Philharmonic Orchestra
CD 3: Ballades, Nouvelles Études, Ecossaises Zimerman, Anatol Ugorski
CD 4: Études, Barcarolle, Berceuse Maurizio Pollini
CD 5 & 6: Mazurkas Vladimir Ashkenazy
CD 7 & 8: N octurnes Maria João Pires
CD 9: Polonaises Pollini
CD 10: Polonaises, Bourées, etc. Martha Argerich, Ugorski
CD 11: Preludes, Impromptus R afał Blechacz, Yundi Li
CD 12: Scherzos, Rondos Pollini, Lilya Zilberstein, Mikhail Pletnev
CD 13: Piano Sonatas Pollini, Zilberstein
CD 14: Variations, etc. A shkenazy
CD 15: Waltzes A shkenazy
CD 16: Chamber Music Beaux Arts Trio, Mstislav Rostropovich, Argerich
CD 17: Songs Elzbieta Szmytka, Malcolm Martineau
CD01 - Piano Concertos
Piano Concerto No. 1 in E minor, Op. 11 - 46:06
I. Allegro maestoso - 23:31
II. Romance: Larghetto - 12:35
III. Rondo: Vivace - 9:59
Piano Concerto No. 2 in F minor, Op. 21 - 35:51
I. Maestoso - 15:40
II. Larghetto - 11:06
III. Allegro vivace - 9:06
Polish Festival Orchestra. Krystian Zimerman, soloist and conductor

CD02 - Works for Piano and Orchestra
Variations in B flat major on «Lá ci darem la mano» from Mozart's «Don Giovanni», Op. 2 - 19:32
Fantasy on Polish Airs in A major, Op. 13 - 14:21
Rondo à la Krakowiak in F major, Op. 14 - 14:40
Andante spianato and Grande Polonaise brillante in E flat major, Op. 22 - 15:15
Claudio Arrau (piano), London Philharmonic Orchestra. Eliahu Inbal, conductor

CD03 - Ballades, Nouvelles Etudes, Ecossaises
4 Ballades - 36:56
No. 1 in G minor, Op. 23 - 9:39
No. 2 in F major, Op. 38 - 7:49
No. 3 in A flat major, Op. 47 - 7:30
No. 4 in F minor, Op. 52 - 11:57
Fantaisie in F minor, Op. 49 - 14:00
Krystian Zimerman
3 Nouvelles Etudes, Op. posth. - 4:12
No. 1 in F minor - 1:17
No. 2 in A flat major - 1:28
No. 3 in D flat major - 1:27
Marche funèbre in C minor, Op. posth. 72 No. 2 - 6:07
3 Ecossaises, Op. posth. 72 No. 3 - 2:17
No. 1 in D major - 0:58
No. 2 in G major - 0:35
No. 3 in D flat major - 0:45
Anatol Ugorski

CD04 - Etudes, Barcarolle, Berceuse
12 Etudes, Op. 10 - 27:00
No. 1 in C major - 1:57
No. 2 in A minor «Chromatique» - 1:28
No. 3 in E major «Tristesse» - 3:42
No. 4 in C sharp minor - 2:02
No. 5 in G flat major «Black Keys» - 1:40
No. 6 in E flat major minor - 3:10
No. 7 in C major - 1:30
No. 8 in F major - 2:22
No. 9 in F minor - 2:07
No. 10 in A flat major - 2:04
No. 11 in E flat major - 2:16
No. 12 in C minor «Revolutionary» - 2:42
12 Etudes, Op. 25 - 29:17
No. 1 in A flat major «Harp Study» - 2:13
No. 2 in F minor - 1:29
No. 3 in F major - 1:53
No. 4 in A minor - 1:43
No. 5 in E minor - 2:55
No. 6 in G sharp minor - 2:04
No. 7 in C sharp minor - 4:51
No. 8 in D flat major - 1:06
No. 9 in G flat major «Butterfly Wings» - 0:58
No. 10 in B minor - 3:58
No. 11 in A minor «Winter Wind» - 3:32
No. 12 in C minor - 2:35
Barcarolle in F sharp major, Op. 60 - 8:36
Berceuse in D flat major, Op. 57 - 4:30
Maurizio Pollini

CD05 - Mazurkas 1
4 Mazurkas, Op. 6 - 8:29
No. 1 in F sharp minor - 3:17
No. 2 in C sharp minor - 2:31
No. 3 in E major - 1:39
No. 4 in E flat minor - 1:02
5 Mazurkas, Op. 7 - 9:27
No. 1 in B flat major - 1:49
No. 2 in A minor - 3:17
No. 3 in F minor - 2:23
No. 4 in A flat major - 1:09
No. 5 in C major - 0:49
4 Mazurkas, Op. 17 - 12:19
No. 1 in B flat major - 1:58
No. 2 in E minor - 1:59
No. 3 in A flat major - 4:06
No. 4 in A minor - 4:16
4 Mazurkas, Op. 24 - 11:27
No. 1 in G minor - 2:50
No. 2 in C major - 2:05
No. 3 in A flat major - 1:57
No. 4 in B flat minor - 4:35
4 Mazurkas, Op. 30 - 9:02
No. 1 in C minor - 1:33
No. 2 in B minor - 1:09
No. 3 in D flat major - 2:39
No. 4 in C sharp minor - 3:41
4 Mazurkas, Op. 33 - 9:38
No. 1 in G sharp minor - 1:27
No. 2 in D major - 2:04
No. 3 in C major - 1:30
No. 4 in B minor - 4:36
4 Mazurkas, Op. 41 - 9:02
No. 1 in C sharp minor - 3:33
No. 2 in E minor - 2:22
No. 3 in B major - 1:09
No. 4 in A flat major - 1:58
Vladimir Ashkenazy

CD06 - Mazurkas 2
3 Mazurkas, Op. 50 - 9:45
No. 1 in G major - 1:52
No. 2 in A flat major - 2:54
No. 3 in C sharp minor - 5:00
3 Mazurkas, Op. 56 - 11:32
No. 1 in B major - 3:57
No. 2 in C major - 1:37
No. 3 in C minor - 5:58
3 Mazurkas, Op. 59 - 10:20
No. 1 in A minor - 4:31
No. 2 in A flat major - 2:33
No. 3 in F sharp minor - 3:16
3 Mazurkas, Op. 63 - 6:41
No. 1 in B major - 2:02
No. 2 in F minor - 2:11
No. 3 in C sharp minor - 2:28
4 Mazurkas, Op. posth. 67 - 7:01
No. 1 in G major - 1:04
No. 2 in G minor - 1:58
No. 3 in C major - 1:28
No. 4 in A minor - 2:31
4 Mazurkas, Op. posth. 68 - 8:19
No. 1 in C major - 1:30
No. 2 in A minor - 3:12
No. 3 in F major - 1:17
No. 4 in F minor (reconstructed by J. Ekier) - 2:21
Mazurka in A minor (à Emile Gaillard, 1840) - 3:09
Mazurka in A minor (Notre Temps No. 2, 1841) - 3:16
Mazurka in B flat major (1826) - 1:11
Mazurka in G major (1826) - 1:45
Mazurka in A flat major (1834) - 1:18
Mazurka in C major (1833) - 2:23
Mazurka in B flat major (1832) - 1:04
Mazurka in D major (1832) - 1:17
Mazurka in D major (1820?) - 1:05
Mazurka in F minor, Op. posth. 68 No. 4 (revised version) - 3:30
Vladimir Ashkenazy

CD07 - Nocturnes 1
3 Nocturnes, Op. 9 - 16:44
No. 1 in B flat minor - 5:36
No. 2 in E flat major - 4:29
No. 3 in B major - 6:39
3 Nocturnes, Op. 15 - 12:14
No. 1 in F major - 4:21
No. 2 in F sharp major - 3:27
No. 3 in G minor - 4:26
2 Nocturnes, Op. 27 - 11:48
No. 1 in C sharp minor - 5:11
No. 2 in D flat major - 6:37
2 Nocturnes, Op. 32 - 9:43
No. 1 in B major - 4:54
No. 2 in A flat major - 4:49
Maria João Pires

CD08 - Nocturnes 2
2 Nocturnes, Op. 37 - 11:44
No. 1 in G minor - 5:47
No. 2 in G major - 5:57
2 Nocturnes, Op. 48 - 14:03
No. 1 in C minor - 6:45
No. 2 in F sharp minor - 7:18
2 Nocturnes, Op. 55 - 9:32
No. 1 in F minor - 4:40
No. 2 in E flat major - 4:52
2 Nocturnes, Op. 62 - 12:25
No. 1 in B major - 6:27
No. 2 in E major - 5:58
Nocturne in E minor, Op. posth. 72 No. 1 - 4:08
Nocturne in C sharp minor, Op. posth. - 4:02
Nocturne in C minor, Op. posth. - 2:48
Maria João Pires

CD09 - Polonaises 1
2 Polonaises, Op. 26 - 17:03
No. 1 in C sharp minor - 8:26
No. 2 in E flat minor - 8:37
2 Polonaises, Op. 40 - 13:33
No. 1 in A major - 5:27
No. 2 in C minor - 8:06
Polonaise in F sharp minor, Op. 44 - 10:56
Polonaise in A flat major, Op. 53 «Heroic» - 7:07
Polonaise-Fantaisie in A flat major, Op. 61 - 13:14
Maurizio Pollini

CD10 - Polonaises 2, etc.
Andante spianato and Grande Polonaise brillante, Op. 22 - 13:30
I. Andante spianato. Tranquillo - 4:56
II. Polonaise: Allegro molto - 8:34
Martha Argerich
3 Polonaises, Op. posth. 71 - 20:11
No. 1 in D minor - 5:46
No. 2 in B flat major - 7:58
No. 3 in F minor - 6:26
Polonaise in B flat minor, Op. posth. - 6:44
Polonaise in G flat major, Op. posth. - 8:15
Polonaise in G minor, Op. posth. - 3:31
Polonaise in B flat major, Op. posth. - 3:17
Polonaise in A flat major, Op. posth. - 3:57
Polonaise in G sharp minor, Op. posth. - 7:07
2 Bourrées, B160b - 1:01
No. 1 in G minor - 0:31
No. 2 in A major - 0:30
Galop Marquis in A flat major, Op. posth. - 0:43
Feuillet d'album in E major, Op. posth. - 1:20
Cantabile in B flat major, Op. posth. - 1:05
Fugue in A minor, Op. posth. - 3:06
Largo in E flat major, Op. posth. - 2:11
Anatol Ugorski

CD11 - Preludes, Impromptus
24 Préludes, Op. 28 - 39:29
No. 1 in C major - 0:38
No. 2 in A minor - 2:13
No. 3 in G major - 0:58
No. 4 in E minor - 2:08
No. 5 in D major - 0:35
No. 6 in B minor - 2:08
No. 7 in A major - 0:56
No. 8 in F sharp minor - 2:03
No. 9 in E major - 1:38
No. 10 in C sharp minor - 0:33
No. 11 in B major - 0:42
No. 12 in G sharp minor - 1:17
No. 13 in F sharp major - 3:14
No. 14 in E flat minor - 0:39
No. 15 in D flat major - 4:55
No. 16 in B flat minor - 1:10
No. 17 in A flat major - 3:16
No. 18 in F minor - 0:57
No. 19 in E flat major - 1:23
No. 20 in C minor - 1:56
No. 21 in B flat major - 1:51
No. 22 in G minor - 0:42
No. 23 in F major - 0:58
No. 24 in D minor - 2:39
Prelude in A flat major, Op. posth. - 0:50
Prélude in C sharp minor, Op. 45 - 4:43
Rafał Blechacz
4 Impromptus - 19:55
No. 1 in A flat major, Op. 29 - 4:05
No. 2 in F sharp major, Op. 36 - 5:40
No. 3 in G flat major, Op. 51 - 5:13
No. 4 in C sharp minor, Op. posth. 66 (Fantaisie-Impromptu) - 4:57
Yundi Li

CD12 - Scherzos, Rondos
4 Scherzos - 37:28
No. 1 in B minor, Op. 20 - 9:35
No. 2 in B flat minor, Op. 31 - 9:55
No. 3 in C sharp minor, Op. 39 - 7:23
No. 4 in E major, Op. 54 - 10:36
Maurizio Pollini
Rondo in C minor, Op. 1 - 10:17
Rondo à la Mazur in F major, Op. 5 - 9:24
Lilya Zilberstein
Rondo in E flat major, Op. 16 - 10:05
Mikhail Pletnev
Rondo for 2 Pianos in C major, Op. posth. 73 - 9:24
Kurt Bauer, Heidi Bung

CD13 - Piano Sonatas
Piano Sonata No. 1 in C minor, Op. 4 - 25:04
I. Allegro maestoso - 10:00
II. Minuetto: Allegretto - 4:42
III. Larghetto - 3:36
IV. Finale: Presto - 6:46
Lilya Zilberstein
Piano Sonata No. 2 in B flat minor, Op. 35 - 23:27
I. Grave. — Doppio movimento - 7:17
II. Scherzo: (Vivo) - 6:15
III. Marche funèbre: Lento - 8:25
IV. Finale: Presto - 1:30
Piano Sonata No. 3 in B minor, Op. 58 - 28:26
I. Allegro maestoso - 12:51
II. Scherzo: Molto vivace - 2:27
III. Largo - 8:14
IV. Finale: Presto ma non tanto - 4:54
Maurizio Pollini

CD14 - Variations, etc.
Introduction and Variations in E major on a German national Air «Der Schweizerbub», Op. posth. - 7:41
«Souvenir de Paganini» — Variations in A major, Op. posth. - 3:41
Variations brillantes in B flat major on «Je vends des scapulaires» from «Ludovic», Op. 12 - 8:13
Introduction, Theme and Variations in D major on a Theme of Moore (in 4 Hands), Op. posth. - 7:35
Variation No. 6 in E major from the cycle «Hexameron» on a Theme from «I Puritani» - 1:43
Allegro de concert in A major, Op. 46 - 11:42
Bolero in C major, Op. 19 - 7:21
Tarantella in A flat major, Op. 43 - 3:05
Vladimir Ashkenazy, Vovka Ashkenazy (4)

CD15 - Waltzes
Grande Valse brillante in E flat major, Op. 18 - 4:52
3 Waltzes, Op. 34 - 11:42
No. 1 in A flat major «Valse brillante» - 5:02
No. 2 in A minor - 4:34
No. 3 in F major - 2:06
Waltz in A flat major, Op. 42 «Grande valse» - 3:24
3 Waltzes, Op. 64 - 7:37
No. 1 in D flat major «Minute» - 1:51
No. 2 in C sharp minor - 3:27
No. 3 in A flat major - 2:19
2 Waltzes, Op. posth. 69 - 7:40
No. 1 in A flat major «Farewell» - 3:59
No. 2 in B minor - 3:41
3 Waltzes, Op. posth. 70 - 6:20
No. 1 in G flat major - 2:06
No. 2 in F minor - 1:44
No. 3 in D flat major - 2:29
Waltz in E minor, Op. posth. (1830) - 2:38
Waltz in E major, Op. posth. (1829) - 2:11
Waltz in A minor, Op. posth. (1843) - 1:50
Waltz in A flat major, Op. posth. (1827) - 2:11
Waltz in E flat major, Op. posth. (1840) - 2:18
Waltz in E flat major, Op. posth. (1829/30) - 3:03
Vladimir Ashkenazy

CD16 - Chamber Works
Piano Trio in G minor, Op. 8 - 29:45
I. Allegro con fuoco - 10:46
II. Scherzo: Con moto ma non troppo - 6:57
III. Adagio sostenuto - 6:12
IV. Finale: Allegretto - 5:50
Beaux Arts Trio: Menahem Pressler (piano), Isidore Cohen (violin), Bernard Greenhouse (cello)
Introduction and Polonaise brillante in C major for Cello and Piano, Op. 3 - 8:17
Mstislav Rostropovich (cello), Martha Argerich (piano)
Grand Duo concertant in E major for Cello and Piano on Themes from Meyerbeer's «Robert le Diable» - 12:41
Anner Bylsma (cello), Lambert Orkis (piano)
Cello Sonata in G minor, Op. 65 - 29:17
I. Allegro moderato - 15:14
II. Scherzo: Allegro con brio - 4:52
III. Largo - 3:41
IV. Finale: Allegro - 5:31
Mstislav Rostropovich (cello), Martha Argerich (piano)

CD17 - Songs
17 Songs, Op. posth. 74 - 43:08
No. 1. «Życzenie» (The Wish) - 1:51
No. 2. «Wiosna» (Spring) - 2:45
No. 3. «Smutna rzeka» (The Sad River) - 3:14
No. 4. «Hulanka» (Merrymaking) - 2:32
No. 5. «Gdzie lubi» (What she likes) - 1:23
No. 6. «Precz z moich oczu» (Out of my sight!) - 3:21
No. 7. «Poseł» (The Messenger) - 3:01
No. 8. «Śliczny chłopiec» (Handsome Lad) - 2:24
No. 9. «Melodia» (Melody) - 2:18
No. 10. «Wojak» (The Warrior) - 2:26
No. 11. «Dwojaki koniec» (The Double End) - 1:56
No. 12. «Moja pieszczotka» (My Darling) - 1:54
No. 13. «Nie ma czego trzeba» (I want what I have not) - 3:42
No. 14. «Pierścień» (The Ring) - 1:32
No. 15. «Narzeczony» (The Bridegroom) - 2:00
No. 16. «Piosenka litewska» (Lithuanian Song) - 2:33
No. 17. «Śpiew z mogiłky» (Hymn from the Tomb) - 4:16
«Czary» (Enchantment), Op. posth. - 2:14
«Dumka» (Reverie), Op. posth. - 1:15
Elzbieta Szmytka (soprano), Malcolm Martineau (piano)
CD 1
Exact Audio Copy V0.99 prebeta 5 from 4. May 2009

EAC extraction logfile from 2. June 2010, 18:47

Frédéric Chopin / Chopin - Complete Edition (CD 1 - Piano Concertos)

Used drive : TSSTcorpCD/DVDW SH-S182M Adapter: 0 ID: 1

Read mode : Secure
Utilize accurate stream : Yes
Defeat audio cache : Yes
Make use of C2 pointers : No

Read offset correction : 6
Overread into Lead-In and Lead-Out : No
Fill up missing offset samples with silence : Yes
Delete leading and trailing silent blocks : No
Null samples used in CRC calculations : No
Used interface : Installed external ASPI interface
Gap handling : Appended to previous track

Used output format : User Defined Encoder
Selected bitrate : 768 kBit/s
Quality : High
Add ID3 tag : No
Command line compressor : C:\Programme\Exact Audio Copy\FLAC\FLAC.EXE
Additional command line options : -8 -V -T "ARTIST=%a" -T "TITLE=%t" -T "ALBUM=%g" -T "DATE=%y" -T "TRACKNUMBER=%n" -T "GENRE=%m" -T "COMMENT=%e" %s -o %d

TOC of the extracted CD

Track | Start | Length | Start sector | End sector
––––––––––––––––––––––––––––-
1 | 0:00.00 | 23:31.16 | 0 | 105840
2 | 23:31.16 | 12:35.00 | 105841 | 162465
3 | 36:06.16 | 9:59.28 | 162466 | 207418
4 | 46:05.44 | 15:40.01 | 207419 | 277919
5 | 61:45.45 | 11:05.49 | 277920 | 327843
6 | 72:51.19 | 9:05.56 | 327844 | 368774

Track 1

Filename O:\Klassik\Chopin - Complete Edition (17 CD)\01 - Piano Concertos\01 - Piano Concerto No.1 in E minor, Op.11 - 1. Allegro maestoso.wav

Pre-gap length 0:00:02.00

Peak level 99.9 %
Track quality 100.0 %
Test CRC DF1F6EDF
Copy CRC DF1F6EDF
Accurately ripped (confidence 3) [E2E361AB]
Copy OK

Track 2

Filename O:\Klassik\Chopin - Complete Edition (17 CD)\01 - Piano Concertos\02 - Piano Concerto No.1 in E minor, Op.11 - 2. Romance (Larghetto).wav

Peak level 91.7 %
Track quality 100.0 %
Test CRC A627EE6E
Copy CRC A627EE6E
Accurately ripped (confidence 3) [CBC3E6A0]
Copy OK

Track 3

Filename O:\Klassik\Chopin - Complete Edition (17 CD)\01 - Piano Concertos\03 - Piano Concerto No.1 in E minor, Op.11 - 3. Rondo (Vivace).wav

Peak level 99.9 %
Track quality 99.9 %
Test CRC 83E795E9
Copy CRC 83E795E9
Accurately ripped (confidence 3) [8E7E6AD7]
Copy OK

Track 4

Filename O:\Klassik\Chopin - Complete Edition (17 CD)\01 - Piano Concertos\04 - Piano Concerto No.2 in F minor, Op.21 - 1. Maestoso.wav

Pre-gap length 0:00:08.00

Peak level 99.9 %
Track quality 100.0 %
Test CRC 86624472
Copy CRC 86624472
Accurately ripped (confidence 3) [BFD063D5]
Copy OK

Track 5

Filename O:\Klassik\Chopin - Complete Edition (17 CD)\01 - Piano Concertos\05 - Piano Concerto No.2 in F minor, Op.21 - 2. Larghetto.wav

Peak level 99.6 %
Track quality 100.0 %
Test CRC 108047E7
Copy CRC 108047E7
Accurately ripped (confidence 3) [DFD4A553]
Copy OK

Track 6

Filename O:\Klassik\Chopin - Complete Edition (17 CD)\01 - Piano Concertos\06 - Piano Concerto No.2 in F minor, Op.21 - 3. Allegro vivace.wav

Peak level 99.9 %
Track quality 100.0 %
Test CRC CF0672AB
Copy CRC CF0672AB
Accurately ripped (confidence 2) [40524D41]
Copy OK

All tracks accurately ripped

No errors occurred

End of status report


CD 2
Exact Audio Copy V0.99 prebeta 5 from 4. May 2009

EAC extraction logfile from 2. June 2010, 19:26

Frédéric Chopin / Chopin - Complete Edition (CD 02 - Works for Piano and Orchestra)

Used drive : TSSTcorpCD/DVDW SH-S182M Adapter: 0 ID: 1

Read mode : Secure
Utilize accurate stream : Yes
Defeat audio cache : Yes
Make use of C2 pointers : No

Read offset correction : 6
Overread into Lead-In and Lead-Out : No
Fill up missing offset samples with silence : Yes
Delete leading and trailing silent blocks : No
Null samples used in CRC calculations : No
Used interface : Installed external ASPI interface
Gap handling : Appended to previous track

Used output format : User Defined Encoder
Selected bitrate : 768 kBit/s
Quality : High
Add ID3 tag : No
Command line compressor : C:\Programme\Exact Audio Copy\FLAC\FLAC.EXE
Additional command line options : -8 -V -T "ARTIST=%a" -T "TITLE=%t" -T "ALBUM=%g" -T "DATE=%y" -T "TRACKNUMBER=%n" -T "GENRE=%m" -T "COMMENT=%e" %s -o %d

TOC of the extracted CD

Track | Start | Length | Start sector | End sector
––––––––––––––––––––––––––––-
1 | 0:00.00 | 19:32.02 | 0 | 87901
2 | 19:32.02 | 14:20.62 | 87902 | 152463
3 | 33:52.64 | 14:40.13 | 152464 | 218476
4 | 48:33.02 | 15:14.73 | 218477 | 287099

Track 1

Filename O:\Klassik\Chopin - Complete Edition (17 CD)\02 - Works for Piano and Orchestra\01 - Variations in B flat 'La ci darem la mano' from Mozart's 'Don Giovanni'.wav

Pre-gap length 0:00:02.00

Peak level 78.6 %
Track quality 100.0 %
Test CRC 88F39AE4
Copy CRC 88F39AE4
Accurately ripped (confidence 3) [38214F79]
Copy OK

Track 2

Filename O:\Klassik\Chopin - Complete Edition (17 CD)\02 - Works for Piano and Orchestra\02 - Fantasy on Polish Airs in A, Op.13.wav

Pre-gap length 0:00:08.00

Peak level 91.4 %
Track quality 100.0 %
Test CRC 2BC45BCC
Copy CRC 2BC45BCC
Accurately ripped (confidence 3) [FA2AA3A1]
Copy OK

Track 3

Filename O:\Klassik\Chopin - Complete Edition (17 CD)\02 - Works for Piano and Orchestra\03 - Krakowiak - Concert Rondo in F, Op.14.wav

Pre-gap length 0:00:08.00

Peak level 88.8 %
Track quality 100.0 %
Test CRC 2F714124
Copy CRC 2F714124
Accurately ripped (confidence 3) [18FD95A5]
Copy OK

Track 4

Filename O:\Klassik\Chopin - Complete Edition (17 CD)\02 - Works for Piano and Orchestra\04 - Andante spianato and Grande polonaise in E flat, Op.22.wav

Pre-gap length 0:00:07.36

Peak level 92.4 %
Track quality 100.0 %
Test CRC 0CC6B469
Copy CRC 0CC6B469
Accurately ripped (confidence 2) [611DE5E2]
Copy OK

All tracks accurately ripped

No errors occurred

End of status report


CD 3
Exact Audio Copy V0.99 prebeta 5 from 4. May 2009

EAC extraction logfile from 2. June 2010, 20:03

Frédéric Chopin / Chopin - Complete Edition (CD 03 - Ballades, Nouvelles, Etudes, Ecossaises)

Used drive : TSSTcorpCD/DVDW SH-S182M Adapter: 0 ID: 1

Read mode : Secure
Utilize accurate stream : Yes
Defeat audio cache : Yes
Make use of C2 pointers : No

Read offset correction : 6
Overread into Lead-In and Lead-Out : No
Fill up missing offset samples with silence : Yes
Delete leading and trailing silent blocks : No
Null samples used in CRC calculations : No
Used interface : Installed external ASPI interface
Gap handling : Appended to previous track

Used output format : User Defined Encoder
Selected bitrate : 768 kBit/s
Quality : High
Add ID3 tag : No
Command line compressor : C:\Programme\Exact Audio Copy\FLAC\FLAC.EXE
Additional command line options : -8 -V -T "ARTIST=%a" -T "TITLE=%t" -T "ALBUM=%g" -T "DATE=%y" -T "TRACKNUMBER=%n" -T "GENRE=%m" -T "COMMENT=%e" %s -o %d

TOC of the extracted CD

Track | Start | Length | Start sector | End sector
––––––––––––––––––––––––––––-
1 | 0:00.00 | 9:39.00 | 0 | 43424
2 | 9:39.00 | 7:48.64 | 43425 | 78588
3 | 17:27.64 | 7:30.36 | 78589 | 112374
4 | 24:58.25 | 11:57.25 | 112375 | 166174
5 | 36:55.50 | 14:00.25 | 166175 | 229199
6 | 50:56.00 | 1:17.00 | 229200 | 234974
7 | 52:13.00 | 1:28.00 | 234975 | 241574
8 | 53:41.00 | 1:26.50 | 241575 | 248074
9 | 55:07.50 | 6:07.25 | 248075 | 275624
10 | 61:15.00 | 0:57.73 | 275625 | 279972
11 | 62:12.73 | 0:34.39 | 279973 | 282561
12 | 62:47.37 | 0:44.38 | 282562 | 285899

Track 1

Filename O:\Klassik\Chopin - Complete Edition (17 CD)\03 - Ballades, Nouvelles, Etudes, Ecossaises\01 - Ballade No.1 in G minor, Op.23.wav

Pre-gap length 0:00:02.00

Peak level 99.9 %
Track quality 100.0 %
Test CRC E6C4ADA1
Copy CRC E6C4ADA1
Accurately ripped (confidence 3) [317ADDDB]
Copy OK

Track 2

Filename O:\Klassik\Chopin - Complete Edition (17 CD)\03 - Ballades, Nouvelles, Etudes, Ecossaises\02 - Ballade No.2 in F, Op.38.wav

Pre-gap length 0:00:03.38

Peak level 99.9 %
Track quality 99.9 %
Test CRC 4E47F436
Copy CRC 4E47F436
Accurately ripped (confidence 3) [2E48F71F]
Copy OK

Track 3

Filename O:\Klassik\Chopin - Complete Edition (17 CD)\03 - Ballades, Nouvelles, Etudes, Ecossaises\03 - Ballade No.3 in A flat, Op.47.wav

Pre-gap length 0:00:04.63

Peak level 99.9 %
Track quality 100.0 %
Test CRC 50F0966F
Copy CRC 50F0966F
Accurately ripped (confidence 3) [BFFDEB83]
Copy OK

Track 4

Filename O:\Klassik\Chopin - Complete Edition (17 CD)\03 - Ballades, Nouvelles, Etudes, Ecossaises\04 - Ballade No.4 in F minor, Op.52.wav

Pre-gap length 0:00:04.26

Peak level 99.9 %
Track quality 100.0 %
Test CRC 9F403164
Copy CRC 9F403164
Accurately ripped (confidence 3) [0490E3FB]
Copy OK

Track 5

Filename O:\Klassik\Chopin - Complete Edition (17 CD)\03 - Ballades, Nouvelles, Etudes, Ecossaises\05 - Fantaisie in F minor, Op.49.wav

Pre-gap length 0:00:02.56

Peak level 99.9 %
Track quality 100.0 %
Test CRC 958CCDFA
Copy CRC 958CCDFA
Accurately ripped (confidence 3) [178BD701]
Copy OK

Track 6

Filename O:\Klassik\Chopin - Complete Edition (17 CD)\03 - Ballades, Nouvelles, Etudes, Ecossaises\06 - Etude in F minor, Op.posth. ' Méthode des méthodes '.wav

Pre-gap length 0:00:02.43

Peak level 52.3 %
Track quality 100.0 %
Test CRC 1F0EBE5C
Copy CRC 1F0EBE5C
Accurately ripped (confidence 3) [7063C281]
Copy OK

Track 7

Filename O:\Klassik\Chopin - Complete Edition (17 CD)\03 - Ballades, Nouvelles, Etudes, Ecossaises\07 - Etude in A flat, Op.posth. ' Méthode des méthodes '.wav

Pre-gap length 0:00:01.72

Peak level 30.0 %
Track quality 99.8 %
Test CRC 05B750CE
Copy CRC 05B750CE
Accurately ripped (confidence 3) [78E3375B]
Copy OK

Track 8

Filename O:\Klassik\Chopin - Complete Edition (17 CD)\03 - Ballades, Nouvelles, Etudes, Ecossaises\08 - Etude in D flat, Op.posth. ' Méthode des méthodes '.wav

Pre-gap length 0:00:01.48

Peak level 39.3 %
Track quality 99.8 %
Test CRC 7DDFE317
Copy CRC 7DDFE317
Accurately ripped (confidence 3) [9B280C77]
Copy OK

Track 9

Filename O:\Klassik\Chopin - Complete Edition (17 CD)\03 - Ballades, Nouvelles, Etudes, Ecossaises\09 - Marche funèbre in C minor, Op.72, 2.wav

Pre-gap length 0:00:02.49

Peak level 27.3 %
Track quality 100.0 %
Test CRC 42063802
Copy CRC 42063802
Accurately ripped (confidence 3) [A1C7E1C0]
Copy OK

Track 10

Filename O:\Klassik\Chopin - Complete Edition (17 CD)\03 - Ballades, Nouvelles, Etudes, Ecossaises\10 - Three Ecossaises op.post 72, no.3 - 1, 2 + 3 - No.1 in D Major.wav

Pre-gap length 0:00:01.74

Peak level 37.5 %
Track quality 100.0 %
Test CRC 8DA71BF4
Copy CRC 8DA71BF4
Accurately ripped (confidence 3) [3F614B5D]
Copy OK

Track 11

Filename O:\Klassik\Chopin - Complete Edition (17 CD)\03 - Ballades, Nouvelles, Etudes, Ecossaises\11 - Three Ecossaises op.post 72, no.3 - 1, 2 + 3 - No.2 in G Major.wav

Peak level 62.6 %
Track quality 99.6 %
Test CRC 6C6E4AD1
Copy CRC 6C6E4AD1
Accurately ripped (confidence 3) [46F29DC7]
Copy OK

Track 12

Filename O:\Klassik\Chopin - Complete Edition (17 CD)\03 - Ballades, Nouvelles, Etudes, Ecossaises\12 - Three Ecossaises op.post 72, no.3 - 1, 2 + 3 - No.3 in D flat Major.wav

Peak level 39.0 %
Track quality 99.7 %
Test CRC FB65FA35
Copy CRC FB65FA35
Accurately ripped (confidence 3) [B37C9407]
Copy OK

All tracks accurately ripped

No errors occurred

End of status report


CD 4
Exact Audio Copy V0.99 prebeta 5 from 4. May 2009

EAC extraction logfile from 4. June 2010, 20:24

Frédéric Chopin / Chopin - Complete Edition (CD 04 - Etudes, Barcarolle, Berceuse)

Used drive : TSSTcorpCD/DVDW SH-S182M Adapter: 0 ID: 1

Read mode : Secure
Utilize accurate stream : Yes
Defeat audio cache : Yes
Make use of C2 pointers : No

Read offset correction : 6
Overread into Lead-In and Lead-Out : No
Fill up missing offset samples with silence : Yes
Delete leading and trailing silent blocks : No
Null samples used in CRC calculations : No
Used interface : Installed external ASPI interface
Gap handling : Appended to previous track

Used output format : User Defined Encoder
Selected bitrate : 768 kBit/s
Quality : High
Add ID3 tag : No
Command line compressor : C:\Programme\Exact Audio Copy\FLAC\FLAC.EXE
Additional command line options : -8 -V -T "ARTIST=%a" -T "TITLE=%t" -T "ALBUM=%g" -T "DATE=%y" -T "TRACKNUMBER=%n" -T "GENRE=%m" -T "COMMENT=%e" %s -o %d

TOC of the extracted CD

Track | Start | Length | Start sector | End sector
––––––––––––––––––––––––––––-
1 | 0:00.00 | 1:57.00 | 0 | 8774
2 | 1:57.00 | 1:28.00 | 8775 | 15374
3 | 3:25.00 | 3:42.00 | 15375 | 32024
4 | 7:07.00 | 2:02.00 | 32025 | 41174
5 | 9:09.00 | 1:40.00 | 41175 | 48674
6 | 10:49.00 | 3:10.00 | 48675 | 62924
7 | 13:59.00 | 1:30.00 | 62925 | 69674
8 | 15:29.00 | 2:22.00 | 69675 | 80324
9 | 17:51.00 | 2:07.00 | 80325 | 89849
10 | 19:58.00 | 2:04.00 | 89850 | 99149
11 | 22:02.00 | 2:16.00 | 99150 | 109349
12 | 24:18.00 | 2:42.00 | 109350 | 121499
13 | 27:00.00 | 2:13.00 | 121500 | 131474
14 | 29:13.00 | 1:29.00 | 131475 | 138149
15 | 30:42.00 | 1:53.00 | 138150 | 146624
16 | 32:35.00 | 1:43.00 | 146625 | 154349
17 | 34:18.00 | 2:55.00 | 154350 | 167474
18 | 37:13.00 | 2:04.00 | 167475 | 176774
19 | 39:17.00 | 4:51.00 | 176775 | 198599
20 | 44:08.00 | 1:06.00 | 198600 | 203549
21 | 45:14.00 | 0:58.00 | 203550 | 207899
22 | 46:12.00 | 3:58.00 | 207900 | 225749
23 | 50:10.00 | 3:32.00 | 225750 | 241649
24 | 53:42.00 | 2:35.00 | 241650 | 253274
25 | 56:17.00 | 8:36.00 | 253275 | 291974
26 | 64:53.00 | 4:30.00 | 291975 | 312224

Track 1

Filename O:\Klassik\Chopin - Complete Edition (17 CD)\04 - Etudes, Barcarolle, Berceuse\01 - 12 Etudes, Op.10 - No. 1 in C.wav

Pre-gap length 0:00:02.00

Peak level 73.5 %
Track quality 100.0 %
Test CRC 2E4EB8E3
Copy CRC 2E4EB8E3
Accurately ripped (confidence 4) [89BA4984]
Copy OK

Track 2

Filename O:\Klassik\Chopin - Complete Edition (17 CD)\04 - Etudes, Barcarolle, Berceuse\02 - 12 Etudes, Op.10 - No. 2 in A minor 'chromatique'.wav

Peak level 65.0 %
Track quality 99.8 %
Test CRC 9BD6A7E5
Copy CRC 9BD6A7E5
Accurately ripped (confidence 4) [39FEE748]
Copy OK

Track 3

Filename O:\Klassik\Chopin - Complete Edition (17 CD)\04 - Etudes, Barcarolle, Berceuse\03 - 12 Etudes, Op.10 - No. 3 in E 'Tristesse'.wav

Peak level 99.9 %
Track quality 100.0 %
Test CRC 5CEB52CF
Copy CRC 5CEB52CF
Accurately ripped (confidence 4) [1B8A13BC]
Copy OK

Track 4

Filename O:\Klassik\Chopin - Complete Edition (17 CD)\04 - Etudes, Barcarolle, Berceuse\04 - 12 Etudes, Op.10 - No. 4 in C sharp minor.wav

Peak level 95.2 %
Track quality 100.0 %
Test CRC 2E520222
Copy CRC 2E520222
Accurately ripped (confidence 4) [5DD21D65]
Copy OK

Track 5

Filename O:\Klassik\Chopin - Complete Edition (17 CD)\04 - Etudes, Barcarolle, Berceuse\05 - 12 Etudes, Op.10 - No. 5 in G flat 'Black Keys'.wav

Peak level 63.5 %
Track quality 100.0 %
Test CRC 055F9C4E
Copy CRC 055F9C4E
Accurately ripped (confidence 4) [A49526C5]
Copy OK

Track 6

Filename O:\Klassik\Chopin - Complete Edition (17 CD)\04 - Etudes, Barcarolle, Berceuse\06 - 12 Etudes, Op.10 - No. 6 in E flat minor.wav

Peak level 79.5 %
Track quality 100.0 %
Test CRC 3CEE11EC
Copy CRC 3CEE11EC
Accurately ripped (confidence 4) [8F170568]
Copy OK

Track 7

Filename O:\Klassik\Chopin - Complete Edition (17 CD)\04 - Etudes, Barcarolle, Berceuse\07 - 12 Etudes, Op.10 - No. 7 in C.wav

Peak level 85.1 %
Track quality 99.8 %
Test CRC 8462E371
Copy CRC 8462E371
Accurately ripped (confidence 4) [A1AA6C6D]
Copy OK

Track 8

Filename O:\Klassik\Chopin - Complete Edition (17 CD)\04 - Etudes, Barcarolle, Berceuse\08 - 12 Etudes, Op.10 - No. 8 in F.wav

Peak level 64.7 %
Track quality 100.0 %
Test CRC 78552AAF
Copy CRC 78552AAF
Accurately ripped (confidence 4) [453CA35E]
Copy OK

Track 9

Filename O:\Klassik\Chopin - Complete Edition (17 CD)\04 - Etudes, Barcarolle, Berceuse\09 - 12 Etudes, Op.10 - No. 9 in F minor.wav

Peak level 85.8 %
Track quality 100.0 %
Test CRC 9D129147
Copy CRC 9D129147
Accurately ripped (confidence 4) [3688F903]
Copy OK

Track 10

Filename O:\Klassik\Chopin - Complete Edition (17 CD)\04 - Etudes, Barcarolle, Berceuse\10 - 12 Etudes, Op.10 - No. 10 in A flat.wav

Peak level 63.8 %
Track quality 100.0 %
Test CRC ED255BAE
Copy CRC ED255BAE
Accurately ripped (confidence 4) [72A79BB7]
Copy OK

Track 11

Filename O:\Klassik\Chopin - Complete Edition (17 CD)\04 - Etudes, Barcarolle, Berceuse\11 - 12 Etudes, Op.10 - No. 11 in E flat.wav

Peak level 60.7 %
Track quality 100.0 %
Test CRC 5F4C1087
Copy CRC 5F4C1087
Accurately ripped (confidence 4) [B8CCBFD6]
Copy OK

Track 12

Filename O:\Klassik\Chopin - Complete Edition (17 CD)\04 - Etudes, Barcarolle, Berceuse\12 - 12 Etudes, Op.10 - No. 12 in C minor 'Revolutionary'.wav

Peak level 99.6 %
Track quality 100.0 %
Test CRC 602E0AF3
Copy CRC 602E0AF3
Accurately ripped (confidence 4) [B7A7EDFD]
Copy OK

Track 13

Filename O:\Klassik\Chopin - Complete Edition (17 CD)\04 - Etudes, Barcarolle, Berceuse\13 - 12 Etudes, Op.25 - No. 1 in A flat 'Harp Study'.wav

Pre-gap length 0:00:04.00

Peak level 57.1 %
Track quality 100.0 %
Test CRC 845F9239
Copy CRC 845F9239
Accurately ripped (confidence 4) [BF27EB95]
Copy OK

Track 14

Filename O:\Klassik\Chopin - Complete Edition (17 CD)\04 - Etudes, Barcarolle, Berceuse\14 - 12 Etudes, Op.25 - No. 2 in F minor.wav

Peak level 51.4 %
Track quality 99.8 %
Test CRC CAD47549
Copy CRC CAD47549
Accurately ripped (confidence 4) [D9A5CD3A]
Copy OK

Track 15

Filename O:\Klassik\Chopin - Complete Edition (17 CD)\04 - Etudes, Barcarolle, Berceuse\15 - 12 Etudes, Op.25 - No. 3 in F.wav

Peak level 70.6 %
Track quality 100.0 %
Test CRC 3C3FA7A3
Copy CRC 3C3FA7A3
Accurately ripped (confidence 4) [4A7F8D6F]
Copy OK

Track 16

Filename O:\Klassik\Chopin - Complete Edition (17 CD)\04 - Etudes, Barcarolle, Berceuse\16 - 12 Etudes, Op.25 - No. 4 in A minor.wav

Peak level 53.0 %
Track quality 100.0 %
Test CRC 0DE86662
Copy CRC 0DE86662
Accurately ripped (confidence 4) [7C4B4C8D]
Copy OK

Track 17

Filename O:\Klassik\Chopin - Complete Edition (17 CD)\04 - Etudes, Barcarolle, Berceuse\17 - 12 Etudes, Op.25 - No. 5 in E minor.wav

Peak level 78.0 %
Track quality 99.9 %
Test CRC 8F2D4976
Copy CRC 8F2D4976
Accurately ripped (confidence 4) [2DC148FB]
Copy OK

Track 18

Filename O:\Klassik\Chopin - Complete Edition (17 CD)\04 - Etudes, Barcarolle, Berceuse\18 - 12 Etudes, Op.25 - No. 6 in G sharp minor.wav

Peak level 67.4 %
Track quality 100.0 %
Test CRC 95F7A7FC
Copy CRC 95F7A7FC
Accurately ripped (confidence 4) [ACBDA06B]
Copy OK

Track 19

Filename O:\Klassik\Chopin - Complete Edition (17 CD)\04 - Etudes, Barcarolle, Berceuse\19 - 12 Etudes, Op.25 - No. 7 in C sharp minor.wav

Peak level 99.9 %
Track quality 100.0 %
Test CRC 9F193E80
Copy CRC 9F193E80
Accurately ripped (confidence 4) [207174E4]
Copy OK

Track 20

Filename O:\Klassik\Chopin - Complete Edition (17 CD)\04 - Etudes, Barcarolle, Berceuse\20 - 12 Etudes, Op.25 - No. 8 in D flat.wav

Peak level 90.3 %
Track quality 100.0 %
Test CRC C1474F87
Copy CRC C1474F87
Accurately ripped (confidence 4) [5029EFA8]
Copy OK

Track 21

Filename O:\Klassik\Chopin - Complete Edition (17 CD)\04 - Etudes, Barcarolle, Berceuse\21 - 12 Etudes, Op.25 - No. 9 in G flat, 'Butterfly Wings'.wav

Peak level 80.4 %
Track quality 100.0 %
Test CRC 55FD629F
Copy CRC 55FD629F
Accurately ripped (confidence 4) [8EB0245E]
Copy OK

Track 22

Filename O:\Klassik\Chopin - Complete Edition (17 CD)\04 - Etudes, Barcarolle, Berceuse\22 - 12 Etudes, Op.25 - No. 10 in B minor.wav

Peak level 96.1 %
Track quality 100.0 %
Test CRC B3CD9039
Copy CRC B3CD9039
Accurately ripped (confidence 4) [2988C46F]
Copy OK

Track 23

Filename O:\Klassik\Chopin - Complete Edition (17 CD)\04 - Etudes, Barcarolle, Berceuse\23 - 12 Etudes, Op.25 - No. 11 in A minor 'Winter Wind'.wav

Peak level 80.3 %
Track quality 100.0 %
Test CRC 0CC5F844
Copy CRC 0CC5F844
Accurately ripped (confidence 4) [B7DAD592]
Copy OK

Track 24

Filename O:\Klassik\Chopin - Complete Edition (17 CD)\04 - Etudes, Barcarolle, Berceuse\24 - 12 Etudes, Op.25 - No. 12 in C minor.wav

Peak level 79.0 %
Track quality 100.0 %
Test CRC 90EB90D8
Copy CRC 90EB90D8
Accurately ripped (confidence 4) [F9784868]
Copy OK

Track 25

Filename O:\Klassik\Chopin - Complete Edition (17 CD)\04 - Etudes, Barcarolle, Berceuse\25 - Barcarolle in F sharp, Op.60.wav

Pre-gap length 0:00:04.00

Peak level 99.9 %
Track quality 100.0 %
Test CRC 7E1B33B4
Copy CRC 7E1B33B4
Accurately ripped (confidence 4) [61DA269A]
Copy OK

Track 26

Filename O:\Klassik\Chopin - Complete Edition (17 CD)\04 - Etudes, Barcarolle, Berceuse\26 - Berceuse in D flat, Op.57.wav

Pre-gap length 0:00:02.74

Peak level 31.1 %
Track quality 99.9 %
Test CRC C0E63B65
Copy CRC C0E63B65
Accurately ripped (confidence 4) [94B13FDB]
Copy OK

All tracks accurately ripped

No errors occurred

End of status report


CD 5
Exact Audio Copy V0.99 prebeta 5 from 4. May 2009

EAC extraction logfile from 4. June 2010, 22:46

Frédéric Chopin / Chopin - Complete Edition (CD 05 - Mazurkas I)

Used drive : TSSTcorpCD/DVDW SH-S182M Adapter: 0 ID: 1

Read mode : Secure
Utilize accurate stream : Yes
Defeat audio cache : Yes
Make use of C2 pointers : No

Read offset correction : 6
Overread into Lead-In and Lead-Out : No
Fill up missing offset samples with silence : Yes
Delete leading and trailing silent blocks : No
Null samples used in CRC calculations : No
Used interface : Installed external ASPI interface
Gap handling : Appended to previous track

Used output format : User Defined Encoder
Selected bitrate : 768 kBit/s
Quality : High
Add ID3 tag : No
Command line compressor : C:\Programme\Exact Audio Copy\FLAC\FLAC.EXE
Additional command line options : -8 -V -T "ARTIST=%a" -T "TITLE=%t" -T "ALBUM=%g" -T "DATE=%y" -T "TRACKNUMBER=%n" -T "GENRE=%m" -T "COMMENT=%e" %s -o %d

TOC of the extracted CD

Track | Start | Length | Start sector | End sector
––––––––––––––––––––––––––––-
1 | 0:00.32 | 3:16.48 | 32 | 14779
2 | 3:17.05 | 2:30.65 | 14780 | 26094
3 | 5:47.70 | 1:38.60 | 26095 | 33504
4 | 7:26.55 | 1:02.30 | 33505 | 38184
5 | 8:29.10 | 1:49.10 | 38185 | 46369
6 | 10:18.20 | 3:16.65 | 46370 | 61134
7 | 13:35.10 | 2:23.05 | 61135 | 71864
8 | 15:58.15 | 1:09.17 | 71865 | 77056
9 | 17:07.32 | 0:48.53 | 77057 | 80709
10 | 17:56.10 | 1:58.17 | 80710 | 89576
11 | 19:54.27 | 1:58.45 | 89577 | 98471
12 | 21:52.72 | 4:06.13 | 98472 | 116934
13 | 25:59.10 | 4:15.70 | 116935 | 136129
14 | 30:15.05 | 2:50.22 | 136130 | 148901
15 | 33:05.27 | 2:04.63 | 148902 | 158264
16 | 35:10.15 | 1:56.65 | 158265 | 167029
17 | 37:07.05 | 4:34.50 | 167030 | 187629
18 | 41:41.55 | 1:32.52 | 187630 | 194581
19 | 43:14.32 | 1:09.28 | 194582 | 199784
20 | 44:23.60 | 2:39.32 | 199785 | 211741
21 | 47:03.17 | 3:40.53 | 211742 | 228294
22 | 50:43.70 | 1:27.15 | 228295 | 234834
23 | 52:11.10 | 2:04.22 | 234835 | 244156
24 | 54:15.32 | 1:29.68 | 244157 | 250899
25 | 55:45.25 | 4:36.20 | 250900 | 271619
26 | 60:21.45 | 3:32.47 | 271620 | 287566
27 | 63:54.17 | 2:22.00 | 287567 | 298216
28 | 66:16.17 | 1:09.30 | 298217 | 303421
29 | 67:25.47 | 1:57.60 | 303422 | 312256

Track 1

Filename O:\Klassik\Chopin - Complete Edition (17 CD)\05 - Mazurkas I\01 - Mazurka No.1 in F sharp minor Op.6 No.1.wav

Pre-gap length 0:00:02.32

Peak level 62.8 %
Track quality 100.0 %
Test CRC F64EEEE1
Copy CRC F64EEEE1
Accurately ripped (confidence 13) [E488ADA2]
Copy OK

Track 2

Filename O:\Klassik\Chopin - Complete Edition (17 CD)\05 - Mazurkas I\02 - Mazurka No.2 in C sharp minor Op.6 No.2.wav

Pre-gap length 0:00:02.13

Peak level 47.7 %
Track quality 100.0 %
Test CRC B442628F
Copy CRC B442628F
Accurately ripped (confidence 13) [A150BA70]
Copy OK

Track 3

Filename O:\Klassik\Chopin - Complete Edition (17 CD)\05 - Mazurkas I\03 - Mazurka No.3 in E Op.6 No.3.wav

Pre-gap length 0:00:02.43

Peak level 98.1 %
Track quality 100.0 %
Test CRC 851274FA
Copy CRC 851274FA
Accurately ripped (confidence 13) [64CF32CF]
Copy OK

Track 4

Filename O:\Klassik\Chopin - Complete Edition (17 CD)\05 - Mazurkas I\04 - Mazurka No.4 in E flat minor Op.6 No.4.wav

Pre-gap length 0:00:02.23

Peak level 24.8 %
Track quality 100.0 %
Test CRC 18AE0589
Copy CRC 18AE0589
Accurately ripped (confidence 13) [94649440]
Copy OK

Track 5

Filename O:\Klassik\Chopin - Complete Edition (17 CD)\05 - Mazurkas I\05 - Mazurka No.5 in B flat Op.7 No.1.wav

Pre-gap length 0:00:04.53

Peak level 57.3 %
Track quality 100.0 %
Test CRC F01BA20E
Copy CRC F01BA20E
Accurately ripped (confidence 13) [4FACBF1B]
Copy OK

Track 6

Filename O:\Klassik\Chopin - Complete Edition (17 CD)\05 - Mazurkas I\06 - Mazurka No.6 in A minor Op.7 No.2.wav

Pre-gap length 0:00:01.63

Peak level 68.4 %
Track quality 100.0 %
Test CRC 2BE78667
Copy CRC 2BE78667
Accurately ripped (confidence 13) [29216B4E]
Copy OK

Track 7

Filename O:\Klassik\Chopin - Complete Edition (17 CD)\05 - Mazurkas I\07 - Mazurka No.7 in F minor Op.7 No.3.wav

Pre-gap length 0:00:02.53

Peak level 95.0 %
Track quality 100.0 %
Test CRC 3D43C7A6
Copy CRC 3D43C7A6
Accurately ripped (confidence 13) [6C86F4F8]
Copy OK

Track 8

Filename O:\Klassik\Chopin - Complete Edition (17 CD)\05 - Mazurkas I\08 - Mazurka No.8 in A flat Op.7 No.4.wav

Pre-gap length 0:00:03.58

Peak level 69.6 %
Track quality 100.0 %
Test CRC 044573BC
Copy CRC 044573BC
Accurately ripped (confidence 13) [ECA6A3DF]
Copy OK

Track 9

Filename O:\Klassik\Chopin - Complete Edition (17 CD)\05 - Mazurkas I\09 - Mazurka No.9 in C Op.7 No.5.wav

Pre-gap length 0:00:03.00

Peak level 45.5 %
Track quality 100.0 %
Test CRC F2F90B9F
Copy CRC F2F90B9F
Accurately ripped (confidence 13) [AF10068D]
Copy OK

Track 10

Filename O:\Klassik\Chopin - Complete Edition (17 CD)\05 - Mazurkas I\10 - Mazurka No.10 in B flat Op.17 No.1.wav

Pre-gap length 0:00:04.00

Peak level 82.2 %
Track quality 99.9 %
Test CRC CFE8AEED
Copy CRC CFE8AEED
Accurately ripped (confidence 12) [E3971BE6]
Copy OK

Track 11

Filename O:\Klassik\Chopin - Complete Edition (17 CD)\05 - Mazurkas I\11 - Mazurka No.11 in E minor Op.17 No.2.wav

Pre-gap length 0:00:00.70

Peak level 40.5 %
Track quality 100.0 %
Test CRC 32B6DA13
Copy CRC 32B6DA13
Accurately ripped (confidence 13) [A706B482]
Copy OK

Track 12

Filename O:\Klassik\Chopin - Complete Edition (17 CD)\05 - Mazurkas I\12 - Mazurka No.12 in A flat Op.17 No.3.wav

Pre-gap length 0:00:01.62

Peak level 39.5 %
Track quality 100.0 %
Test CRC 866E0557
Copy CRC 866E0557
Accurately ripped (confidence 13) [38F12B3A]
Copy OK

Track 13

Filename O:\Klassik\Chopin - Complete Edition (17 CD)\05 - Mazurkas I\13 - Mazurka No.13 in A minor Op.17 No.4.wav

Pre-gap length 0:00:02.08

Peak level 47.3 %
Track quality 100.0 %
Test CRC 4711C684
Copy CRC 4711C684
Accurately ripped (confidence 13) [CA777F93]
Copy OK

Track 14

Filename O:\Klassik\Chopin - Complete Edition (17 CD)\05 - Mazurkas I\14 - Mazurka No.14 in G minor Op.24 No.1.wav

Pre-gap length 0:00:02.48

Peak level 64.9 %
Track quality 100.0 %
Test CRC 8BD54DCC
Copy CRC 8BD54DCC
Accurately ripped (confidence 12) [6BC5511D]
Copy OK

Track 15

Filename O:\Klassik\Chopin - Complete Edition (17 CD)\05 - Mazurkas I\15 - Mazurka No.15 in C Op.24 No.2.wav

Pre-gap length 0:00:01.70

Peak level 54.2 %
Track quality 99.9 %
Test CRC A4F3DF2B
Copy CRC A4F3DF2B
Accurately ripped (confidence 12) [671E877D]
Copy OK

Track 16

Filename O:\Klassik\Chopin - Complete Edition (17 CD)\05 - Mazurkas I\16 - Mazurka No.16 in A flat Op.24 No.3.wav

Pre-gap length 0:00:01.58

Peak level 58.8 %
Track quality 99.9 %
Test CRC DF415EF1
Copy CRC DF415EF1
Accurately ripped (confidence 13) [74853CC2]
Copy OK

Track 17

Filename O:\Klassik\Chopin - Complete Edition (17 CD)\05 - Mazurkas I\17 - Mazurka No.17 in B flat minor Op.24 No.4.wav

Pre-gap length 0:00:01.68

Peak level 64.0 %
Track quality 100.0 %
Test CRC 5034CF36
Copy CRC 5034CF36
Accurately ripped (confidence 13) [33DD6D05]
Copy OK

Track 18

Filename O:\Klassik\Chopin - Complete Edition (17 CD)\05 - Mazurkas I\18 - Mazurka No.18 in C minor Op.30 No.1.wav

Pre-gap length 0:00:03.23

Peak level 39.6 %
Track quality 100.0 %
Test CRC 527801AA
Copy CRC 527801AA
Accurately ripped (confidence 13) [C633318A]
Copy OK

Track 19

Filename O:\Klassik\Chopin - Complete Edition (17 CD)\05 - Mazurkas I\19 - Mazurka No.19 in B minor, Op.30 No.2.wav

Pre-gap length 0:00:04.00

Peak level 76.4 %
Track quality 100.0 %
Test CRC F7D4A866
Copy CRC F7D4A866
Accurately ripped (confidence 13) [88A55FA5]
Copy OK

Track 20

Filename O:\Klassik\Chopin - Complete Edition (17 CD)\05 - Mazurkas I\20 - Mazurka No.20 in D flat Op.30 No.3.wav

Pre-gap length 0:00:03.50

Peak level 64.9 %
Track quality 100.0 %
Test CRC 1EECEB5A
Copy CRC 1EECEB5A
Accurately ripped (confidence 13) [9AE18B13]
Copy OK

Track 21

Filename O:\Klassik\Chopin - Complete Edition (17 CD)\05 - Mazurkas I\21 - Mazurka No.21 in C sharp minor Op.30 No.4.wav

Pre-gap length 0:00:03.60

Peak level 70.2 %
Track quality 100.0 %
Test CRC 2B06102F
Copy CRC 2B06102F
Accurately ripped (confidence 13) [D8028870]
Copy OK

Track 22

Filename O:\Klassik\Chopin - Complete Edition (17 CD)\05 - Mazurkas I\22 - Mazurka No.22 in G sharp minor Op.33 No.1.wav

Pre-gap length 0:00:02.38

Peak level 40.5 %
Track quality 100.0 %
Test CRC 15A3F3DA
Copy CRC 15A3F3DA
Accurately ripped (confidence 13) [0A69F26F]
Copy OK

Track 23

Filename O:\Klassik\Chopin - Complete Edition (17 CD)\05 - Mazurkas I\23 - Mazurka No.23 in D Op.33 No.2.wav

Pre-gap length 0:00:02.00

Peak level 78.6 %
Track quality 100.0 %
Test CRC 15ABA30C
Copy CRC 15ABA30C
Accurately ripped (confidence 13) [1CFE3462]
Copy OK

Track 24

Filename O:\Klassik\Chopin - Complete Edition (17 CD)\05 - Mazurkas I\24 - Mazurka No.24 in C Op.33 No.3.wav

Pre-gap length 0:00:01.00

Peak level 46.8 %
Track quality 100.0 %
Test CRC CE9431FC
Copy CRC CE9431FC
Accurately ripped (confidence 13) [2E093C3C]
Copy OK

Track 25

Filename O:\Klassik\Chopin - Complete Edition (17 CD)\05 - Mazurkas I\25 - Mazurka No.25 in B minor Op.33 No.4.wav

Pre-gap length 0:00:01.68

Peak level 67.3 %
Track quality 99.9 %
Test CRC 6957F4B6
Copy CRC 6957F4B6
Accurately ripped (confidence 13) [E0D03186]
Copy OK

Track 26

Filename O:\Klassik\Chopin - Complete Edition (17 CD)\05 - Mazurkas I\26 - Mazurka No.26 in C sharp minor Op.41 No.4.wav

Pre-gap length 0:00:01.60

Peak level 84.4 %
Track quality 100.0 %
Test CRC C07C95A6
Copy CRC C07C95A6
Accurately ripped (confidence 13) [7DA8F324]
Copy OK

Track 27

Filename O:\Klassik\Chopin - Complete Edition (17 CD)\05 - Mazurkas I\27 - Mazurka No.27 in E minor op.41 No.1.wav

Pre-gap length 0:00:02.25

Peak level 56.9 %
Track quality 100.0 %
Test CRC DFB620CB
Copy CRC DFB620CB
Accurately ripped (confidence 13) [4F6602A2]
Copy OK

Track 28

Filename O:\Klassik\Chopin - Complete Edition (17 CD)\05 - Mazurkas I\28 - Mazurka No.28 in B Op.41 No.3.wav

Pre-gap length 0:00:01.60

Peak level 57.2 %
Track quality 99.8 %
Test CRC 94DE9DC3
Copy CRC 94DE9DC3
Accurately ripped (confidence 13) [A97FB6E8]
Copy OK

Track 29

Filename O:\Klassik\Chopin - Complete Edition (17 CD)\05 - Mazurkas I\29 - Mazurka No.29 in A flat Op.41 No.4.wav

Pre-gap length 0:00:02.15

Peak level 36.9 %
Track quality 100.0 %
Test CRC 3698DC43
Copy CRC 3698DC43
Accurately ripped (confidence 13) [9F80D443]
Copy OK

All tracks accurately ripped

No errors occurred

End of status report
all 17 log files included…