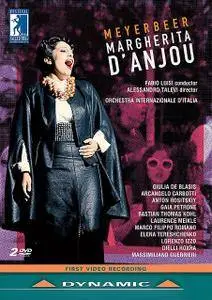 Fabio Luisi, Orchestra Internazionale d'Italia - Meyerbeer: Margherita d'Anjou (2018)
NTSC 16:9 (720x480) VBR | Italiano (LinearPCM, 2 ch) | (Dolby AC3, 6 ch) | 5.56+4.18 Gb (DVD9+DVD5) | 160 min
Classical | Dynamic | Sub: Italiano, English, Francais, Deutsch
Margherita d'Anjou was Giacomo Meyerbeer's fourth opera in Italian and his first real success. After an absence from the stage of about 150 years, it returned at the 43rd Festival della Valle d'Itria in an outstanding production. Director Alessandro Talevi's ironical setting - where the War of the Roses takes place at the London Fashion Week - is perfectly matched by the elegant direction of Fabio Luisi with the Orchestra Internazionale d'Italia. The opera, which belongs to the semi-serious genre, moves from the warlike tones of Act One to the idyllic ones of Act Two, where both female protagonists appear: the queen, a soprano, and the wife, a contralto; both seek the love of an heroic tenor equally daring in battle and in music.
Cast:
Margherita - Giulia De Blasis
Edoardo - Arcangelo Carbotti
The Duke of Lavarenne - Anton Rositskiy
Isaura - Gaia Petrone
Riccardo - Bastian Thomas Kohl
Carlo Belmonte - Laurence Meikle
Michele Gamautte - Marco Filippo Romano
Gertrude - Elena Tereshchenko
Bellapunta - Lorenzo Izzo
Orner - Dielli Hoxha
An Officer - Massimiliano Guerrieri
Piacenza Muncipal Theatre Chorus
Orchestra Internazionale d'Italia
Conductor - Fabio Luisi