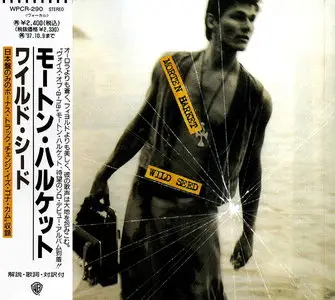 Morten Harket - Wild Seed (1995) [Japanese Ed. 1996]
EAC Rip | FLAC: Image+Cue+Log | 365 Mb | MP3 CBR 320 kbps | 146 Mb | Scans | 66 Mb | 55:55
Warner Bros. Records/WEA Japan | WPCR-290
Pop Rock, New Wave
Wild Seed is a 1995 album by Norwegian singer Morten Harket. It is his first solo album to be sung in English. The front man of legendary cult band a-ha, Morten Harket, has also had a distinguished solo career and this 1995 album is part of that rich vein of quality pop/rock/synth music. Morten Harket is a musical treasure and this album adds to his legacy. CD album including bonus recording 'A Change Is Gonna Come', complete with fold-out picture sleeve plus Japanese lyric booklet and obi-strip.

Track Listing
01. A Kind Of Christmas Card (4:07)
02. Spanish Steps (4:08)
03. Half In Love Half In Hate (4:47)
04. Brdosky Tune (4:24)
05. Wild Seed (4:50)
06. Los Angeles (4:28)
07. East-Timor (4:13)
08. Lay Me Down Tonight (2:19)
09. Tell Me What You See (4:51)
10. Stay (3:30)
11. Lord (3:46)
12. Ready To Go Home (4:35)
13. A Change Is Gonna Come (Bonus track for Japan) (5:57)
Produced by Christopher Neil
Personnel
• Morten Harket : vocals
• Clem Clempson, Eyvind Aarset, Frode Alnaes, Phil Palmer : guitars
• Øivind Madsen : bass
• Bjørg Værnes : cello
• Kjetil Bjerkestrand : bass synth
• Neil Wilkinson, Per Lindvall : drums
• Bendik Hofseth : saxophone
• Vertavo Quartet : strings
• Henning Båtnes : viola
• Berit Værnes, Øyvor Voll : violin
• Christopher Neil : backing vocals
Notes
℗ 1996 WEA International Inc. © 1996 WEA International Inc. The copyright in this sound recording is owned by Warner Bros Records for the US and WEA International Inc. for the world outside the US. Made in Japan.

Licensed by Gema. ℗ 1995 WEA International Inc. © 1995 WEA International Inc.

Spanish Steps - Actual the original name of this song is 5000 Miles. It's written by the norwegian songwriter and artist Torstein Flakne (member of the groups The Kids, Stage Dolls etc). Stage Dolls didn't record the song. In 1992 5000 Miles is recorded on the norwegian trumpet player Ole Edvard Antonsen's album Tour de Force. In 1995, Bjørn Nessjø, the producer of Tour de force and Harket's solo album suggested the song for Morten. And it became a huge success for the second time.
Exact Audio Copy V0.99 prebeta 3 from 28. July 2007

Отчёт EAC об извлечении, выполненном 9. мая 2010, 7:38

Morten Harket / Wild Seed

Дисковод: PIONEER DVD-RW DVR-112D Adapter: 1 ID: 0

Режим чтения : Достоверность
Использование точного потока : Да
Отключение кэша аудио : Да
Использование указателей C2 : Нет

Коррекция смещения при чтении : 48
Способность читать области Lead-in и Lead-out : Нет
Заполнение пропущенных сэмплов тишиной : Да
Удаление блоков с тишиной в начале и конце : Нет
При вычислениях CRC использовались нулевые сэмплы : Да
Интерфейс : Встроенный Win32-интерфейс для Win NT/2000

Выходной формат : Внутренние WAV-операции
Формат сэмплов : 44.100 Гц; 16 бит; стерео


TOC извлечённого CD

Трек | Старт | Длительность | Начальный сектор | Конечный сектор
––––––––––––––––––––––––––––––––––-
1 | 0:00.00 | 4:07.62 | 0 | 18586
2 | 4:07.62 | 4:08.38 | 18587 | 37224
3 | 8:16.25 | 4:47.17 | 37225 | 58766
4 | 13:03.42 | 4:24.60 | 58767 | 78626
5 | 17:28.27 | 4:50.00 | 78627 | 100376
6 | 22:18.27 | 4:28.18 | 100377 | 120494
7 | 26:46.45 | 4:13.02 | 120495 | 139471
8 | 30:59.47 | 2:19.20 | 139472 | 149916
9 | 33:18.67 | 4:51.10 | 149917 | 171751
10 | 38:10.02 | 3:30.03 | 171752 | 187504
11 | 41:40.05 | 3:46.65 | 187505 | 204519
12 | 45:26.70 | 4:35.00 | 204520 | 225144
13 | 50:01.70 | 5:57.00 | 225145 | 251919


Характеристики диапазона извлечения и сообщения об ошибках

Выбранный диапазон

Имя файла G:\Morten Harket - Wild Seed (Japan)\CDImage.wav

Пиковый уровень 100.0 %
Качество диапазона 100.0 %
CRC теста 1F45577F
CRC копии 1F45577F
Копирование… OK

Ошибок не произошло


AccurateRip: сводка

Трек 1 нет в базе данных
Трек 2 нет в базе данных
Трек 3 нет в базе данных
Трек 4 нет в базе данных
Трек 5 нет в базе данных
Трек 6 нет в базе данных
Трек 7 нет в базе данных
Трек 8 нет в базе данных
Трек 9 нет в базе данных
Трек 10 нет в базе данных
Трек 11 нет в базе данных
Трек 12 нет в базе данных
Трек 13 нет в базе данных

Ни одного трека нет в базе AccurateRip

Конец отчёта
Many thanks to the original uploader: jd250872jd
SEE also:
Torstein Flakne 1995 Shoot The Moon
Password: pass