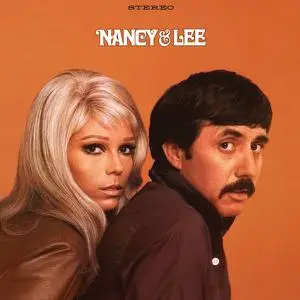 Nancy Sinatra & Lee Hazlewood - Nancy & Lee (Deluxe Edition) (1968/2022)
WEB FLAC (tracks) - 252 MB | MP3 CBR 320 kbps - 97 MB
42:02 | Folk, Country | Label: Boots Enterprises
Nancy Sinatra and Lee Hazlewood's 1968 duet album Nancy and Lee is to be reissued by Light in the Attic Records next month.
Nancy and Lee arguably represents the pinnacle of the collaborative efforts of one of pop music's most unlikely pairings. Featuring lush orchestral arrangements by Billy Strange, and boasting the talents of famed Los Angeles session musicians The Wrecking Crew, the album went on to sell over a million copies worldwide.
This first ever official reissue is described as 'definitive' by the label since it comes with Nancy's involvement and sees the audio remastered from the original analog tapes by engineer John Baldwin. There are two bonus tracks in the form of 'Tired Of Waiting For You' and 'Love Is Strange' both recorded as part of the album sessions.
Tracklist
1. You've Lost That Lovin' Feelin' (3:25)
2. Elusive Dreams (3:14)
3. Greenwich Village Folk Song Salesman (2:36)
4. Summer Wine (3:44)
5. Storybook Children (3:14)
6. Sundown, Sundown (2:42)
7. Jackson (2:50)
8. Some Velvet Morning (3:42)
9. Sand (3:46)
10. Lady Bird (3:05)
11. I've Been Down so Long (It Looks Like up to Me) (2:54)
12. Tired of Waiting for You (Bonus Track) (3:38)
13. Love is Strange (Bonus Track) (3:20)
–––––––––––-
DON'T MODIFY THIS FILE
–––––––––––-
PERFORMER: auCDtect Task Manager, ver. 1.6.0 RC1 build 1.6.0.1
Copyright © 2008-2010 y-soft. All rights reserved
http://y-soft.org
ANALYZER: auCDtect: CD records authenticity detector, version 0.8.2
Copyright © 2004 Oleg Berngardt. All rights reserved.
Copyright © 2004 Alexander Djourik. All rights reserved.
FILE: 13 - Love is Strange (Bonus Track).flac
Size: 23259564 Hash: E7B225E02E855620666AC4A1F727542C Accuracy: -m8
Conclusion: CDDA 100%
Signature: 30B0F7B8B9E16A81A9BBC724B61024D6A19E98EB
FILE: 12 - Tired of Waiting for You (Bonus Track).flac
Size: 22606904 Hash: D09CBA989145D9DB6F97E7A20C2D53AA Accuracy: -m8
Conclusion: CDDA 100%
Signature: C4393A38ED6E240D16AE82E513BAC6BCF60BD613
FILE: 11 - I've Been Down so Long (It Looks Like up to Me).flac
Size: 17623178 Hash: CC08463F440F11BD5E5642002FE20FCD Accuracy: -m8
Conclusion: CDDA 99%
Signature: 5649CD85585841FA6336B80A4BB1911D7A99567F
FILE: 10 - Lady Bird.flac
Size: 19298034 Hash: 2D15DE08C3EC936432C401B96BD1F8C2 Accuracy: -m8
Conclusion: CDDA 99%
Signature: A6EE40B592EA300DCBD38E8158C5953F6598F4DC
FILE: 09 - Sand.flac
Size: 24839207 Hash: F354748E7DDEA44F17D3C8EB49CA44FF Accuracy: -m8
Conclusion: CDDA 100%
Signature: 0C56A0729A440891DE0BEAF3596987F6408A47CA
FILE: 08 - Some Velvet Morning.flac
Size: 22467034 Hash: B494C6C8C03FA81C4F8415F1597032F2 Accuracy: -m8
Conclusion: CDDA 100%
Signature: 21815AD785BE8F15F2AF79F30A8EC5EA7C131422
FILE: 07 - Jackson.flac
Size: 18594533 Hash: 5DC8996130A7D7319EB70925DD456070 Accuracy: -m8
Conclusion: CDDA 99%
Signature: 81ACD1CDFF25820FE2BF2ECD79D62CA9BF568653
FILE: 06 - Sundown, Sundown.flac
Size: 17407292 Hash: E9B549E7E85CD5375FE1F0344711DEFA Accuracy: -m8
Conclusion: CDDA 100%
Signature: B2568C767C14390DDFB5977BB47E1981AE04E1D9
FILE: 05 - Storybook Children.flac
Size: 19116302 Hash: 4181A01DA8805335518F1D4B63FBFEFE Accuracy: -m8
Conclusion: CDDA 100%
Signature: D4AC3DAE372634AB532EA3B7CD07AC3D8EA90507
FILE: 04 - Summer Wine.flac
Size: 23229554 Hash: 8871A628A681B0E9E5E2FBFDFBA3F6AA Accuracy: -m8
Conclusion: CDDA 100%
Signature: 7ABF247C82BA8C12C4D8DC74036D45FF4C2B54BD
FILE: 03 - Greenwich Village Folk Song Salesman.flac
Size: 16674296 Hash: A9FF856D78BF44CDEBEC6337CA432C4F Accuracy: -m8
Conclusion: CDDA 100%
Signature: 7D1A984CE79394CBA2EE048C5C4AC35FEF02DA6D
FILE: 02 - Elusive Dreams.flac
Size: 19359288 Hash: 5DBB7A7F489A075DFBDF8EB904D515E3 Accuracy: -m8
Conclusion: CDDA 100%
Signature: 2868F9088C491DBF605A2A86113D279D2E152822
FILE: 01 - You've Lost That Lovin' Feelin'.flac
Size: 19694658 Hash: 0C5803B99C26B3B475191C7C7A0AC208 Accuracy: -m8
Conclusion: CDDA 100%
Signature: 74CF5C5DD65FACE6661DB47EBBEEEB168506AB56