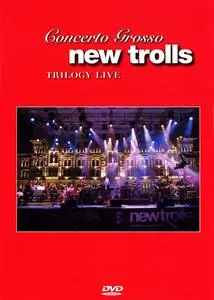 New Trolls - Concerto Grosso Trilogy Live (2007)
DVD9 | MPEG-2, 720x576 (4:3), 25.000 fps, 7574 kb/s | LPCM 2.0, 48.0 kHz/16 bit, 1536 kb/s
Full Scans | 02:03:52 + 00:07:59 | RAR 5% Recovery
Art Rock, Progressive Rock, Symphonic Rock | Aereostella / Edel #0185688AER
New Trolls are an Italian progressive rock band, known for their fusion of rock and classical music. Their history is filled with line-up changes, band name changes and struggles between band members. Along the years several members regrouped under different monikers (New Trolls Atomic System, Vittorio De Scalzi - La storia dei New Trolls, Ibis, Il Mito New Trolls, La Leggenda New Trolls, Uno Tempore).

Unique in the history of Italian progressive music, New Trolls were leaders and were for a time the top band in Italy. In 1973, New Trolls split into two camps, the hard-rocking IBIS and the symphonic-oriented NEW TROLLS ATOMIC SYSTEM. They crossed many different permutations of line-up changes, many musical stylings… and great hits, passing through beat, pop ballads, progressive rock works, hard rock, and melodic pop followed groups like GENESIS and PFM.

2007 saw what is currently the latest reunion of De Scalzi and Di Palo. Reuniting elements from both members' bands, the reformed New Trolls released Concerto grosso: the seven seasons, a continuation of their classical/rock blending "Concerto grosso" series. For this issue, the band returned to English lyrics, written by Shel Shapiro. The record was produced and released by the band's own label, Aereostella.
***************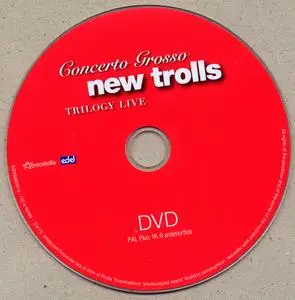 Track List:
01. Nella sala vuota Allegro
02. Adagio (shadows)
03. Fireworks
04. Cadenza - andante con moto
05. My shadow in the dark (per jimy hendrix)
06. Primo tempo: vivace
07. Secondo tempo: vivace
08. Intro a moderato
09. Terzo tempo: moderato - fare you well dove
10. Quiet seas
11. Le roi soleil
12. The knowledge (overure)
13. Dance with rain (ballata)
14. Future joy (scherzo)
15. High education (cello cadenza)
16. The seventh season (ostinato)
17. The ray of white light (rondo')
18. One magic night (larghetto)
19. Barocco 'n' roll (allegro brioso)
20. Intro and canone
21. Testament of time (andante)
22. To love the land (adagio)
23. The season of hope (piano preludio)
24. Simply angels (suite)
Bonus Track
25. In st. peter's day (dall'album searching for a land)
Personnel:
Vittorio De Scalzi - vocals, keyboards, classic guitar, flute
Nico Di Palo - vocals, keyboards
Guest musicians:
Alfio Vitanza - drums, vocals
Andrea Maddalone - acoustic and electric guitar, vocals
Mauro Sposito - acoustic and electric guitar, vocals
Francesco Bellia - bass, vocals
With orchestra conducted by Stefano Chiabrera

General
Complete name : J:\_DOWNLOAD\New Trolls - Concerto Grosso Trilogy Live (2007) DVD9\VIDEO_TS\VTS_01_1.VOB
Format : MPEG-PS
File size : 1 024 MiB
Duration : 18 min 53 s
Overall bit rate mode : Constant
Overall bit rate : 7 574 kb/s

Video
ID : 224 (0xE0)
Format : MPEG Video
Format version : Version 2
Format profile : Main@Main
Format settings : CustomMatrix / BVOP
Format settings, BVOP : Yes
Format settings, Matrix : Custom
Format settings, GOP : M=3, N=15
Format settings, picture structure : Frame
Duration : 18 min 53 s
Bit rate mode : Constant
Bit rate : 5 900 kb/s
Width : 720 pixels
Height : 576 pixels
Display aspect ratio : 4:3
Frame rate : 25.000 FPS
Standard : PAL
Color space : YUV
Chroma subsampling : 4:2:0
Bit depth : 8 bits
Scan type : Interlaced
Scan order : Bottom Field First
Compression mode : Lossy
Bits/(Pixel*Frame) : 0.569
Time code of first frame : 00:00:00:00
Time code source : Group of pictures header
GOP, Open/Closed : Open
GOP, Open/Closed of first frame : Closed
Stream size : 796 MiB (78%)

Audio
ID : 189 (0xBD)-160 (0xA0)
Format : PCM
Format settings : Big / Signed
Muxing mode : DVD-Video
Duration : 18 min 53 s
Bit rate mode : Constant
Bit rate : 1 536 kb/s
Channel(s) : 2 channels
Sampling rate : 48.0 kHz
Bit depth : 16 bits
Stream size : 208 MiB (20%)

Menu

General
Complete name : J:\_DOWNLOAD\New Trolls - Concerto Grosso Trilogy Live (2007) DVD9\VIDEO_TS\VTS_01_2.VOB
Format : MPEG-PS
File size : 1 024 MiB
Duration : 18 min 53 s
Overall bit rate mode : Constant
Overall bit rate : 7 575 kb/s

Video
ID : 224 (0xE0)
Format : MPEG Video
Format version : Version 2
Format profile : Main@Main
Format settings : CustomMatrix / BVOP
Format settings, BVOP : Yes
Format settings, Matrix : Custom
Format settings, GOP : Variable
Format settings, picture structure : Frame
Duration : 18 min 53 s
Bit rate mode : Constant
Bit rate : 5 900 kb/s
Width : 720 pixels
Height : 576 pixels
Display aspect ratio : 4:3
Frame rate : 25.000 FPS
Standard : PAL
Color space : YUV
Chroma subsampling : 4:2:0
Bit depth : 8 bits
Scan type : Interlaced
Scan order : Bottom Field First
Compression mode : Lossy
Bits/(Pixel*Frame) : 0.569
Time code of first frame : 00:18:53:18
Time code source : Group of pictures header
Stream size : 796 MiB (78%)

Audio
ID : 189 (0xBD)-160 (0xA0)
Format : PCM
Format settings : Big / Signed
Muxing mode : DVD-Video
Duration : 18 min 53 s
Bit rate mode : Constant
Bit rate : 1 536 kb/s
Channel(s) : 2 channels
Sampling rate : 48.0 kHz
Bit depth : 16 bits
Delay relative to video : -346 ms
Stream size : 208 MiB (20%)

Menu

General
Complete name : J:\_DOWNLOAD\New Trolls - Concerto Grosso Trilogy Live (2007) DVD9\VIDEO_TS\VTS_01_3.VOB
Format : MPEG-PS
File size : 1 024 MiB
Duration : 18 min 53 s
Overall bit rate mode : Constant
Overall bit rate : 7 575 kb/s

Video
ID : 224 (0xE0)
Format : MPEG Video
Format version : Version 2
Format profile : Main@Main
Format settings : CustomMatrix / BVOP
Format settings, BVOP : Yes
Format settings, Matrix : Custom
Format settings, GOP : M=3, N=15
Format settings, picture structure : Frame
Duration : 18 min 53 s
Bit rate mode : Constant
Bit rate : 5 900 kb/s
Width : 720 pixels
Height : 576 pixels
Display aspect ratio : 4:3
Frame rate : 25.000 FPS
Standard : PAL
Color space : YUV
Chroma subsampling : 4:2:0
Bit depth : 8 bits
Scan type : Interlaced
Scan order : Bottom Field First
Compression mode : Lossy
Bits/(Pixel*Frame) : 0.569
Time code of first frame : 00:37:47:17
Time code source : Group of pictures header
Stream size : 796 MiB (78%)

Audio
ID : 189 (0xBD)-160 (0xA0)
Format : PCM
Format settings : Big / Signed
Muxing mode : DVD-Video
Duration : 18 min 53 s
Bit rate mode : Constant
Bit rate : 1 536 kb/s
Channel(s) : 2 channels
Sampling rate : 48.0 kHz
Bit depth : 16 bits
Delay relative to video : -355 ms
Stream size : 208 MiB (20%)

Menu

General
Complete name : J:\_DOWNLOAD\New Trolls - Concerto Grosso Trilogy Live (2007) DVD9\VIDEO_TS\VTS_01_4.VOB
Format : MPEG-PS
File size : 1 024 MiB
Duration : 18 min 53 s
Overall bit rate mode : Constant
Overall bit rate : 7 575 kb/s

Video
ID : 224 (0xE0)
Format : MPEG Video
Format version : Version 2
Format profile : Main@Main
Format settings : CustomMatrix / BVOP
Format settings, BVOP : Yes
Format settings, Matrix : Custom
Format settings, GOP : Variable
Format settings, picture structure : Frame
Duration : 18 min 53 s
Bit rate mode : Constant
Bit rate : 5 900 kb/s
Width : 720 pixels
Height : 576 pixels
Display aspect ratio : 4:3
Frame rate : 25.000 FPS
Standard : PAL
Color space : YUV
Chroma subsampling : 4:2:0
Bit depth : 8 bits
Scan type : Interlaced
Scan order : Bottom Field First
Compression mode : Lossy
Bits/(Pixel*Frame) : 0.569
Time code of first frame : 00:56:41:16
Time code source : Group of pictures header
Stream size : 796 MiB (78%)

Audio
ID : 189 (0xBD)-160 (0xA0)
Format : PCM
Format settings : Big / Signed
Muxing mode : DVD-Video
Duration : 18 min 53 s
Bit rate mode : Constant
Bit rate : 1 536 kb/s
Channel(s) : 2 channels
Sampling rate : 48.0 kHz
Bit depth : 16 bits
Delay relative to video : -355 ms
Stream size : 208 MiB (20%)

Menu

General
Complete name : J:\_DOWNLOAD\New Trolls - Concerto Grosso Trilogy Live (2007) DVD9\VIDEO_TS\VTS_01_5.VOB
Format : MPEG-PS
File size : 1 024 MiB
Duration : 18 min 53 s
Overall bit rate mode : Constant
Overall bit rate : 7 575 kb/s

Video
ID : 224 (0xE0)
Format : MPEG Video
Format version : Version 2
Format profile : Main@Main
Format settings : CustomMatrix / BVOP
Format settings, BVOP : Yes
Format settings, Matrix : Custom
Format settings, GOP : M=3, N=15
Format settings, picture structure : Frame
Duration : 18 min 53 s
Bit rate mode : Constant
Bit rate : 5 900 kb/s
Width : 720 pixels
Height : 576 pixels
Display aspect ratio : 4:3
Frame rate : 25.000 FPS
Standard : PAL
Color space : YUV
Chroma subsampling : 4:2:0
Bit depth : 8 bits
Scan type : Interlaced
Scan order : Bottom Field First
Compression mode : Lossy
Bits/(Pixel*Frame) : 0.569
Time code of first frame : 01:15:35:06
Time code source : Group of pictures header
GOP, Open/Closed : Open
Stream size : 796 MiB (78%)

Audio
ID : 189 (0xBD)-160 (0xA0)
Format : PCM
Format settings : Big / Signed
Muxing mode : DVD-Video
Duration : 18 min 53 s
Bit rate mode : Constant
Bit rate : 1 536 kb/s
Channel(s) : 2 channels
Sampling rate : 48.0 kHz
Bit depth : 16 bits
Delay relative to video : -348 ms
Stream size : 208 MiB (20%)

Menu

General
Complete name : J:\_DOWNLOAD\New Trolls - Concerto Grosso Trilogy Live (2007) DVD9\VIDEO_TS\VTS_01_6.VOB
Format : MPEG-PS
File size : 1 024 MiB
Overall bit rate mode : Constant

Video
ID : 224 (0xE0)
Format : MPEG Video
Format version : Version 2
Format profile : Main@Main
Format settings : CustomMatrix / BVOP
Format settings, BVOP : Yes
Format settings, Matrix : Custom
Format settings, GOP : M=3, N=15
Format settings, picture structure : Frame
Bit rate mode : Constant
Maximum bit rate : 5 900 kb/s
Width : 720 pixels
Height : 576 pixels
Display aspect ratio : 4:3
Frame rate : 25.000 FPS
Standard : PAL
Color space : YUV
Chroma subsampling : 4:2:0
Bit depth : 8 bits
Scan type : Interlaced
Scan order : Bottom Field First
Compression mode : Lossy
Time code of first frame : 01:34:28:19
Time code source : Group of pictures header

Audio
ID : 189 (0xBD)-160 (0xA0)
Format : PCM
Format settings : Big / Signed
Muxing mode : DVD-Video
Bit rate mode : Constant
Bit rate : 1 536 kb/s
Channel(s) : 2 channels
Sampling rate : 48.0 kHz
Bit depth : 16 bits
Delay relative to video : -355 ms

Menu

General
Complete name : J:\_DOWNLOAD\New Trolls - Concerto Grosso Trilogy Live (2007) DVD9\VIDEO_TS\VTS_01_7.VOB
Format : MPEG-PS
File size : 569 MiB
Duration : 10 min 30 s
Overall bit rate mode : Constant
Overall bit rate : 7 573 kb/s

Video
ID : 224 (0xE0)
Format : MPEG Video
Format version : Version 2
Format profile : Main@Main
Format settings : CustomMatrix / BVOP
Format settings, BVOP : Yes
Format settings, Matrix : Custom
Format settings, GOP : M=3, N=15
Format settings, picture structure : Frame
Duration : 10 min 30 s
Bit rate mode : Constant
Bit rate : 5 900 kb/s
Width : 720 pixels
Height : 576 pixels
Display aspect ratio : 4:3
Frame rate : 25.000 FPS
Standard : PAL
Color space : YUV
Chroma subsampling : 4:2:0
Bit depth : 8 bits
Scan type : Interlaced
Scan order : Bottom Field First
Compression mode : Lossy
Bits/(Pixel*Frame) : 0.569
Time code of first frame : 00:18:24:01
Time code source : Group of pictures header
GOP, Open/Closed : Open
Stream size : 442 MiB (78%)

Audio
ID : 189 (0xBD)-160 (0xA0)
Format : PCM
Format settings : Big / Signed
Muxing mode : DVD-Video
Duration : 10 min 30 s
Bit rate mode : Constant
Bit rate : 1 536 kb/s
Channel(s) : 2 channels
Sampling rate : 48.0 kHz
Bit depth : 16 bits
Delay relative to video : -350 ms
Stream size : 115 MiB (20%)

Menu

General
Complete name : J:\_DOWNLOAD\New Trolls - Concerto Grosso Trilogy Live (2007) DVD9\VIDEO_TS\VTS_02_1.VOB
Format : MPEG-PS
File size : 513 MiB
Duration : 7 min 59 s
Overall bit rate mode : Variable
Overall bit rate : 8 988 kb/s

Video
ID : 224 (0xE0)
Format : MPEG Video
Format version : Version 2
Format profile : Main@Main
Format settings : BVOP
Format settings, BVOP : Yes
Format settings, Matrix : Default
Format settings, GOP : M=3, N=15
Format settings, picture structure : Frame
Duration : 7 min 59 s
Bit rate mode : Variable
Bit rate : 7 273 kb/s
Maximum bit rate : 8 000 kb/s
Width : 720 pixels
Height : 576 pixels
Display aspect ratio : 4:3
Frame rate : 25.000 FPS
Standard : PAL
Color space : YUV
Chroma subsampling : 4:2:0
Bit depth : 8 bits
Scan type : Interlaced
Scan order : Top Field First
Compression mode : Lossy
Bits/(Pixel*Frame) : 0.702
Time code of first frame : 00:00:00:00
Time code source : Group of pictures header
Stream size : 415 MiB (81%)
Color primaries : BT.601 PAL
Transfer characteristics : BT.470 System B/G
Matrix coefficients : BT.470 System B/G

Audio
ID : 189 (0xBD)-160 (0xA0)
Format : PCM
Format settings : Big / Signed
Muxing mode : DVD-Video
Duration : 7 min 59 s
Bit rate mode : Constant
Bit rate : 1 536 kb/s
Channel(s) : 2 channels
Sampling rate : 48.0 kHz
Bit depth : 16 bits
Stream size : 87.7 MiB (17%)

Menu