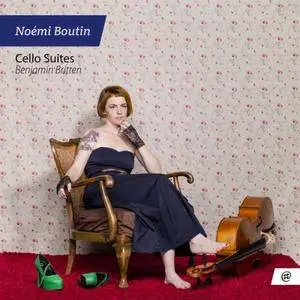 Noémi Boutin - Britten Cello Suites (2017)
Classical | MP3 CBR 320 kbps | 01:14:05 | 171 MB
Label: NoMadMusic | Release Year: 2017
Britten's works for the cello were the result of a close friendship with Mstislav Rostropovitch. The cellist inspired the composer with his Symphony for Cello and Orchestra, his Sonata for Cello and Piano, and the following three Suites - undoubtedly the most important corpus of cello music since the Bach Suites. This is a completely new music, totally unclassifiable and marked by the personality of Britten; A kind of re-reading of a baroque form that contains some of the most overwhelming pages that have been composed for the cello. Often absent from concert programs, the young French cellist Noémi Boutin chose to record them because, she says, "they possess the density, delicacy and visionary sensitivity of the greatest works. The richness of this music offers both the interpreter and the listener a world of intimate and dreamlike expressions, an infinite field of sounds. Noemi Boutin (* 1983), a disciple of Roland Pidoux, Philippe Muller and Jean-Guihen Queyras, "Classical revelation of the ADAMI" cuvée 2004, certainly did not choose the facility and, rather than rehearse for the n The third time an interpretation of the famous tubes, preferred to plunge into a more contemporary world - the three Britten Suites were written between 1964 and 71, free to everyone to see there classics written forty or fifty years ago, Eternal modernities conceived in an unclassifiable past - and the difficulty of the solo cello. Bet fully won.
TRACKLIST
01. Britten: suite for cello op.72 I. canto primo
02. Britten: suite for cello op.72 II. fuga
03. Britten: suite for cello op.72 III. lamento
04. Britten: suite for cello op.72 IV. canto secondo
05. Britten: suite for cello op.72 V. serenata
06. Britten: suite for cello op.72 VI. marcia
07. Britten: suite for cello op.72 VII. canto terzo
08. Britten: suite for cello op.72 VII. bordone
09. Britten: suite for cello op.72 IX. moto perpetuo e canto quarto
10. Britten: suite for cello op.80 I. declamato
11. Britten: suite for cello op.80 II. fuga
12. Britten: suite for cello op.80 III. scherzo
13. Britten: suite for cello op.80 IV. andante lento
14. Britten: suite for cello op.80 V. ciaccona
15. Britten: suite for cello op.87 I. lento
16. Britten: suite for cello op.87 II. allegro (marcia)
17. Britten: suite for cello op.87 III. con moto (canto)
18. Britten: suite for cello op.87 IV. lento (barcarola)
19. Britten: suite for cello op.87 V. allegretto (dialogo)
20. Britten: suite for cello op.87 VI. andante espressivo (fuga)
21. Britten: suite for cello op.87 VII. fantastico (recitativo)
22. Britten: suite for cello op.87 VIII. presto (moto perpetuo)
23. Britten: suite for cello op.87 IX. lento solenne (passacaglia)
24. Britten: suite for cello op.87 X. mournful song (under the little apple tree)