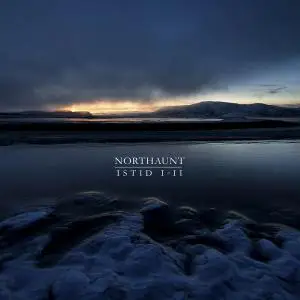 Northaunt - Istid I-II (2015)
EAC Rip | FLAC (tracks+.cue+log) - 342 MB | MP3 CBR 320 kbps (LAME 3.93) - 185 MB | Covers - 121 MB
Genre: Ambient | RAR 3% Rec. | Label: Cyclic Law (72nd Cycle)
9 long years after the release of the seminal album "Horizons", we are finally greeted to a new opus by Norway's most unique craftsmen of cold, desolate and deep nordic ambient. Constantly tapping into the singular northern landscapes of his native Norway for inspiration, Hærleif Langås transposes his views and feelings of the great white north into intricately deep and poignant soundscapes. Northaunt's sound can best be described as landscapes transformed into aural emanations, enabling the listener to in turn be able to journey through those barren and foreign lands through the minds eye.
CD 1 Tracklist:
01. Istid
02. Endless Ice
03. Boreal
04. The Unseen Earth
Total time:
41:09
CD 2 Tracklist:
01. Mammoth
02. Moraine
03. Extinction Event
04. Cold Streams
Total time:
37:24
Exact Audio Copy V1.0 beta 3 from 29. August 2011

Отчёт EAC об извлечении, выполненном 2. февраля 2015, 20:27

Northaunt / Istid I-II

Дисковод: Optiarc DVD RW AD-7280S Adapter: 3 ID: 0

Режим чтения : Достоверность
Использование точного потока : Да
Отключение кэша аудио : Да
Использование указателей C2 : Нет

Коррекция смещения при чтении : 48
Способность читать области Lead-in и Lead-out : Нет
Заполнение пропущенных сэмплов тишиной : Да
Удаление блоков с тишиной в начале и конце : Нет
При вычислениях CRC использовались нулевые сэмплы : Да
Интерфейс : Встроенный Win32-интерфейс для Win NT/2000
Обработка зазоров : Добавлено к предыдущему треку

Выходной формат : Пользовательский кодировщик
Выбранный битрейт : 128 kBit/s
Качество : Высокий
Добавление ID3-тега : Нет
Утилита сжатия : C:\Program Files (x86)\Exact Audio Copy\Flac\flac.exe
Дополнительные параметры : -V -8 -T "Genre=%genre%" -T "Artist=%artist%" -T "Title=%title%" -T "Album=%albumtitle%" -T "Date=%year%" -T "Tracknumber=%tracknr%" -T "Comment=%comment%" %source%


TOC извлечённого CD

Трек | Старт | Длительность | Начальный сектор | Конечный сектор
––––––––––––––––––––––––––––––––––-
1 | 0:00.00 | 15:29.46 | 0 | 69720
2 | 15:29.46 | 7:41.31 | 69721 | 104326
3 | 23:11.02 | 9:57.50 | 104327 | 149151
4 | 33:08.52 | 8:00.00 | 149152 | 185151


Трек 1

Имя файла C:\Northaunt - Istid I-II\CD1\01 - Istid.wav

Длина предзазора 0:00:02.00

Пиковый уровень 97.7 %
Скорость извлечения 5.2 X
Качество трека 99.9 %
CRC теста 8F95D8CF
CRC копии 8F95D8CF
Копирование… OK

Трек 2

Имя файла C:\Northaunt - Istid I-II\CD1\02 - Endless Ice.wav

Пиковый уровень 72.9 %
Скорость извлечения 6.8 X
Качество трека 100.0 %
CRC теста E66B3F69
CRC копии E66B3F69
Копирование… OK

Трек 3

Имя файла C:\Northaunt - Istid I-II\CD1\03 - Boreal.wav

Пиковый уровень 97.7 %
Скорость извлечения 7.7 X
Качество трека 100.0 %
CRC теста BA8DCCDF
CRC копии BA8DCCDF
Копирование… OK

Трек 4

Имя файла C:\Northaunt - Istid I-II\CD1\04 - The Unseen Earth.wav

Пиковый уровень 94.3 %
Скорость извлечения 8.2 X
Качество трека 100.0 %
CRC теста 18F6D661
CRC копии 18F6D661
Копирование… OK

Ошибок не произошло

Конец отчёта

==== Контрольная сумма отчёта 335B5B31EB92DDA40208AF1B8DA104265339C080B89D1BCC8F6D856B9AB0632E ====
[CUETools log; Date: 27.11.2021 10:46:41; Version: 2.1.4]
[CTDB TOCID: 525VKR4l8sz7_TevRek0Hs6z4e0-] found.
Track | CTDB Status
1 | (11/11) Accurately ripped
2 | (11/11) Accurately ripped
3 | (11/11) Accurately ripped
4 | (10/11) Accurately ripped
[AccurateRip ID: 0007c1c0-001e2208-3209a404] found.
Track [ CRC | V2 ] Status
01 [b1e4359d|d1e8d0f3] (0+7/7) Accurately ripped
02 [53dd4900|611135de] (0+7/7) Accurately ripped
03 [c2960f97|eed10e51] (0+7/7) Accurately ripped
04 [6ae3a95f|e5c50116] (0+6/6) Accurately ripped

Track Peak [ CRC32 ] [W/O NULL] [ LOG ]
– 97,7 [68016514] [0D31BEE7]
01 97,7 [8F95D8CF] [AE3069A8] CRC32
02 72,9 [E66B3F69] [8EDB564A] CRC32
03 97,7 [BA8DCCDF] [7C1F04E7] CRC32
04 94,3 [18F6D661] [0C0A361B] CRC32
Exact Audio Copy V1.0 beta 3 from 29. August 2011

Отчёт EAC об извлечении, выполненном 2. февраля 2015, 20:11

Northaunt / Istid I-II

Дисковод: Optiarc DVD RW AD-7280S Adapter: 3 ID: 0

Режим чтения : Достоверность
Использование точного потока : Да
Отключение кэша аудио : Да
Использование указателей C2 : Нет

Коррекция смещения при чтении : 48
Способность читать области Lead-in и Lead-out : Нет
Заполнение пропущенных сэмплов тишиной : Да
Удаление блоков с тишиной в начале и конце : Нет
При вычислениях CRC использовались нулевые сэмплы : Да
Интерфейс : Встроенный Win32-интерфейс для Win NT/2000
Обработка зазоров : Добавлено к предыдущему треку

Выходной формат : Пользовательский кодировщик
Выбранный битрейт : 128 kBit/s
Качество : Высокий
Добавление ID3-тега : Нет
Утилита сжатия : C:\Program Files (x86)\Exact Audio Copy\Flac\flac.exe
Дополнительные параметры : -V -8 -T "Genre=%genre%" -T "Artist=%artist%" -T "Title=%title%" -T "Album=%albumtitle%" -T "Date=%year%" -T "Tracknumber=%tracknr%" -T "Comment=%comment%" %source%


TOC извлечённого CD

Трек | Старт | Длительность | Начальный сектор | Конечный сектор
––––––––––––––––––––––––––––––––––-
1 | 0:00.00 | 11:52.55 | 0 | 53454
2 | 11:52.55 | 9:58.05 | 53455 | 98309
3 | 21:50.60 | 8:29.43 | 98310 | 136527
4 | 30:20.28 | 7:03.56 | 136528 | 168308


Трек 1

Имя файла C:\Northaunt - Istid I-II\CD2\01 - Mammoth.wav

Длина предзазора 0:00:02.00

Пиковый уровень 84.5 %
Скорость извлечения 5.5 X
Качество трека 100.0 %
CRC теста 69389923
CRC копии 69389923
Копирование… OK

Трек 2

Имя файла C:\Northaunt - Istid I-II\CD2\02 - Moraine.wav

Пиковый уровень 97.7 %
Скорость извлечения 6.6 X
Качество трека 100.0 %
CRC теста 90A42122
CRC копии 90A42122
Копирование… OK

Трек 3

Имя файла C:\Northaunt - Istid I-II\CD2\03 - Extinction Event.wav

Пиковый уровень 97.7 %
Скорость извлечения 7.4 X
Качество трека 100.0 %
CRC теста 6CD4213A
CRC копии 6CD4213A
Копирование… OK

Трек 4

Имя файла C:\Northaunt - Istid I-II\CD2\04 - Cold Streams.wav

Пиковый уровень 97.7 %
Скорость извлечения 8.0 X
Качество трека 100.0 %
CRC теста 65B2786F
CRC копии 65B2786F
Копирование… OK

Ошибок не произошло

Конец отчёта

==== Контрольная сумма отчёта 9FF9D71B2538E723A2C2B7B1CBC9BB9F9071DD9613459928E1D167F6812266F2 ====
[CUETools log; Date: 27.11.2021 10:47:03; Version: 2.1.4]
[CTDB TOCID: o7xnw1Xb9vw.smmzZ5A3V5RHJVY-] found.
Track | CTDB Status
1 | (11/11) Accurately ripped
2 | (11/11) Accurately ripped
3 | (11/11) Accurately ripped
4 | (11/11) Accurately ripped
[AccurateRip ID: 0006f79a-001b4e3a-2208c404] found.
Track [ CRC | V2 ] Status
01 [b00e2dfc|d5918081] (0+7/7) Accurately ripped
02 [ac23b290|63eee3de] (0+7/7) Accurately ripped
03 [1f2ed622|f6972b54] (0+7/7) Accurately ripped
04 [98d7aa47|c0fc4500] (0+6/6) Accurately ripped

Track Peak [ CRC32 ] [W/O NULL] [ LOG ]
– 97,7 [67CD47F7] [0618D5C9]
01 84,5 [69389923] [F27B08F9] CRC32
02 97,7 [90A42122] [73D00A81] CRC32
03 97,7 [6CD4213A] [2463E3C7] CRC32
04 97,7 [65B2786F] [0D915888] CRC32
Thanks to
about:blank