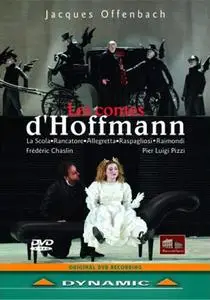 Frédéric Chaslin, Orchestra Filarmonica Marchigiana - Offenbach: Les Contes d'Hoffmann (2005)
NTSC 16:9 (720x480) | Français (LinearPCM, 2 ch) | (Dolby AC3, 6 ch) | (DTS, 6 ch) | 6.17 + 4.03 Gb (DVD9+DVD5) | 159 min
Classical | Dynamic | Sub.: Italiano, English, Francais, Deutsch, Espanol, Chinese, Japanese
Les Contes d'Hoffmann is a great, unfinished masterpiece. In 1880 Hoffenbach's health began to deteriorate rapidly. Les Contes d'Hoffmann had already been programmed for the 1880/81 season of the Opéra-Comique but Offenbach was having a hard time finishing it and worked only in the moments of respite from his illness. he died on October 5th, leaving the opera incomplete (we still do not know to what extent). And so Ernest Guiraud, a "specialist" who had already transformed into recitatives the spoken parts of Bizet's Carmen, was called to finish the task. The opera was first staged at the Opéra-Comique on 10th February 1881 and met with great success. Soon it was being performed in the most important theatres of the world. Our edition has an Italian cast of exceptional quality, in which stand out the amazing voice of Desirée Rancatore, the extraordinary artistry of Ruggiero Raimondi and the fascinating direction of Pier Luigi Pizzi.Pizzi, one of today's most creative directors.
Cast:
Lindorf, Coppélius, Dapertutto, Miracle - Ruggero Raimondi
Hoffman - Vincenzo La Scola
Olympia - Désirée Rancatore
Giulietta - Sara Allegretta
Antonia - Annalisa Raspagliosi
Nicklausse - Elsa Maurus
Spalanzani - Thomas Morris
Nathanaël - Francesco Zingariello
Andrés, Cochenille, Pitichinaccio, Frantz - Luca Casalin
Crespel, Luther - Lorenzo Muzzi
Hermann, Schlémil - Nicolas Rivenq
Stella - Tiziana Carraro
Una voce di basso - Pierpaolo Palloni
Wilhelm - Davide Tonucci
Coro Lirico Marchigiano "V.Bellini"
Orchestra Filarmonica Marchigiana
Conductor - Frédéric Chaslin