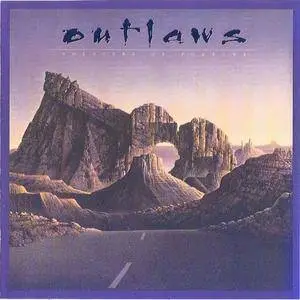 Outlaws - Soldiers Of Fortune (1986)
Rock | 1cd | EAC Rip | Ape + Cue + Log | covers
Wounded Bird, WOU 512 | rem: 2004 | 295Mb
Soldiers of Fortune was the last record by the Outlaws that could actually be called an "Outlaws" album. The disc was issued in 1986, three years after the band left Arista, in the wake of huge chart and sales successes a few years earlier by .38 Special, which wed FM radio pop, that '80s keyboard sound, and Southern rock in a winning formula. Given that and the way this record sounds, the title of the album is perhaps more telling of the band's motivation than it is an aesthetic choice. Guitarist Henry Paul returned to the Florida band's fold for this outing, restoring the three-guitar front line that leader Hughie Thomasson favored. But for all the restraint presented here, it hardly mattered. Drum programs abound, as do synthesizers, but nonetheless there is something very compelling about this record. Its feel is utterly nocturnal. It's slick, polished, and holds only a ghostly resemblance to the Outlaws of old. There are no roaring jams and no wrangling, knife-edged guitars – only those spooky, out-of-the-murky-soil melodies that were the band's trademark. There are beautiful songs here, like the opening "One Last Ride," with its shimmering warm synth lines and elasticized guitars and vocals by Jon Butcher. The title track was crafted to hit the same mark that .38 Special's "Caught Up in You" and "Hang On Loosely" were, with its nearly chanted choruses, smooth guitar riffs with just a hint of Southern rock sting, and a hook to die for. "The Night Cries," for all of its Southern flair, still could have been written and produced by Lindsey Buckingham. "Cold Harbor" reflects Paul's gift for writing narrative pop songs and weaving beautiful acoustic guitars through his tomes. "Saved By the Bell" is another tune sculpted in the "Soldiers of Fortune" mold. Only "Just the Way I Like It," "Lady Luck," and (to a lesser extent) "The Outlaw" revel in an '80s form of Southern boogie rock, but even these are textured gloriously. Sonically, this album sounds dated, but musically it's the true space oddity in the Outlaws' catalog, and deserves both a listen and a berth just for that.
~AllmusicTrack listing
01. One Last Ride (4:26)
02. Soldiers Of Fortune (3:32)
03. The Night Cries (4:36)
04. The Outlaw (3:49)
05. Cold Harbor (4:26)
06. Whatcha Don't Do (3:50)
07. Just The Way I Like It (4:02)
08. Saved By The Bell (3:56)
09. Lady Luck (3:52)
10. Racin' For The Red Light (6:03)
Personnel
- Henry Paul - guitar, vocals, background vocals
- Hughie Thomasson - guitar, vocals, background vocals
- Steve Grisham - guitar, vocals, background vocals
- Chuck Glass - bass, keyboards, vocals, background vocals
- David Dix - percussion, drums

Exact Audio Copy V1.0 beta 2 from 29. April 2011

Отчёт EAC об извлечении, выполненном 21. января 2012, 16:47

The Outlaws / Soldiers Of Fortune

Дисковод: _NEC DV-5800C Adapter: 3 ID: 1

Режим чтения : Достоверность
Использование точного потока : Да
Отключение кэша аудио : Да
Использование указателей C2 : Нет

Коррекция смещения при чтении : 12
Способность читать области Lead-in и Lead-out : Нет
Заполнение пропущенных сэмплов тишиной : Да
Удаление блоков с тишиной в начале и конце : Нет
При вычислениях CRC использовались нулевые сэмплы : Нет
Интерфейс : Встроенный Win32-интерфейс для Win NT/2000

Выходной формат : Внутренние WAV-операции
Формат сэмплов : 44.100 Гц; 16 бит; стерео


TOC извлечённого CD

Трек | Старт | Длительность | Начальный сектор | Конечный сектор
––––––––––––––––––––––––––––––––––-
1 | 0:00.00 | 4:26.65 | 0 | 20014
2 | 4:26.65 | 3:32.30 | 20015 | 35944
3 | 7:59.20 | 4:36.59 | 35945 | 56703
4 | 12:36.04 | 3:49.52 | 56704 | 73930
5 | 16:25.56 | 4:26.63 | 73931 | 93943
6 | 20:52.44 | 3:50.03 | 93944 | 111196
7 | 24:42.47 | 4:02.02 | 111197 | 129348
8 | 28:44.49 | 3:56.72 | 129349 | 147120
9 | 32:41.46 | 3:52.07 | 147121 | 164527
10 | 36:33.53 | 6:03.20 | 164528 | 191772


Характеристики диапазона извлечения и сообщения об ошибках

Выбранный диапазон

Имя файла D:\The Outlaws - Soldiers Of Fortune.wav

Пиковый уровень 99.5 %
Скорость извлечения 8.8 X
Качество диапазона 100.0 %
CRC копии EC9F4BAB
Копирование… OK

Ошибок не произошло


AccurateRip: сводка

Трек 1 : извлечено точно (доверие 5) [C019ADC9] (AR v1)
Трек 2 : извлечено точно (доверие 5) [BAE852F2] (AR v1)
Трек 3 : извлечено точно (доверие 5) [A39E33DE] (AR v1)
Трек 4 : извлечено точно (доверие 5) [C704245D] (AR v1)
Трек 5 : извлечено точно (доверие 5) [8889F51B] (AR v1)
Трек 6 : извлечено точно (доверие 5) [03733398] (AR v1)
Трек 7 : извлечено точно (доверие 5) [8495F2E4] (AR v1)
Трек 8 : извлечено точно (доверие 5) [5606EF96] (AR v1)
Трек 9 : извлечено точно (доверие 5) [2D49A185] (AR v1)
Трек 10 : извлечено точно (доверие 5) [8576D478] (AR v1)

Все треки извлечены точно

Конец отчёта



[CUETools log; Date: 2017. 02. 08. 11:57:46; Version: 2.1.6]
[CTDB TOCID: dy3UiU6u79.w8YJR0ZH.1zgReF4-] found.
Track | CTDB Status
1 | (1/1) Accurately ripped
2 | (1/1) Accurately ripped
3 | (1/1) Accurately ripped
4 | (1/1) Accurately ripped
5 | (1/1) Accurately ripped
6 | (1/1) Accurately ripped
7 | (1/1) Accurately ripped
8 | (1/1) Accurately ripped
9 | (1/1) Accurately ripped
10 | (1/1) Accurately ripped
[AccurateRip ID: 000fa1fb-007d1f6c-9c09fc0a] found.
Track [ CRC | V2 ] Status
01 [c019adc9|27e5dc48] (5+3/8) Accurately ripped
02 [bae852f2|ce784deb] (5+3/8) Accurately ripped
03 [a39e33de|ec635b52] (5+3/8) Accurately ripped
04 [c704245d|59860ee3] (5+3/8) Accurately ripped
05 [8889f51b|d5a4fd63] (5+3/8) Accurately ripped
06 [03733398|11cac900] (5+3/8) Accurately ripped
07 [8495f2e4|706def9f] (5+3/8) Accurately ripped
08 [5606ef96|c225c04a] (5+3/8) Accurately ripped
09 [2d49a185|44049d32] (5+3/8) Accurately ripped
10 [8576d478|f1296584] (5+3/8) Accurately ripped

Track Peak [ CRC32 ] [W/O NULL] [ LOG ]
– 99,5 [0E5D048F] [EC9F4BAB] W/O NULL
01 99,5 [9BD265A8] [428E12FC]
02 99,1 [056FA39E] [05106ADF]
03 99,1 [8C5E99C9] [8B1EAA28]
04 90,7 [A23AC5DB] [1A6E1516]
05 96,8 [EC8844A5] [D0C15A2F]
06 97,2 [CDDA1472] [0104F1F3]
07 99,5 [F393F6AF] [8D3A2FF9]
08 93,2 [6BEFC2B8] [D06A9ED8]
09 98,6 [6C27BC7A] [4F636D26]
10 94,4 [12418A6B] [26708895]


Thx to the original ripper