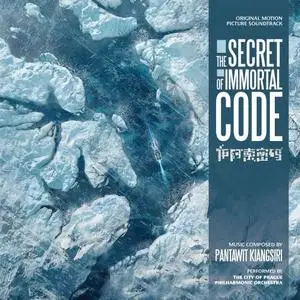 Pantawit Kiangsiri - The Secret of Immortal Code (2019)
FLAC tracks | 1:07:37 | 408 Mb
Genre: Soundtrack / Label: MovieScore Media
MovieScore Media explores the film music of the Far East with the big orchestral score for the Chinese science-fiction movie The Secret of the Immortal Code by emerging Thai composer Pantawit Kiangsiri. Directed by Wei Li and Nan Zhang and stylishly shot in black and white, the film takes place in a dystopian future where the world's population has become sick. To save her dying sister, Ziqi Lin (Jing Liang) embarks on a journey to the Arctic to seek the last hope, with guidance and help from a pharmaceutical tycoon Dr. Yao (Lixin Zhao). Unknown to Ziqi is that the journey of hope is actually the part of a dangerous conspiracy that threatens everyone's life.
Performed by The City of Prague Philharmonic Orchestra, the score is a love letter to many maeastros of our common sci-fi past, particularly Jerry Goldsmith. "After producer Wang Donghui explained his vision to revolutionize Chinese science fiction with The Secret of Immortal Code, I immediately knew it was a chance to fulfill my childhood musical dreams," says the composer. "I wanted to create something excitingly new but at the same time, making musical tributes to my favorite sci-fi film scores of the past. In the orchestral part, I paid homage to my composer heroes such as Jerry Goldsmith, John Williams, James Horner or Christopher Young. As for something new, large chunks of the music were scored by using only double bass with soloist Ryan Baird coming up with a variety of strange sounds that can be produced by this instrument acoustically."
Track List:
01. Pantawit Kiangsiri - Main Title (Theme from "The Secret of Immortal Code") (1:49)
02. Pantawit Kiangsiri - Underground Lab and Raid (2:55)
03. Pantawit Kiangsiri - The City (1:35)
04. Pantawit Kiangsiri - Home Argument (2:20)
05. Pantawit Kiangsiri - The Mission (2:43)
06. Pantawit Kiangsiri - Diary and Old Memories (3:10)
07. Pantawit Kiangsiri - Man in the Box (2:27)
08. Pantawit Kiangsiri - Blood Sample (2:42)
09. Pantawit Kiangsiri - Lab Test (1:45)
10. Pantawit Kiangsiri - Healing & Little Guys Dance (3:25)
11. Pantawit Kiangsiri - Emergency Power (3:25)
12. Pantawit Kiangsiri - Confrontation and Transformation (3:48)
13. Pantawit Kiangsiri - Blood on the Wall (2:05)
14. Pantawit Kiangsiri - Saving Her Life (1:35)
15. Pantawit Kiangsiri - Monster (2:08)
16. Pantawit Kiangsiri - Shoot Me (2:13)
17. Pantawit Kiangsiri - You're Evil, Pt. 1 (3:15)
18. Pantawit Kiangsiri - You're Evil, Pt. 2 (1:35)
19. Pantawit Kiangsiri - She's Infected (3:05)
20. Pantawit Kiangsiri - Going Down with the Ship (1:25)
21. Pantawit Kiangsiri - Message from the Arctic (4:07)
22. Pantawit Kiangsiri - The Chase (4:55)
23. Pantawit Kiangsiri - The Arctic (1:47)
24. Pantawit Kiangsiri - End Title (Suite from "The Secret of Immortal Code") (6:12)
25. Pantawit Kiangsiri - Little Guys Dance (Bonus Track) (1:10)
ANALYZER: auCDtect: CD records authenticity detector, version 0.8.2
Copyright © 2004 Oleg Berngardt. All rights reserved.
Copyright © 2004 Alexander Djourik. All rights reserved.


FILE: 01 - Main Title (Theme from The Secret of Immortal Code).flac
Size: 9996386 Hash: 293921980F8BCEF3628D7DB4373BA3EF Accuracy: -m40
Conclusion: CDDA 87%
Signature: EE7454CF65EA1EFBAB613AC45D59CD0FC3A4CEBA
FILE: 02 - Underground Lab and Raid.flac
Size: 16007030 Hash: 53B6E38B86144033AF017490ACD20DBF Accuracy: -m40
Conclusion: CDDA 100%
Signature: 49CB23F688BF9E9D18532AC7F5EE11FAB867970B
FILE: 03 - The City.flac
Size: 8080829 Hash: AEB3C1BD9D4A7C5F86D6293213C1C79E Accuracy: -m40
Conclusion: CDDA 100%
Signature: EC0508ECDB16F5806A36CC6BC88D0515780A582C
FILE: 04 - Home Argument.flac
Size: 11134502 Hash: 19C0BDA7C74BF28EC04336F2C0115A4E Accuracy: -m40
Conclusion: CDDA 100%
Signature: 350759BFF22B3451BD446045A5122002CB62AB91
FILE: 05 - The Mission.flac
Size: 15640985 Hash: 2E7077A2DE0D58E3F345E7A622470378 Accuracy: -m40
Conclusion: CDDA 100%
Signature: DE8C2E51B53F6481C2C6253B90FC8C62A4F9D8C6
FILE: 06 - Diary and Old Memories.flac
Size: 12975394 Hash: 3E5D73EBEDCBF9213CA2DCD3626292D5 Accuracy: -m40
Conclusion: CDDA 100%
Signature: 829E88B0F17D0A25E918FFD25B1A5FE620D65F2A
FILE: 07 - Man in the Box.flac
Size: 11638459 Hash: EE51CCAF6ABF440454D778F424946CED Accuracy: -m40
Conclusion: CDDA 100%
Signature: 00D81A21900541394098CDB9F3F534FC76AF2E20
FILE: 08 - Blood Sample.flac
Size: 13407485 Hash: 30F1B9BF9A9D762D27B0A7492F9D3B68 Accuracy: -m40
Conclusion: CDDA 100%
Signature: AE31DA9C9E28DCD031EB3B215F9617874D01B928
FILE: 09 - Lab Test.flac
Size: 7952466 Hash: 0680D2A1E95474AD09B2577E82EA43C8 Accuracy: -m40
Conclusion: CDDA 100%
Signature: 4FB66CE29DF8624C9EE66F285675E59EE3F0DAE5
FILE: 10 - Healing & Little Guys Dance.flac
Size: 15570147 Hash: 24B46DECFAC89968F60766FE228ECD00 Accuracy: -m40
Conclusion: CDDA 100%
Signature: 1D91D06AE07C61FA41F7898E7616559B659A7AF9
FILE: 11 - Emergency Power.flac
Size: 19222000 Hash: 0C282914D75222B6DDED0C39B1BF002F Accuracy: -m40
Conclusion: CDDA 100%
Signature: 53311F2FD0AFC031466130E1D29C3731C657C72D
FILE: 12 - Confrontation and Transformation.flac
Size: 21690132 Hash: 8331944BA199877B4B95121BF30D3D61 Accuracy: -m40
Conclusion: CDDA 100%
Signature: A42C420340A86FC90E65FF7710029A08DAE510F4
FILE: 13 - Blood on the Wall.flac
Size: 9200552 Hash: E09EE81E35F7B2A5B6AF02D5198632BA Accuracy: -m40
Conclusion: CDDA 100%
Signature: 8BDD5980F78163FB5ACC0776E42F28DC038A6640
FILE: 14 - Saving Her Life.flac
Size: 9494556 Hash: E6895F84D368849CFC6E719C34B15419 Accuracy: -m40
Conclusion: CDDA 100%
Signature: 5DA0C0CE473EEA5A87F741B61AEB0EF034672F10
FILE: 15 - Monster.flac
Size: 9646125 Hash: 906093E0CA0917919ED9A7362E64DD90 Accuracy: -m40
Conclusion: CDDA 99%
Signature: A561D6AEBC1DEEEB514F35D7AF346EDD641F37FF
FILE: 16 - Shoot Me.flac
Size: 11220423 Hash: DE75D3A6E9A9183FEC9A9DBFAC6A04A1 Accuracy: -m40
Conclusion: CDDA 100%
Signature: B03A0656B8B7409B21B0CDA5347FCA3340F2BB14
FILE: 17 - You're Evil, Pt. 1.flac
Size: 17358546 Hash: 22BC0B151CE26292BCCFB4715E351F66 Accuracy: -m40
Conclusion: CDDA 100%
Signature: 77C25695CA3E9440EC69B808C7D552EA5F163459
FILE: 18 - You're Evil, Pt. 2.flac
Size: 9233261 Hash: BA00DCA12D8EF59299E04409E704BDB8 Accuracy: -m40
Conclusion: CDDA 100%
Signature: E91742B986792C649F46DD18FD3A2168EF1DDFDF
FILE: 19 - She's Infected.flac
Size: 17303100 Hash: F9AC575BE83010F301D4D15CBB990964 Accuracy: -m40
Conclusion: CDDA 100%
Signature: 3FD9F621DD0B88C6EAE90F923D53E49E281CCA8A
FILE: 20 - Going Down with the Ship.flac
Size: 7212624 Hash: 9D1107F0DFF2B602BE9E887641C422B3 Accuracy: -m40
Conclusion: CDDA 100%
Signature: 36BEFCA5BE86BDFAA5750FBF226D494B9246A11F
FILE: 21 - Message from the Arctic.flac
Size: 23758444 Hash: 57AF2995F7EE2314C56D98CE9D4ABBF1 Accuracy: -m40
Conclusion: CDDA 100%
Signature: B4FB741FD48C45211C9F66D3D3F065D9EEAD2994
FILE: 22 - The Chase.flac
Size: 25441192 Hash: 2AF2A84C162D9F96848753BDF8C33619 Accuracy: -m40
Conclusion: CDDA 100%
Signature: D50A2D710DAFDAE7E0DF1D3C5D02ACB47FD376CB
FILE: 23 - The Arctic.flac
Size: 10030121 Hash: B7DAB614DC9C75F8DD4120B7FB825BB2 Accuracy: -m40
Conclusion: CDDA 100%
Signature: 357E92421F3524745BD46D240B4C4661A82C9C6A
FILE: 24 - End Title (Suite from The Secret of Immortal Code).flac
Size: 36673347 Hash: 2F35634DE462FED8952B7C2412ECF670 Accuracy: -m40
Conclusion: CDDA 100%
Signature: C14A0026D9C9C00CFE0C37858EEC510F6C2235C2
FILE: 25 - Little Guys Dance (Bonus Track).flac
Size: 5967398 Hash: 75D8ABEBA2B0FA5C71504A4AF70442DD Accuracy: -m40
Conclusion: CDDA 100%
Signature: 11B5BF26778D393EA81E6076B3435CA06255EBF6