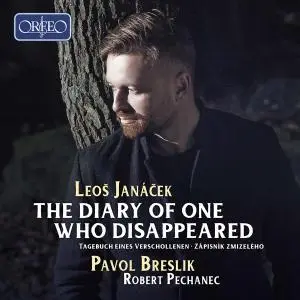 Pavol Breslik - The Diary of One Who Disappeared (2020)
WEB FLAC (tracks) - 190 MB | Tracks: 36 | 52:48 min
Style: Classical | Label: Orfeo
Leoš Janácek (1854–1928) composed the song cycle The Diary Of One Who Disappeared at a time when many people already considered him on a par with the other two masters of Czech national music, Smetana and Dvorák. The inspiration for the autobiographical 'Diary' came from a few enigmatic lines of poetry in two editions of the "Lidove noviny" (People's Newspaper) of May 1916. Although this work is Janácek's most important original song cycle, his keen interest in the folk songs and dances of his Moravian homeland resulted in a plethora of arrangements, making this music also accessible to the classical concert hall. These include the Six Folk Songs Eva Gabel Sang (Šest národních písní jež zpívala Gabel Eva) and the Songs from Detva (Písne detvanské). Quite unlike the songs of the 'Diary', which chiefly make reference to the Moravian dialect, the arrangements evince the typically ethnic-sounding music Janácek refined, so to speak, by adding to adaptations of the existing song lines a sophisticated piano part in the tradition of the great song compositions of the 19th century.
Tracklist:
01. The Diary of One Who Disappeared, JW V:12: No. 1, Potkal jsem mladou cigánku
02. The Diary of One Who Disappeared, JW V:12: No. 2, Ta černá cigánka
03. The Diary of One Who Disappeared, JW V:12: No. 3, Svatojánské mušky
04. The Diary of One Who Disappeared, JW V:12: No. 4, Už mladé vlaštůvky
05. The Diary of One Who Disappeared, JW V:12: No. 5, Těžko sa mi oře
06. The Diary of One Who Disappeared, JW V:12: No. 6, Hajsi, vy siví volci
07. The Diary of One Who Disappeared, JW V:12: No. 7, Ztratil isem kolíček
08. The Diary of One Who Disappeared, JW V:12: No. 8, Nehled'te, volečci, tesklivo k úvratím
09. The Diary of One Who Disappeared, JW V:12: No. 9, Vítaj, Janíčku
10. The Diary of One Who Disappeared, JW V:12: No. 10, Bože, dálný, nesmrtelný
11. The Diary of One Who Disappeared, JW V:12: No. 11, Táhne vůňa k lesu
12. The Diary of One Who Disappeared, JW V:12: No. 12, Tmavá olšinka, chladná studánka
13. The Diary of One Who Disappeared, JW V:12: No. 13, Intermezzo erotico
14. The Diary of One Who Disappeared, JW V:12: No. 14, Slnéčko sa zdvihá
15. The Diary of One Who Disappeared, JW V:12: No. 15, Moji siví volci
16. The Diary of One Who Disappeared, JW V:12: No. 16, Co jsem to udělal:
17. The Diary of One Who Disappeared, JW V:12: No. 17, Co komu súzeno
18. The Diary of One Who Disappeared, JW V:12: No. 18, Nedbám já včil o nic
19. The Diary of One Who Disappeared, JW V:12: No. 19, Letí straka letí
20. The Diary of One Who Disappeared, JW V:12: No. 20, Mám já panenku
21. The Diary of One Who Disappeared, JW V:12: No. 21, Můj drahý tatíčku
22. The Diary of One Who Disappeared, JW V:12: No. 22, Sbohem, rodný kraju
23. 6 Folk Songs Sung by Gabel Eva, JW V:9: No. 1, Něumrem ja na zemi
24. 6 Folk Songs Sung by Gabel Eva, JW V:9: No. 2, Šiel som cez mesto
25. 6 Folk Songs Sung by Gabel Eva, JW V:9: No. 3, Štyri kosy
26. 6 Folk Songs Sung by Gabel Eva, JW V:9: No. 4, Na Slatinských lúkach
27. 6 Folk Songs Sung by Gabel Eva, JW V:9: No. 5, Široko ďaleko
28. 6 Folk Songs Sung by Gabel Eva, JW V:9: No. 6, Už tebe, Anička
29. Detva Songs, JW V:11 (Robber's Ballads): No. 1, Ej nebudu ja dobrý
30. Detva Songs, JW V:11 (Robber's Ballads): No. 2, Ej sedeu sem ja sedeu
31. Detva Songs, JW V:11 (Robber's Ballads): No. 3, Ej šetko ľudia vravia
32. Detva Songs, JW V:11 (Robber's Ballads): No. 4, Pod javorkom, pod zeleným
33. Detva Songs, JW V:11 (Robber's Ballads): No. 5, Ide Kračuň, ide
34. Detva Songs, JW V:11 (Robber's Ballads): No. 6, Byľa jedna sirá vdova
35. Detva Songs, JW V:11 (Robber's Ballads): No. 7, Na horách, na doľách
36. Detva Songs, JW V:11 (Robber's Ballads): No. 8, Šla milá na zdávání


FILE: 01. The Diary of One Who Disappeared, JW V_12_ No. 1, Potkal jsem mladou cigánku.flac
Size: 4073434 Hash: 970F1BBDFDD6D7D3CB3CB1D9044ACA50 Accuracy: -m0
Conclusion: CDDA 100%
Signature: 5FD5F9D303B02B87ABC0B4BFCBCEC7C9625EB08C
FILE: 02. The Diary of One Who Disappeared, JW V_12_ No. 2, Ta černá cigánka.flac
Size: 4304297 Hash: 81FE9E46B1EA4AFF59D143A4DACE7920 Accuracy: -m0
Conclusion: CDDA 100%
Signature: CDD18AAFF76168E2BCEC9802CD8240AA7516FD38
FILE: 03. The Diary of One Who Disappeared, JW V_12_ No. 3, Svatojánské mušky.flac
Size: 5912202 Hash: 20DA23E9ECAC405B4A411F00C20E1214 Accuracy: -m0
Conclusion: CDDA 99%
Signature: 1DA99E13963D0B4E99A1746B71AA76EF8F73AAE3
FILE: 04. The Diary of One Who Disappeared, JW V_12_ No. 4, Už mladé vlaštůvky.flac
Size: 2570423 Hash: DECAE926FF455799C30E349435DD9FB1 Accuracy: -m0
Conclusion: CDDA 100%
Signature: 6219349C2E46D1A0F7CEB79C106205E5D18B8A50
FILE: 05. The Diary of One Who Disappeared, JW V_12_ No. 5, Těžko sa mi oře.flac
Size: 2304181 Hash: D7889202D4A3A6EA041475D029FE8F2C Accuracy: -m0
Conclusion: CDDA 100%
Signature: D25B751F08B31003CD549C504F87F6586E25F120
FILE: 06. The Diary of One Who Disappeared, JW V_12_ No. 6, Hajsi, vy siví volci.flac
Size: 5899957 Hash: 74E2D62A9D82840C52832183FD743598 Accuracy: -m0
Conclusion: CDDA 100%
Signature: 26D112908F5207CC08E0A89767D66E1252793DA9
FILE: 07. The Diary of One Who Disappeared, JW V_12_ No. 7, Ztratil isem kolíček.flac
Size: 2841906 Hash: F4F88B7E3EF0515D5765B64A26E7F967 Accuracy: -m0
Conclusion: CDDA 100%
Signature: 2475B378E41CEEF5FE49C813BB66D1FCA441C567
FILE: 08. The Diary of One Who Disappeared, JW V_12_ No. 8, Nehled'te, volečci, tesklivo k úvratím.flac
Size: 3662629 Hash: 56069A87BC62A1AA1AC2FD16AC2EDB66 Accuracy: -m0
Conclusion: CDDA 100%
Signature: 8C21196D601130F3B2902F7A4ACBEB366BE689A7
FILE: 09. The Diary of One Who Disappeared, JW V_12_ No. 9, Vítaj, Janíčku.flac
Size: 9420848 Hash: EF1857A9C3232B59BD6A2AE6375CA0F6 Accuracy: -m0
Conclusion: CDDA 100%
Signature: 29E94D446E9E2B78C07DD4C3C5D8389F70CA6C32
FILE: 10. The Diary of One Who Disappeared, JW V_12_ No. 10, Bože, dálný, nesmrtelný.flac
Size: 14208434 Hash: A74C7E3A1E8D04AC1F70D84F7F73EB45 Accuracy: -m0
Conclusion: CDDA 100%
Signature: 9153DD76B14BCBFD14D3D198551C8C354145161E
FILE: 11. The Diary of One Who Disappeared, JW V_12_ No. 11, Táhne vůňa k lesu.flac
Size: 8806675 Hash: D64C1593D7BC820C1A2ABC5A058C958E Accuracy: -m0
Conclusion: CDDA 100%
Signature: 71484B935E820BD6946B9EDFB5D7F22CB305584A
FILE: 12. The Diary of One Who Disappeared, JW V_12_ No. 12, Tmavá olšinka, chladná studánka.flac
Size: 3275004 Hash: D448B2BFC21B83DC73286A3EAF7CEFE5 Accuracy: -m0
Conclusion: CDDA 100%
Signature: 7F6E5F27A3F92FD28228189DAE15F11C7EED9BA6
FILE: 13. The Diary of One Who Disappeared, JW V_12_ No. 13, Intermezzo erotico.flac
Size: 6252432 Hash: B32C8A19105030D4B335E1FD538947A9 Accuracy: -m0
Conclusion: CDDA 100%
Signature: F25388A3BF83C837D700BC6F267AD8C579E3BC94
FILE: 14. The Diary of One Who Disappeared, JW V_12_ No. 14, Slnéčko sa zdvihá.flac
Size: 3133481 Hash: 8B018D6822E50BAA0F2125A9172B4B0B Accuracy: -m0
Conclusion: CDDA 100%
Signature: E5FAA40A8F752BDD5853A42F0A97EDAA9E48EB20
FILE: 15. The Diary of One Who Disappeared, JW V_12_ No. 15, Moji siví volci.flac
Size: 2769429 Hash: E556B0C20B8A3B8374C679FB6C4D7791 Accuracy: -m0
Conclusion: CDDA 100%
Signature: 0149811F03589EB97ABF5901271A0AC291E88D7C
FILE: 16. The Diary of One Who Disappeared, JW V_12_ No. 16, Co jsem to udělal_.flac
Size: 3886809 Hash: 7DD336D684F5F0B1BD4B802F2D09D7E7 Accuracy: -m0
Conclusion: CDDA 100%
Signature: 9162A67D4BAC1619D6842637990D26710F2A50D6
FILE: 17. The Diary of One Who Disappeared, JW V_12_ No. 17, Co komu súzeno.flac
Size: 4967823 Hash: F2E6899A6A5F28AA0E327FE4709078DD Accuracy: -m0
Conclusion: CDDA 100%
Signature: C77DFD2F1FA365F5C45FAA2D7F8B3712A4AC1B89
FILE: 18. The Diary of One Who Disappeared, JW V_12_ No. 18, Nedbám já včil o nic.flac
Size: 4205296 Hash: FAFBC560BBADCF7A9767014273CE34F0 Accuracy: -m0
Conclusion: CDDA 100%
Signature: CFAF3DBEA3EFEBFE735E14A7B892E8C0AC652BCA
FILE: 19. The Diary of One Who Disappeared, JW V_12_ No. 19, Letí straka letí.flac
Size: 5457381 Hash: 994090F47DBB310762786F86B3ECC747 Accuracy: -m0
Conclusion: CDDA 100%
Signature: D54DA5CFF75F4859B12C81A6E0AAA9802EB04007
FILE: 20. The Diary of One Who Disappeared, JW V_12_ No. 20, Mám já panenku.flac
Size: 3250548 Hash: B8D9FD3146CECE4CC830BED0F67EDADF Accuracy: -m0
Conclusion: CDDA 99%
Signature: EC0311144A7C464900D40A4D8942AFC764349EDF
FILE: 21. The Diary of One Who Disappeared, JW V_12_ No. 21, Můj drahý tatíčku.flac
Size: 3966017 Hash: 2AACA43CD9CD1E5B83E88FF4B8C6AFC2 Accuracy: -m0
Conclusion: CDDA 100%
Signature: A2635F40B90FE19A73B3BED2A564CA3CDE4BD61E
FILE: 22. The Diary of One Who Disappeared, JW V_12_ No. 22, Sbohem, rodný kraju.flac
Size: 7183562 Hash: 822125762C000A470E5F8C14ABFF076F Accuracy: -m0
Conclusion: CDDA 100%
Signature: 6974AD934B3CF764821CD8AF64DA318BF22FCAA9
FILE: 23. 6 Folk Songs Sung by Gabel Eva, JW V_9_ No. 1, Něumrem ja na zemi.flac
Size: 3832711 Hash: A53D604ACB5B064AB0334F4B1A445456 Accuracy: -m0
Conclusion: CDDA 100%
Signature: 2A014D4BC9AE82A3F4B1401F1C4748FB91DFE149
FILE: 24. 6 Folk Songs Sung by Gabel Eva, JW V_9_ No. 2, Šiel som cez mesto.flac
Size: 6449691 Hash: 91B36BE3B7385C99F11D86FB7057C31C Accuracy: -m0
Conclusion: CDDA 100%
Signature: 8102573B658A7A4255F920BAEFC558E19EE4ACF9
FILE: 25. 6 Folk Songs Sung by Gabel Eva, JW V_9_ No. 3, Štyri kosy.flac
Size: 3202963 Hash: D84C0ACAFACE6E61B901C4FE9A8CF54B Accuracy: -m0
Conclusion: CDDA 100%
Signature: 920A69A6B9A41FC8E176E139FE9C9D97E7DB48E9
FILE: 26. 6 Folk Songs Sung by Gabel Eva, JW V_9_ No. 4, Na Slatinských lúkach.flac
Size: 4650684 Hash: 488532020ABB21C768028631DD5326B6 Accuracy: -m0
Conclusion: CDDA 100%
Signature: 5DE49F090B7F7759B083B49C1723207A07755665
FILE: 27. 6 Folk Songs Sung by Gabel Eva, JW V_9_ No. 5, Široko ďaleko.flac
Size: 3872024 Hash: F93E77052D2D22AFCBE578B2F4F1E96B Accuracy: -m0
Conclusion: CDDA 99%
Signature: A26A2055734BBEC5FB91939E6CD2341E0A4D508A
FILE: 28. 6 Folk Songs Sung by Gabel Eva, JW V_9_ No. 6, Už tebe, Anička.flac
Size: 7827304 Hash: 08EC5866FC180213CA846C3791ED710B Accuracy: -m0
Conclusion: CDDA 99%
Signature: 220BD3D0FECF3A1781058429DD57D7A55C275364
FILE: 29. Detva Songs, JW V_11 (Robber's Ballads)_ No. 1, Ej nebudu ja dobrý.flac
Size: 6219032 Hash: 598B6799DC63555A69FC6F5F18882873 Accuracy: -m0
Conclusion: CDDA 100%
Signature: BE8828067AF8CDB930CB19822F266D753E821F99
FILE: 30. Detva Songs, JW V_11 (Robber's Ballads)_ No. 2, Ej sedeu sem ja sedeu.flac
Size: 3698938 Hash: 852549AFC0CB90D7B7E928A522232621 Accuracy: -m0
Conclusion: CDDA 100%
Signature: 0015C2B5369CDFD8E71EF11E6325EE131CF1005B
FILE: 31. Detva Songs, JW V_11 (Robber's Ballads)_ No. 3, Ej šetko ľudia vravia.flac
Size: 3517522 Hash: 62BF00243F8FF18C8E872E4433DC6376 Accuracy: -m0
Conclusion: CDDA 100%
Signature: 70248DBACEB5243D0095BFF009DEC3F0113EF0D6
FILE: 32. Detva Songs, JW V_11 (Robber's Ballads)_ No. 4, Pod javorkom, pod zeleným.flac
Size: 5988893 Hash: 9358A11E0305D42BD74289136B2C0CBE Accuracy: -m0
Conclusion: CDDA 100%
Signature: 57268F56770A3848FB3A131A5C5EAFA77DB5FEE0
FILE: 33. Detva Songs, JW V_11 (Robber's Ballads)_ No. 5, Ide Kračuň, ide.flac
Size: 5968707 Hash: F788AF9A5576604150DD6D2A9FF32054 Accuracy: -m0
Conclusion: CDDA 99%
Signature: 0024C23E45A1ECC70B87FBABBB9A1401F320D45F
FILE: 34. Detva Songs, JW V_11 (Robber's Ballads)_ No. 6, Byľa jedna sirá vdova.flac
Size: 12354909 Hash: 8791D48AFD0BA373F8D1F6CDAF15AF0B Accuracy: -m0
Conclusion: CDDA 100%
Signature: AC34D9CBC574BC1AA45487B0381635E3F0D42CE2
FILE: 35. Detva Songs, JW V_11 (Robber's Ballads)_ No. 7, Na horách, na doľách.flac
Size: 10093439 Hash: 5952AA6E21E03C2938026ED6004C1C8D Accuracy: -m0
Conclusion: CDDA 100%
Signature: 6B2F3B950CCFE8D70BF65DE32F7DB166FFBA8F98
FILE: 36. Detva Songs, JW V_11 (Robber's Ballads)_ No. 8, Šla milá na zdávání.flac
Size: 9642405 Hash: 25A7E140279FA600E890B6D4E2A5B44F Accuracy: -m0
Conclusion: CDDA 99%
Signature: 338013577E7E5190A131472811EFABE60C0B873D