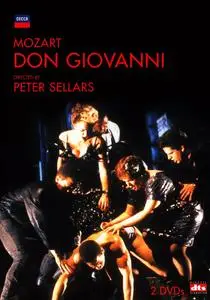 Peter Sellars, Craig Smith, Wiener Symphoniker - Mozart: Don Giovanni (2005)
NTSC 4:3 (720x480) | Italiano (LinearPCM, 2 ch) | (DTS, 6 ch) | 190 min | 6,50+6,54 Gb (2xDVD9)
Classical | Label: DECCA | Sub: English | Recorded: 1990
At the age of 27 Peter Sellars was hailed as a wunderkind of the U.S. theater and was already the general manager of the American National Theater in Washington's Kennedy Center. In his productions, Sellars brings out the timelessness and topicality of the works with such naturalness that he arouses interest around the world and stimulates lively discussions as to whether he is brilliantly modernizing the works or brutally maiming them. Besides "Don Giovanni," Sellars has also staged "Le nozze di Figaro" and "Cosi fan tutte" and moved their stories to present-day New York, whereby, however, he invented a new world for each opera. Thus "Don Giovanni" plays in Spanish Harlem, "Figaro" in the noble Trump Tower on Park Avenue, "Così fan tutte" in Despina's dilapidated coffee shop. The Da Ponte trilogy is for Sellars, who studied at Harvard, the nonplus ultra of opera literature. With his Mozart productions, Sellars first caused a ruckus in the New York cultural scene, when he presented his work to the public between 1986 and 1988 at the University theater festival Pepsico Summerfare. Then his da Ponte operas went on a European tour and were finally recorded for television in Vienna. Since then Sellars numbers among the most sought-after, unorthodox directors on the international opera
scene. But in spite of his gags and witty ideas, Sellars is not out to provoke; instead, he takes the action of the opera literally, transposing it with dramatic sharpness and intelligence. His productions prove that even a 200-year-old opera does not have to be cut off from present-day life.
Performer:
Don Giovanni – Eugene Perry
Leporello – Herbert Perry
Donna Anna – Dominique Labelle
Donna Elvira - Lorraine Hunt
Don Ottavio – Carroll Freeman
Zerlina – Ai Lan Zhu
Masetto – Elmore James
Commendatore – James Patterson
Arnold Schoenberg Choir
Wiener Symphoniker
Conductor – Craig Smith
Directed by Peter Sellars