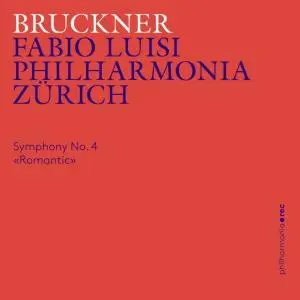 Philharmonia Zürich & Fabio Luisi - Bruckner: Symphony No. 4 in E-Flat Major («Romantic») (2019)
WEB FLAC (tracks) - 289 MB | Tracks: 4 | 77:40 min
Style: Classical | Label: Philharmonia
Anton Bruckner described his Fourth Symphony as 'Romantic', and under this name it soon became his most popular work. Introduced by an idyllic horn call motif, the Fourth Symphony Bruckners first in a major key is characterized by a warm, natural, luminous underpinning. Both the slow movement, with its funeral march character, and the sometimes frighteningly-dark and powerful final movement are in stark contrast to the symphonys initial warmth. As was often the case, Bruckner revised the symphony numerous times in the run-up to its premiere, which was given by the Vienna Philharmonic in 1881. Fabio Luisi recorded the 1878 version, with the finale from the 1880 version, with the Philharmonia Zürich. This version has long-since established itself as the official concert version of Bruckners Fourth Symphony.
Tracklist:
01. Symphony No. 4 in E-Flat Major, Wab 104: Allegro
02. Symphony No. 4 in E-Flat Major, Wab 104: Andante Quasi Allegretto
03. Symphony No. 4 in E-Flat Major, Wab 104: Trio. Nicht Zu Schnell. Keinesfalls Schleppend
04. Symphony No. 4 in E-Flat Major, Wab 104: Finale. Allegro Moderato
ANALYZER: auCDtect: CD records authenticity detector, version 0.8.2
Copyright © 2004 Oleg Berngardt. All rights reserved.
Copyright © 2004 Alexander Djourik. All rights reserved.


FILE: 01. Symphony No. 4 in E-Flat Major, Wab 104_ Allegro.flac
Size: 96150944 Hash: 0112CE13257393A73AD3DF8237B6A2ED Accuracy: -m0
Conclusion: CDDA 100%
Signature: BB38859A9BBFC03104BA820D770D2F02C526DE4D
FILE: 02. Symphony No. 4 in E-Flat Major, Wab 104_ Andante Quasi Allegretto.flac
Size: 59403615 Hash: 1677484C077D4CA8ACB54266125D7D91 Accuracy: -m0
Conclusion: CDDA 100%
Signature: 3815C92854401F5359F4231D26D336406E5015C7
FILE: 03. Symphony No. 4 in E-Flat Major, Wab 104_ Trio. Nicht Zu Schnell. Keinesfalls Schleppend.flac
Size: 44236684 Hash: E215E147C7891197E66DEF652F7164AC Accuracy: -m0
Conclusion: CDDA 100%
Signature: 4197638F54461186B4AAB72FFACAED1AAB2AE0B9
FILE: 04. Symphony No. 4 in E-Flat Major, Wab 104_ Finale. Allegro Moderato.flac
Size: 103904051 Hash: A542519A8D4909AB129A3D59FD3B8604 Accuracy: -m0
Conclusion: CDDA 100%
Signature: EAEA8F6EE690C7149B62D6F6A4844EECD48086BA