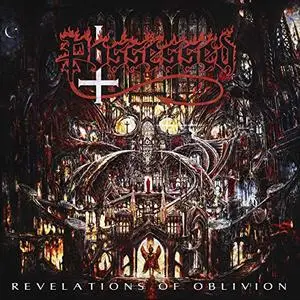 Possessed - Revelations of Oblivion (2019)
U.S.A. | MP3 CBR 320 Kbps | 123 MB
Death/Thrash Metal | Label : Nuclear Blast
Californian death metal pioneers POSSESSED will release their first full-length album in over three decades, "Revelatons Of Oblivion", on May 10 via Nuclear Blast. Back in 2017, POSSESSED frontman Jeff Becerra told Antihero Magazine that the band's upcoming studio album, which will be their first full-length effort since 1986's "Beyond The Gates", would contain "some really fucking good death metal. I'm really happy with a lot of the tracks," he said. "I'm collaborating with [new POSSESSED members] Daniel [Gonzalez, guitar] and Claudeous [Creamer, guitar]. We're working together hard to create something that we really like. We're hoping that translates well to other people and beyond. We're hoping people like it. If they don't, then fuck them." Regarding the musical direction of POSSESSED's new material, Jeff said: "Well, it's me. I'm still me. I would say…it's very POSSESSED-y, but it's not so dated. I think as much as I love the first three albums, they're a little dated, so we're trying to bring it back into this century. We're not going to over-produce it or do anything but straight death metal. It's just what I want to play and what the band wants to play." Becerra remains the only member from POSSESSED's classic lineup, which dissolved entirely in 1987 after the "Eyes Of Horror" EP.
Tracklist:
1. Chant of Oblivion
2. No More Room in Hell
3. Dominion
4. Damned
5. Demon
6. Abandoned
7. Shadowcult
8. Omen
9. Ritual
10. The Word
11. Graven
12. Temple of Samael
Total playing time 53:54