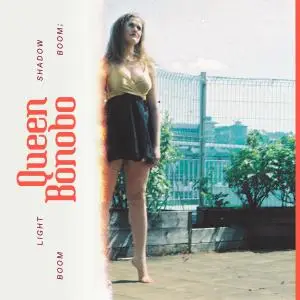 Queen Bonobo - Light Shadow Boom Boom; (2019)
WEB FLAC (tracks) - 230 MB | Tracks: 10 | 41:41 min
Style: Pop, Indie, Folk, Blues, Jazz | Label: Queen Bonobo
'Light Shadow/ Boom Boom;' is a collection of songs written during her travels, which included hitchhiking in Mexico with no Spanish on one occasion, befriending a band and staying for four days on another. Yet it was during her time in Northern Ireland that the arrangements that comprise her debut album came together. Channelling her restless, spontaneous spirit, she worked with an eclectic mix of some of the North's most promising emerging talent from different musical backgrounds, such as jazz guitarist Joseph Leighton (Moving on Music Emerging Artist 2017), pianist/composer Neil Burns (Comrade Hat), double bassist Jack Kelly (Moving on Music Emerging Artist 2018) and producer/percussionist/composer Daryl Martin (aka Porphyry, Moving on Music Emerging Artist 2019). The result is a blend of folk, neo soul, playful yet refined jazz and experimental electronica, all merging seamlessly, Maya's passionate voice and introspective lyrics working as the thread that ties it all together.
'Light Shadow Boom Boom;' features ten intensely personal songs that explore different angles of depression and intertwine perspectives of accepting all sides of oneself. The title stands for the heavens above (light), the earth below (dark), and the pulse of life throughout it all. This phrase surfaced in Maya's life the summer of 2016, right before she moved to Northern Ireland, when her dad was suffering from serious depression.
Tracklist:
01. The Lord Does What He Wants
02. Vintage Gouda
03. Light Me Up
04. Honey
05. Boom Boom
06. MFGB
08. Watching over You
09. Shadow
10. Noise

FILE: 01. The Lord Does What He Wants.flac
Size: 29628076 Hash: 1BED28D49F386F4FC47D7DA2ACBDB9F5 Accuracy: -m0
Conclusion: CDDA 100%
Signature: A5DD56FC06E8F3BE8558184CBE39AD4C0D2C7229
FILE: 02. Vintage Gouda.flac
Size: 24741954 Hash: 5FC3A6256D931483DA3C02C6248839B4 Accuracy: -m0
Conclusion: CDDA 100%
Signature: 1D56C422A5FB992682E1DDAF9715EF0D61F43DA8
FILE: 03. Light Me Up.flac
Size: 19488393 Hash: 3596608DCF0728ED66BDAAE173A2E20E Accuracy: -m0
Conclusion: CDDA 100%
Signature: 0E3364D97A9B64EEDAF3581C2008CD0FBC8F818D
FILE: 04. Honey.flac
Size: 17354171 Hash: 50584334CD7E54C75D7A78FEB8F27F0D Accuracy: -m0
Conclusion: CDDA 100%
Signature: FB89DDF42CA392BCC204E293E5CF0EC35CB873E9
FILE: 05. Boom Boom.flac
Size: 17624139 Hash: E6A4E497960B6E5834D628461DB93EB3 Accuracy: -m0
Conclusion: CDDA 100%
Signature: 414B6D5ACFF83E4636B574BA4D7977CE11431D31
FILE: 06. MFGB.flac
Size: 25076080 Hash: A6C2085EDD473E18A8C681D13BFD7E5B Accuracy: -m0
Conclusion: CDDA 100%
Signature: D46D3DEEE6292F8D24F9751407FD30E26DABAB5D
FILE: 07. Spin Me.flac
Size: 24650096 Hash: 2852375BA0E124A7B2417F770314BAD1 Accuracy: -m0
Conclusion: CDDA 100%
Signature: D0A9651F2B3D687FF62587EBE20208C9C0AC4CB1
FILE: 08. Watching over You.flac
Size: 23532011 Hash: BA697D6FD708C12366DA92119A9F2160 Accuracy: -m0
Conclusion: CDDA 100%
Signature: 53AB2CBAD8941D22F7EEF12362B603B8B3E4F9D2
FILE: 09. Shadow.flac
Size: 25667475 Hash: 8A829BA3531E5AC14C50F81CAEBF5CA7 Accuracy: -m0
Conclusion: CDDA 100%
Signature: 74A26D29639FB6BE04619C52E11B6FC4CC453552
FILE: 10. Noise.flac
Size: 33611227 Hash: 93C6FA5CC4A529FB4BE2351B2839E652 Accuracy: -m0
Conclusion: CDDA 100%
Signature: 459A5A42804EC8317682F81E45834790DA477A78