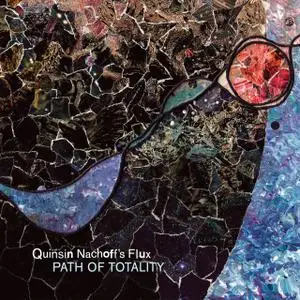 Quinsin Nachoff's Flux - Path of Totality (2018)
Jazz, Contemporary | 01:20:48 | WEB FLAC (tracks) | 476 MB
Label: Whirlwind Recordings
Quinsin Nachoff's Flux communicates an extraordinarily colourful palette of conceptual reasoning and musical expression in the effulgent release, 'Path of Totality'. Featuring saxophonist David Binney, pianist/keyboardist Matt Mitchell, drummers Kenny Wollesen and Nate Wood, plus a clutch of guest artists.
Saxophonist/composer Nachoff's overarching inspiration arose from the moon's total eclipse of the sun in 2017. That event became a dramatic, natural metaphor for the band's evolutionary creative process, plus a reminder (especially amidst current political and environmental discord) of light's assured emanation from and triumph over transitory darkness.
The Toronto-born, New York-based saxophonist's compositions each begin from a clear-cut kernel of an idea, with their own set of parameters, which are then developed into stories of differing landscapes, all crafted from the ground up for these specific players to interpret and improvise across.
Tracks include the progressive yet cyclical impetus in giant-stepping title track "Path of Totality", explored through thunderous, phased double-drum patterns and far-reaching saxophone figures; and "Bounce" takes motivic ideas and rhythmic structures from a bouncing ball's motion (studied through mathematical programmes), manipulating them to create elasticized environments, the two saxophonists' extemporizations eventually narrowing against the full swell of a 1924 Kimball Theatre Organ.
As you immerse yourself in its narrative, on whatever level you connect with its story, Path of Totality's artistic journey continues to intrigue, fascinate and enthral.
Press:
"An imaginative and ground breaking suite of compositions…Complex music that requires and demands multiple replays, the better to understand and appreciate the extent of its many nuances…it certainly merits it." - ****1/2 All About Jazz
"This sonic adventure is a form of alchemy, a magical science beyond explanation…Quinsin Nachoff continues to mature as a composer, musician, and arranger." - Step Tempest
"There are moments of great beauty in this music which goes beyond all the boundaries of conventional forms. Experimental styles are the norm, borders are freely crossed, arts and sciences, astronomy and physics provide the inspirations for these extraordinary, thought-provoking compositions and solos." - Bebop Spoken Here
Tracklist
:
01.
Quinsin Nachoff's Flux, David Binney, Matt Mitchell, Kenny Wollesen & Nate Wood - Path of Totality
02.
Quinsin Nachoff's Flux, David Binney, Matt Mitchell & Nate Wood - Bounce
03.
Quinsin Nachoff's Flux, David Binney, Matt Mitchell, Kenny Wollesen & Mark Duggan - Toy Piano Meditation
04.
Quinsin Nachoff's Flux, David Binney, Matt Mitchell, Kenny Wollesen, Carl Maraghi, Dan Urness, Matt Holman, Ryan Keberle, Alan Ferber & Orlando Hernández - March Macabre
05.
Quinsin Nachoff's Flux, David Binney, Matt Mitchell, Nate Wood & David Travers-Smith - Splatter
06.
Quinsin Nachoff's Flux, David Binney, Matt Mitchell & Kenny Wollesen - Orbital Resonances
ANALYZER: auCDtect: CD records authenticity detector, version 0.8.2
Copyright © 2004 Oleg Berngardt. All rights reserved.
Copyright © 2004 Alexander Djourik. All rights reserved.


FILE: 06. Orbital Resonances (Quinsin Nachoff's Flux, David Binney, Matt Mitchell & Kenny Wollesen).flac
Size: 56694811 Hash: 0324A2C7DA382D9389F84B3DD6BD0FDF Accuracy: -m8
Conclusion: CDDA 100%
Signature: 87C61168E19DC64A9B839A16E3E891092119C38B
FILE: 05. Splatter (Quinsin Nachoff's Flux, David Binney, Matt Mitchell, Nate Wood & David Travers-Smith).flac
Size: 81455905 Hash: E77739FF59D4DA8223E292C6D2C8E84E Accuracy: -m8
Conclusion: CDDA 99%
Signature: AD5EC0CEAABEAAB2C7C596D2F082A033A86D0AB1
FILE: 04. March Macabre (Quinsin Nachoff's Flux, David Binney, Matt Mitchell, Kenny Wollesen, Carl Maraghi, Dan Urness, Matt Holman, Ryan Keberle, Alan Ferber & Orlando Hernández).flac
Size: 80748494 Hash: 6B9FAAE502FF42BE45AA127D8EDF77C8 Accuracy: -m8
Conclusion: CDDA 100%
Signature: FCEAAE4F9948EF5475A484DFA50C1C0CADD89682
FILE: 03. Toy Piano Meditation (Quinsin Nachoff's Flux, David Binney, Matt Mitchell, Kenny Wollesen & Mark Duggan).flac
Size: 111710494 Hash: 7BA8BB090B04F8281F9E11923F260A8A Accuracy: -m8
Conclusion: CDDA 100%
Signature: 135EAE3F80AD663EDEB1A6E3AF9E31179EF8043B
FILE: 02. Bounce (Quinsin Nachoff's Flux, David Binney, Matt Mitchell & Nate Wood).flac
Size: 120923133 Hash: 04FDF43AA553C7B110B7CABDD9D1410D Accuracy: -m8
Conclusion: CDDA 100%
Signature: 9416B8EB6833C19F019B5FEEA4454FDD7DF266E9
FILE: 01. Path of Totality (Quinsin Nachoff's Flux, David Binney, Matt Mitchell, Kenny Wollesen & Nate Wood).flac
Size: 48155479 Hash: 56535126D23E39C4C44A945035B27649 Accuracy: -m8
Conclusion: CDDA 94%
Signature: 8391C59CF1583FF79665CDFFF16059C6C3ADDA69