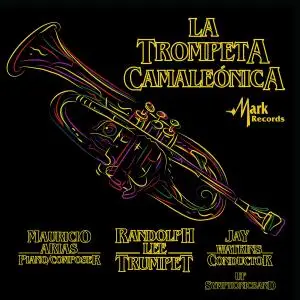 Randolph Lee - La Trompeta Camaleónica (2019)
WEB FLAC (tracks+booklet) - 263 MB | Tracks: 6 | 60:01 min
Style: Classical | Label: Mark Records
Randolph Lees latest recording project is an international collaborative effort featuring new music for trumpet from living South American composers. Teaming up with Colombian composer/pianist Mauricio Arias, the University of Florida Symphonic Band under the direction of Jay Watkins, a brass ensemble, a full studio orchestra, and influential Brazilian guitarist Ulisses Rocha, the album includes a wide variety of sounds and genres. Having the privilege of giving the world premieres of four of the six tracks on the album, Randolph Lee decided after a recital in Bogota, Colombia that it was time to get these pieces recorded. It also represents his belief that the trumpet, with its well-established high and loud characteristics and virtuosic displays, also possesses an intimate voice-like quality which, in the right hands, is capable of telling a convincing story. The term Camaleónica (chameleonic) refers to the changes of color (timbre), tempo, and motives within the piece, Rapsodia Camaleónica. The term is borrowed and applied in a broader sense to describe what the trumpet does over the entire album, La Trompeta Camaleónica.
Tracklist:
01. Pajarillo (Joropo Venezolano)
02. Variaciones Fantásticas Sobre "La Guaneña"
03. A la Memoria de 21 Ángeles
04. Entrada, o Salida Concertante
05. Rapsodia Camaleónica
06. Rumores (Arr. for Guitar & Trumpet)


FILE: 01. Pajarillo (Joropo Venezolano).flac
Size: 17513331 Hash: D76D1683D54B51333EFCB361A40B197E Accuracy: -m0
Conclusion: CDDA 99%
Signature: 4061404110DD43A9EBE6FDD48524FF9297C70787
FILE: 02. Variaciones Fantásticas Sobre _La Guaneña_.flac
Size: 59487785 Hash: 18984561C8B73F6056201C43BE3DCBA9 Accuracy: -m0
Conclusion: CDDA 54%
Signature: 03BD522AFA3BBE2A5E16E5A6096F1059AED88CCF
FILE: 03. A la Memoria de 21 Ángeles.flac
Size: 35853472 Hash: 764C1262952F49A3B0068353F6D7EA76 Accuracy: -m0
Conclusion: CDDA 43%
Signature: DADF82284842AB2309AAA30B44666B160BF32C76
FILE: 04. Entrada, o Salida Concertante.flac
Size: 38799147 Hash: 241AEB1FD7481B4E0784030DF76AA505 Accuracy: -m0
Conclusion: CDDA 100%
Signature: 50C340EF80B43E6F007EB07AF1A21D7A488F5CB0
FILE: 05. Rapsodia Camaleónica.flac
Size: 103430283 Hash: FACBEB924899550DB035C654428AF4A4 Accuracy: -m0
Conclusion: CDDA 100%
Signature: 84939D75D74C3B24A85D910F24C5485E08E2325C
FILE: 06. Rumores (Arr. for Guitar & Trumpet).flac
Size: 19999065 Hash: 82631FE8EDABB627D54C8DAA4D62D649 Accuracy: -m0
Conclusion: CDDA 54%
Signature: DD25FDC174332BFE890B59B4067E8F3475BA7929