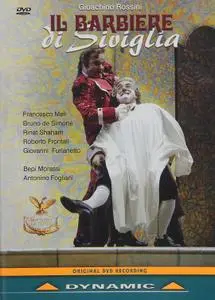 Antonino Fogliani, Orchestra & Coro del Teatro La Fenice - Rossini: Il Barbiere di Siviglia (2009)
NTSC 16:9 (720x480) | Italiano (LinearPCM, 2 ch) | (Dolby AC3, 6 ch) | 7.84 Gb (DVD9) | 171 min
Classical | Dynamic | Sub.: Italiano, English, Francais, Deutsch, Espanol
In a time when operas are often set to different contexts from the ones they were intended for, a philological production has its merits, representing both a rediscovery and a provocation. This Barbiere di Siviglia, which at first sight might appear old-fashioned, restores, in fact, to perfection the setting of an early 19th-centrury Italian theatre. It was a time when the glorious tradition of popular comedy, a direct descendant of the 16th-century "commedia dell'arte", was very much alive, and the singers entertained the audience with humor that was direct and catchy. Bepi Morassi's direction witnesses to the importance of that heritage, based on the improvising skills of actors that came from the common people and needed to communicate concepts of common social life, through colorful costumes, musical instruments and masks modeled on the archetypes of the day. Humour, which here triumphs, makes of this Barbiere di Siviglia, a truly entertaining visual and audio experience.
Cast:
Il conte d'Almaviva - Francesco Meli
Dottor Bartolo - Bruno de Simone
Rosina - Rinat Shaham
Figaro - Roberto Frontali
Don Basilio - Giovanni Furlanetto
Berta - Giovanna Donadini
Orchestra & Coro del Teatro La Fenice
Conductor - Antonino Fogliani