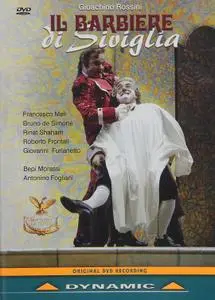 Antonino Fogliani, Orchestra & Coro del Teatro La Fenice - Rossini: Il Barbiere di Siviglia (2009)
NTSC 16:9 (720x480) | Italiano (LinearPCM, 2 ch) | (Dolby AC3, 6 ch) | 7.84 Gb (DVD9) | 171 min
Classical | Dynamic | Sub.: Italiano, English, Francais, Deutsch, Espanol
In a time when operas are often set to different contexts from the ones they were intended for, a philological production has its merits, representing both a rediscovery and a provocation. This Barbiere di Siviglia, which at first sight might appear old-fashioned, restores, in fact, to perfection the setting of an early 19th-centrury Italian theatre. It was a time when the glorious tradition of popular comedy, a direct descendant of the 16th-century "commedia dell'arte", was very much alive, and the singers entertained the audience with humor that was direct and catchy.