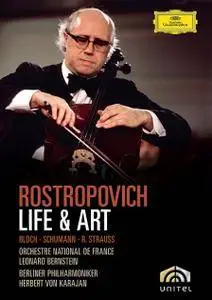 Mstislav Rostropovich, Leonard Bernstein, Herbert von Karajan - Life and Art: Bloch, Schumann, R.Strauss (2007/1975)
NTSC 4:3 (720x480) | (LinearPCM, 2 ch) | (DTS, 6 ch) | 7.20 Gb (DVD9) | 102+29 min
Classical | Deutsche Grammophon | Sub: English, Francais, Deutsch, Espanol, Chinese
Mstislav Rostropovich did more for the advancement of the cello than probably any other artist since Pablo Casals. Even after his sad passing in 2007 at the age of 80, is musical influence is felt not only in the cello community, but among orchestral musicians as well. This Deutsche Grammophon DVD is among the many tributes to Rostropovich that have surfaced over the short time since his passing. It features the Schumann Concerto and Bloch's Schelomo with Leonard Bernstein and the Orchestre National de France and Strauss' Don Quixote with Karajan and the Berlin Philharmonic. All of these performances are given their first DVD release here. Schumann and Bloch are given intense, riveting performances by Rostropovich and orchestra alike. Any other cellist who played with as much force and aggression would be accused of overplaying, but with Rostropovich the intensity and conviction of his playing are what make the entire performance.
Cast:
Mstislav Rostropovich, cello
Ulrich Koch, viola
Orchestre National de France
Leonard Bernstein, conductor
Berliner Philharmoniker
Herbert von Karajan, conductor
Track List:
01. Opening
Robert Schumann (1810 - 1856) - Cello Concerto in A minor, Op.129
02. 1. Nicht zu schnell
03. 2. Langsam
04. 3. Sehr lebhaft
Ernest Bloch (1880 - 1959) - Schelomo
06. Lento moderato - Andante moderato - Allegro moderato - Allegro - Andante moderato
Mstislav Rostropovich, Orchestre National De France, Leonard Bernstein
Richard Strauss (1864 - 1949) - Don Quixote, Op. 35, TrV 184
08. 1. Introduktion (Mäßiges Zeitmaß)
09. 2. Don Quixote, der Ritter von der traurigen Gestalt
10. 3. Sancho Panza
11. 4. Variation 1 (Gemächlich)
12. 5. Variation 2 (Kriegerisch)
13. 6. Variation 3 (Mäßiges Zeitmaß)
14. 7. Variation 4 (Etwas breiter)
15. 8. Variation 5 (Sehr langsam)
16. 9. Variation 6 (Schnell)
17. 10. Variation 7 (Ein wenig ruhiger als vorher)
18. 11. Variation 8
19. 12. Variation 9 (Schnell und stürmisch)
20. 13. Variation 10 (Viel breiter)
21. 14. Finale (Sehr ruhig)