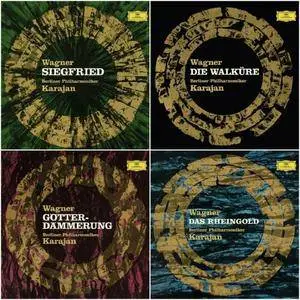 Karajan Remastered - Wagner: The Ring Of The Nibelung (2016)
Classical | MP3 CBR 320 kbps | Run Time: 14:57:27 | 2,10 Gb
Label: Deutsche Grammophon | Release Year: 2016
Some have likened Herbert von Karajan's "chamber-music approach" to Wagner's Ring cycle in terms of his scaling down or deconstructing the heroic roles. This approach has less to do with dynamics per se than it does with von Karajan's masterful balancing of voices and instruments. He achieves revelations of horizontal clarity, allowing no contrapuntal strand to emerge with an unwanted accent or a miscalibrated dynamic. The texts are unusually pinpointed and distinct, although the singers don't convey the experience and dimension of Sir Georg Solti's cast on London. There are exceptions.