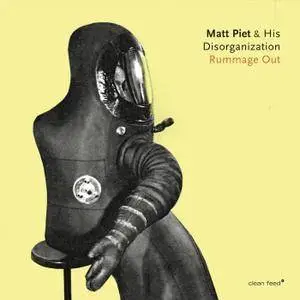 Matt Piet & His Disorganization - Rummage Out (2018)
Jazz | WEB FLAC (tracks) & front cover | 207 MB
Label: Clean Feed | Tracks: 02 | Time: 37:41 min
There are some new protagonists in the Chicago jazz scene, due to the revelation of a younger generation of musicians and the defection of some of the big names to other American regions, like Jeff Parker and Rob Mazurek. One of these Chicago exponents, gradually gaining importance, is pianist and composer Matt Piet, a former student at Boston's Berklee College of Music. Leader of two fundamental bands in the city, Matt Piet Trio and Four Letter Words, and one of the vertices of the Rempis / Piet / Daisy triangle, he has broken into the Chicago improvised music community as a "melodic player" whose "tonefulness is thrillingly shaken by a rhythmic volatility and a fractal sense of phrasing", according to the jazz journalist Peter Margasak, who compared his sound to Cecil Taylor in the late '50s and the early '60s. Piet's is a welcome approach, considering that one of the members of the new band Matt Piet & His Disorganization is the saxophonist Nick Mazzarella, often described as a direct heir of the illustrious altoists Eric Dolphy, OrnetteColeman, Henry Threadgill and Oliver Lake, and like them driven to "embody the history of jazz while pushing it forward into new realms" (Troy Dostert). The same characteristic defines cornet player Josh Berman, a player known to combine aspects of pre-bebop jazz with avant-garde experimentation, sometimes producing a strikingly dissonant New Orleans style. In this bass-less quartet, the drummer/percussionist is Tim Daisy, one of the most versatile rhythmicists in activity today, equally at ease with the fire music of Ken Vandermark and the electro-acoustic abstract explorations of Kyle Bruckmann. Chicago jazz is very much alive, and Rummage Out is fantastic proof.
Tracklist:
1. Lost & Found 15:21
2. The Last Place You Look 22:20
Personnel:
Matt Piet - piano
Josh Berman - cornet
Nick Mazzarella - alto saxophone
Tim Daisy - drums and percussion
PERFORMER: auCDtect Task Manager, ver. 1.6.0 RC1 build 1.6.0.1
Copyright © 2008-2010 y-soft. All rights reserved

ANALYZER: auCDtect: CD records authenticity detector, version 0.8.2
Copyright © 2004 Oleg Berngardt. All rights reserved.
Copyright © 2004 Alexander Djourik. All rights reserved.


FILE: 2. The Last Place You Look.flac
Size: 129494619 Hash: 3CAEC14BDF0E14EA58118C19AC22D884 Accuracy: -m0
Conclusion: CDDA 100%
Signature: 7AAB980824D683C6BC6D0B2CDC20F4DCC216C291
FILE: 1. Lost & Found.flac
Size: 87572515 Hash: 1A262EDE529C348AE90F119C9CC32A9F Accuracy: -m0
Conclusion: CDDA 99%
Signature: 1562F9CADF86B2330151C9A149884B5E9561EBB4
Thanks to the Original customer.