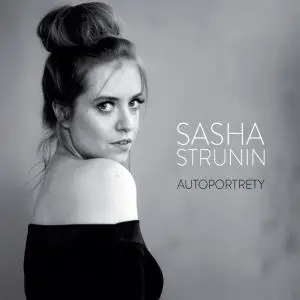 Sasha Strunin - Autoportrety (2019)
WEB FLAC (tracks) - 414 MB | MP3 CBR 320 kbps - 146 MB | Tracks: 9 | 96:52 min
Style: Jazz, Vocal Jazz, Pop | Label: Soliton
The album entitled "Self-portraits" is an international project. Sasha invited him to an American composer and a jazzman, Gary Guthman, who helped her dress in the language of music with this surreal, rhythmic poetry. For this extraordinary textual fabric, it was jazz that proved to be an ideal medium, giving the artists countless possibilities of expression. The intimate trio of Filip Wojciechowski, with the guest instrumental presence of the composer himself, in a natural way harmonizes with the subtle charm of the Warsaw poet. After more than a year of working together, nine unique, consistent compositions were created for the poems of one of the cult artists of the twentieth century - Miron Białoszewski, who made up this conceptual album.
The album consists of nine compositions written by Guthman. The album will be released on June 21 and the concert will take place in Warsaw on the same day.
Tracklist:
1. A jak wrócę
2. Przechyły
3. Noce nieoddzielenia
4. Sztuki piękne mojego pokoju
5. Jedno rano
6. Sen
7. O obrotach rzeczy
8. Któregoś marca
9. Autoportrety

FILE: 01. A jak Wrócę.flac
Size: 39228601 Hash: 4CA9265957E300A4EE19746FC8841CB8 Accuracy: -m0
Conclusion: CDDA 58%
Signature: A1BC7223EDBD182801FCD54BD9B5B65AC63809FA
FILE: 02. Przechyły.flac
Size: 57382132 Hash: 19BF5A8A76458AB776C8476B9226B8F7 Accuracy: -m0
Conclusion: CDDA 100%
Signature: 01BBDC7C151F553F3790B1D24351226E0FC323C3
FILE: 03. Noce Nieoddzielenia.flac
Size: 43693672 Hash: 9E69EE2C673BD74BFD9EE24D9B3614AB Accuracy: -m0
Conclusion: CDDA 100%
Signature: 802D76143A173C62C4BEE6785DE262EE36C18581
FILE: 04. Sztuki piękne mojego Pokoju.flac
Size: 50262551 Hash: 6C014513F0D5C969B43087DEA6B83ACA Accuracy: -m0
Conclusion: CDDA 86%
Signature: 9DE5F76E14E7C959CD19135B8D1B9EEDEB999018
FILE: 05. Jedno Rano.flac
Size: 48488979 Hash: E30DB04B1BA1758BD5BF6C7D6352202C Accuracy: -m0
Conclusion: CDDA 62%
Signature: E4D6D78F9EC8407E0B1CB75E593BCE97A51B71F7
FILE: 06. Sen.flac
Size: 61929553 Hash: 17E208D3DE4F795402C51E40FFD1E002 Accuracy: -m0
Conclusion: CDDA 86%
Signature: 4AF564B934C24BF2065850E6F23DC16E03901FFA
FILE: 07. O obrotach Rzeczy.flac
Size: 37940143 Hash: A0D6FD082DF2D583F4FD5B2DF6E0489B Accuracy: -m0
Conclusion: CDDA 99%
Signature: 2E39176C2D473F295FD4C0F047F5A594C5538BD4
FILE: 08. Któregoś Marca.flac
Size: 40863041 Hash: 49C9B26773EF7870A65A83100B1EDB7E Accuracy: -m0
Conclusion: CDDA 100%
Signature: A91C539ECC3F3BA4C696C7DEF46B0752114FE1C6
FILE: 09. Autoportrety.flac
Size: 54819108 Hash: D921A6D7148DAF07D20EE4529209614C Accuracy: -m0
Conclusion: CDDA 100%
Signature: F6FB49B68ECDDD979ED25BA1BD0A0E51C6149B91