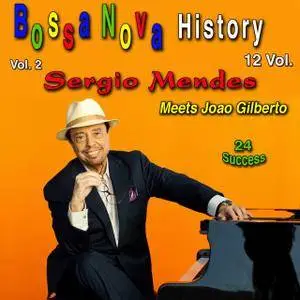 Sergio Mendes & João Gilberto - Bossa Nova History, Vol. 2 (2018)
52:55 minutes | MP3 CBR 320 kbps | 125 MB
Bossa Nova, Latin Jazz | Label:
João Gilberto was born in Juazeiro, Bahia, Brazil. From an early age, music was a part of Gilberto's life. His grandfather bought him his first guitar at the age of 14. During high school, Gilberto teamed up with some of his classmates to form a small band. Gilberto, who led the band, was influenced by Brazilian popular songs, American jazz, and even some opera, among other genres. After trying his luck as a radio singer in Salvador, the young Gilberto was recruited in 1950 as lead singer of the vocal quintet Garotos da Lua (Moon Boys) and moved to Rio de Janeiro. A year and a half later, he was dismissed from the group for his lack of discipline (he would often show up late to rehearsals or not at all).
TRACKLIST
1. Sergio Mendes - Oba-La-La
2. Sergio Mendes - Love For Sale
3. Sergio Mendes - Tristera de nos Dois
4. Sergio Mendes - What Is This Thing Called Love
5. Sergio Mendes - Olha para Mim
6. Sergio Mendes - Satin Doll
7. Sergio Mendes - Tema Sem Palavras
8. Sergio Mendes - On Green Dolphin Street
9. Sergio Mendes - Outra Vez
10. Sergio Mendes - Disa
11. Sergio Mendes - Nica'S Dream
12. João Gilberto - Diagonal
13. João Gilberto - Chega de Saudade
14. João Gilberto - Lobo Bobo
15. João Gilberto - Brigas, Nunca, Mais
16. João Gilberto - Ho-Ba-La-La
17. João Gilberto - Saudade Fez um Samba
18. João Gilberto - Maria Ninguém
19. João Gilberto - Desdafinado
20. João Gilberto - Rosa Morena
21. João Gilberto - Morena Bouca de Ouro
22. João Gilberto - Bim Bom
23. João Gilberto - Aos Pés da Santa-Cruz
24. João Gilberto - E Luxo So