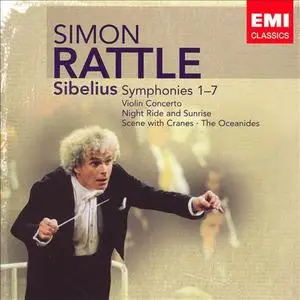 Simon Rattle - Sibelius: Symphonies Nos. 1-7 (5CD) (2007)
EAC | APE (image+.cue, log) | Covers Included | 05:30:06 | 1.3 Gb
Genre: Classical | Label: EMI Classics | Catalog: 5099950075
English conductors, including Thomas Beecham, John Barbirolli, Anthony Collins, and Colin Davis, have an excellent track record recording the symphonies of Jean Sibelius. Thus, when Simon Rattle first took a shot at Sibelius with his 1981 recording of the Fifth with the London Philharmonia, hopes were high that the next generation of English Sibelius conductors was ready to take up the torch. EMI was sufficiently impressed with the results to sign Rattle for a complete cycle of the symphonies with his City of Birmingham Symphony Orchestra. The results were popular enough, especially among British record buyers, that EMI regularly reissued Rattle's mid-'80s recordings in subsequent decades.
This 2007 edition includes not only the seven symphonies and the Violin Concerto (with Nigel Kennedy as soloist), but also a few select tone poems and Rattle's original 1981 recording of the Fifth as a bonus. Generally speaking, Rattle's Sibelius is less epic and bold than it is eccentric. He pulls tempos in unexpected directions in the Third's closing movement and the Fifth's opening movement, but he always seems to end up where he started: somewhat becalmed in the doldrums, and unable to keep sufficient wind in the music's sails. Sibelius' melodies never seem to soar in Rattle's performances; instead, the big themes of the First's Andante or the Second's Finale mutter to themselves. As a result, the signal emotional traits of each work (the First's tragedy, the Second's triumph, etc.) are either muted or altogether missing. Even the Violin Concerto, with the always-flashy Kennedy, fails to catch fire. EMI's sound is cool, clear vintage early digital. In all, this package suggests that if one wants to hear Sibelius as realized by the best of English conductors, one should look elsewhere.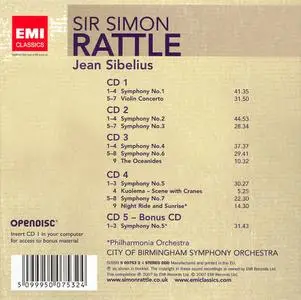 Track List:CD1
Symphony No. 1 In E minor, Op 39 - I. Allegro
II. Andante
III. Scherzo: Allegro
IV. Finale
Concerto For Violin And Orchestra In D minor, 0p.47 - I. Allegro
II. Adagio
III. Allegro
CD2
Symphony No.2 in D major, op.42 - I. Allegretto
II. Tempo andante, ma rubato
III. Vivacissimo
IV. Finale: Allegro moderato
Symphony No.3 in C major, op.52 - I. Allegro moderato
II. Andantino con moto, quasi allegretto
III. Moderato - Allegro, ma non tanto
CD3
Symphony No.4 in A minor, op.63 - I. Tempo molto moderato, quasi adagio
II. Allegro molto vivace
III. Il tempo largo
IV. Allegro
Symphony No.6 in D minor, op.104 - I. Allegro molto moderato
II. Allegretto
III. Poco vivace
IV. Allegro molto
The Oceanides (Aallottaret), op.73
CD4
Symphony No.5 in E flat major, op.82 - I. Tempo molto moderato - Allegro mode…
II. Andante mosso, quasi allegretto
III. Allegro molto - Un pochettino lar…
Scene with Cranes (from Kuolema op.44)
Symphony No.7 in C major, op.105 - I. Adagio
II. Un pochettino meno adagio - Vivacissim…
III. Allegro molto moderato -
IV. Vivace - Presto - Adagio
Night Ride and Sunrise op.55
CD5
Symphony No.5 in E flat major, op.82* - I. Tempo molto moderato - Allegro mode…
II. Andante mosso, quasi allegretto
III. Allegro molto - Un pochettino lar…
Performers:
City of Birmingham Symphony Orchestra
Nigel Kennedy – violin (Violin Concerto)
New Philharmonia Orchestra of London
Simon Rattle, conductor
Exact Audio Copy V0.99 prebeta 4 from 23. January 2008

Отчёт EAC об извлечении, выполненном 29. августа 2009, 12:13

Rattle - CoBSO - Kennedy / Sibelius - Symphony No. 1, Violin Concerto

Дисковод: HL-DT-STDVDRAM GSA-H62N Adapter: 2 ID: 0

Режим чтения : Достоверность
Использование точного потока : Да
Отключение кэша аудио : Да
Использование указателей C2 : Нет

Коррекция смещения при чтении : 667
Способность читать области Lead-in и Lead-out : Нет
Заполнение пропущенных сэмплов тишиной : Да
Удаление блоков с тишиной в начале и конце : Нет
При вычислениях CRC использовались нулевые сэмплы : Да
Интерфейс : Установленный внешний ASPI-интерфейс

Выходной формат : Внутренние WAV-операции
Формат сэмплов : 44.100 Гц; 16 бит; стерео


TOC извлечённого CD

Трек | Старт | Длительность | Начальный сектор | Конечный сектор
––––––––––––––––––––––––––––––––––-
1 | 0:00.33 | 12:01.05 | 33 | 54112
2 | 12:01.38 | 10:09.72 | 54113 | 99859
3 | 22:11.35 | 5:45.48 | 99860 | 125782
4 | 27:57.08 | 13:47.61 | 125783 | 187868
5 | 41:44.69 | 16:18.39 | 187869 | 261257
6 | 58:03.33 | 8:13.72 | 261258 | 298304
7 | 66:17.30 | 7:17.40 | 298305 | 331119


Характеристики диапазона извлечения и сообщения об ошибках

Выбранный диапазон

Имя файла D:\временная\Rattle - CoBSO - Kennedy - Sibelius - Symphony No. 1, Violin Concerto.wav

Пиковый уровень 99.8 %
Качество диапазона 100.0 %
CRC копии B0647275
Копирование… OK

Ошибок не произошло


AccurateRip: сводка

Трек 1 точное извлечение (доверие 1) [0C57031A]
Трек 2 точное извлечение (доверие 1) [EB771E19]
Трек 3 точное извлечение (доверие 1) [60DE900A]
Трек 4 точное извлечение (доверие 1) [C25D901E]
Трек 5 точное извлечение (доверие 1) [7F0EB7B2]
Трек 6 точное извлечение (доверие 1) [E9172D18]
Трек 7 точное извлечение (доверие 1) [31CAE4C8]

Все треки извлечены точно

Конец отчёта
Exact Audio Copy V0.99 prebeta 4 from 23. January 2008

Отчёт EAC об извлечении, выполненном 29. августа 2009, 13:07

Sir Simon Rattle & City of Birmingham Symphony Orchestra / Jean Sibelius (CD2)

Дисковод: HL-DT-STDVDRAM GSA-H62N Adapter: 2 ID: 0

Режим чтения : Достоверность
Использование точного потока : Да
Отключение кэша аудио : Да
Использование указателей C2 : Нет

Коррекция смещения при чтении : 667
Способность читать области Lead-in и Lead-out : Нет
Заполнение пропущенных сэмплов тишиной : Да
Удаление блоков с тишиной в начале и конце : Нет
При вычислениях CRC использовались нулевые сэмплы : Да
Интерфейс : Установленный внешний ASPI-интерфейс

Выходной формат : Внутренние WAV-операции
Формат сэмплов : 44.100 Гц; 16 бит; стерео


TOC извлечённого CD

Трек | Старт | Длительность | Начальный сектор | Конечный сектор
––––––––––––––––––––––––––––––––––-
1 | 0:00.33 | 9:50.37 | 33 | 44319
2 | 9:50.70 | 14:22.63 | 44320 | 109032
3 | 24:13.58 | 6:31.15 | 109033 | 138372
4 | 30:44.73 | 14:24.30 | 138373 | 203202
5 | 45:09.28 | 10:33.35 | 203203 | 250712
6 | 55:42.63 | 9:43.62 | 250713 | 294499
7 | 65:26.50 | 8:18.60 | 294500 | 331909


Характеристики диапазона извлечения и сообщения об ошибках

Выбранный диапазон

Имя файла D:\временная\Sir Simon Rattle & City of Birmingham Symphony Orchestra - Jean Sibelius (CD2).wav

Пиковый уровень 97.7 %
Качество диапазона 100.0 %
CRC копии 6CAA9518
Копирование… OK

Ошибок не произошло


AccurateRip: сводка

Трек 1 точное извлечение (доверие 13) [52C16451]
Трек 2 точное извлечение (доверие 13) [1BFB5718]
Трек 3 точное извлечение (доверие 13) [E1C79BDD]
Трек 4 точное извлечение (доверие 13) [EBDC9F5F]
Трек 5 точное извлечение (доверие 13) [0DA84E1A]
Трек 6 точное извлечение (доверие 13) [AC0496D3]
Трек 7 точное извлечение (доверие 13) [9EDF6DA0]

Все треки извлечены точно

Конец отчёта
Exact Audio Copy V0.99 prebeta 4 from 23. January 2008

Отчёт EAC об извлечении, выполненном 29. августа 2009, 13:40

Sir Simon Rattle & City of Birmingham Symphony Orchestra / Jean Sibelius (CD3)

Дисковод: HL-DT-STDVDRAM GSA-H62N Adapter: 2 ID: 0

Режим чтения : Достоверность
Использование точного потока : Да
Отключение кэша аудио : Да
Использование указателей C2 : Нет

Коррекция смещения при чтении : 667
Способность читать области Lead-in и Lead-out : Нет
Заполнение пропущенных сэмплов тишиной : Да
Удаление блоков с тишиной в начале и конце : Нет
При вычислениях CRC использовались нулевые сэмплы : Да
Интерфейс : Установленный внешний ASPI-интерфейс

Выходной формат : Внутренние WAV-операции
Формат сэмплов : 44.100 Гц; 16 бит; стерео


TOC извлечённого CD

Трек | Старт | Длительность | Начальный сектор | Конечный сектор
––––––––––––––––––––––––––––––––––-
1 | 0:00.33 | 10:53.23 | 33 | 49030
2 | 10:53.56 | 4:47.05 | 49031 | 70560
3 | 15:40.61 | 11:45.32 | 70561 | 123467
4 | 27:26.18 | 10:17.12 | 123468 | 169754
5 | 37:43.30 | 9:08.45 | 169755 | 210899
6 | 46:52.00 | 6:18.04 | 210900 | 239253
7 | 53:10.04 | 3:48.69 | 239254 | 256422
8 | 56:58.73 | 10:32.45 | 256423 | 303867
9 | 67:31.43 | 10:32.20 | 303868 | 351287


Характеристики диапазона извлечения и сообщения об ошибках

Выбранный диапазон

Имя файла D:\временная\Sir Simon Rattle & City of Birmingham Symphony Orchestra - Jean Sibelius (CD3).wav

Пиковый уровень 99.5 %
Качество диапазона 100.0 %
CRC копии 6E357D3A
Копирование… OK

Ошибок не произошло


AccurateRip: сводка

Трек 1 точное извлечение (доверие 2) [3E5E8E00]
Трек 2 точное извлечение (доверие 2) [9B192670]
Трек 3 точное извлечение (доверие 2) [642639B5]
Трек 4 точное извлечение (доверие 2) [D92406DC]
Трек 5 точное извлечение (доверие 2) [32AC3214]
Трек 6 точное извлечение (доверие 2) [C8E5BE5D]
Трек 7 точное извлечение (доверие 2) [33D6F177]
Трек 8 точное извлечение (доверие 2) [EF0DBCE1]
Трек 9 точное извлечение (доверие 2) [1C06FD50]

Все треки извлечены точно

Конец отчёта
Exact Audio Copy V0.99 prebeta 4 from 23. January 2008

Отчёт EAC об извлечении, выполненном 29. августа 2009, 14:03

Sir Simon Rattle & City of Birmingham Symphony Orchestra / Jean Sibelius (CD4)

Дисковод: HL-DT-STDVDRAM GSA-H62N Adapter: 2 ID: 0

Режим чтения : Достоверность
Использование точного потока : Да
Отключение кэша аудио : Да
Использование указателей C2 : Нет

Коррекция смещения при чтении : 667
Способность читать области Lead-in и Lead-out : Нет
Заполнение пропущенных сэмплов тишиной : Да
Удаление блоков с тишиной в начале и конце : Нет
При вычислениях CRC использовались нулевые сэмплы : Да
Интерфейс : Установленный внешний ASPI-интерфейс

Выходной формат : Внутренние WAV-операции
Формат сэмплов : 44.100 Гц; 16 бит; стерео


TOC извлечённого CD

Трек | Старт | Длительность | Начальный сектор | Конечный сектор
––––––––––––––––––––––––––––––––––-
1 | 0:00.32 | 12:50.35 | 32 | 57816
2 | 12:50.67 | 8:21.27 | 57817 | 95418
3 | 21:12.19 | 9:23.71 | 95419 | 137714
4 | 30:36.15 | 5:33.07 | 137715 | 162696
5 | 36:09.22 | 7:59.70 | 162697 | 198691
6 | 44:09.17 | 4:59.08 | 198692 | 221124
7 | 49:08.25 | 4:02.62 | 221125 | 239336
8 | 53:11.12 | 5:36.00 | 239337 | 264536
9 | 58:47.12 | 14:30.28 | 264537 | 329814


Характеристики диапазона извлечения и сообщения об ошибках

Выбранный диапазон

Имя файла D:\временная\Sir Simon Rattle & City of Birmingham Symphony Orchestra - Jean Sibelius (CD4).wav

Пиковый уровень 99.8 %
Качество диапазона 99.9 %
CRC копии 2C6DF703
Копирование… OK

Ошибок не произошло


AccurateRip: сводка

Трек 1 точное извлечение (доверие 2) [E1D180F0]
Трек 2 точное извлечение (доверие 2) [21A6C293]
Трек 3 точное извлечение (доверие 2) [1D2A4C9D]
Трек 4 точное извлечение (доверие 2) [D762CC19]
Трек 5 точное извлечение (доверие 2) [73C7DC14]
Трек 6 точное извлечение (доверие 2) [FFF7E2F6]
Трек 7 точное извлечение (доверие 2) [D07C77A1]
Трек 8 точное извлечение (доверие 2) [D1503E1E]
Трек 9 точное извлечение (доверие 2) [DBB2B086]

Все треки извлечены точно

Конец отчёта
Exact Audio Copy V0.99 prebeta 4 from 23. January 2008

Отчёт EAC об извлечении, выполненном 29. августа 2009, 14:16

Sir Simon Rattle & Philharmonia Orchestra / Jean Sibelius (CD5)

Дисковод: HL-DT-STDVDRAM GSA-H62N Adapter: 2 ID: 0

Режим чтения : Достоверность
Использование точного потока : Да
Отключение кэша аудио : Да
Использование указателей C2 : Нет

Коррекция смещения при чтении : 667
Способность читать области Lead-in и Lead-out : Нет
Заполнение пропущенных сэмплов тишиной : Да
Удаление блоков с тишиной в начале и конце : Нет
При вычислениях CRC использовались нулевые сэмплы : Да
Интерфейс : Установленный внешний ASPI-интерфейс

Выходной формат : Внутренние WAV-операции
Формат сэмплов : 44.100 Гц; 16 бит; стерео


TOC извлечённого CD

Трек | Старт | Длительность | Начальный сектор | Конечный сектор
––––––––––––––––––––––––––––––––––-
1 | 0:00.00 | 13:49.66 | 0 | 62240
2 | 13:49.66 | 8:30.20 | 62241 | 100510
3 | 22:20.11 | 9:23.21 | 100511 | 142756


Характеристики диапазона извлечения и сообщения об ошибках

Выбранный диапазон

Имя файла D:\временная\Sir Simon Rattle & Philharmonia Orchestra - Jean Sibelius (CD5).wav

Пиковый уровень 99.0 %
Качество диапазона 99.9 %
CRC копии C6BA7C02
Копирование… OK

Ошибок не произошло


AccurateRip: сводка

Трек 1 точное извлечение (доверие 1) [B3E5B667]
Трек 2 точное извлечение (доверие 1) [5B6A08ED]
Трек 3 точное извлечение (доверие 1) [EB683BA2]

Все треки извлечены точно

Конец отчёта