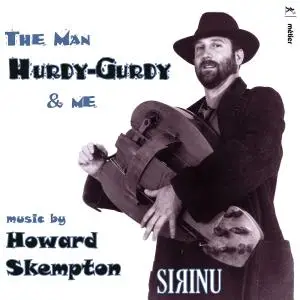 Sirinu - The Man, Hurdy-Gurdy & Me (2020)
WEB FLAC (tracks+booklet) - 257 MB | Tracks: 14 | 63:29 min
Style: Classical | Label: Metier
Howard Skempton has established over the last 50 years a reputation as one of the UKs most accomplished and internationally-acclaimed composers, with a style which is based on traditional tonality and lyricism; but he also delights in working with unusual instruments and settings, as is clear from this superb new album including music for hurdy-gurdy, viol, medieval harp, accordion and gamelan alongside normal contemporary Western instruments. This is probably one of the most individual and striking albums of the year! Founded in 1992, Sirinu is a British ensemble specializing in early and world music, performing and recording music from the 11th century to the present day. The group has appeared at festivals and venues throughout Europe. An important element of its activity is the commissioning of new works for medieval instruments (such as the title track of this album) which directly led to the making of this recording. Founding members Sara Stowe, Matthew Spring and Jon Banks are joined on this recording by contemporary and world music specialists Chris Redgate (oboe), Isabelle Carré (flutes, recorders and gamelan) and Chris Brannick (percussion).
Tracklist:
01. The Man, Hurdy-Gurdy and Me
02. Random Girl
03. 2 Highland Dances (Arr. for Lute): No. 2, Bagatelle
04. Concerto for Accordion & Oboe (Arr. S. Stowe for Quintet)
05. Apple-Blow
06. Bagatelle for Flute
07. Gentle Melody No. 1
08. Winter (My Secret)
09. Gloss
10. 2 Highland Dances (Arr. for Lute): No. 1, Half Moon
11. Feste's Song
12. The Beauty of the Morning
13. Half Moon
14. Concerto for Hurdy-Gurdy & Percussion (Arr. M. Spring for Quintet)


FILE: 01. The Man, Hurdy-Gurdy and Me.flac
Size: 22861145 Hash: 71A3579D8488E81E2F4E23555F4BF6FB Accuracy: -m0
Conclusion: CDDA 100%
Signature: 81959178753D60666AFFFF2FCEB222B74690EB06
FILE: 02. Random Girl.flac
Size: 6892901 Hash: 74E39076314704DC6C57A8AF6A4CAEC1 Accuracy: -m0
Conclusion: CDDA 100%
Signature: 6288C337356343AD1C5EB0C4213A5A09BFB6CD94
FILE: 03. 2 Highland Dances (Arr. for Lute)_ No. 2, Bagatelle.flac
Size: 5566620 Hash: 628725D42787875CE756E7A4FE2B1B09 Accuracy: -m0
Conclusion: CDDA 100%
Signature: C035EDDB96270D3341A75D9551B9418DD603D40E
FILE: 04. Concerto for Accordion & Oboe (Arr. S. Stowe for Quintet).flac
Size: 49702141 Hash: 184FEE513FA12D862217C62E64241ABA Accuracy: -m0
Conclusion: CDDA 99%
Signature: F30C17F105CAD95B74F0773B62113525CE2CE7B3
FILE: 05. Apple-Blow.flac
Size: 10193201 Hash: 48C0254FD591062CC7C17863AF23E0D1 Accuracy: -m0
Conclusion: CDDA 100%
Signature: DA41B0863F903F1D33784AFE5CBF881D8E7F7F5F
FILE: 06. Bagatelle for Flute.flac
Size: 4789822 Hash: CA14DD20BD2ED7631D595C2238FB3978 Accuracy: -m0
Conclusion: CDDA 100%
Signature: F5FF3294262357FB5FDAC7BFAA47E7A382519A19
FILE: 07. Gentle Melody No. 1.flac
Size: 9534485 Hash: B858A3734ACB35EF7C2CAA538E0BAD18 Accuracy: -m0
Conclusion: CDDA 100%
Signature: 2B859BC95E1E37FEC59F5D982A6F03AE063CB5D9
FILE: 08. Winter (My Secret).flac
Size: 19082491 Hash: FCB1C9D08055C421AE9EA4AB70E2C5F1 Accuracy: -m0
Conclusion: CDDA 100%
Signature: 692D2B95EADBB15F2BBED926C03178AF17819145
FILE: 09. Gloss.flac
Size: 13144080 Hash: 7E2783A622138CB91D1205A6C29610B8 Accuracy: -m0
Conclusion: CDDA 54%
Signature: 8C49D6F23490A1768E34524B1029D16FC41D3678
FILE: 10. 2 Highland Dances (Arr. for Lute)_ No. 1, Half Moon.flac
Size: 9182660 Hash: 50D712E068D84102D62193B53C7D215A Accuracy: -m0
Conclusion: CDDA 100%
Signature: EC9DE240089D67E95C126966B08BD3947AA8B1A1
FILE: 11. Feste's Song.flac
Size: 8169324 Hash: D53DD74E89481774A5FEE0B7BC23A714 Accuracy: -m0
Conclusion: CDDA 100%
Signature: 0D06DB6837AB8817538A2730F92C6B73AC9B1A11
FILE: 12. The Beauty of the Morning.flac
Size: 6326160 Hash: 9923D7B604CF0E0D6E4AD73CE018FB99 Accuracy: -m0
Conclusion: CDDA 100%
Signature: AE22097303D8E4B6428A2A95C87F081699A8FC76
FILE: 13. Half Moon.flac
Size: 9557856 Hash: 054459ADA5DD94CB625704DF069565F2 Accuracy: -m0
Conclusion: CDDA 100%
Signature: 394CEB9AEB0CA19864D6CF95446B249FE1E52943
FILE: 14. Concerto for Hurdy-Gurdy & Percussion (Arr. M. Spring for Quintet).flac
Size: 93391065 Hash: 49E8122AEC991F8DB90433C103BDF34A Accuracy: -m0
Conclusion: CDDA 99%
Signature: 45F6C7D87E4D09395D94540563ECD4E7B7FAD3C2