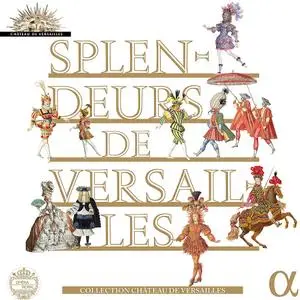 Splendeurs de Versailles - Music in the Royal Court of Versailles [10CDs] (2016)
EAC | FLAC | Image (Cue & Log) ~ 3.02 Gb | Total time: 10:47:14 | Scans included
Classical | Label: Alpha Classics | # ALPHA 260 | Recorded: 1999-2013
Versailles: its court, its atmosphere and its music… So many splendours emblematic of a monument with an incomparably rich history. The works associated with the palace have travelled down the centuries and today represent a precious part of our heritage. In this ten-CD set, Alpha retraces the musical life of the unique and luminous universe of Versailles. Le Poème Harmonique, Café Zimmermann, Capriccio Stravagante and many others invite themselves into the company of Jean-Baptiste Lully, Marc-Antoine Charpentier and Jean-Henry d'Anglebert and share with us for a few hours the sumptuous concerts that made Versailles a place like no other.
Contents:
CD 01: Versailles, l'île enchantée
Capriccio Stravagante Orchestra, Skip Sempé
CD 02: MOULINIÉ - L'humaine comédie
Le Poème Harmonique, Vincent Dumestre
CD 03: LULLY, D'ANGLEBERT - Pièces de clavecin & airs d'après M. de Lully
Café Zimmermann, Céline Frisch
CD 04: CHARPENTIER, LULLY - Te deum
Le Poème Harmonique, Vincent Dumestre, Capella Cracoviensis, Jan Tomasz Adamus
CD 05: CHARPENTIER - Motets pour le grand dauphin
Ensemble Pierre Robert, Frédéric Desenclos
CD 06: CHARPENTIER - O Maria ! Psaumes & motets
Ensemble Correspondances, Sébastien Daucé
CD 07: CHARPENTIER - Tristes déserts
Il Seminario Musicale, Gérard Lesne, Cyril Auvity, Edwin Crossley-Mercer
CD 08: CHARPENTIER - Leçons de ténèbres
Stephan MacLeod, Arte dei Suonatori, Alexis Kossenko
CD 09: D'ANGLEBERT - Pièces de clavecin & airs d'après M. de Lully
Céline Frisch
CD 10: CLÉRAMBAULT - Miserere & F. COUPERIN - Leçons de ténèbres
Le Poème Harmonique, Vincent Dumestre

CD 1 [68:43]
Jean-Baptiste LULLY (1632-1687)
01. Psyché: Ouverture
Jean Henri D'ANGLEBERT (1628-1691)
02. Pièces de clavecin, Suite No. 2 in G Minor: Prélude
Michel LAMBERT (1610-1696)
03. Vos mépris chaque jour
Jacques Champion CHAMBONNIÈRES (c.1601-c.1672)
04. Sarabande in G Major
Jean-Baptiste LULLY
05. Le bourgeois gentilhomme: Marche pour la Cérémonie des Turcs
Jean Henri D'ANGLEBERT
06. Pièces de clavecin, Suite No. 1 in G Major: Prélude
Michel LAMBERT: Ombre de mon amant
07. Ombre de mon amant
Jean-Baptiste LULLY arr. Jean Henri D'ANGLEBERT
08. Suite No. 2 in G Minor: V. Passacaille d'Armide
Gaspard LE ROUX (c.1660-1707) Pièces de clavessin
09. Gigue in G Major
Jean-Baptiste LULLY
10. Le bourgeois gentilhomme: Reprise de la Marche pour la Cérémonie des Turcs
André CAMPRA (1660-1744)
11. L'Europe galante, Act III: Sommeil
Louis COUPERIN (1621-1661)
12. Prélude in C Major
13. Passacaille in C Major
Jacques Champion CHAMBONNIÈRES
14. Paschalia
André CAMPRA
15. L'Europe galante, Act V: Aria: Mes yeux, ne pourrez-vous jamais
François COUPERIN (1668-1733)
16. Pièces de clavecin, Book 2: 9eme Ordre: Allemande a 2 clavecins
Marin MARAIS (1656-1728)
17. Pièces de viole, Book 2: Les Voix Humaines
Jean Henri D'ANGLEBERT
18. Suite No. 3 in D Minor, Prélude
Marin MARAIS
19. Sarabande in D Minor
Jean-Baptiste LULLY
20. Le bourgeois gentilhomme: Quels spectacles charmants
21. Amadis, Act V: Chaccone

Capriccio Stravagante
Skip Sempé

CD 2 [69:46]
Étienne MOULINIÉ (1599-1676)
01. Concert de différents oyseaux
02. Rompez les charmes du sommeil, "Air de la Ridicule"
03. Fantaisie première pour les violes
04. Espagnol, je te supplie
05. Ojos, sir quereis vivir
06. Por la verde orilla
07. Chanson gasconne: L'auzel ques sul bouyssou
08. Non ha sotto il ciel
09. Seguir non più voglio
10. Tout se peint de verdure
Entrées instrumentales du ballet du Mariage de Pierre de Provence avec la belle Maguelone
11. I. Entree de Son Altesse
12. II. Combat de piques
13. III. Combat de rondaches
14. IV. Combat a cheval
15. V. Entrée de Pierre de Provence
16. VI. Pavane la Ridicule
17. VII. Les Vieux Gaulois
18. Air du Juif Errant
19. Jalouse envie
20. Air à boire
21. Le sort me fait souffrir

Le Poème Harmonique
Vincent Dumestre

CD 3 [43:46]
Jean-Baptiste LULLY
01. Cadmus et Hermione, LWV 49: Overture
02. Roland, LWV 65, Act I: Ritournelle des Fées
03. Phaëton, LWV 61: Petit Air pour les mesmes
Armide, LWV 71
04. Air I
05. Air II
06. Phaëton, LWV 61, Act II: Chaconne
07. Le carnaval, mascarade royale LWV 36: Overture
08. Atys, LWV 53, Act III: Les songes agréables
09. La naissance de Vénus, LWV 27, Act II: Sarabande Dieux des Enfers
10. Le triomphe de l'amour, LWV 59: Air d'Apollon
11. Armide, LWV 71, Act V: Passacaille
Jean Henri D'ANGLEBERT
5 Fugues et un quatuor sur le Kyrie
12. Fugue grave
13. Fugue No. 2
14. Fugue No. 3
15. Fugue No. 4
16. Fugue No. 5

Café Zimmermann
Céline Frisch (organ)

CD 4 [55:34]
Marc-Antoine CHARPENTIER (1643-1704)
Te Deum, H. 146
01. Prelude
02. Te Deum laudamus
03. Te aeternum Patrem
04. Te per orbem terrarum
05. Tu, devicto mortis aculeo
06. Tu ergo quaesumus, famulis tuis subveni
07. Aeterna fac cum sanctis tuis
08. Dignare Domine - Fiat misericordia
09. In te, Domine speravi
Jean-Baptiste LULLY
Te Deum, LWV 55
10. Te Deum laudamus
11. Tibi omnes angeli
12. Pleni sunt caeli et terra
13. Patrem immensae majestatis
14. Tu rex gloriae, Christe
15. Tu ad dexteram Dei sedes
16. Te ergo quaesumus, famulis tuis subveni
17. Salvum fac populum tuum, Domine
18. Dignare, Domine
19. In te Domine speravi

Chœur Capella Cracoviensis
Le Poème Harmonique
Vincent Dumestre

CD 5 [67:29]
Marc-Antoine CHARPENTIER
01. Precatio pro filio, H. 166, "Deus judicium tuum"
Louis MARCHAND (1669-1732)
02. Fugue sur les anches
Marc-Antoine CHARPENTIER
03. Sola vivebat in antris, H. 373
Louis MARCHAND
04. Organ Works, Book 1: Fond d'orgue
Marc-Antoine CHARPENTIER
05. Supplicatio pro defunctis ad beatam virginem, H. 328
Louis MARCHAND
06. Organ Works, Book 1: Tierce en taille
Marc-Antoine CHARPENTIER
07. Quemadmodum desiderat cervus, H. 174
08. Elevation, H. 248, "O salutaris hostia"
Louis MARCHAND
09. Organ Works, Book 1: Fugue
Marc-Antoine CHARPENTIER
10. Gratiarum actiones ex sacris codicibus excerptae pro restituta serenissimi galliarum delphini salute, H. 326

Ensemble Pierre Robert
Frédéric Desenclos (organ, director)

CD 6 [63:31]
Marc-Antoine CHARPENTIER
01. Prelude pour ce qu'on voudra, H. 521
02. Antienne pour les Vêpres de l'Assomption de la vierge: Apres Laetatus sum (In odorem unguentor um), H. 51
03. Psalmus David 127us, H. 178, "Beati omnes"
04. Elevation, H. 274, "O sacramentum pietatis"
05. Pie Jesu, H. 427
06. Psalmus David 136us, H. 170, "Super flumina Babylonis"
Élisabeth JACQUET DE LA GUERRE (1665-1729)
07. Trio Sonata in G Minor
Marc-Antoine CHARPENTIER
08. Gratiarum actiones pro restituta regis christianissimi sanitate anno 1686, H. 341, "Circumdederunt me dolores"
09. Magdalena lugens voce sola cum symphonia, H. 343, "Sola vivebat in antris"
10. Motet du saint sacrement pour un reposoir, H. 328, "Supplicatio Pro Defunctis"

Ensemble Correspondances
Sébastien Daucé

CD 7 [74:52]
Marc-Antoine CHARPENTIER
01. Tristes déserts, sombre retraite, H. 469
02. Sans frayeur dans ce bois, H. 467
03. Non, non, je ne l'aime plus, H. 455
04. Amour vous avez beau redoubler mes alarmes, H. 445
05. Rendez-moi mes plaisirs, H. 463
06. Oiseaux de ces bocages, H. 456
07. Quoi! je ne verrai plus, H. 461
08. Epitaphium Carpentarij, H. 474
09. Airs on stanzas from Le Cid, H. 457-459
10. Celle qui fait tout mon tourment, H. 450
11. Auprès du feu l'on fait l'amour, H. 446
12. Veux-tu, compère Grégoire, H. 470a
13. Beaux petits yeux d'écarlate, H. 448
14. Ruisseau qui nourris dans ce bois, H. 466
Orphée descendant aux enfers, H. 471
15. Prélude
16. Recitative: — (Orphée)
17. Air: Effroyables enfers où je conduis mes pas … (Orphée)
18. Duet: Quelle douce harmonie a frappé mon oreille
19. Air: Vos plus grands criminels … (Orphée)
20. Duet: Ne cherchons plus d'où vient cette tendresse … - Trio: Hélas, Rien n'est égal au bonheur des amants …

Il Seminario Musicale
Gérard Lesne

CD 8 [65:38]
Marc-Antoine CHARPENTIER
01. Offerte, H. 514
02. Antienne, H. 532
03. Symphonie in G Minor, H. 529
04. Ouverture pour le sacre d'un évêque, H. 536
05. Apres Confitebor: Antienne in D Minor, H. 516
06. Pour plusieurs martyrs: motet a voix seule sans accompagnement, H. 361, "Sancti Dei per fidem"
07. Pour un reposoir: Ouverture des que la procession parait, H. 523
08. Ouverture pour le sacre d'un évêque, H. 537
09. Offerte non encore executée, H. 522
10. Ouverture pour l'église, H. 524
11. Antienne, H. 526
12. Pre Leçon de Ténèbres du Mercredy Saint, H. 120
13. Pre Leçon de Ténèbres du Jeudy Saint, H. 121
14. Pre Leçon de Ténèbres du Vendredy Saint, H122

Stephan MacLeod (bass)
Arte dei Suonatori
Alexis Kossenko

CD 9 [71:49]
Jean Henri D'ANGLEBERT
Pièces de clavecin, Suite No. 1 in G Major
01. Prélude
02. Allemande
03. Courante et double de la Courante
04. Courante No. 2
05. Courante No. 3
06. Sarabande
07. Gigue
08. Gigue No. 2
09. Galliarde
10. Chaconne Rondeau
11. Lully - Suite in G Major: I. Ouverture de Cadmus (arr. of Cadmus et Hermione)
12. Lully - Suite No. 1 in G Minor: II. Ritournelle des Fées de Rolland (arr. of Roland, Act V Scene 1)
13. Lully - Suite in G Major: IV. Chaconne de Phaeton (arr. of Phaeton, Act II Scene 5)
Pièces de clavecin, Suite No. 2 in G Minor
14. Prélude
15. Allemande
16. Courante
17. Courante No. 2
18. Sarabande
19. Lully - Suite No. 1 in G Minor: III. Sarabande Dieux des Enfers (arr. of La naissance de Vénus)
20. Gigue
21. Gaillarde
22. Passacaille
23. Lully - Suite No. 1 in G Minor: I. Ouverture de la Mascarade (arr. of Le carnaval, mascarade royale)
24. Lully - Les Sourdines d'Armide (arr. of Armide, Act II Scene 4)
25. Lully - Les Songes agréables d'Atys (arr. of Atys, Act III Scene 4)
26. Lully - Air d'Apollon du Triomphe de l'Amour (arr. of Le triomphe de l'amour)
27. Lully - Passacaille d'Armide (arr. of Armide, Act V Scene 2)

Céline Frisch (harpsichord)

CD 10 [65:03]
Louis-Nicolas CLÉRAMBAULT
Miserere
01. Miserere mei Deus
02. Quoniam iniquitatem meam
03. Asperges me hyssopo
04. Averte faciem tuam
05. Docebo iniquinos
06. Quoniam si voluisses sacrificium
François COUPERIN
Première Leçon de Ténèbres Pour Mercredy
07. Incipit Lamentatio Hieremiae prophetae
08. Beth. Plorans ploravit in nocte
09. Ghimel. Migravit Juda
10. Daleth. Viae Sion lugent
11. He. Facti sunt hostes
12. Jerusalem, convertere ad. Dominum Deum tuum
Deuxième Leçon De Ténèbres Pour Mercredy
13. Vau. Et egressus est a filia Sion omnis decor ejus
14. Zain. Recordata est Jerusalem
15. Heth. Peccatum peccavit Jerusalem
16. Teth. Sordes ejus
17. Jerusalem, convertere ad. Dominum Deum tuum
Troisième Leçon De Ténèbres Pour Mercredy
18. Jod. Manum suam misit hostis ad
19. Caph. Omnis populus
20. Lamed. O vos omnes
21. Mem. De excelso misit
22. Nun. Vigilavit
23. Jerusalem, convertere ad. Dominum Deum tuum

Le Poème Harmonique
Vincent Dumestre


Exact Audio Copy V1.6 from 23. October 2020

EAC extraction logfile from 14. June 2021, 20:02

Skip Sempé, Capriccio Stravagante / Versailles, L'Île enchantée

Used drive : PIONEER DVD-RW DVR-218L Adapter: 1 ID: 0

Read mode : Secure
Utilize accurate stream : Yes
Defeat audio cache : Yes
Make use of C2 pointers : No

Read offset correction : 6
Overread into Lead-In and Lead-Out : No
Fill up missing offset samples with silence : Yes
Delete leading and trailing silent blocks : No
Null samples used in CRC calculations : Yes
Used interface : Native Win32 interface for Win NT & 2000

Used output format : User Defined Encoder
Selected bitrate : 128 kBit/s
Quality : High
Add ID3 tag : No
Command line compressor : C:\Program Files\Exact Audio Copy\Flac\flac.exe
Additional command line options : -V -8 -T "Date=%year%" -T "Genre=%genre%" %source%


TOC of the extracted CD

Track | Start | Length | Start sector | End sector
––––––––––––––––––––––––––––-
1 | 0:00.00 | 2:22.73 | 0 | 10722
2 | 2:22.73 | 1:34.31 | 10723 | 17803
3 | 3:57.29 | 3:20.32 | 17804 | 32835
4 | 7:17.61 | 2:13.00 | 32836 | 42810
5 | 9:30.61 | 1:18.27 | 42811 | 48687
6 | 10:49.13 | 2:02.60 | 48688 | 57897
7 | 12:51.73 | 5:37.27 | 57898 | 83199
8 | 18:29.25 | 3:54.24 | 83200 | 100773
9 | 22:23.49 | 1:00.33 | 100774 | 105306
10 | 23:24.07 | 1:30.36 | 105307 | 112092
11 | 24:54.43 | 5:40.66 | 112093 | 137658
12 | 30:35.34 | 2:59.03 | 137659 | 151086
13 | 33:34.37 | 5:08.45 | 151087 | 174231
14 | 38:43.07 | 1:35.03 | 174232 | 181359
15 | 40:18.10 | 4:17.09 | 181360 | 200643
16 | 44:35.19 | 4:31.18 | 200644 | 220986
17 | 49:06.37 | 4:08.39 | 220987 | 239625
18 | 53:15.01 | 4:07.33 | 239626 | 258183
19 | 57:22.34 | 3:21.39 | 258184 | 273297
20 | 60:43.73 | 1:16.60 | 273298 | 279057
21 | 62:00.58 | 6:43.45 | 279058 | 309327


Range status and errors

Selected range

Filename C:\ArlegZ\Versailles, L'Île enchantée - Skip Sempé.wav

Peak level 100.0 %
Extraction speed 2.1 X
Range quality 100.0 %
Test CRC 5A88EB68
Copy CRC 5A88EB68
Copy OK

No errors occurred


AccurateRip summary

Track 1 accurately ripped (confidence 2) [8C50CB7D] (AR v2)
Track 2 accurately ripped (confidence 2) [82376711] (AR v2)
Track 3 accurately ripped (confidence 2) [8B25E5A8] (AR v2)
Track 4 accurately ripped (confidence 2) [417C0575] (AR v2)
Track 5 accurately ripped (confidence 2) [FC508567] (AR v2)
Track 6 accurately ripped (confidence 2) [0F29EA33] (AR v2)
Track 7 accurately ripped (confidence 2) [BAA371FC] (AR v2)
Track 8 accurately ripped (confidence 2) [4CD50D03] (AR v2)
Track 9 accurately ripped (confidence 2) [2AF98EAF] (AR v2)
Track 10 accurately ripped (confidence 2) [14047432] (AR v2)
Track 11 accurately ripped (confidence 2) [8712E133] (AR v2)
Track 12 accurately ripped (confidence 2) [69ACDD86] (AR v2)
Track 13 accurately ripped (confidence 2) [1709DEB3] (AR v2)
Track 14 accurately ripped (confidence 2) [E229B2BC] (AR v2)
Track 15 accurately ripped (confidence 2) [DFE0C350] (AR v2)
Track 16 accurately ripped (confidence 2) [A88877F4] (AR v2)
Track 17 accurately ripped (confidence 2) [3E220A46] (AR v2)
Track 18 accurately ripped (confidence 2) [50EAB5B5] (AR v2)
Track 19 accurately ripped (confidence 2) [545EFFE1] (AR v2)
Track 20 accurately ripped (confidence 2) [E928A79B] (AR v2)
Track 21 accurately ripped (confidence 2) [C2280201] (AR v2)

All tracks accurately ripped

End of status report

–– CUETools DB Plugin V2.1.6

[CTDB TOCID: GJ0LjIZ57Z_2ylyPaOEZbthGJrI-] found
Submit result: GJ0LjIZ57Z_2ylyPaOEZbthGJrI- has been confirmed
Track | CTDB Status
1 | (38/38) Accurately ripped
2 | (38/38) Accurately ripped
3 | (38/38) Accurately ripped
4 | (38/38) Accurately ripped
5 | (38/38) Accurately ripped
6 | (38/38) Accurately ripped
7 | (38/38) Accurately ripped
8 | (38/38) Accurately ripped
9 | (38/38) Accurately ripped
10 | (38/38) Accurately ripped
11 | (38/38) Accurately ripped
12 | (38/38) Accurately ripped
13 | (38/38) Accurately ripped
14 | (38/38) Accurately ripped
15 | (37/38) Accurately ripped
16 | (38/38) Accurately ripped
17 | (38/38) Accurately ripped
18 | (37/38) Accurately ripped
19 | (38/38) Accurately ripped
20 | (38/38) Accurately ripped
21 | (37/38) Accurately ripped


==== Log checksum 892777346FDC0A355CB2946ACFA2C7E34206BA130938C1976D509B492DA84819 ====


Exact Audio Copy V1.6 from 23. October 2020

EAC extraction logfile from 14. June 2021, 18:01

Vincent Dumestre, Le Poème Harmonique / Moulinié - L'Humaine Comédie

Used drive : PIONEER DVD-RW DVR-218L Adapter: 1 ID: 0

Read mode : Secure
Utilize accurate stream : Yes
Defeat audio cache : Yes
Make use of C2 pointers : No

Read offset correction : 6
Overread into Lead-In and Lead-Out : No
Fill up missing offset samples with silence : Yes
Delete leading and trailing silent blocks : No
Null samples used in CRC calculations : Yes
Used interface : Native Win32 interface for Win NT & 2000

Used output format : User Defined Encoder
Selected bitrate : 128 kBit/s
Quality : High
Add ID3 tag : No
Command line compressor : C:\Program Files\Exact Audio Copy\Flac\flac.exe
Additional command line options : -V -8 -T "Date=%year%" -T "Genre=%genre%" %source%


TOC of the extracted CD

Track | Start | Length | Start sector | End sector
––––––––––––––––––––––––––––-
1 | 0:00.00 | 9:41.36 | 0 | 43610
2 | 9:41.36 | 4:32.27 | 43611 | 64037
3 | 14:13.63 | 4:09.43 | 64038 | 82755
4 | 18:23.31 | 5:11.35 | 82756 | 106115
5 | 23:34.66 | 4:21.17 | 106116 | 125707
6 | 27:56.08 | 2:23.14 | 125708 | 136446
7 | 30:19.22 | 5:36.08 | 136447 | 161654
8 | 35:55.30 | 2:39.04 | 161655 | 173583
9 | 38:34.34 | 2:41.16 | 173584 | 185674
10 | 41:15.50 | 6:14.45 | 185675 | 213769
11 | 47:30.20 | 4:44.14 | 213770 | 235083
12 | 52:14.34 | 0:34.70 | 235084 | 237703
13 | 52:49.29 | 0:40.36 | 237704 | 240739
14 | 53:29.65 | 0:29.23 | 240740 | 242937
15 | 53:59.13 | 1:49.68 | 242938 | 251180
16 | 55:49.06 | 1:12.21 | 251181 | 256601
17 | 57:01.27 | 0:50.58 | 256602 | 260409
18 | 57:52.10 | 2:09.46 | 260410 | 270130
19 | 60:01.56 | 3:03.62 | 270131 | 283917
20 | 63:05.43 | 2:14.25 | 283918 | 293992
21 | 65:19.68 | 4:29.10 | 293993 | 314177


Range status and errors

Selected range

Filename C:\ArlegZ\Moulinié - L'Humaine Comédie - Vincent Dumestre.wav

Peak level 97.7 %
Extraction speed 2.1 X
Range quality 100.0 %
Test CRC DB3C4A58
Copy CRC DB3C4A58
Copy OK

No errors occurred


AccurateRip summary

Track 1 accurately ripped (confidence 2) [7723E35E] (AR v2)
Track 2 accurately ripped (confidence 2) [2FDB2344] (AR v2)
Track 3 accurately ripped (confidence 2) [18FB9050] (AR v2)
Track 4 accurately ripped (confidence 2) [3F4D0B65] (AR v2)
Track 5 accurately ripped (confidence 2) [EA3F3826] (AR v2)
Track 6 accurately ripped (confidence 2) [6BC6DC82] (AR v2)
Track 7 accurately ripped (confidence 2) [ADAB498E] (AR v2)
Track 8 accurately ripped (confidence 2) [012A537B] (AR v2)
Track 9 accurately ripped (confidence 2) [8D82E878] (AR v2)
Track 10 accurately ripped (confidence 2) [0037ABF8] (AR v2)
Track 11 accurately ripped (confidence 2) [7E6CA681] (AR v2)
Track 12 accurately ripped (confidence 2) [174418AD] (AR v2)
Track 13 accurately ripped (confidence 2) [C53A0A43] (AR v2)
Track 14 accurately ripped (confidence 2) [E78BAAA6] (AR v2)
Track 15 accurately ripped (confidence 2) [ABCFBC42] (AR v2)
Track 16 accurately ripped (confidence 2) [C59AF6D3] (AR v2)
Track 17 accurately ripped (confidence 2) [1F153EBB] (AR v2)
Track 18 accurately ripped (confidence 2) [0D0A5910] (AR v2)
Track 19 accurately ripped (confidence 2) [4DB965D9] (AR v2)
Track 20 accurately ripped (confidence 2) [968D5B47] (AR v2)
Track 21 accurately ripped (confidence 2) [9868E0A8] (AR v2)

All tracks accurately ripped

End of status report

–– CUETools DB Plugin V2.1.6

[CTDB TOCID: uCmEFkS6MGjbFW2e7brSSOWsdOQ-] found
Submit result: uCmEFkS6MGjbFW2e7brSSOWsdOQ- has been confirmed
Track | CTDB Status
1 | (66/67) Accurately ripped
2 | (67/67) Accurately ripped
3 | (67/67) Accurately ripped
4 | (67/67) Accurately ripped
5 | (67/67) Accurately ripped
6 | (67/67) Accurately ripped
7 | (67/67) Accurately ripped
8 | (67/67) Accurately ripped
9 | (67/67) Accurately ripped
10 | (67/67) Accurately ripped
11 | (67/67) Accurately ripped
12 | (67/67) Accurately ripped
13 | (67/67) Accurately ripped
14 | (67/67) Accurately ripped
15 | (67/67) Accurately ripped
16 | (67/67) Accurately ripped
17 | (67/67) Accurately ripped
18 | (67/67) Accurately ripped
19 | (66/67) Accurately ripped
20 | (67/67) Accurately ripped
21 | (64/67) Accurately ripped


==== Log checksum 53090758686C53F2DE7924CDF4D12827F326BB4633E266A709693BC89D4C6EBE ====


Exact Audio Copy V1.6 from 23. October 2020

EAC extraction logfile from 14. June 2021, 16:42

Café Zimmermann, Céline Frisch / Lully, D'Anglebert - Pièces de clavecin & airs d'apres M. de Lully

Used drive : PIONEER DVD-RW DVR-218L Adapter: 1 ID: 0

Read mode : Secure
Utilize accurate stream : Yes
Defeat audio cache : Yes
Make use of C2 pointers : No

Read offset correction : 6
Overread into Lead-In and Lead-Out : No
Fill up missing offset samples with silence : Yes
Delete leading and trailing silent blocks : No
Null samples used in CRC calculations : Yes
Used interface : Native Win32 interface for Win NT & 2000

Used output format : User Defined Encoder
Selected bitrate : 128 kBit/s
Quality : High
Add ID3 tag : No
Command line compressor : C:\Program Files\Exact Audio Copy\Flac\flac.exe
Additional command line options : -V -8 -T "Date=%year%" -T "Genre=%genre%" %source%


TOC of the extracted CD

Track | Start | Length | Start sector | End sector
––––––––––––––––––––––––––––-
1 | 0:00.00 | 2:43.72 | 0 | 12296
2 | 2:43.72 | 1:26.31 | 12297 | 18777
3 | 4:10.28 | 1:39.64 | 18778 | 26266
4 | 5:50.17 | 2:13.41 | 26267 | 36282
5 | 8:03.58 | 2:29.02 | 36283 | 47459
6 | 10:32.60 | 3:40.40 | 47460 | 63999
7 | 14:13.25 | 4:26.52 | 64000 | 84001
8 | 18:40.02 | 2:05.49 | 84002 | 93425
9 | 20:45.51 | 3:44.24 | 93426 | 110249
10 | 24:30.00 | 2:40.54 | 110250 | 122303
11 | 27:10.54 | 4:33.10 | 122304 | 142788
12 | 31:43.64 | 2:49.57 | 142789 | 155520
13 | 34:33.46 | 2:06.61 | 155521 | 165031
14 | 36:40.32 | 2:52.38 | 165032 | 177969
15 | 39:32.70 | 1:40.40 | 177970 | 185509
16 | 41:13.35 | 2:33.08 | 185510 | 196992


Range status and errors

Selected range

Filename C:\ArlegZ\Lully, D'Anglebert - Pièces de clavecin & airs d'apres M. de Lully.wav

Peak level 100.0 %
Extraction speed 1.7 X
Range quality 100.0 %
Test CRC E85E4474
Copy CRC E85E4474
Copy OK

No errors occurred


AccurateRip summary

Track 1 accurately ripped (confidence 2) [BBE2980E] (AR v2)
Track 2 accurately ripped (confidence 2) [4A837744] (AR v2)
Track 3 accurately ripped (confidence 2) [2CA72D4D] (AR v2)
Track 4 accurately ripped (confidence 2) [852E3F0B] (AR v2)
Track 5 accurately ripped (confidence 2) [0A6A3CBD] (AR v2)
Track 6 accurately ripped (confidence 2) [5F502891] (AR v2)
Track 7 accurately ripped (confidence 2) [74A1AC35] (AR v2)
Track 8 accurately ripped (confidence 2) [D5751E5E] (AR v2)
Track 9 accurately ripped (confidence 2) [C18736CE] (AR v2)
Track 10 accurately ripped (confidence 2) [ADE368EC] (AR v2)
Track 11 accurately ripped (confidence 2) [D95EDBAB] (AR v2)
Track 12 accurately ripped (confidence 2) [DA97FF41] (AR v2)
Track 13 accurately ripped (confidence 2) [26D29979] (AR v2)
Track 14 accurately ripped (confidence 2) [1599EE18] (AR v2)
Track 15 accurately ripped (confidence 2) [17C1BD05] (AR v2)
Track 16 accurately ripped (confidence 2) [20D09565] (AR v2)

All tracks accurately ripped

End of status report

–– CUETools DB Plugin V2.1.6

[CTDB TOCID: PlOxeVlzPpxIVxzPLCrd8eVUz9A-] found
Submit result: PlOxeVlzPpxIVxzPLCrd8eVUz9A- has been confirmed
Track | CTDB Status
1 | (74/74) Accurately ripped
2 | (74/74) Accurately ripped
3 | (74/74) Accurately ripped
4 | (74/74) Accurately ripped
5 | (74/74) Accurately ripped
6 | (74/74) Accurately ripped
7 | (74/74) Accurately ripped
8 | (74/74) Accurately ripped
9 | (74/74) Accurately ripped
10 | (74/74) Accurately ripped
11 | (74/74) Accurately ripped
12 | (74/74) Accurately ripped
13 | (74/74) Accurately ripped
14 | (74/74) Accurately ripped
15 | (74/74) Accurately ripped
16 | (74/74) Accurately ripped


==== Log checksum 63D0F04B988AE0F1D9A671EA1C3801CF522B20248996CF9B4646934871FFDD16 ====


Exact Audio Copy V1.6 from 23. October 2020

EAC extraction logfile from 14. June 2021, 21:32

Vincent Dumestre, Le Poème Harmonique, Capella Cracoviensis / Charpentier, Lully - Te Deum

Used drive : PIONEER DVD-RW DVR-218L Adapter: 1 ID: 0

Read mode : Secure
Utilize accurate stream : Yes
Defeat audio cache : Yes
Make use of C2 pointers : No

Read offset correction : 6
Overread into Lead-In and Lead-Out : No
Fill up missing offset samples with silence : Yes
Delete leading and trailing silent blocks : No
Null samples used in CRC calculations : Yes
Used interface : Native Win32 interface for Win NT & 2000

Used output format : User Defined Encoder
Selected bitrate : 128 kBit/s
Quality : High
Add ID3 tag : No
Command line compressor : C:\Program Files\Exact Audio Copy\Flac\flac.exe
Additional command line options : -V -8 -T "Date=%year%" -T "Genre=%genre%" %source%


TOC of the extracted CD

Track | Start | Length | Start sector | End sector
––––––––––––––––––––––––––––-
1 | 0:00.00 | 1:20.04 | 0 | 6003
2 | 1:20.04 | 1:01.74 | 6004 | 10652
3 | 2:22.03 | 4:08.37 | 10653 | 29289
4 | 6:30.40 | 4:15.46 | 29290 | 48460
5 | 10:46.11 | 1:12.69 | 48461 | 53929
6 | 11:59.05 | 2:13.21 | 53930 | 63925
7 | 14:12.26 | 2:15.61 | 63926 | 74111
8 | 16:28.12 | 3:59.55 | 74112 | 92091
9 | 20:27.67 | 2:19.22 | 92092 | 102538
10 | 22:47.14 | 2:57.65 | 102539 | 115878
11 | 25:45.04 | 1:15.67 | 115879 | 121570
12 | 27:00.71 | 3:18.03 | 121571 | 136423
13 | 30:18.74 | 3:52.45 | 136424 | 153868
14 | 34:11.44 | 2:59.08 | 153869 | 167301
15 | 37:10.52 | 1:15.34 | 167302 | 172960
16 | 38:26.11 | 3:30.74 | 172961 | 188784
17 | 41:57.10 | 4:45.30 | 188785 | 210189
18 | 46:42.40 | 6:47.09 | 210190 | 240723
19 | 53:29.49 | 2:04.73 | 240724 | 250096


Range status and errors

Selected range

Filename C:\ArlegZ\Charpentier, Lully - Te Deum - Vincent Dumestre.wav

Peak level 95.1 %
Extraction speed 1.8 X
Range quality 99.9 %
Test CRC D36B359A
Copy CRC D36B359A
Copy OK

No errors occurred


AccurateRip summary

Track 1 accurately ripped (confidence 6) [B3AA8A3B] (AR v2)
Track 2 accurately ripped (confidence 6) [E2867438] (AR v2)
Track 3 accurately ripped (confidence 6) [DD983940] (AR v2)
Track 4 accurately ripped (confidence 6) [EA04CB7A] (AR v2)
Track 5 accurately ripped (confidence 6) [F99B9DB8] (AR v2)
Track 6 accurately ripped (confidence 6) [D06BD1FF] (AR v2)
Track 7 accurately ripped (confidence 6) [679F9E94] (AR v2)
Track 8 accurately ripped (confidence 6) [42436A9E] (AR v2)
Track 9 accurately ripped (confidence 6) [0C40BC8A] (AR v2)
Track 10 accurately ripped (confidence 6) [918771D7] (AR v2)
Track 11 accurately ripped (confidence 6) [731C8246] (AR v2)
Track 12 accurately ripped (confidence 6) [6882BF48] (AR v2)
Track 13 accurately ripped (confidence 6) [C24B34A8] (AR v2)
Track 14 accurately ripped (confidence 6) [3C7DF5FB] (AR v2)
Track 15 accurately ripped (confidence 6) [C60E1036] (AR v2)
Track 16 accurately ripped (confidence 6) [2DA6065E] (AR v2)
Track 17 accurately ripped (confidence 6) [92374017] (AR v2)
Track 18 accurately ripped (confidence 6) [E2133D23] (AR v2)
Track 19 accurately ripped (confidence 5) [29582064] (AR v2)

All tracks accurately ripped

End of status report


Exact Audio Copy V1.6 from 23. October 2020

EAC extraction logfile from 15. June 2021, 11:38

Frédéric Desenclos, Ensemble Pierre Robert / Charpentier - Motets pour le Grand Dauphin

Used drive : PIONEER DVD-RW DVR-218L Adapter: 1 ID: 0

Read mode : Secure
Utilize accurate stream : Yes
Defeat audio cache : Yes
Make use of C2 pointers : No

Read offset correction : 6
Overread into Lead-In and Lead-Out : No
Fill up missing offset samples with silence : Yes
Delete leading and trailing silent blocks : No
Null samples used in CRC calculations : Yes
Used interface : Native Win32 interface for Win NT & 2000

Used output format : User Defined Encoder
Selected bitrate : 128 kBit/s
Quality : High
Add ID3 tag : No
Command line compressor : C:\Program Files\Exact Audio Copy\Flac\flac.exe
Additional command line options : -V -8 -T "Date=%year%" -T "Genre=%genre%" %source%


TOC of the extracted CD

Track | Start | Length | Start sector | End sector
––––––––––––––––––––––––––––-
1 | 0:00.00 | 8:10.04 | 0 | 36753
2 | 8:10.04 | 1:55.37 | 36754 | 45415
3 | 10:05.41 | 7:21.35 | 45416 | 78525
4 | 17:27.01 | 1:47.00 | 78526 | 86550
5 | 19:14.01 | 11:33.26 | 86551 | 138551
6 | 30:47.27 | 2:45.58 | 138552 | 150984
7 | 33:33.10 | 13:05.45 | 150985 | 209904
8 | 46:38.55 | 3:26.16 | 209905 | 225370
9 | 50:04.71 | 1:41.03 | 225371 | 232948
10 | 51:45.74 | 15:43.03 | 232949 | 303676


Range status and errors

Selected range

Filename C:\ArlegZ\Charpentier - Motets pour le Grand Dauphin - Frédéric Desenclos.wav

Peak level 96.5 %
Extraction speed 2.1 X
Range quality 100.0 %
Test CRC D1D06F27
Copy CRC D1D06F27
Copy OK

No errors occurred


AccurateRip summary

Track 1 accurately ripped (confidence 2) [66639604] (AR v2)
Track 2 accurately ripped (confidence 2) [69D4DBE7] (AR v2)
Track 3 accurately ripped (confidence 2) [E638E926] (AR v2)
Track 4 accurately ripped (confidence 2) [08B2D72E] (AR v2)
Track 5 accurately ripped (confidence 2) [82B4B84B] (AR v2)
Track 6 accurately ripped (confidence 2) [3E0A2B75] (AR v2)
Track 7 accurately ripped (confidence 2) [061EA674] (AR v2)
Track 8 accurately ripped (confidence 2) [CAB28E97] (AR v2)
Track 9 accurately ripped (confidence 2) [34FBBC92] (AR v2)
Track 10 accurately ripped (confidence 2) [DB5E63B1] (AR v2)

All tracks accurately ripped

End of status report