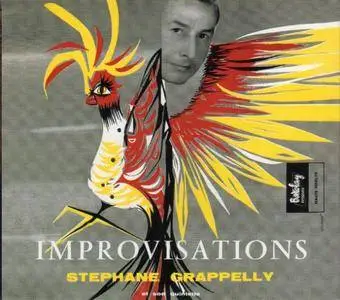 Stephane Grappelli - Improvisations. Piano a gogo (1956)
MP3 320 kbps | 01:13:55 min | 169 mb | Scans -> 146 mb
Genre: Jazz, Swing
Stéphane Grappelli (26 January 1908 – 1 December 1997) was a French jazz violinist who founded the Quintette du Hot Club de France with guitarist Django Reinhardt in 1934. It was one of the first all-string jazz bands. He has been called "the grandfather of jazz violinists" and continued playing concerts around the world well into his 80s.

Improvisations is a jazz album recorded in 1956, in Paris, by Stéphane Grappelli (violin), Maurice Vander (piano), Pierre Michelot (double bass) and Baptist "Mac Kac" Reiles (drums).
Tracklist
01. The lady is a tramp (3:05)
02. Fascinating (2:56)
03. Dans la vie (3:55)
04. Cheek to cheek (3:10)
05. A nightingale sang in berkeley Square (3:12)
06. Taking a chance on love (3:03)
07. 'S Wonderful (2:31)
08. Someone to watch over me (2:59)
09. If I had you (3:20)
10. Body and soul (2:35)
11. I want to be happy (2:15)
12. She's dunny that way (2:29)
13. Time after time (2:44)
14. Just one those things (2:34)
15. Lookin' at you (3:44)
16. Vous qui passez sans me voir (3:51)
17. Marno (2:46)
18. Wendy (4:50)
19. Crazy Blues (2:47)
20. Tendrement (3:47)
21. Valse du passй (2:21)
22. I can't recognise the tune (3:29)
23. Viens Au Creux De Mon Epaule (2:52)
24. Red-O-Rey (2:52)