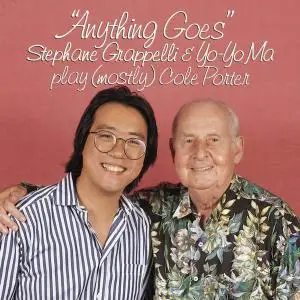 Stephane Grappelli & Yo-Yo Ma - Anything Goes (1989)
EAC Rip | APE (image+.cue+log) - 269 MB | Covers (10 MB) included
Genre: Jazz | RAR 3% Rec. | Label: CBS Records (MK45574)
It's obvious that this CD was marketed to the classical crowd first by its packaging and use of CBS rather than the Columbia label. Don't let that fool you; this is a jazz session with the renowned classical cellist Yo-Yo Ma joining the fun. The emphasis is on the music of Cole Porter, which was very familiar ground to Grappelli long before the session took place. The sparkling performances of the violinist throughout the date should be no surprise. The cellist seems to be gradually getting his feet wet on the opening title track, but becomes more prominent on "Easy to Love" and cuts loose on "I Concentrate On You." Grappelli, guitarist Marc Fosset and bassist Jon Burr go it alone on the quick run through "Just One of Those Things." Pianist Roger Kellaway and drummer Daniel Humair also add solid rhythm support, though they mostly stay out of the solo spotlight. Overall, it's a fun session worth picking up.
Tracklist:
01. Anything Goes
02. Easy To Love
03. I Concentrate On You
04. Just One Of Those Things
05. In The Still Of The Night
06. Love Of My Life
07. Pas-De-Two
08. Sweet Lorraine
09. So In Love
10. All Through The Night
Total time:
54:55
Exact Audio Copy V0.99 prebeta 4 from 23. January 2008

Отчёт EAC об извлечении, выполненном 17. декабря 2008, 6:09

Stephane Grappelli & Yo Yo Ma / Anything Goes

Дисковод: PIONEER DVD-RW DVR-108 Adapter: 4 ID: 1

Режим чтения : Достоверность
Использование точного потока : Да
Отключение кэша аудио : Да
Использование указателей C2 : Нет

Коррекция смещения при чтении : 48
Способность читать области Lead-in и Lead-out : Нет
Заполнение пропущенных сэмплов тишиной : Да
Удаление блоков с тишиной в начале и конце : Нет
При вычислениях CRC использовались нулевые сэмплы : Да
Интерфейс : Встроенный Win32-интерфейс для Win NT/2000

Выходной формат : Внутренние WAV-операции
Формат сэмплов : 44.100 Гц; 16 бит; стерео


TOC извлечённого CD

Трек | Старт | Длительность | Начальный сектор | Конечный сектор
––––––––––––––––––––––––––––––––––-
1 | 0:00.00 | 5:51.40 | 0 | 26364
2 | 5:51.40 | 8:23.42 | 26365 | 64131
3 | 14:15.07 | 3:48.48 | 64132 | 81279
4 | 18:03.55 | 2:28.50 | 81280 | 92429
5 | 20:32.30 | 4:43.65 | 92430 | 113719
6 | 25:16.20 | 3:47.72 | 113720 | 130816
7 | 29:04.17 | 4:31.70 | 130817 | 151211
8 | 33:36.12 | 7:32.63 | 151212 | 185174
9 | 41:09.00 | 7:27.40 | 185175 | 218739
10 | 48:36.40 | 6:18.05 | 218740 | 247094


Характеристики диапазона извлечения и сообщения об ошибках

Выбранный диапазон

Имя файла J:\New Torrents\Stephane Grappelli & Yo Yo Ma - Anything Goes\Stephane Grappelli & Yo Yo Ma - Anything Goes.wav

Пиковый уровень 100.0 %
Качество диапазона 100.0 %
CRC копии 061CB1DF
Копирование… OK

Ошибок не произошло


AccurateRip: сводка

Трек 1 точность не определена (достоверность 1) [1A870FB6], AccurateRip вернул [13D1DCE6]
Трек 2 точность не определена (достоверность 1) [116FEE8C], AccurateRip вернул [82F0B0BC]
Трек 3 точность не определена (достоверность 1) [A47A1563], AccurateRip вернул [D55AB853]
Трек 4 точность не определена (достоверность 1) [4A860918], AccurateRip вернул [920B54D0]
Трек 5 точность не определена (достоверность 1) [BCFE85AD], AccurateRip вернул [0B12A80D]
Трек 6 точность не определена (достоверность 1) [DB34BEF3], AccurateRip вернул [814E2FFB]
Трек 7 точность не определена (достоверность 1) [32DE0924], AccurateRip вернул [FE731F74]
Трек 8 точность не определена (достоверность 1) [88E19870], AccurateRip вернул [C840CB50]
Трек 9 точность не определена (достоверность 1) [AFB46C24], AccurateRip вернул [AE0B603C]
Трек 10 точность не определена (достоверность 1) [EE27DFB0], AccurateRip вернул [65316468]

Ни один трек не прошёл проверки на точность
В вашей базе может быть иной вариант штамповки диска

Конец отчёта
[CUETools log; Date: 30.10.2018 20:36:40; Version: 2.1.4]
[CTDB TOCID: m1ob9DuMAFSVMCS4O.GkACYjNTI-] found.
Track | CTDB Status
1 | (38/38) Accurately ripped
2 | (38/38) Accurately ripped
3 | (38/38) Accurately ripped
4 | (38/38) Accurately ripped
5 | (38/38) Accurately ripped
6 | (38/38) Accurately ripped
7 | (38/38) Accurately ripped
8 | (38/38) Accurately ripped
9 | (38/38) Accurately ripped
10 | (38/38) Accurately ripped
[AccurateRip ID: 001400f6-009ee078-870cde0a] found.
Track [ CRC | V2 ] Status
01 [1a870fb6|4750a3c9] (04+02/33) Accurately ripped
02 [116fee8c|0f907bcc] (04+02/33) Accurately ripped
03 [a47a1563|ad756f7c] (04+02/33) Accurately ripped
04 [4a860918|b0bd5e10] (04+02/33) Accurately ripped
05 [bcfe85ad|6b370483] (04+02/32) Accurately ripped
06 [db34bef3|d4c04844] (04+02/32) Accurately ripped
07 [32de0924|cf706c66] (04+02/32) Accurately ripped
08 [88e19870|eb6a878c] (04+02/32) Accurately ripped
09 [afb46c24|5df6d61d] (04+02/32) Accurately ripped
10 [ee27dfb0|5f865fa1] (04+02/31) Accurately ripped
Offsetted by 664:
01 [13d1dce6] (03/33) Accurately ripped
02 [82f0b0bc] (03/33) Accurately ripped
03 [d55ab853] (03/33) Accurately ripped
04 [920b54d0] (03/33) Accurately ripped
05 [0b12a80d] (03/32) Accurately ripped
06 [814e2ffb] (03/32) Accurately ripped
07 [fe731f74] (03/32) Accurately ripped
08 [c840cb50] (03/32) Accurately ripped
09 [ae0b603c] (03/32) Accurately ripped
10 [65316468] (03/31) Accurately ripped
Offsetted by 891:
01 [d2aee7ac] (06/33) Accurately ripped
02 [9bdd1822] (06/33) Accurately ripped
03 [5e5a6851] (06/33) Accurately ripped
04 [f35cc197] (06/33) Accurately ripped
05 [e74ebe99] (05/32) Accurately ripped
06 [022f8f4c] (05/32) Accurately ripped
07 [7378361e] (05/32) Accurately ripped
08 [2a4156ec] (05/32) Accurately ripped
09 [ac51f84f] (05/32) Accurately ripped
10 [3aff0e4f] (04/31) Accurately ripped
Offsetted by -276:
01 [0319518e] (00/33) No match (V2 was not tested)
02 [1cdc56e4] (00/33) No match (V2 was not tested)
03 [e99b2b1b] (00/33) No match (V2 was not tested)
04 [b921e814] (00/33) No match (V2 was not tested)
05 [24402d5d] (00/32) No match (V2 was not tested)
06 [dea58b57] (00/32) No match (V2 was not tested)
07 [ab5aab0c] (00/32) No match (V2 was not tested)
08 [ac3a0660] (00/32) No match (V2 was not tested)
09 [ca9c9dd0] (00/32) No match (V2 was not tested)
10 [be37f72c] (00/31) No match (V2 was not tested)

Track Peak [ CRC32 ] [W/O NULL] [ LOG ]
– 100,0 [061CB1DF] [0777B696] CRC32
01 94,9 [6BE9802A] [BB74FD9C]
02 100,0 [746C2667] [F3365E88]
03 79,6 [A8A4B042] [6E5C7106]
04 83,8 [8B6F3CFB] [F2F2FBC3]
05 97,7 [C1BCFA38] [30EF3AF5]
06 70,3 [D7B4A0C4] [5B76EC88]
07 77,3 [B0849083] [FDF989C8]
08 67,1 [03AE5F10] [BF6009E1]
09 97,7 [DE402BEF] [7DCED2B4]
10 76,8 [652B5A8D] [2216D772]
Thanks to
Uncle RemusSee also:
Stephane Grappelli - Improvisations (1957) [Reissue 2000]
Stephane Grappelli & McCoy Tyner - One On One (1990)
Stephane Grappelli - Plays Cole Porter [Recorded 1975-1976] (2001)
Oscar Peterson - Stephane Grap...ol. 1-2 [Recorded 1973] (2001)
Stephane Grappelli - Tribute T...dt [Recorded 1971-1979] (2009)