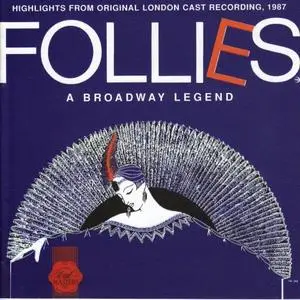 Stephen Sondheim - Follies (Original London Cast Recording) (2020)
FLAC tracks / MP3 320 kbps | 01:24:20 | 396 / 200 Mb
Genre: Soundtrack / Label: First Night Records
Follies is a musical with music and lyrics by Stephen Sondheim and a book by James Goldman.The story concerns a reunion in a crumbling Broadway theatre, scheduled for demolition, of the past performers of the "Weismann's Follies", a musical revue (based on the Ziegfeld Follies), that played in that theatre between the World Wars. It focuses on two couples, Buddy and Sally Durant Plummer and Benjamin and Phyllis Rogers Stone, who are attending the reunion. Sally and Phyllis were showgirls in the Follies. Both couples are deeply unhappy with their marriages. Buddy, a traveling salesman, is having an affair with a girl on the road; Sally is still as much in love with Ben as she was years ago; and Ben is so self-absorbed that Phyllis feels emotionally abandoned. Several of the former showgirls perform their old numbers, sometimes accompanied by the ghosts of their former selves. The musical numbers in the show have been interpreted as pastiches of the styles of the leading Broadway composers of the 1920s and '30s, and sometimes as parodies of specific songs.The Broadway production opened on April 4, 1971, directed by Harold Prince and Michael Bennett, and with choreography by Bennett. The musical was nominated for eleven Tony Awards and won seven. The original production, the second-most costly performed on Broadway to that date[1], ran for over 500 performances but ultimately lost its entire investment. The musical has had a number of major revivals, and several of its songs have become standards, including "Broadway Baby", "I'm Still Here", "Too Many Mornings", "Could I Leave You?", and "Losing My Mind".
Track List:
01. Paul Bentley - Beautiful Girls (3:28)
02. Julia McKenzie - Don't Look At Me (2:05)
03. Pearl Carr - Montage: Rain on the Roof / Ah! Paree / Broadway Baby (6:50)
04. Diana Rigg - Waiting For The Girls Upstairs (5:28)
05. Lynda Baron - Who's That Woman? (5:14)
06. Julia McKenzie - In Buddy's Eyes (3:05)
07. Diana Rigg - Country House (3:31)
08. Daniel Massey - Too Many Mornings (4:54)
09. The "Follies 1987" Company - Social Dancing (Bonus Track) (4:50)
10. DOLORES GRAY - I'm Still Here (5:46)
11. David Healey - The Right Girl (4:47)
12. Diana Rigg - Could I Leave You? (3:02)
13. Adele Leigh - One More Kiss (2:55)
14. Paul Bentley - Loveland (3:19)
15. Evan Pappas - Love Will See Us Through (2:02)
16. David Healey - Buddy's Blues (3:58)
17. Julia McKenzie - Losing My Mind (3:59)
18. Bonobo - You're Gonna Love Tomorrow / Ah, But Underneath (6:27)
19. Daniel Massey - Make The Most Of Your Music (4:56)
20. Bonobo - You're Gonna Love Tomorrow / Love Will See Us Through (Reprise) (2:17)
21. The "Follies 1987" Company - Beautiful Girls (Finale) (1:27)
ANALYZER: auCDtect: CD records authenticity detector, version 0.8.2
Copyright © 2004 Oleg Berngardt. All rights reserved.
Copyright © 2004 Alexander Djourik. All rights reserved.


FILE: 1. Beautiful Girls.flac
Size: 18871239 Hash: 010AEC24FDDF1B5FE3D10907AE810421 Accuracy: -m40
Conclusion: CDDA 100%
Signature: 2A19B3A8ADF6AC615072ED1E231F74C63CF8588F
FILE: 10. I'm Still Here.flac
Size: 29873452 Hash: 35C97FDF341A750CEB7DC63FFA5EDB7C Accuracy: -m40
Conclusion: CDDA 99%
Signature: A6D467C6E41D428850C1B6FAEA558D4392CED458
FILE: 11. The Right Girl.flac
Size: 20440319 Hash: 4E5935B1CF32869CEA472BF84DBE95B1 Accuracy: -m40
Conclusion: CDDA 100%
Signature: 1D09A620619ECBEFC822A6A53A1B660B8349C365
FILE: 12. Could I Leave You-.flac
Size: 13043015 Hash: 316BEA678AF5F5791128BB367DD6EF2C Accuracy: -m40
Conclusion: CDDA 100%
Signature: 44E9B29A82DD4D9E5D5556700100E4E7EF628ACE
FILE: 13. One More Kiss.flac
Size: 12403048 Hash: 3B3E89D14818A5216B66EB48CB6F6D62 Accuracy: -m40
Conclusion: CDDA 94%
Signature: F0BF5E89E148D08B5D24B03BBC76B0C0F8DE3D84
FILE: 14. Loveland.flac
Size: 19820462 Hash: 2D2D4968F3DE561272A1391DFEF85ABE Accuracy: -m40
Conclusion: CDDA 87%
Signature: 33D282718B3A79FA35EED4091392AF213EF762B8
FILE: 15. Love Will See Us Through.flac
Size: 10497491 Hash: 9D56115ED16F6F8F256A2016C31DBA0B Accuracy: -m40
Conclusion: CDDA 100%
Signature: 6AFE485F73A9B558029946A2064809CB6719105F
FILE: 16. Buddy's Blues.flac
Size: 22374080 Hash: 38254320B9D6BACCEB911A19D60BB808 Accuracy: -m40
Conclusion: CDDA 99%
Signature: 87136DEAD8ADC12667114D39A71D654193CDAF4F
FILE: 17. Losing My Mind.flac
Size: 19826588 Hash: DE90EE9093E636B509FACE87583A13BC Accuracy: -m40
Conclusion: CDDA 100%
Signature: EABB9B3DEB752608EDAF246B398D280BF79D853D
FILE: 18. You're Gonna Love Tomorrow - Ah, But Underneath.flac
Size: 32188330 Hash: FA3D5E74DFA3C6BB9FBE8BE65474DB99 Accuracy: -m40
Conclusion: CDDA 99%
Signature: 973852219D64FA3B3EF583AFCA7FFFE177612BF9
FILE: 19. Make The Most Of Your Music.flac
Size: 27079693 Hash: AACD5214F984B638A8A3794228080274 Accuracy: -m40
Conclusion: CDDA 100%
Signature: 26CA722CE98A1C8499A380151E811BEE3CB6F272
FILE: 2. Don't Look At Me.flac
Size: 9854778 Hash: 2560AD39313E3984E968BEB5CDA399C8 Accuracy: -m40
Conclusion: CDDA 100%
Signature: 43066DD4CDA86DFF09F6EA4337520CD4628B6637
FILE: 20. You're Gonna Love Tomorrow - Love Will See Us Through (Reprise).flac
Size: 9527441 Hash: 538B74D58D93B560A026328F7B48E2DC Accuracy: -m40
Conclusion: CDDA 100%
Signature: 0544DD98D1299A36F46E780898CF84DC482A1C98
FILE: 21. Beautiful Girls (Finale).flac
Size: 9254982 Hash: 1C6BC08320E0AFE7E6F0C90CE759E7AD Accuracy: -m40
Conclusion: CDDA 100%
Signature: 97BA7FC8ED59525748DF414B243B9E7C5E2CBC47
FILE: 3. Montage- Rain on the Roof - Ah! Paree - Broadway Baby.flac
Size: 34946880 Hash: 59DF8293E97019E834167760FDC34CFA Accuracy: -m40
Conclusion: CDDA 99%
Signature: F356730319B13731C4D4F59C5AE35006E4C070D8
FILE: 4. Waiting For The Girls Upstairs.flac
Size: 24872401 Hash: 663E1F807D992B6C69F353E497E33600 Accuracy: -m40
Conclusion: CDDA 99%
Signature: 38D3CB850209E2F6A691AA38EAF7B68D4277691F
FILE: 5. Who's That Woman-.flac
Size: 26296380 Hash: 278DC20B37DEB4571DEADE4F14844AF6 Accuracy: -m40
Conclusion: CDDA 100%
Signature: 3166D4510C75B07DDED673374434CC002C90DA1A
FILE: 6. In Buddy's Eyes.flac
Size: 12246422 Hash: EDEC92C8D3BD210E63D6CD2CE08EBD8A Accuracy: -m40
Conclusion: CDDA 92%
Signature: 0B016FB91A5B06513950603724533A9CAD5DE54D
FILE: 7. Country House.flac
Size: 14961171 Hash: E4359AC17213EB0B9F50498E502515FA Accuracy: -m40
Conclusion: CDDA 54%
Signature: C0521F9C4BB670A2EDE324039BBE41C1D09B6FC6
FILE: 8. Too Many Mornings.flac
Size: 21311286 Hash: CCE8692A675B55844DC725DB9F28476C Accuracy: -m40
Conclusion: CDDA 99%
Signature: 4CB15DBBCC8C2D45465FEA5C38486AA8BE3DD65C
FILE: 9. Social Dancing (Bonus Track).flac
Size: 25114950 Hash: FA244AA1F6195A3A77F3EEE44F8A2956 Accuracy: -m40
Conclusion: CDDA 100%
Signature: BA33F695CF050AC219BF0847951E35F1F08BA226