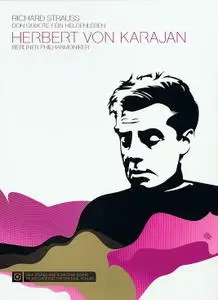 Herbert von Karajan, Berliner Philharmoniker - Richard Strauss: Don Quixote, Ein Heldenleben (2008/1983-87)
PAL 4:3 (720x576) | (LinearPCM, 2 ch) | (Dolby AC3, 5 ch) | 6.08 Gb (DVD9) | 90 min
Classical | Sony Classical
Celebrating one of the most revered conductors of the 20th century, this series was originally released to commemorate Herbert von Karajan's 100th birthday in 2008. Using innovate technology to recreate the original concert acoustics, the audio for these DVDs has been re-recorded at the Philharmonic Hall in Berlin and the Musikverein in Vienna, Karajan's two favourite concert venues, to create re-mastered surround-sound versions of these classic performances. With each DVD featuring von Karajan conducting either the Berlin Philharmonic or Vienna Philharmonic orchestras, two of the highest regarded orchestras in the world, this series really does marry the greatest music, the highest calibre performers, and the best possible audio-visual presentation.
Cast:
Berliner Philharmoniker
Herbert von Karajan, conductor
Track List:
Don Quixote, Op. 35 (Fantastic variations on a theme of knightly charachter)
1. Introduktion. Mässiges zeitmass
2. Thema. Mässig (Don Quixote, The Knight of the Sorrowful Countenance)
3. Maggiore (Sancho Panza)
4. Variation I. Gemächlich (The adventure of the Windmills)
5. Variation II. Kriegerisch (The battle with the sheep)
6. Variation III. Mässiges Zeitmass (Dialogue Of The Knight And His Squire)
7. Variation IV. Etwas breiter (The adventure with the procession of penitents)
8. Variation V. Sehr langsam (Don Quixote's visions and effusions of the heart)
9. Variation VI. Schnell (The enchanted Dulcinea)
10. Variation VII. Ein Wenig Ruhiger Als Vorher (The Ride Through The Air)
11. Variation VIII. Gemächlich (The Adventure Of The Enchanted Boat)
12. Variation IX. Schnell und stürmisch (The contest with the imaginary enchanters)
13. Variation X. Viel breiter (Joust with the knight of the pale moon; the defeated Don Quixote's journey home)
14. Finale. Sehr ruhig (The death of Don Quixote)
Ein Heldenleben, Op. 40 - Tondichtung für grosses Orchester
15. Der Held. Lebhaft bewegt
16. Des Helden. Widersacher Etwas langsamer
17. Des Helden Gefährtin. Viel ruhiger
18. Des Helden Walstatt. Lebhaft
19. Festes Zeitmass
20. Des Helden Friedenswerke. Mit grossem Schwung und Begeisterung
21. Des Helden Weltflucht und Vollendung. Mässig langsam
22. Langsam