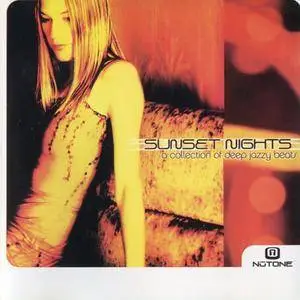 VA - Sunset Nights: A Collection Of Deep Jazzy Beats (2003)
Acid Jazz, Lounge | MP3 320 kbps CBR | 65 min | 165 MB
Label: Nettwerk | Rel:2003
Sunset Nights album was released Feb 25, 2003 on the Nutone (Nettwerk) label. This is a continuous in-the-mix CD compiled and mixed by DJ Meta4. Featuring instantly recognizable artists in the genre, Sunset Nights will further the tradition NuTone has established in the eclectic electronic/world music scene. Sunset Nights music CDs Booster, Llorca, Atjazz, LTJ Bukem, Koop and Jazzanova add tracks and remixes to this perfectly mixed CD for an uninterrupted listening experience.
Tracklist:
01. Booster - Manzana [03:24]
02. Marc Moulin - Organ (Headhunter Remix by La Malice) [07:05]
03. Llorca - Lemonade (Revised) [04:43]
04. Boozoo Bajou vs. Ton Allen - Yoruba Road [04:59]
05. Little Big Bee - Searchin' (Atjazz Remix) [06:49]
06. Wax Poetic - Driftin' [04:09]
07. LTJ bukem - Unconditional Love [05:46]
08. Hoop - Absolute Space (Jazzanova Remix) [06:55]
09. Soulstice - Fall Into You (Landslide remix) [05:32]
10. Sekoya - Freestyle [04:04]
11. Rest Area - 240 BPM [03:19]
12. Blissom & Ashen - Carchaser [03:11]
13. Jaffa - Elevator (Herbalizer Remix) [05:03]