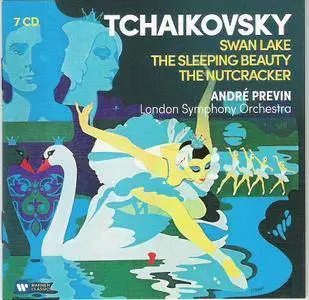 Pyotr Ilyich Tchaikovsky
Swan Lake - The Sleeping Beauty - The Nutcracker
André Previn - London Symphony Orchestra
EAC Rip | FLAC-TRACKS+CUE+LOG+Stereo ADD | 7 CD | Scans | 402 Min. | 1,95 GB
label / Warner Classics / Catalogue 0190295974893
Complete Ballet Scores / LP´s Released 1972 , 1974 & 1976
Tchaikovsky's three sumptuous ballet scores are also three of his supreme masterpieces, as remarkable for their emotional content as for the beauty of their melodies and orchestration. André Previn, who has described himself as "a complete romantic", became Principal Conductor of the London Symphony Orchestra in 1968. He remained in the role for 11 years – something of a golden era – and in 2016 was named the LSO's Conductor Emeritus.
André Previn´s classic recording of The Sleeping Beauty appears
complete on CD for the first time .
Recorded at :
Swan Lake , Kingsway Hall , London may and june 1976.
Sleeping Beauty , EMI Nº 1 Studio , Abbey Road , London april and june 1974.
Nutcracker , Kingsway Hall , London may 1972.
by EMI´s balance engineer Christopher Parker .
Digital remastered in 2016 ( Sleeping Beauty ) and 2011 ( Swan Lake & Nutcracker)
Track Listing
The Sleeping Beauty

1. Sleeping Beauty, Op. 66: Introduction (Allegro vivo - Andantino)
2. Sleeping Beauty, Op. 66, Prologue: The Christening: 1. March (Moderato)
3. Sleeping Beauty, Op. 66, Prologue: The Christening: 2. Scène dansante (Moderato con moto)
4. Sleeping Beauty - Ballet Op. 66 (1993 Digital Remaster), PROLOGUE: "The Christening", 3. Pas de six:
5. Sleeping Beauty, Op. 66, Prologue: "The Christening", 3. Pas de six:: ii. Adagio
6. Sleeping Beauty, Op. 66, Prologue: "The Christening", 3. Pas de six:: iii. Variation I: The Fairy of
7. Sleeping Beauty, Op. 66, Prologue: "The Christening", 3. Pas de six:: iv. Variation II: The Fairy of
8. Tchaikovsky: Sleeping Beauty, Op. 66, Prologue: "The Christening", 3. Pas de six:: v. Variation III:
9. Sleeping Beauty, Op. 66, Prologue: "The Christening", 3. Pas de six:: vi. Variation IV: The Fairy of
10. Sleeping Beauty, Op. 66, Prologue: "The Christening", 3. Pas de six:: vii. Variation V: The Fairy of
11. Sleeping Beauty, Op. 66, Prologue: "The Christening", 3. Pas de six:: viii. Variation VI: The Lilac
12. Sleeping Beauty, Op. 66, Prologue: "The Christening", 3. Pas de six:: ix. Coda (Allegro giusto)
13. Sleeping Beauty, Op.66, Prologue: The Christening: 4. Finale
14. Sleeping Beauty, Op. 66 , Act 1: The Spell: 5. Scène (Allegro vivo - Moderato)
15. Sleeping Beauty, Op. 66, Act 1: The Spell: 6. Valse (Allegro: Tempo di valse) [2016]
16. Sleeping Beauty, Op. 66, Act 1: The Spell: 7. Scène (Andante)
17. Sleeping Beauty, Op. 66, Act 1: The Spell, 8. Pas d'action:: i. Adagio à la rose (Andante - Adagio m
18. Sleeping Beauty, Op. 66, Act 1: "The Spell", 8. Pas d'action:: ii. Dance of the Maids of Honour and
19. Sleeping Beauty, Op. 66, Act 1: "The Spell", 8. Pas d'action:: iii. Variation d'Aurore
20. Sleeping Beauty, Op. 66, Act 1: "The Spell", 8. Pas d'action:: iv. Coda (Allegro giusto)
21. Sleeping Beauty, Op. 66, Act 1: The Spell: 9. Finale

1. Sleeping Beauty, Op. 66, Act 2: The Vision: 10. Entr'acte et Scène (Allegro con spirito - Un poco pi
2. Sleeping Beauty, Op. 66, Act 2: The Vision: 11. Colin-maillard (Allegro vivo)
3. Tchaikovsky: Sleeping Beauty, Op. 66, Act 2: "The Vision", 12. Scene (Moderato): i. Scène
4. Sleeping Beauty - Ballet Op. 66 (1993 Digital Remaster), ACT II, Scene 1: "The Vision", 12. Scene (M
5. Sleeping Beauty, Op. 66, Act 2, Scene 1: "The Vision", 12. Scene (Moderato): iii. Danse des Baronnes
6. Sleeping Beauty, Op. 66, Act 2, Scene 1: "The Vision", 12. Scene (Moderato): iv. Danse des Comtesses
7. Sleeping Beauty, Op. 66, Act 2, Scene 1: "The Vision", 12. Scene (Moderato): v. Danse des marquises
8. Sleeping Beauty, Op. 66, Act 2, Scene 1: "The Vision", 13. Farandole: i. Scène (Poco più vivo)
9. Sleeping Beauty, Op. 66, Act 2, Scene 1: "The Vision", 13. Farandole: ii. Danse (Allegro non troppo)
10. Sleeping Beauty, Op. 66, Act 2, Scene 1: The Vision: 14. Scène (Prince Florimund and the Lilac Fairy
11. Sleeping Beauty, Op. 66, Act 2, Scene 1: The Vision, 15. Pas d'action:: Pas d'action (Aurore et Flor
12. Sleeping Beauty, Op. 66, Act 2, Scene 1: The Vision, 15. Pas d'action:: Variation d'Aurore (Allegro
13. Sleeping Beauty, Op. 66, Act 2, Scene 1: The Vision, 15. Pas d'action:: Coda (Presto)
14. Sleeping Beauty, Op. 66, Act 2, Scene 1: The Vision: 16. Scène (Allegro agitato)
15. Sleeping Beauty, Op. 66, Act 2, Scene 1: The Vision - 17. Panorama (Andantino - The Awakening)
16. Sleeping Beauty, Op. 66, Act 2, Scene 1: The Vision: 18. Entr'acte
17. Sleeping Beauty, Op. 66, Act 2, Scene 1: The Vision: 19. Entr'acte symphonique et Scène
18. Sleeping Beauty, Op. 66, Act 2, Scene 1: The Vision: 20. Finale (The Awakening)

1. Sleeping Beauty, Op. 66, Act 3: The Wedding: 21. Marche (Allegro non troppo)
2. Sleeping Beauty, Op. 66, Act 3: The Wedding: 22. Polacca (Procession of Fairy-Tale Characters) [Alle
3. Sleeping Beauty, Op. 66, Act 3: "The Wedding", 23. Pas de quatre:: i. Pas de quatre (Allegro non tan
4. Sleeping Beauty, Op. 66, Act 3: "The Wedding", 23. Pas de quatre:: ii. Variation I: The Golden Fairy
5. Sleeping Beauty, Op. 66, Act 3: "The Wedding", 23. Pas de quatre:: iii. Variation II: The Silver Fai
6. Sleeping Beauty, Op. 66, Act 3: "The Wedding", 23. Pas de quatre:: iv. Variation III: The Sapphire F
7. Sleeping Beauty, Op. 66, Act 3: "The Wedding", 23. Pas de quatre:: v. Variation IV: The Diamond Fair
8. Sleeping Beauty, Op. 66, Act 3: "The Wedding", 23. Pas de quatre:: vi. Coda (L'istesso tempo)
9. Sleeping Beauty, Op. 66, Act 3: The Wedding: 24. Pas de caractère (Puss-in-Boots and the White Cat)
10. Sleeping Beauty, Op. 66, Act 3: The Wedding, 25. Pas de quatre (Adagio): i. Pas de quatre
11. Sleeping Beauty, Op. 66, Act 3: The Wedding, 25. Pas de quatre (Adagio): ii. Variation I: Cinderella
12. Sleeping Beauty, Op. 66, Act 3: The Wedding, 25. Pas de quatre (Adagio): iii. Variation II: The Blue
13. Sleeping Beauty, Op. 66, Act 3: The Wedding, 25. Pas de quatre (Adagio): iv. Coda [Presto]
14. Sleeping Beauty, Op. 66, Act 3: "The Wedding", 26. Pas de caractère: i. Chaperon Rouge et le loup (A
15. Sleeping Beauty, Op. 66, Act 3: "The Wedding", 26. Pas de caractère: ii. Cendrillon et le Prince For
16. Sleeping Sleeping Beauty, Op. 66, Act 3: 27. Pas Berrichon
17. Sleeping Beauty, Op. 66, Act 3: The Wedding, 28. Pas de deux (Aurora and Florimund):: i. Entrée [All
18. Sleeping Beauty, Op. 66, Act 3: The Wedding, 28. Pas de deux (Aurora and Florimund):: ii. Adagio [An
19. Sleeping Beauty, Op. 66, Act 3: The Wedding, 28. Pas de deux (Aurora and Florimund):: iii. Variation
20. Sleeping Beauty, Op. 66, Act 3: The Wedding, 28. Pas de deux (Aurora and Florimund):: iv. Variation
21. Tchaikovsky: Sleeping Beauty, Op. 66, Act 3: The Wedding, 28. Pas de deux (Aurora and Florimund):: v
22. Sleeping Beauty, Op. 66, Act 3: 29. Sarabande
23. Sleeping Beauty, Op. 66, Act 3: Finale
Swan Lake

1. Tchaikovsky: Swan Lake, Op. 20: Introduction (2016)
2. Tchaikovsky: Swan Lake, Op. 20, Act 1: No. 1 Allegro giusto (2016)
3. Swan Lake, Op. 20, Act 1: No. 2 Valse in A-Flat Major (Tempo di valse)
4. Tchaikovsky: Swan Lake, Op. 20, Act 1: No. 3 Entrance of Pages (Allegro moderato) [2016]
5. Tchaikovsky: Swan Lake, Op. 20, Act 1: No. 4 Pas de trois - I. Intrada (Allegro) [2016]
6. Tchaikovsky: Swan Lake, Op. 20, Act 1: No. 4 Pas de trois - II. Adagio (Andante sostenuto) [2016]
7. Tchaikovsky: Swan Lake, Op. 20, Act 1: No. 4 Pas de trois - III. Allegro semplice (2016)
8. Tchaikovsky: Swan Lake, Op. 20, Act 1: No. 4 Pas de trois - IV. Moderato (2016)
9. Tchaikovsky: Swan Lake, Op. 20, Act 1: No. 4 Pas de trois - V. Allegro (2016)
10. Tchaikovsky: Swan Lake, Op. 20, Act 1: No. 4 Pas de trois - VI. Coda (Allegro vivace) [2016]
11. Tchaikovsky: Swan Lake, Op. 20, Act 1: No. 5 Pas de deux - I. Tempo di valse ma non troppo vivo, qua
12. Tchaikovsky: Swan Lake, Op. 20, Act 1: No. 5 Pas de deux - II. Andante - Allegro (2016)
13. Tchaikovsky: Swan Lake, Op. 20, Act 1: No. 5 Pas de deux - III. Tempo di valse (2016)
14. Tchaikovsky: Swan Lake, Op. 20, Act 1: No. 5 Pas de deux - Coda (Allegro molto vivace) [2016]
15. Tchaikovsky: Swan Lake, Op. 20, Act 1: No. 6 Pas d'action (Andantino quasi moderato - Allegro) [2016
16. Tchaikovsky: Swan Lake, Op. 20, Act 1: No. 7 Sujet (2016)
17. Tchaikovsky: Swan Lake, Op. 20, Act 1: No. 8 Danse des coupes (Tempo di Polacca) [2016]
18. Tchaikovsky: Swan Lake, Op. 20, Act 1: No. 9 Finale (Andante) [2016]
19. Swan Lake, Op. 20, Act 2: No. 10 Moderato
20. Tchaikovsky: Swan Lake, Op. 20, Act 2: No. 11 Allegro moderato - Allegro vivo (2016)
21. Tchaikovsky: Swan Lake, Op. 20, Act 2: No. 12 Allegro (2016)
22. Tchaikovsky: Swan Lake, Op. 20, Act 2: No. 13 Danses des cygnes - I. Tempo di valse (2016)
23. Tchaikovsky: Swan Lake, Op. 20, Act 2: No. 13 Danses des cygnes - II. Moderato assai - Molto più mos
24. Tchaikovsky: Swan Lake, Op. 20, Act 2: No. 13 Danses des cygnes - III. Danses des cygnes (Tempo di v
25. Swan Lake, Op. 20, Act 2: No. 13 Dances of the Swans
26. Tchaikovsky: Swan Lake, Op. 20, Act 2: No. 13 Danses des cygnes - V. Pas d'action (Odette et le prin
27. Tchaikovsky: Swan Lake, Op. 20, Act 2: No. 13 Danses des cygnes - VI. Tempo di valse (Tout le monde
28. Tchaikovsky: Swan Lake, Op. 20, Act 2: No. 13 Danses des cygnes - VII. Coda (Allegro vivo) [2016]
29. Tchaikovsky: Swan Lake, Op. 20, Act 2: No. 14 Moderato (2016)

1. Tchaikovsky: Swan Lake, Op. 20, Act 3: No. 15 Allegro giusto (2016)
2. Tchaikovsky: Swan Lake, Op. 20, Act 3: No. 16 Danses du Corps de Ballet et des Nains (Moderato assai
3. Tchaikovsky: Swan Lake, Op. 20, Act 3: No. 17 La sortie des Invités et Valse (2016)
4. Tchaikovsky: Swan Lake, Op. 20, Act 3: No. 18 Allegro - Allegro giusto (2016)
5. Tchaikovsky: Swan Lake, Op. 20, Act 3: No. 19 Pas de six - Intrada (Moderato assai) [2016]
6. Tchaikovsky: Swan Lake, Op. 20, Act 3: No. 19 Pas de six - Variation I (Allegro) [2016]
7. Tchaikovsky: Swan Lake, Op. 20, Act 3: No. 19 Pas de six - Variation II (Andante con moto) [2016]
8. Tchaikovsky: Swan Lake, Op. 20, Act 3: No. 19 Pas de six - Variation III (Moderato) [2016]
9. Tchaikovsky: Swan Lake, Op. 20, Act 3: No. 19 Pas de six - Variation IV (Allegro) [2016]
10. Tchaikovsky: Swan Lake, Op. 20, Act 3: No. 19 Pas de six - Variation V (Moderato - Allegro semplice
11. Tchaikovsky: Swan Lake, Op. 20, Act 3: No. 19 - Pas de six - Coda (Allegro molto) [2016]
12. Tchaikovsky: Swan Lake, Op. 20, Act 3: Appendix 1 - Pas de deux: Moderato - Andante (2016)
13. Tchaikovsky: Swan Lake, Op. 20, Act 3: Appendix 1 Pas de deux: Variation I (Allegro moderato) [2016]
14. Tchaikovsky: Swan Lake, Op. 20, Act 3: Appendix 1 Pas de deux - Variation II (Allegro) [2016]
15. Tchaikovsky: Swan Lake, Op. 20, Act 3: Appendix 1 Pas de deux - Coda (Allegro molto vivace) [2016]
16. Tchaikovsky: Swan Lake, Op. 20, Act 3: No. 20 Danse hongroise - Czárdás (Moderato assai - Allegro mo
17. Tchaikovsky: Swan Lake, Op. 20, Act 3: Appendix 2 Danse russe (Moderato - Andante semplice - Allegro
18. Swan Lake, Op. 20, Act 3: No. 21 Danse espagnole (Allegro non troppo [Tempo di bolero]) [2016]
19. Tchaikovsky: Swan Lake, Op. 20, Act 3: No. 22 Danse napolitaine (Allegro moderato - Andantino quasi
20. Tchaikovsky: Swan Lake, Op. 20, Act 3: No. 23 Mazurka (Solistes et corps de ballet) (Tempo di Mazurk
21. Tchaikovsky: Swan Lake, Op. 20, Act 3: No. 24 : Allegro - Valse - Allegro vivo (2016)
22. Tchaikovsky: Swan Lake, Op. 20, Act 4: No. 25 Entr'acte (Moderato) [2016]
23. Tchaikovsky: Swan Lake, Op. 20, Act 4: No. 26 Allegro ma non troppo (2016)
24. Tchaikovsky: Swan Lake, Op. 20, Act 4: No. 27 Danse des petits cygnes (Moderato) [2016]
25. Tchaikovsky: Swan Lake, Op. 20, Act 4: No. 28 Allegro agitato - Molto meno mosso - Allegro vivace (2
26. Tchaikovsky: Swan Lake, Op. 20, Act 4: No. 29 Andante - Allegro agitato - Alla breve. Moderato e mae
The Nutcracker

1. The Nutcracker, Op. 71: Miniature Overture
2. The Nutcracker, Op. 71, Act 1: Decoration of the Christmas Tree
3. The Nutcracker, Op. 71, Act 1: March
4. The Nutcracker, Op. 71: Children's Galop and Entry of the Parents
5. The Nutcracker, Op. 71, Act 1: Arrival of Drosselmayer
6. The Nutcracker, Op. 71, Act 1: The Nutcracker and Grandfather Dance
7. The Nutcracker, Op. 71, Act 1: Departure of the guests (Clara and the Nutcracker)
8. The Nutcracker, Op. 71, Act 1: The Battle and Transformation Scene
9. The Nutcracker, Op. 71, Act 1: The forest of fir trees in Winter (Journey through the snow)
10. The Nutcracker, Op. 71, Act 1: Waltz of the Snowflakes

1. The Nutcracker, Op. 71, Act 2: The Enchanted Palace of the Kingdom of Sweets (The magic castle)
2. The Nutcracker, Op. 71, Act 2: Arrival of Clara and the Nutcracker
3. The Nutcracker, Op. 71: Act 2: Divertissement: Chocolate (Spanish Dance)
4. The Nutcracker, Op. 71, Act 2: Divertissement: Coffee (Arab Dance)
5. The Nutcracker, Op. 71, Act 2: Divertissement: Tea (Chinese Dance)
6. The Nutcracker, Op. 71, Act 2: Divertissement - Trepak (Russian Dance)
7. The Nutcracker, Op. 71, Act 2: Divertissement - Dance of the Mirlitons (Flutes)
8. The Nutcracker, Op. 71, Act 2: Divertissement: Mother Gigogne and the Clowns
9. The Nutcracker, Op. 71, Act 2: Waltz of the Flowers
10. The Nutcracker, Op. 71, Act 2: Pas de deux (The Prince and the Sugar-Plum Fairy): Pas de deux
11. The Nutcracker, Op. 71, Act 2: Pas de deux (The Prince and the Sugar-Plum Fairy): Variation I (Taran
12. The Nutcracker, Op. 71, Act 2: Pas de deux (The Prince and the Sugar-Plum Fairy) - Variation II (Dan
13. The Nutcracker, Op. 71, Act 2: Final Waltz & Apotheose
EAC - LOG

Sleeping Beauty

Exact Audio Copy V1.0 beta 3 from 29. August 2011

EAC extraction logfile from 20. October 2017, 10:48

London Symphony Orchestra / Sleeping Beauty - Dornröschen - La Belle au bois dormant

Used drive : SONY DVD RW DRU-840A Adapter: 0 ID: 1

Read mode : Secure
Utilize accurate stream : Yes
Defeat audio cache : Yes
Make use of C2 pointers : No

Read offset correction : 6
Overread into Lead-In and Lead-Out : No
Fill up missing offset samples with silence : Yes
Delete leading and trailing silent blocks : No
Null samples used in CRC calculations : Yes
Used interface : Native Win32 interface for Win NT & 2000
Gap handling : Not detected, thus appended to previous track

Used output format : User Defined Encoder
Selected bitrate : 320 kBit/s
Quality : High
Add ID3 tag : No
Command line compressor : C:\Archivos de programa\Exact Audio Copy\FLAC\FLAC.EXE
Additional command line options : -6 -V -T "ARTIST=%artist%" -T "TITLE=%title%" -T "ALBUM=%albumtitle%" -T "DATE=%year%" -T "TRACKNUMBER=%tracknr%" -T "GENRE=%genre%" -T "COMMENT=%comment%" -T "BAND=%albuminterpret%" -T "ALBUMARTIST=%albuminterpret%" -T "COMPOSER=%composer%" %haslyrics%–tag-from-file=LYRICS="%lyricsfile%"%haslyrics% -T "DISCNUMBER=%cdnumber%" -T "TOTALDISCS=%totalcds%" -T "TOTALTRACKS=%numtracks%" %hascover%–picture="%coverfile%"%hascover% %source% -o %dest%


TOC of the extracted CD

Track | Start | Length | Start sector | End sector
––––––––––––––––––––––––––––-
1 | 0:00.00 | 2:59.12 | 0 | 13436
2 | 2:59.12 | 5:04.27 | 13437 | 36263
3 | 8:03.39 | 4:27.44 | 36264 | 56332
4 | 12:31.08 | 0:36.70 | 56333 | 59102
5 | 13:08.03 | 3:50.67 | 59103 | 76419
6 | 16:58.70 | 0:54.13 | 76420 | 80482
7 | 17:53.08 | 0:34.00 | 80483 | 83032
8 | 18:27.08 | 0:59.27 | 83033 | 87484
9 | 19:26.35 | 0:29.64 | 87485 | 89723
10 | 19:56.24 | 1:01.21 | 89724 | 94319
11 | 20:57.45 | 1:00.18 | 94320 | 98837
12 | 21:57.63 | 1:31.06 | 98838 | 105668
13 | 23:28.69 | 8:32.58 | 105669 | 144126
14 | 32:01.52 | 6:51.27 | 144127 | 174978
15 | 38:53.04 | 4:58.58 | 174979 | 197386
16 | 43:51.62 | 1:47.28 | 197387 | 205439
17 | 45:39.15 | 6:14.37 | 205440 | 233526
18 | 51:53.52 | 2:00.57 | 233527 | 242583
19 | 53:54.34 | 3:31.49 | 242584 | 258457
20 | 57:26.08 | 2:30.48 | 258458 | 269755
21 | 59:56.56 | 7:38.69 | 269756 | 304174


Track 1

Filename E:\MUSIC\My Music\Tchaikowsky - Three Ballet´s - Previn LSO\The Sleeping Beauty\CD 1\01 Introduction (Allegro vivo - Andantino).wav

Peak level 92.9 %
Extraction speed 1.6 X
Track quality 100.0 %
Test CRC EF47EF4E
Copy CRC EF47EF4E
Accurately ripped (confidence 15) [F24638D8] (AR v2)
Copy OK

Track 2

Filename E:\MUSIC\My Music\Tchaikowsky - Three Ballet´s - Previn LSO\The Sleeping Beauty\CD 1\02 Prologue- The Christening - No. 1 March (Moderato).wav

Peak level 88.5 %
Extraction speed 1.9 X
Track quality 100.0 %
Test CRC 15D43931
Copy CRC 15D43931
Accurately ripped (confidence 15) [4AEAE18E] (AR v2)
Copy OK

Track 3

Filename E:\MUSIC\My Music\Tchaikowsky - Three Ballet´s - Previn LSO\The Sleeping Beauty\CD 1\03 Prologue- The Christening - No. 2 Dance Scene (Moderato con moto).wav

Peak level 80.3 %
Extraction speed 1.8 X
Track quality 99.9 %
Test CRC 88A85A13
Copy CRC 88A85A13
Accurately ripped (confidence 15) [26B6E8E9] (AR v2)
Copy OK

Track 4

Filename E:\MUSIC\My Music\Tchaikowsky - Three Ballet´s - Previn LSO\The Sleeping Beauty\CD 1\04 Prologue- The Christening - No. 3 Pas de six - Introduction.wav

Peak level 66.1 %
Extraction speed 1.2 X
Track quality 100.0 %
Test CRC EC78E693
Copy CRC EC78E693
Accurately ripped (confidence 15) [2FC4BC0A] (AR v2)
Copy OK

Track 5

Filename E:\MUSIC\My Music\Tchaikowsky - Three Ballet´s - Previn LSO\The Sleeping Beauty\CD 1\05 Prologue- The Christening - No. 3 Pas de six - Adagio.wav

Peak level 74.9 %
Extraction speed 2.2 X
Track quality 100.0 %
Test CRC D4CF62A1
Copy CRC D4CF62A1
Accurately ripped (confidence 15) [E6CA5383] (AR v2)
Copy OK

Track 6

Filename E:\MUSIC\My Music\Tchaikowsky - Three Ballet´s - Previn LSO\The Sleeping Beauty\CD 1\06 Prologue- The Christening - No. 3 Pas de six - Variation I- The Fairy of the Crystal Fountain (Allegro moderato).wav

Peak level 13.9 %
Extraction speed 1.5 X
Track quality 100.0 %
Test CRC A3B10040
Copy CRC A3B10040
Accurately ripped (confidence 15) [05E98088] (AR v2)
Copy OK

Track 7

Filename E:\MUSIC\My Music\Tchaikowsky - Three Ballet´s - Previn LSO\The Sleeping Beauty\CD 1\07 Prologue- The Christening - No. 3 Pas de six - Variation II- The Fairy of the Echanted Garden (Allegro).wav

Peak level 52.3 %
Extraction speed 1.2 X
Track quality 100.0 %
Test CRC 32B046EE
Copy CRC 32B046EE
Accurately ripped (confidence 15) [6D365BE3] (AR v2)
Copy OK

Track 8

Filename E:\MUSIC\My Music\Tchaikowsky - Three Ballet´s - Previn LSO\The Sleeping Beauty\CD 1\08 Prologue- The Christening - No. 3 Pas de six - Variation III- The Fairy of the Woodland Glades (Allegro moderato).wav

Peak level 55.5 %
Extraction speed 1.6 X
Track quality 100.0 %
Test CRC 26CB76C3
Copy CRC 26CB76C3
Accurately ripped (confidence 15) [69268CA1] (AR v2)
Copy OK

Track 9

Filename E:\MUSIC\My Music\Tchaikowsky - Three Ballet´s - Previn LSO\The Sleeping Beauty\CD 1\09 Prologue- The Christening - No. 3 Pas de six - Variation IV- The Fairt of the Songbirds (Moderato).wav

Peak level 30.0 %
Extraction speed 0.7 X
Track quality 99.6 %
Test CRC A3C82531
Copy CRC A3C82531
Accurately ripped (confidence 15) [BED42266] (AR v2)
Copy OK

Track 10

Filename E:\MUSIC\My Music\Tchaikowsky - Three Ballet´s - Previn LSO\The Sleeping Beauty\CD 1\10 Prologue- The Christening - No. 3 Pas de six - Variation V- The Fairy of the Golden Vine (Allegro molto vivace).wav

Peak level 72.1 %
Extraction speed 1.7 X
Track quality 100.0 %
Test CRC 8DAA2CB3
Copy CRC 8DAA2CB3
Accurately ripped (confidence 15) [4B79C0B3] (AR v2)
Copy OK

Track 11

Filename E:\MUSIC\My Music\Tchaikowsky - Three Ballet´s - Previn LSO\The Sleeping Beauty\CD 1\11 Prologue- The Christening - No. 3 Pas de six - Variation VI- The Lilac Fairy (Tempo di valse).wav

Peak level 65.6 %
Extraction speed 1.7 X
Track quality 100.0 %
Test CRC 444851E9
Copy CRC 444851E9
Accurately ripped (confidence 15) [FE18C1EA] (AR v2)
Copy OK

Track 12

Filename E:\MUSIC\My Music\Tchaikowsky - Three Ballet´s - Previn LSO\The Sleeping Beauty\CD 1\12 Prologue- The Christening - No. 3 Pas de six - Coda (Allegro guisto).wav

Peak level 79.6 %
Extraction speed 2.0 X
Track quality 100.0 %
Test CRC EA039ADB
Copy CRC EA039ADB
Accurately ripped (confidence 15) [BAF44F85] (AR v2)
Copy OK

Track 13

Filename E:\MUSIC\My Music\Tchaikowsky - Three Ballet´s - Previn LSO\The Sleeping Beauty\CD 1\13 Prologue- The Christening - No. 4 Finale.wav

Peak level 85.4 %
Extraction speed 2.9 X
Track quality 100.0 %
Test CRC A53D7335
Copy CRC A53D7335
Accurately ripped (confidence 15) [F02CEAD0] (AR v2)
Copy OK

Track 14

Filename E:\MUSIC\My Music\Tchaikowsky - Three Ballet´s - Previn LSO\The Sleeping Beauty\CD 1\14 Act One- The Spell - No. 5 Scene (Allegro vivo - Moderato).wav

Peak level 91.2 %
Extraction speed 2.6 X
Track quality 99.9 %
Test CRC 97DAB9DA
Copy CRC 97DAB9DA
Accurately ripped (confidence 15) [333B8835] (AR v2)
Copy OK

Track 15

Filename E:\MUSIC\My Music\Tchaikowsky - Three Ballet´s - Previn LSO\The Sleeping Beauty\CD 1\15 Act One- The Spell - No. 6 Waltz (Allegro- Tempo di valse).wav

Peak level 91.4 %
Extraction speed 2.5 X
Track quality 99.9 %
Test CRC A7EDF460
Copy CRC A7EDF460
Accurately ripped (confidence 15) [16135611] (AR v2)
Copy OK

Track 16

Filename E:\MUSIC\My Music\Tchaikowsky - Three Ballet´s - Previn LSO\The Sleeping Beauty\CD 1\16 Act One- The Spell - No. 7 Scene (Andante).wav

Peak level 92.7 %
Extraction speed 2.6 X
Track quality 100.0 %
Test CRC 953284CD
Copy CRC 953284CD
Accurately ripped (confidence 15) [0D257089] (AR v2)
Copy OK

Track 17

Filename E:\MUSIC\My Music\Tchaikowsky - Three Ballet´s - Previn LSO\The Sleeping Beauty\CD 1\17 Act One- The Spell - No. 8 Pas d'action - Rose Adagio (Andante - Adagio maestoso).wav

Peak level 94.7 %
Extraction speed 2.8 X
Track quality 99.9 %
Test CRC 530BEC76
Copy CRC 530BEC76
Accurately ripped (confidence 15) [1E3B20EE] (AR v2)
Copy OK

Track 18

Filename E:\MUSIC\My Music\Tchaikowsky - Three Ballet´s - Previn LSO\The Sleeping Beauty\CD 1\18 Act One- The Spell - No. 8 Pas d'action - Dance of the Maids of Honour and the Pages.wav

Peak level 80.9 %
Extraction speed 2.9 X
Track quality 100.0 %
Test CRC 4FC0DDB5
Copy CRC 4FC0DDB5
Accurately ripped (confidence 15) [1A9E684B] (AR v2)
Copy OK

Track 19

Filename E:\MUSIC\My Music\Tchaikowsky - Three Ballet´s - Previn LSO\The Sleeping Beauty\CD 1\19 Act One- The Spell - No. 8 Pas d'action - Aurora's Variation.wav

Peak level 90.4 %
Extraction speed 3.3 X
Track quality 100.0 %
Test CRC 84E3DA00
Copy CRC 84E3DA00
Accurately ripped (confidence 15) [0373F01A] (AR v2)
Copy OK

Track 20

Filename E:\MUSIC\My Music\Tchaikowsky - Three Ballet´s - Previn LSO\The Sleeping Beauty\CD 1\20 Act One- The Spell - No. 8 Pas d'action - Coda (Allegro giusto).wav

Peak level 74.9 %
Extraction speed 3.2 X
Track quality 100.0 %
Test CRC 06079F9D
Copy CRC 06079F9D
Accurately ripped (confidence 15) [ECBAB1EA] (AR v2)
Copy OK

Track 21

Filename E:\MUSIC\My Music\Tchaikowsky - Three Ballet´s - Previn LSO\The Sleeping Beauty\CD 1\21 Act One- The Spell - No. 9 Finale.wav

Peak level 92.1 %
Extraction speed 3.8 X
Track quality 100.0 %
Test CRC 75442576
Copy CRC 75442576
Accurately ripped (confidence 15) [2CCA8CA9] (AR v2)
Copy OK


All tracks accurately ripped

No errors occurred

End of status report

==== Log checksum F621137F295D40EAAAE6CEC43131AE7D612C3C6A0AFE80690476A84FBD62AAEB ====

––––––––––––––––––––––––––––––

Exact Audio Copy V1.0 beta 3 from 29. August 2011

EAC extraction logfile from 20. October 2017, 10:48

London Symphony Orchestra / Sleeping Beauty - Dornröschen - La Belle au bois dormant

Used drive : SONY DVD RW DRU-840A Adapter: 0 ID: 1

Read mode : Secure
Utilize accurate stream : Yes
Defeat audio cache : Yes
Make use of C2 pointers : No

Read offset correction : 6
Overread into Lead-In and Lead-Out : No
Fill up missing offset samples with silence : Yes
Delete leading and trailing silent blocks : No
Null samples used in CRC calculations : Yes
Used interface : Native Win32 interface for Win NT & 2000
Gap handling : Not detected, thus appended to previous track

Used output format : User Defined Encoder
Selected bitrate : 320 kBit/s
Quality : High
Add ID3 tag : No
Command line compressor : C:\Archivos de programa\Exact Audio Copy\FLAC\FLAC.EXE
Additional command line options : -6 -V -T "ARTIST=%artist%" -T "TITLE=%title%" -T "ALBUM=%albumtitle%" -T "DATE=%year%" -T "TRACKNUMBER=%tracknr%" -T "GENRE=%genre%" -T "COMMENT=%comment%" -T "BAND=%albuminterpret%" -T "ALBUMARTIST=%albuminterpret%" -T "COMPOSER=%composer%" %haslyrics%–tag-from-file=LYRICS="%lyricsfile%"%haslyrics% -T "DISCNUMBER=%cdnumber%" -T "TOTALDISCS=%totalcds%" -T "TOTALTRACKS=%numtracks%" %hascover%–picture="%coverfile%"%hascover% %source% -o %dest%


TOC of the extracted CD

Track | Start | Length | Start sector | End sector
––––––––––––––––––––––––––––-
1 | 0:00.00 | 2:59.12 | 0 | 13436
2 | 2:59.12 | 5:04.27 | 13437 | 36263
3 | 8:03.39 | 4:27.44 | 36264 | 56332
4 | 12:31.08 | 0:36.70 | 56333 | 59102
5 | 13:08.03 | 3:50.67 | 59103 | 76419
6 | 16:58.70 | 0:54.13 | 76420 | 80482
7 | 17:53.08 | 0:34.00 | 80483 | 83032
8 | 18:27.08 | 0:59.27 | 83033 | 87484
9 | 19:26.35 | 0:29.64 | 87485 | 89723
10 | 19:56.24 | 1:01.21 | 89724 | 94319
11 | 20:57.45 | 1:00.18 | 94320 | 98837
12 | 21:57.63 | 1:31.06 | 98838 | 105668
13 | 23:28.69 | 8:32.58 | 105669 | 144126
14 | 32:01.52 | 6:51.27 | 144127 | 174978
15 | 38:53.04 | 4:58.58 | 174979 | 197386
16 | 43:51.62 | 1:47.28 | 197387 | 205439
17 | 45:39.15 | 6:14.37 | 205440 | 233526
18 | 51:53.52 | 2:00.57 | 233527 | 242583
19 | 53:54.34 | 3:31.49 | 242584 | 258457
20 | 57:26.08 | 2:30.48 | 258458 | 269755
21 | 59:56.56 | 7:38.69 | 269756 | 304174


Track 1

Filename E:\MUSIC\My Music\Tchaikowsky - Three Ballet´s - Previn LSO\The Sleeping Beauty\CD 1\01 Introduction (Allegro vivo - Andantino).wav

Peak level 92.9 %
Extraction speed 1.6 X
Track quality 100.0 %
Test CRC EF47EF4E
Copy CRC EF47EF4E
Accurately ripped (confidence 15) [F24638D8] (AR v2)
Copy OK

Track 2

Filename E:\MUSIC\My Music\Tchaikowsky - Three Ballet´s - Previn LSO\The Sleeping Beauty\CD 1\02 Prologue- The Christening - No. 1 March (Moderato).wav

Peak level 88.5 %
Extraction speed 1.9 X
Track quality 100.0 %
Test CRC 15D43931
Copy CRC 15D43931
Accurately ripped (confidence 15) [4AEAE18E] (AR v2)
Copy OK

Track 3

Filename E:\MUSIC\My Music\Tchaikowsky - Three Ballet´s - Previn LSO\The Sleeping Beauty\CD 1\03 Prologue- The Christening - No. 2 Dance Scene (Moderato con moto).wav

Peak level 80.3 %
Extraction speed 1.8 X
Track quality 99.9 %
Test CRC 88A85A13
Copy CRC 88A85A13
Accurately ripped (confidence 15) [26B6E8E9] (AR v2)
Copy OK

Track 4

Filename E:\MUSIC\My Music\Tchaikowsky - Three Ballet´s - Previn LSO\The Sleeping Beauty\CD 1\04 Prologue- The Christening - No. 3 Pas de six - Introduction.wav

Peak level 66.1 %
Extraction speed 1.2 X
Track quality 100.0 %
Test CRC EC78E693
Copy CRC EC78E693
Accurately ripped (confidence 15) [2FC4BC0A] (AR v2)
Copy OK

Track 5

Filename E:\MUSIC\My Music\Tchaikowsky - Three Ballet´s - Previn LSO\The Sleeping Beauty\CD 1\05 Prologue- The Christening - No. 3 Pas de six - Adagio.wav

Peak level 74.9 %
Extraction speed 2.2 X
Track quality 100.0 %
Test CRC D4CF62A1
Copy CRC D4CF62A1
Accurately ripped (confidence 15) [E6CA5383] (AR v2)
Copy OK

Track 6

Filename E:\MUSIC\My Music\Tchaikowsky - Three Ballet´s - Previn LSO\The Sleeping Beauty\CD 1\06 Prologue- The Christening - No. 3 Pas de six - Variation I- The Fairy of the Crystal Fountain (Allegro moderato).wav

Peak level 13.9 %
Extraction speed 1.5 X
Track quality 100.0 %
Test CRC A3B10040
Copy CRC A3B10040
Accurately ripped (confidence 15) [05E98088] (AR v2)
Copy OK

Track 7

Filename E:\MUSIC\My Music\Tchaikowsky - Three Ballet´s - Previn LSO\The Sleeping Beauty\CD 1\07 Prologue- The Christening - No. 3 Pas de six - Variation II- The Fairy of the Echanted Garden (Allegro).wav

Peak level 52.3 %
Extraction speed 1.2 X
Track quality 100.0 %
Test CRC 32B046EE
Copy CRC 32B046EE
Accurately ripped (confidence 15) [6D365BE3] (AR v2)
Copy OK

Track 8

Filename E:\MUSIC\My Music\Tchaikowsky - Three Ballet´s - Previn LSO\The Sleeping Beauty\CD 1\08 Prologue- The Christening - No. 3 Pas de six - Variation III- The Fairy of the Woodland Glades (Allegro moderato).wav

Peak level 55.5 %
Extraction speed 1.6 X
Track quality 100.0 %
Test CRC 26CB76C3
Copy CRC 26CB76C3
Accurately ripped (confidence 15) [69268CA1] (AR v2)
Copy OK

Track 9

Filename E:\MUSIC\My Music\Tchaikowsky - Three Ballet´s - Previn LSO\The Sleeping Beauty\CD 1\09 Prologue- The Christening - No. 3 Pas de six - Variation IV- The Fairt of the Songbirds (Moderato).wav

Peak level 30.0 %
Extraction speed 0.7 X
Track quality 99.6 %
Test CRC A3C82531
Copy CRC A3C82531
Accurately ripped (confidence 15) [BED42266] (AR v2)
Copy OK

Track 10

Filename E:\MUSIC\My Music\Tchaikowsky - Three Ballet´s - Previn LSO\The Sleeping Beauty\CD 1\10 Prologue- The Christening - No. 3 Pas de six - Variation V- The Fairy of the Golden Vine (Allegro molto vivace).wav

Peak level 72.1 %
Extraction speed 1.7 X
Track quality 100.0 %
Test CRC 8DAA2CB3
Copy CRC 8DAA2CB3
Accurately ripped (confidence 15) [4B79C0B3] (AR v2)
Copy OK

Track 11

Filename E:\MUSIC\My Music\Tchaikowsky - Three Ballet´s - Previn LSO\The Sleeping Beauty\CD 1\11 Prologue- The Christening - No. 3 Pas de six - Variation VI- The Lilac Fairy (Tempo di valse).wav

Peak level 65.6 %
Extraction speed 1.7 X
Track quality 100.0 %
Test CRC 444851E9
Copy CRC 444851E9
Accurately ripped (confidence 15) [FE18C1EA] (AR v2)
Copy OK

Track 12

Filename E:\MUSIC\My Music\Tchaikowsky - Three Ballet´s - Previn LSO\The Sleeping Beauty\CD 1\12 Prologue- The Christening - No. 3 Pas de six - Coda (Allegro guisto).wav

Peak level 79.6 %
Extraction speed 2.0 X
Track quality 100.0 %
Test CRC EA039ADB
Copy CRC EA039ADB
Accurately ripped (confidence 15) [BAF44F85] (AR v2)
Copy OK

Track 13

Filename E:\MUSIC\My Music\Tchaikowsky - Three Ballet´s - Previn LSO\The Sleeping Beauty\CD 1\13 Prologue- The Christening - No. 4 Finale.wav

Peak level 85.4 %
Extraction speed 2.9 X
Track quality 100.0 %
Test CRC A53D7335
Copy CRC A53D7335
Accurately ripped (confidence 15) [F02CEAD0] (AR v2)
Copy OK

Track 14

Filename E:\MUSIC\My Music\Tchaikowsky - Three Ballet´s - Previn LSO\The Sleeping Beauty\CD 1\14 Act One- The Spell - No. 5 Scene (Allegro vivo - Moderato).wav

Peak level 91.2 %
Extraction speed 2.6 X
Track quality 99.9 %
Test CRC 97DAB9DA
Copy CRC 97DAB9DA
Accurately ripped (confidence 15) [333B8835] (AR v2)
Copy OK

Track 15

Filename E:\MUSIC\My Music\Tchaikowsky - Three Ballet´s - Previn LSO\The Sleeping Beauty\CD 1\15 Act One- The Spell - No. 6 Waltz (Allegro- Tempo di valse).wav

Peak level 91.4 %
Extraction speed 2.5 X
Track quality 99.9 %
Test CRC A7EDF460
Copy CRC A7EDF460
Accurately ripped (confidence 15) [16135611] (AR v2)
Copy OK

Track 16

Filename E:\MUSIC\My Music\Tchaikowsky - Three Ballet´s - Previn LSO\The Sleeping Beauty\CD 1\16 Act One- The Spell - No. 7 Scene (Andante).wav

Peak level 92.7 %
Extraction speed 2.6 X
Track quality 100.0 %
Test CRC 953284CD
Copy CRC 953284CD
Accurately ripped (confidence 15) [0D257089] (AR v2)
Copy OK

Track 17

Filename E:\MUSIC\My Music\Tchaikowsky - Three Ballet´s - Previn LSO\The Sleeping Beauty\CD 1\17 Act One- The Spell - No. 8 Pas d'action - Rose Adagio (Andante - Adagio maestoso).wav

Peak level 94.7 %
Extraction speed 2.8 X
Track quality 99.9 %
Test CRC 530BEC76
Copy CRC 530BEC76
Accurately ripped (confidence 15) [1E3B20EE] (AR v2)
Copy OK

Track 18

Filename E:\MUSIC\My Music\Tchaikowsky - Three Ballet´s - Previn LSO\The Sleeping Beauty\CD 1\18 Act One- The Spell - No. 8 Pas d'action - Dance of the Maids of Honour and the Pages.wav

Peak level 80.9 %
Extraction speed 2.9 X
Track quality 100.0 %
Test CRC 4FC0DDB5
Copy CRC 4FC0DDB5
Accurately ripped (confidence 15) [1A9E684B] (AR v2)
Copy OK

Track 19

Filename E:\MUSIC\My Music\Tchaikowsky - Three Ballet´s - Previn LSO\The Sleeping Beauty\CD 1\19 Act One- The Spell - No. 8 Pas d'action - Aurora's Variation.wav

Peak level 90.4 %
Extraction speed 3.3 X
Track quality 100.0 %
Test CRC 84E3DA00
Copy CRC 84E3DA00
Accurately ripped (confidence 15) [0373F01A] (AR v2)
Copy OK

Track 20

Filename E:\MUSIC\My Music\Tchaikowsky - Three Ballet´s - Previn LSO\The Sleeping Beauty\CD 1\20 Act One- The Spell - No. 8 Pas d'action - Coda (Allegro giusto).wav

Peak level 74.9 %
Extraction speed 3.2 X
Track quality 100.0 %
Test CRC 06079F9D
Copy CRC 06079F9D
Accurately ripped (confidence 15) [ECBAB1EA] (AR v2)
Copy OK

Track 21

Filename E:\MUSIC\My Music\Tchaikowsky - Three Ballet´s - Previn LSO\The Sleeping Beauty\CD 1\21 Act One- The Spell - No. 9 Finale.wav

Peak level 92.1 %
Extraction speed 3.8 X
Track quality 100.0 %
Test CRC 75442576
Copy CRC 75442576
Accurately ripped (confidence 15) [2CCA8CA9] (AR v2)
Copy OK


All tracks accurately ripped

No errors occurred

End of status report

==== Log checksum F621137F295D40EAAAE6CEC43131AE7D612C3C6A0AFE80690476A84FBD62AAEB ====

Exact Audio Copy V1.0 beta 3 from 29. August 2011

EAC extraction logfile from 20. October 2017, 11:18

London Symphony Orchestra / Sleeping Beauty - Dornröschen - La Belle au bois dormant

Used drive : SONY DVD RW DRU-840A Adapter: 0 ID: 1

Read mode : Secure
Utilize accurate stream : Yes
Defeat audio cache : Yes
Make use of C2 pointers : No

Read offset correction : 6
Overread into Lead-In and Lead-Out : No
Fill up missing offset samples with silence : Yes
Delete leading and trailing silent blocks : No
Null samples used in CRC calculations : Yes
Used interface : Native Win32 interface for Win NT & 2000
Gap handling : Not detected, thus appended to previous track

Used output format : User Defined Encoder
Selected bitrate : 320 kBit/s
Quality : High
Add ID3 tag : No
Command line compressor : C:\Archivos de programa\Exact Audio Copy\FLAC\FLAC.EXE
Additional command line options : -6 -V -T "ARTIST=%artist%" -T "TITLE=%title%" -T "ALBUM=%albumtitle%" -T "DATE=%year%" -T "TRACKNUMBER=%tracknr%" -T "GENRE=%genre%" -T "COMMENT=%comment%" -T "BAND=%albuminterpret%" -T "ALBUMARTIST=%albuminterpret%" -T "COMPOSER=%composer%" %haslyrics%–tag-from-file=LYRICS="%lyricsfile%"%haslyrics% -T "DISCNUMBER=%cdnumber%" -T "TOTALDISCS=%totalcds%" -T "TOTALTRACKS=%numtracks%" %hascover%–picture="%coverfile%"%hascover% %source% -o %dest%


TOC of the extracted CD

Track | Start | Length | Start sector | End sector
––––––––––––––––––––––––––––-
1 | 0:00.00 | 2:46.21 | 0 | 12470
2 | 2:46.21 | 1:37.31 | 12471 | 19776
3 | 4:23.52 | 0:52.00 | 19777 | 23676
4 | 5:15.52 | 0:55.01 | 23677 | 27802
5 | 6:10.53 | 0:53.17 | 27803 | 31794
6 | 7:03.70 | 0:39.48 | 31795 | 34767
7 | 7:43.43 | 0:46.03 | 34768 | 38220
8 | 8:29.46 | 0:16.24 | 38221 | 39444
9 | 8:45.70 | 1:35.66 | 39445 | 46635
10 | 10:21.61 | 5:20.72 | 46636 | 70707
11 | 15:42.58 | 5:27.69 | 70708 | 95301
12 | 21:10.52 | 1:22.57 | 95302 | 101508
13 | 22:33.34 | 1:29.02 | 101509 | 108185
14 | 24:02.36 | 0:43.44 | 108186 | 111454
15 | 24:46.05 | 4:00.73 | 111455 | 129527
16 | 28:47.03 | 5:57.28 | 129528 | 156330
17 | 34:44.31 | 7:41.62 | 156331 | 190967
18 | 42:26.18 | 2:22.26 | 190968 | 201643


Track 1

Filename E:\MUSIC\My Music\Tchaikowsky - Three Ballet´s - Previn LSO\The Sleeping Beauty\CD 2\01 Act Two- The Vision - No. 10 Entr'acte and Scene (Allegro con spirito - Un poco piú tranquillo).wav

Peak level 92.3 %
Extraction speed 4.0 X
Track quality 100.0 %
Test CRC DF5C0C53
Copy CRC DF5C0C53
Accurately ripped (confidence 14) [FB380389] (AR v2)
Copy OK

Track 2

Filename E:\MUSIC\My Music\Tchaikowsky - Three Ballet´s - Previn LSO\The Sleeping Beauty\CD 2\02 Act Two- The Vision - No. 11 Blind Man's Buff (Allegro vivo).wav

Peak level 81.7 %
Extraction speed 3.8 X
Track quality 100.0 %
Test CRC B9C3E9B0
Copy CRC B9C3E9B0
Accurately ripped (confidence 14) [4AFC3994] (AR v2)
Copy OK

Track 3

Filename E:\MUSIC\My Music\Tchaikowsky - Three Ballet´s - Previn LSO\The Sleeping Beauty\CD 2\03 Act Two- The Vision - No. 12 Scene- Dances of the Courtiers - Scene.wav

Peak level 46.1 %
Extraction speed 3.1 X
Track quality 100.0 %
Test CRC 3F789BBB
Copy CRC 3F789BBB
Accurately ripped (confidence 14) [781AFE84] (AR v2)
Copy OK

Track 4

Filename E:\MUSIC\My Music\Tchaikowsky - Three Ballet´s - Previn LSO\The Sleeping Beauty\CD 2\04 Act Two- The Vision - No. 12 Scene- Dances of the Courtiers - Dance of the Duchesses )Minuet- Moderato con moto).wav

Peak level 48.8 %
Extraction speed 3.2 X
Track quality 100.0 %
Test CRC 4C48DB82
Copy CRC 4C48DB82
Accurately ripped (confidence 14) [144FA474] (AR v2)
Copy OK

Track 5

Filename E:\MUSIC\My Music\Tchaikowsky - Three Ballet´s - Previn LSO\The Sleeping Beauty\CD 2\05 Act Two- The Vision - No. 12 Scene- Dances of the Courtiers - Dance of the Baronesses (Gavotte).wav

Peak level 15.1 %
Extraction speed 3.3 X
Track quality 100.0 %
Test CRC EF1B6649
Copy CRC EF1B6649
Accurately ripped (confidence 14) [F141E369] (AR v2)
Copy OK

Track 6

Filename E:\MUSIC\My Music\Tchaikowsky - Three Ballet´s - Previn LSO\The Sleeping Beauty\CD 2\06 Act Two- The Vision - No. 12 Scene- Dances of the Courtiers - Dance of the Countesses (Allegro non troppo).wav

Peak level 77.0 %
Extraction speed 2.9 X
Track quality 100.0 %
Test CRC 7BF11FC9
Copy CRC 7BF11FC9
Accurately ripped (confidence 14) [927DAA7E] (AR v2)
Copy OK

Track 7

Filename E:\MUSIC\My Music\Tchaikowsky - Three Ballet´s - Previn LSO\The Sleeping Beauty\CD 2\07 Act Two- The Vision - No. 12 Scene- Dances of the Courtiers - Dance of the Marchionesses (Allegro non troppo).wav

Peak level 23.2 %
Extraction speed 3.2 X
Track quality 100.0 %
Test CRC 02585916
Copy CRC 02585916
Accurately ripped (confidence 14) [60E31BCD] (AR v2)
Copy OK

Track 8

Filename E:\MUSIC\My Music\Tchaikowsky - Three Ballet´s - Previn LSO\The Sleeping Beauty\CD 2\08 Act Two- The Vision - No. 13 Farandole - Scene (Poco piú vivo).wav

Peak level 44.2 %
Extraction speed 1.8 X
Track quality 100.0 %
Test CRC 09BA5C6E
Copy CRC 09BA5C6E
Accurately ripped (confidence 14) [71E1267C] (AR v2)
Copy OK

Track 9

Filename E:\MUSIC\My Music\Tchaikowsky - Three Ballet´s - Previn LSO\The Sleeping Beauty\CD 2\09 Act Two- The Vision - No. 13 Farandole - Dance (Allegro non troppo).wav

Peak level 85.8 %
Extraction speed 4.3 X
Track quality 100.0 %
Test CRC 7FCA72DD
Copy CRC 7FCA72DD
Accurately ripped (confidence 14) [7940675E] (AR v2)
Copy OK

Track 10

Filename E:\MUSIC\My Music\Tchaikowsky - Three Ballet´s - Previn LSO\The Sleeping Beauty\CD 2\10 Act Two- The Vision - No. 14 Scene- Prince Florimund and the Lilac Fairy.wav

Peak level 76.0 %
Extraction speed 5.8 X
Track quality 100.0 %
Test CRC 3330D3A0
Copy CRC 3330D3A0
Accurately ripped (confidence 14) [73E7EF14] (AR v2)
Copy OK

Track 11

Filename E:\MUSIC\My Music\Tchaikowsky - Three Ballet´s - Previn LSO\The Sleeping Beauty\CD 2\11 Act Two- The Vision - No. 15 Pas d'action - Aurora and Florimund (Andante cantabile).wav

Peak level 70.6 %
Extraction speed 6.3 X
Track quality 100.0 %
Test CRC BC876959
Copy CRC BC876959
Accurately ripped (confidence 12) [CBC4AE4C] (AR v2)
Copy OK

Track 12

Filename E:\MUSIC\My Music\Tchaikowsky - Three Ballet´s - Previn LSO\The Sleeping Beauty\CD 2\12 Act Two- The Vision - No. 15 Pas d'action - Aurora's Variation (Allegro con moto).wav

Peak level 50.8 %
Extraction speed 5.0 X
Track quality 100.0 %
Test CRC 4DB69FE2
Copy CRC 4DB69FE2
Accurately ripped (confidence 14) [72090132] (AR v2)
Copy OK

Track 13

Filename E:\MUSIC\My Music\Tchaikowsky - Three Ballet´s - Previn LSO\The Sleeping Beauty\CD 2\13 Act Two- The Vision - No. 15 Pas d'action - Coda (Presto).wav

Peak level 41.4 %
Extraction speed 5.2 X
Track quality 100.0 %
Test CRC B911FDD7
Copy CRC B911FDD7
Accurately ripped (confidence 12) [2A86B821] (AR v2)
Copy OK

Track 14

Filename E:\MUSIC\My Music\Tchaikowsky - Three Ballet´s - Previn LSO\The Sleeping Beauty\CD 2\14 Act Two- The Vision - No. 16 Scene (Allegro agitato).wav

Peak level 79.8 %
Extraction speed 4.0 X
Track quality 100.0 %
Test CRC 969EBB76
Copy CRC 969EBB76
Accurately ripped (confidence 14) [ADFA0312] (AR v2)
Copy OK

Track 15

Filename E:\MUSIC\My Music\Tchaikowsky - Three Ballet´s - Previn LSO\The Sleeping Beauty\CD 2\15 Act Two- The Vision - No. 17 Panorama (Andantino).wav

Peak level 27.2 %
Extraction speed 6.7 X
Track quality 100.0 %
Test CRC D07EDEA0
Copy CRC D07EDEA0
Accurately ripped (confidence 14) [23795A8E] (AR v2)
Copy OK

Track 16

Filename E:\MUSIC\My Music\Tchaikowsky - Three Ballet´s - Previn LSO\The Sleeping Beauty\CD 2\16 Act Two- The Vision - No. 18 Entr'acte.wav

Peak level 32.9 %
Extraction speed 7.5 X
Track quality 100.0 %
Test CRC 4B5B450E
Copy CRC 4B5B450E
Accurately ripped (confidence 14) [D291D565] (AR v2)
Copy OK

Track 17

Filename E:\MUSIC\My Music\Tchaikowsky - Three Ballet´s - Previn LSO\The Sleeping Beauty\CD 2\17 Act Two- The Vision - No. 19 Symphonic Entr'acte (The Sleep) and Scene (Andante misterioso).wav

Peak level 77.4 %
Extraction speed 7.2 X
Track quality 99.9 %
Test CRC 1CED2B47
Copy CRC 1CED2B47
Accurately ripped (confidence 14) [76F0F2FB] (AR v2)
Copy OK

Track 18

Filename E:\MUSIC\My Music\Tchaikowsky - Three Ballet´s - Previn LSO\The Sleeping Beauty\CD 2\18 Act Two- The Vision - No. 20 Finale- The Awakening (Allegro agitato).wav

Peak level 89.5 %
Extraction speed 7.2 X
Track quality 100.0 %
Test CRC B19B3F6D
Copy CRC B19B3F6D
Accurately ripped (confidence 14) [624D29EA] (AR v2)
Copy OK


All tracks accurately ripped

No errors occurred

End of status report

==== Log checksum 669A29293D07FB9EAE9F8418BBC380282B9ED38CE630603BBDFCD0A6DE48F6CF ====

––––––––––––––––––––––––––––––

Exact Audio Copy V1.0 beta 3 from 29. August 2011

EAC extraction logfile from 20. October 2017, 11:18

London Symphony Orchestra / Sleeping Beauty - Dornröschen - La Belle au bois dormant

Used drive : SONY DVD RW DRU-840A Adapter: 0 ID: 1

Read mode : Secure
Utilize accurate stream : Yes
Defeat audio cache : Yes
Make use of C2 pointers : No

Read offset correction : 6
Overread into Lead-In and Lead-Out : No
Fill up missing offset samples with silence : Yes
Delete leading and trailing silent blocks : No
Null samples used in CRC calculations : Yes
Used interface : Native Win32 interface for Win NT & 2000
Gap handling : Not detected, thus appended to previous track

Used output format : User Defined Encoder
Selected bitrate : 320 kBit/s
Quality : High
Add ID3 tag : No
Command line compressor : C:\Archivos de programa\Exact Audio Copy\FLAC\FLAC.EXE
Additional command line options : -6 -V -T "ARTIST=%artist%" -T "TITLE=%title%" -T "ALBUM=%albumtitle%" -T "DATE=%year%" -T "TRACKNUMBER=%tracknr%" -T "GENRE=%genre%" -T "COMMENT=%comment%" -T "BAND=%albuminterpret%" -T "ALBUMARTIST=%albuminterpret%" -T "COMPOSER=%composer%" %haslyrics%–tag-from-file=LYRICS="%lyricsfile%"%haslyrics% -T "DISCNUMBER=%cdnumber%" -T "TOTALDISCS=%totalcds%" -T "TOTALTRACKS=%numtracks%" %hascover%–picture="%coverfile%"%hascover% %source% -o %dest%


TOC of the extracted CD

Track | Start | Length | Start sector | End sector
––––––––––––––––––––––––––––-
1 | 0:00.00 | 2:46.21 | 0 | 12470
2 | 2:46.21 | 1:37.31 | 12471 | 19776
3 | 4:23.52 | 0:52.00 | 19777 | 23676
4 | 5:15.52 | 0:55.01 | 23677 | 27802
5 | 6:10.53 | 0:53.17 | 27803 | 31794
6 | 7:03.70 | 0:39.48 | 31795 | 34767
7 | 7:43.43 | 0:46.03 | 34768 | 38220
8 | 8:29.46 | 0:16.24 | 38221 | 39444
9 | 8:45.70 | 1:35.66 | 39445 | 46635
10 | 10:21.61 | 5:20.72 | 46636 | 70707
11 | 15:42.58 | 5:27.69 | 70708 | 95301
12 | 21:10.52 | 1:22.57 | 95302 | 101508
13 | 22:33.34 | 1:29.02 | 101509 | 108185
14 | 24:02.36 | 0:43.44 | 108186 | 111454
15 | 24:46.05 | 4:00.73 | 111455 | 129527
16 | 28:47.03 | 5:57.28 | 129528 | 156330
17 | 34:44.31 | 7:41.62 | 156331 | 190967
18 | 42:26.18 | 2:22.26 | 190968 | 201643


Track 1

Filename E:\MUSIC\My Music\Tchaikowsky - Three Ballet´s - Previn LSO\The Sleeping Beauty\CD 2\01 Act Two- The Vision - No. 10 Entr'acte and Scene (Allegro con spirito - Un poco piú tranquillo).wav

Peak level 92.3 %
Extraction speed 4.0 X
Track quality 100.0 %
Test CRC DF5C0C53
Copy CRC DF5C0C53
Accurately ripped (confidence 14) [FB380389] (AR v2)
Copy OK

Track 2

Filename E:\MUSIC\My Music\Tchaikowsky - Three Ballet´s - Previn LSO\The Sleeping Beauty\CD 2\02 Act Two- The Vision - No. 11 Blind Man's Buff (Allegro vivo).wav

Peak level 81.7 %
Extraction speed 3.8 X
Track quality 100.0 %
Test CRC B9C3E9B0
Copy CRC B9C3E9B0
Accurately ripped (confidence 14) [4AFC3994] (AR v2)
Copy OK

Track 3

Filename E:\MUSIC\My Music\Tchaikowsky - Three Ballet´s - Previn LSO\The Sleeping Beauty\CD 2\03 Act Two- The Vision - No. 12 Scene- Dances of the Courtiers - Scene.wav

Peak level 46.1 %
Extraction speed 3.1 X
Track quality 100.0 %
Test CRC 3F789BBB
Copy CRC 3F789BBB
Accurately ripped (confidence 14) [781AFE84] (AR v2)
Copy OK

Track 4

Filename E:\MUSIC\My Music\Tchaikowsky - Three Ballet´s - Previn LSO\The Sleeping Beauty\CD 2\04 Act Two- The Vision - No. 12 Scene- Dances of the Courtiers - Dance of the Duchesses )Minuet- Moderato con moto).wav

Peak level 48.8 %
Extraction speed 3.2 X
Track quality 100.0 %
Test CRC 4C48DB82
Copy CRC 4C48DB82
Accurately ripped (confidence 14) [144FA474] (AR v2)
Copy OK

Track 5

Filename E:\MUSIC\My Music\Tchaikowsky - Three Ballet´s - Previn LSO\The Sleeping Beauty\CD 2\05 Act Two- The Vision - No. 12 Scene- Dances of the Courtiers - Dance of the Baronesses (Gavotte).wav

Peak level 15.1 %
Extraction speed 3.3 X
Track quality 100.0 %
Test CRC EF1B6649
Copy CRC EF1B6649
Accurately ripped (confidence 14) [F141E369] (AR v2)
Copy OK

Track 6

Filename E:\MUSIC\My Music\Tchaikowsky - Three Ballet´s - Previn LSO\The Sleeping Beauty\CD 2\06 Act Two- The Vision - No. 12 Scene- Dances of the Courtiers - Dance of the Countesses (Allegro non troppo).wav

Peak level 77.0 %
Extraction speed 2.9 X
Track quality 100.0 %
Test CRC 7BF11FC9
Copy CRC 7BF11FC9
Accurately ripped (confidence 14) [927DAA7E] (AR v2)
Copy OK

Track 7

Filename E:\MUSIC\My Music\Tchaikowsky - Three Ballet´s - Previn LSO\The Sleeping Beauty\CD 2\07 Act Two- The Vision - No. 12 Scene- Dances of the Courtiers - Dance of the Marchionesses (Allegro non troppo).wav

Peak level 23.2 %
Extraction speed 3.2 X
Track quality 100.0 %
Test CRC 02585916
Copy CRC 02585916
Accurately ripped (confidence 14) [60E31BCD] (AR v2)
Copy OK

Track 8

Filename E:\MUSIC\My Music\Tchaikowsky - Three Ballet´s - Previn LSO\The Sleeping Beauty\CD 2\08 Act Two- The Vision - No. 13 Farandole - Scene (Poco piú vivo).wav

Peak level 44.2 %
Extraction speed 1.8 X
Track quality 100.0 %
Test CRC 09BA5C6E
Copy CRC 09BA5C6E
Accurately ripped (confidence 14) [71E1267C] (AR v2)
Copy OK

Track 9

Filename E:\MUSIC\My Music\Tchaikowsky - Three Ballet´s - Previn LSO\The Sleeping Beauty\CD 2\09 Act Two- The Vision - No. 13 Farandole - Dance (Allegro non troppo).wav

Peak level 85.8 %
Extraction speed 4.3 X
Track quality 100.0 %
Test CRC 7FCA72DD
Copy CRC 7FCA72DD
Accurately ripped (confidence 14) [7940675E] (AR v2)
Copy OK

Track 10

Filename E:\MUSIC\My Music\Tchaikowsky - Three Ballet´s - Previn LSO\The Sleeping Beauty\CD 2\10 Act Two- The Vision - No. 14 Scene- Prince Florimund and the Lilac Fairy.wav

Peak level 76.0 %
Extraction speed 5.8 X
Track quality 100.0 %
Test CRC 3330D3A0
Copy CRC 3330D3A0
Accurately ripped (confidence 14) [73E7EF14] (AR v2)
Copy OK

Track 11

Filename E:\MUSIC\My Music\Tchaikowsky - Three Ballet´s - Previn LSO\The Sleeping Beauty\CD 2\11 Act Two- The Vision - No. 15 Pas d'action - Aurora and Florimund (Andante cantabile).wav

Peak level 70.6 %
Extraction speed 6.3 X
Track quality 100.0 %
Test CRC BC876959
Copy CRC BC876959
Accurately ripped (confidence 12) [CBC4AE4C] (AR v2)
Copy OK

Track 12

Filename E:\MUSIC\My Music\Tchaikowsky - Three Ballet´s - Previn LSO\The Sleeping Beauty\CD 2\12 Act Two- The Vision - No. 15 Pas d'action - Aurora's Variation (Allegro con moto).wav

Peak level 50.8 %
Extraction speed 5.0 X
Track quality 100.0 %
Test CRC 4DB69FE2
Copy CRC 4DB69FE2
Accurately ripped (confidence 14) [72090132] (AR v2)
Copy OK

Track 13

Filename E:\MUSIC\My Music\Tchaikowsky - Three Ballet´s - Previn LSO\The Sleeping Beauty\CD 2\13 Act Two- The Vision - No. 15 Pas d'action - Coda (Presto).wav

Peak level 41.4 %
Extraction speed 5.2 X
Track quality 100.0 %
Test CRC B911FDD7
Copy CRC B911FDD7
Accurately ripped (confidence 12) [2A86B821] (AR v2)
Copy OK

Track 14

Filename E:\MUSIC\My Music\Tchaikowsky - Three Ballet´s - Previn LSO\The Sleeping Beauty\CD 2\14 Act Two- The Vision - No. 16 Scene (Allegro agitato).wav

Peak level 79.8 %
Extraction speed 4.0 X
Track quality 100.0 %
Test CRC 969EBB76
Copy CRC 969EBB76
Accurately ripped (confidence 14) [ADFA0312] (AR v2)
Copy OK

Track 15

Filename E:\MUSIC\My Music\Tchaikowsky - Three Ballet´s - Previn LSO\The Sleeping Beauty\CD 2\15 Act Two- The Vision - No. 17 Panorama (Andantino).wav

Peak level 27.2 %
Extraction speed 6.7 X
Track quality 100.0 %
Test CRC D07EDEA0
Copy CRC D07EDEA0
Accurately ripped (confidence 14) [23795A8E] (AR v2)
Copy OK

Track 16

Filename E:\MUSIC\My Music\Tchaikowsky - Three Ballet´s - Previn LSO\The Sleeping Beauty\CD 2\16 Act Two- The Vision - No. 18 Entr'acte.wav

Peak level 32.9 %
Extraction speed 7.5 X
Track quality 100.0 %
Test CRC 4B5B450E
Copy CRC 4B5B450E
Accurately ripped (confidence 14) [D291D565] (AR v2)
Copy OK

Track 17

Filename E:\MUSIC\My Music\Tchaikowsky - Three Ballet´s - Previn LSO\The Sleeping Beauty\CD 2\17 Act Two- The Vision - No. 19 Symphonic Entr'acte (The Sleep) and Scene (Andante misterioso).wav

Peak level 77.4 %
Extraction speed 7.2 X
Track quality 99.9 %
Test CRC 1CED2B47
Copy CRC 1CED2B47
Accurately ripped (confidence 14) [76F0F2FB] (AR v2)
Copy OK

Track 18

Filename E:\MUSIC\My Music\Tchaikowsky - Three Ballet´s - Previn LSO\The Sleeping Beauty\CD 2\18 Act Two- The Vision - No. 20 Finale- The Awakening (Allegro agitato).wav

Peak level 89.5 %
Extraction speed 7.2 X
Track quality 100.0 %
Test CRC B19B3F6D
Copy CRC B19B3F6D
Accurately ripped (confidence 14) [624D29EA] (AR v2)
Copy OK


All tracks accurately ripped

No errors occurred

End of status report

==== Log checksum 669A29293D07FB9EAE9F8418BBC380282B9ED38CE630603BBDFCD0A6DE48F6CF ====

Exact Audio Copy V1.0 beta 3 from 29. August 2011

EAC extraction logfile from 20. October 2017, 11:58

London Symphony Orchestra / Sleeping Beauty - Dornröschen - La Belle au bois dormant

Used drive : SONY DVD RW DRU-840A Adapter: 0 ID: 1

Read mode : Secure
Utilize accurate stream : Yes
Defeat audio cache : Yes
Make use of C2 pointers : No

Read offset correction : 6
Overread into Lead-In and Lead-Out : No
Fill up missing offset samples with silence : Yes
Delete leading and trailing silent blocks : No
Null samples used in CRC calculations : Yes
Used interface : Native Win32 interface for Win NT & 2000
Gap handling : Not detected, thus appended to previous track

Used output format : User Defined Encoder
Selected bitrate : 320 kBit/s
Quality : High
Add ID3 tag : No
Command line compressor : C:\Archivos de programa\Exact Audio Copy\FLAC\FLAC.EXE
Additional command line options : -6 -V -T "ARTIST=%artist%" -T "TITLE=%title%" -T "ALBUM=%albumtitle%" -T "DATE=%year%" -T "TRACKNUMBER=%tracknr%" -T "GENRE=%genre%" -T "COMMENT=%comment%" -T "BAND=%albuminterpret%" -T "ALBUMARTIST=%albuminterpret%" -T "COMPOSER=%composer%" %haslyrics%–tag-from-file=LYRICS="%lyricsfile%"%haslyrics% -T "DISCNUMBER=%cdnumber%" -T "TOTALDISCS=%totalcds%" -T "TOTALTRACKS=%numtracks%" %hascover%–picture="%coverfile%"%hascover% %source% -o %dest%


TOC of the extracted CD

Track | Start | Length | Start sector | End sector
––––––––––––––––––––––––––––-
1 | 0:00.00 | 3:28.13 | 0 | 15612
2 | 3:28.13 | 4:35.09 | 15613 | 36246
3 | 8:03.22 | 2:07.14 | 36247 | 45785
4 | 10:10.36 | 1:05.67 | 45786 | 50727
5 | 11:16.28 | 0:48.60 | 50728 | 54387
6 | 12:05.13 | 0:44.41 | 54388 | 57728
7 | 12:49.54 | 0:44.10 | 57729 | 61038
8 | 13:33.64 | 0:45.22 | 61039 | 64435
9 | 14:19.11 | 1:54.13 | 64436 | 72998
10 | 16:13.24 | 2:00.58 | 72999 | 82056
11 | 18:14.07 | 0:57.26 | 82057 | 86357
12 | 19:11.33 | 0:48.15 | 86358 | 89972
13 | 19:59.48 | 1:23.73 | 89973 | 96270
14 | 21:23.46 | 1:21.69 | 96271 | 102414
15 | 22:45.40 | 2:36.32 | 102415 | 114146
16 | 25:21.72 | 1:20.72 | 114147 | 120218
17 | 26:42.69 | 1:42.07 | 120219 | 127875
18 | 28:25.01 | 4:40.15 | 127876 | 148890
19 | 33:05.16 | 1:02.58 | 148891 | 153598
20 | 34:07.74 | 1:55.64 | 153599 | 162287
21 | 36:03.63 | 1:21.07 | 162288 | 168369
22 | 37:24.70 | 2:38.15 | 168370 | 180234
23 | 40:03.10 | 5:44.19 | 180235 | 206053
24 | 45:47.29 | 2:27.34 | 206054 | 217112


Track 1

Filename E:\MUSIC\My Music\Tchaikowsky - Three Ballet´s - Previn LSO\The Sleeping Beauty\CD 3\01 Act Three- The Wedding - No. 21 March (Allegro non troppo).wav

Peak level 83.0 %
Extraction speed 3.3 X
Track quality 99.9 %
Test CRC F0B8982A
Copy CRC F0B8982A
Accurately ripped (confidence 14) [58FC2D6B] (AR v2)
Copy OK

Track 2

Filename E:\MUSIC\My Music\Tchaikowsky - Three Ballet´s - Previn LSO\The Sleeping Beauty\CD 3\02 Act Three- The Wedding - No. 22 Polonaise- Procession of Fairy-Tale Characters (Allegro moderato e brillante).wav

Peak level 95.7 %
Extraction speed 4.9 X
Track quality 100.0 %
Test CRC EF8B938D
Copy CRC EF8B938D
Accurately ripped (confidence 14) [157DA530] (AR v2)
Copy OK

Track 3

Filename E:\MUSIC\My Music\Tchaikowsky - Three Ballet´s - Previn LSO\The Sleeping Beauty\CD 3\03 Act Three- The Wedding - No. 23 Pas de quatre - Introduction (Allegro non tanto).wav

Peak level 59.2 %
Extraction speed 4.6 X
Track quality 100.0 %
Test CRC 32C651D4
Copy CRC 32C651D4
Accurately ripped (confidence 14) [BACA4F8B] (AR v2)
Copy OK

Track 4

Filename E:\MUSIC\My Music\Tchaikowsky - Three Ballet´s - Previn LSO\The Sleeping Beauty\CD 3\04 Act Three- The Wedding - No. 23 Pas de quatre - Variation I- The Golden Fairy (Allegro- Tempo di valse).wav

Peak level 69.9 %
Extraction speed 3.9 X
Track quality 100.0 %
Test CRC 2C79466C
Copy CRC 2C79466C
Accurately ripped (confidence 14) [DB80EE76] (AR v2)
Copy OK

Track 5

Filename E:\MUSIC\My Music\Tchaikowsky - Three Ballet´s - Previn LSO\The Sleeping Beauty\CD 3\05 Act Three- The Wedding - No. 23 Pas de quatre - Variation II- The Silver Fairy (Allegro giusto).wav

Peak level 38.4 %
Extraction speed 2.0 X
Track quality 99.7 %
Test CRC 28771588
Copy CRC 28771588
Accurately ripped (confidence 14) [75847C42] (AR v2)
Copy OK

Track 6

Filename E:\MUSIC\My Music\Tchaikowsky - Three Ballet´s - Previn LSO\The Sleeping Beauty\CD 3\06 Act Three- The Wedding - No. 23 Pas de quatre - Variation III- The Sapphire Fairy (Vivacissimo).wav

Peak level 78.3 %
Extraction speed 3.4 X
Track quality 100.0 %
Test CRC 00329976
Copy CRC 00329976
Accurately ripped (confidence 14) [09C880F1] (AR v2)
Copy OK

Track 7

Filename E:\MUSIC\My Music\Tchaikowsky - Three Ballet´s - Previn LSO\The Sleeping Beauty\CD 3\07 Act Three- The Wedding - No. 23 Pas de quatre - Variation IV- The Diamond Dairy (Vivace).wav

Peak level 47.7 %
Extraction speed 1.9 X
Track quality 99.7 %
Test CRC E1E067A7
Copy CRC E1E067A7
Accurately ripped (confidence 12) [0A26C40B] (AR v2)
Copy OK

Track 8

Filename E:\MUSIC\My Music\Tchaikowsky - Three Ballet´s - Previn LSO\The Sleeping Beauty\CD 3\08 Act Three- The Wedding - No. 23 Pas de quatre - Coda (L'istesso tempo).wav

Peak level 60.6 %
Extraction speed 3.5 X
Track quality 100.0 %
Test CRC 6FCB3374
Copy CRC 6FCB3374
Accurately ripped (confidence 14) [83FAAF9F] (AR v2)
Copy OK

Track 9

Filename E:\MUSIC\My Music\Tchaikowsky - Three Ballet´s - Previn LSO\The Sleeping Beauty\CD 3\09 Act Three- The Wedding - No. 24 Pas de caractére- Puss-in-Boots and the White Cat (Allegro moderato).wav

Peak level 37.9 %
Extraction speed 3.4 X
Track quality 99.9 %
Test CRC 31DBC47E
Copy CRC 31DBC47E
Accurately ripped (confidence 14) [FC352C07] (AR v2)
Copy OK

Track 10

Filename E:\MUSIC\My Music\Tchaikowsky - Three Ballet´s - Previn LSO\The Sleeping Beauty\CD 3\10 Act Three- The Wedding - No. 25 Pas de quatre - Introduction (Adagio).wav

Peak level 37.4 %
Extraction speed 5.2 X
Track quality 100.0 %
Test CRC 5BE49B51
Copy CRC 5BE49B51
Accurately ripped (confidence 14) [868748A6] (AR v2)
Copy OK

Track 11

Filename E:\MUSIC\My Music\Tchaikowsky - Three Ballet´s - Previn LSO\The Sleeping Beauty\CD 3\11 Act Three- The Wedding - No. 25 Pas de quatre - Variation I- Cinderella and Prince Charming (Allegro- Tempo di valse).wav

Peak level 68.5 %
Extraction speed 4.2 X
Track quality 100.0 %
Test CRC CFE613ED
Copy CRC CFE613ED
Accurately ripped (confidence 14) [433C611B] (AR v2)
Copy OK

Track 12

Filename E:\MUSIC\My Music\Tchaikowsky - Three Ballet´s - Previn LSO\The Sleeping Beauty\CD 3\12 Act Three- The Wedding - No. 25 Pas de quatre - Variation II- The Bluebird and Princess Florine (Andantino).wav

Peak level 20.1 %
Extraction speed 3.9 X
Track quality 100.0 %
Test CRC B21D1A30
Copy CRC B21D1A30
Accurately ripped (confidence 14) [BAC01467] (AR v2)
Copy OK

Track 13

Filename E:\MUSIC\My Music\Tchaikowsky - Three Ballet´s - Previn LSO\The Sleeping Beauty\CD 3\13 Act Three- The Wedding - No. 25 Pas de quatre - Coda (Presto).wav

Peak level 78.1 %
Extraction speed 3.1 X
Track quality 99.8 %
Test CRC 67F56239
Copy CRC 67F56239
Accurately ripped (confidence 14) [1A2B236A] (AR v2)
Copy OK

Track 14

Filename E:\MUSIC\My Music\Tchaikowsky - Three Ballet´s - Previn LSO\The Sleeping Beauty\CD 3\14 Act Three- The Wedding - No. 26 Pas de caractére - Red Riding Hood and the Wolf (Allegro moderato).wav

Peak level 67.8 %
Extraction speed 4.9 X
Track quality 100.0 %
Test CRC 5D164AFF
Copy CRC 5D164AFF
Accurately ripped (confidence 14) [E33A8516] (AR v2)
Copy OK

Track 15

Filename E:\MUSIC\My Music\Tchaikowsky - Three Ballet´s - Previn LSO\The Sleeping Beauty\CD 3\15 Act Three- The Wedding - No. 26 Pas de caractére - Cinderella and Prince Charming (Allegro agitato - Tempo di valse - Vivace assai).wav

Peak level 64.8 %
Extraction speed 6.0 X
Track quality 100.0 %
Test CRC 446BAB51
Copy CRC 446BAB51
Accurately ripped (confidence 14) [AF4F1A9D] (AR v2)
Copy OK

Track 16

Filename E:\MUSIC\My Music\Tchaikowsky - Three Ballet´s - Previn LSO\The Sleeping Beauty\CD 3\16 Act Three- The Wedding - No. 27 Pas Berrichan.wav

Peak level 84.6 %
Extraction speed 3.3 X
Track quality 99.8 %
Test CRC 61C4CFD8
Copy CRC 61C4CFD8
Accurately ripped (confidence 14) [8196BF37] (AR v2)
Copy OK

Track 17

Filename E:\MUSIC\My Music\Tchaikowsky - Three Ballet´s - Previn LSO\The Sleeping Beauty\CD 3\17 Act Three- The Wedding - No. 28 Pas de duex (Aurora and Florimund) - Entrée (Allegretto - Allegro moderato).wav

Peak level 87.1 %
Extraction speed 5.7 X
Track quality 100.0 %
Test CRC 3D7FDE47
Copy CRC 3D7FDE47
Accurately ripped (confidence 14) [49B2FA27] (AR v2)
Copy OK

Track 18

Filename E:\MUSIC\My Music\Tchaikowsky - Three Ballet´s - Previn LSO\The Sleeping Beauty\CD 3\18 Act Three- The Wedding - No. 28 Pas de duex (Aurora and Florimund) - Adagio (Andate non troppo).wav

Peak level 92.0 %
Extraction speed 5.8 X
Track quality 99.9 %
Test CRC 894E03DE
Copy CRC 894E03DE
Accurately ripped (confidence 14) [D558F99D] (AR v2)
Copy OK

Track 19

Filename E:\MUSIC\My Music\Tchaikowsky - Three Ballet´s - Previn LSO\The Sleeping Beauty\CD 3\19 Act Three- The Wedding - No. 28 Pas de duex (Aurora and Florimund) - Variation I- Florimund (Vivace - Prestissimo).wav

Peak level 91.5 %
Extraction speed 5.0 X
Track quality 100.0 %
Test CRC 202874A2
Copy CRC 202874A2
Accurately ripped (confidence 14) [ED23D6D1] (AR v2)
Copy OK

Track 20

Filename E:\MUSIC\My Music\Tchaikowsky - Three Ballet´s - Previn LSO\The Sleeping Beauty\CD 3\20 Act Three- The Wedding - No. 28 Pas de duex (Aurora and Florimund) - Variation II- Aurora (Andantino).wav

Peak level 88.6 %
Extraction speed 4.4 X
Track quality 99.9 %
Test CRC 57DFE358
Copy CRC 57DFE358
Accurately ripped (confidence 14) [664DFA3F] (AR v2)
Copy OK

Track 21

Filename E:\MUSIC\My Music\Tchaikowsky - Three Ballet´s - Previn LSO\The Sleeping Beauty\CD 3\21 Act Three- The Wedding - No. 28 Pas de duex (Aurora and Florimund) - Coda (Allegro vivace).wav

Peak level 91.4 %
Extraction speed 5.8 X
Track quality 100.0 %
Test CRC 772FA641
Copy CRC 772FA641
Accurately ripped (confidence 14) [C6390C4E] (AR v2)
Copy OK

Track 22

Filename E:\MUSIC\My Music\Tchaikowsky - Three Ballet´s - Previn LSO\The Sleeping Beauty\CD 3\22 Act Three- The Wedding - No. 29 Sarabande.wav

Peak level 64.8 %
Extraction speed 7.0 X
Track quality 100.0 %
Test CRC A5D05DD6
Copy CRC A5D05DD6
Accurately ripped (confidence 14) [A2E158E0] (AR v2)
Copy OK

Track 23

Filename E:\MUSIC\My Music\Tchaikowsky - Three Ballet´s - Previn LSO\The Sleeping Beauty\CD 3\23 Act Three- The Wedding - No. 30 Finale and Apotheosis - Finale (Allegro brillante- Tempo di mazurka).wav

Peak level 95.2 %
Extraction speed 6.9 X
Track quality 99.9 %
Test CRC B64E0711
Copy CRC B64E0711
Accurately ripped (confidence 14) [CFA17B0F] (AR v2)
Copy OK

Track 24

Filename E:\MUSIC\My Music\Tchaikowsky - Three Ballet´s - Previn LSO\The Sleeping Beauty\CD 3\24 Act Three- The Wedding - No. 30 Finale and Apotheosis - Apotheosis (Andante molto maestoso).wav

Peak level 95.8 %
Extraction speed 7.4 X
Track quality 100.0 %
Test CRC C9816DBE
Copy CRC C9816DBE
Accurately ripped (confidence 14) [5A7015EA] (AR v2)
Copy OK


All tracks accurately ripped

No errors occurred

End of status report

==== Log checksum 834DBED7DB6890BAA723468D86500F587F6E13A2D9EF5216B61F8D47F58F2D52 ====

––––––––––––––––––––––––––––––

Exact Audio Copy V1.0 beta 3 from 29. August 2011

EAC extraction logfile from 20. October 2017, 11:58

London Symphony Orchestra / Sleeping Beauty - Dornröschen - La Belle au bois dormant

Used drive : SONY DVD RW DRU-840A Adapter: 0 ID: 1

Read mode : Secure
Utilize accurate stream : Yes
Defeat audio cache : Yes
Make use of C2 pointers : No

Read offset correction : 6
Overread into Lead-In and Lead-Out : No
Fill up missing offset samples with silence : Yes
Delete leading and trailing silent blocks : No
Null samples used in CRC calculations : Yes
Used interface : Native Win32 interface for Win NT & 2000
Gap handling : Not detected, thus appended to previous track

Used output format : User Defined Encoder
Selected bitrate : 320 kBit/s
Quality : High
Add ID3 tag : No
Command line compressor : C:\Archivos de programa\Exact Audio Copy\FLAC\FLAC.EXE
Additional command line options : -6 -V -T "ARTIST=%artist%" -T "TITLE=%title%" -T "ALBUM=%albumtitle%" -T "DATE=%year%" -T "TRACKNUMBER=%tracknr%" -T "GENRE=%genre%" -T "COMMENT=%comment%" -T "BAND=%albuminterpret%" -T "ALBUMARTIST=%albuminterpret%" -T "COMPOSER=%composer%" %haslyrics%–tag-from-file=LYRICS="%lyricsfile%"%haslyrics% -T "DISCNUMBER=%cdnumber%" -T "TOTALDISCS=%totalcds%" -T "TOTALTRACKS=%numtracks%" %hascover%–picture="%coverfile%"%hascover% %source% -o %dest%


TOC of the extracted CD

Track | Start | Length | Start sector | End sector
––––––––––––––––––––––––––––-
1 | 0:00.00 | 3:28.13 | 0 | 15612
2 | 3:28.13 | 4:35.09 | 15613 | 36246
3 | 8:03.22 | 2:07.14 | 36247 | 45785
4 | 10:10.36 | 1:05.67 | 45786 | 50727
5 | 11:16.28 | 0:48.60 | 50728 | 54387
6 | 12:05.13 | 0:44.41 | 54388 | 57728
7 | 12:49.54 | 0:44.10 | 57729 | 61038
8 | 13:33.64 | 0:45.22 | 61039 | 64435
9 | 14:19.11 | 1:54.13 | 64436 | 72998
10 | 16:13.24 | 2:00.58 | 72999 | 82056
11 | 18:14.07 | 0:57.26 | 82057 | 86357
12 | 19:11.33 | 0:48.15 | 86358 | 89972
13 | 19:59.48 | 1:23.73 | 89973 | 96270
14 | 21:23.46 | 1:21.69 | 96271 | 102414
15 | 22:45.40 | 2:36.32 | 102415 | 114146
16 | 25:21.72 | 1:20.72 | 114147 | 120218
17 | 26:42.69 | 1:42.07 | 120219 | 127875
18 | 28:25.01 | 4:40.15 | 127876 | 148890
19 | 33:05.16 | 1:02.58 | 148891 | 153598
20 | 34:07.74 | 1:55.64 | 153599 | 162287
21 | 36:03.63 | 1:21.07 | 162288 | 168369
22 | 37:24.70 | 2:38.15 | 168370 | 180234
23 | 40:03.10 | 5:44.19 | 180235 | 206053
24 | 45:47.29 | 2:27.34 | 206054 | 217112


Track 1

Filename E:\MUSIC\My Music\Tchaikowsky - Three Ballet´s - Previn LSO\The Sleeping Beauty\CD 3\01 Act Three- The Wedding - No. 21 March (Allegro non troppo).wav

Peak level 83.0 %
Extraction speed 3.3 X
Track quality 99.9 %
Test CRC F0B8982A
Copy CRC F0B8982A
Accurately ripped (confidence 14) [58FC2D6B] (AR v2)
Copy OK

Track 2

Filename E:\MUSIC\My Music\Tchaikowsky - Three Ballet´s - Previn LSO\The Sleeping Beauty\CD 3\02 Act Three- The Wedding - No. 22 Polonaise- Procession of Fairy-Tale Characters (Allegro moderato e brillante).wav

Peak level 95.7 %
Extraction speed 4.9 X
Track quality 100.0 %
Test CRC EF8B938D
Copy CRC EF8B938D
Accurately ripped (confidence 14) [157DA530] (AR v2)
Copy OK

Track 3

Filename E:\MUSIC\My Music\Tchaikowsky - Three Ballet´s - Previn LSO\The Sleeping Beauty\CD 3\03 Act Three- The Wedding - No. 23 Pas de quatre - Introduction (Allegro non tanto).wav

Peak level 59.2 %
Extraction speed 4.6 X
Track quality 100.0 %
Test CRC 32C651D4
Copy CRC 32C651D4
Accurately ripped (confidence 14) [BACA4F8B] (AR v2)
Copy OK

Track 4

Filename E:\MUSIC\My Music\Tchaikowsky - Three Ballet´s - Previn LSO\The Sleeping Beauty\CD 3\04 Act Three- The Wedding - No. 23 Pas de quatre - Variation I- The Golden Fairy (Allegro- Tempo di valse).wav

Peak level 69.9 %
Extraction speed 3.9 X
Track quality 100.0 %
Test CRC 2C79466C
Copy CRC 2C79466C
Accurately ripped (confidence 14) [DB80EE76] (AR v2)
Copy OK

Track 5

Filename E:\MUSIC\My Music\Tchaikowsky - Three Ballet´s - Previn LSO\The Sleeping Beauty\CD 3\05 Act Three- The Wedding - No. 23 Pas de quatre - Variation II- The Silver Fairy (Allegro giusto).wav

Peak level 38.4 %
Extraction speed 2.0 X
Track quality 99.7 %
Test CRC 28771588
Copy CRC 28771588
Accurately ripped (confidence 14) [75847C42] (AR v2)
Copy OK

Track 6

Filename E:\MUSIC\My Music\Tchaikowsky - Three Ballet´s - Previn LSO\The Sleeping Beauty\CD 3\06 Act Three- The Wedding - No. 23 Pas de quatre - Variation III- The Sapphire Fairy (Vivacissimo).wav

Peak level 78.3 %
Extraction speed 3.4 X
Track quality 100.0 %
Test CRC 00329976
Copy CRC 00329976
Accurately ripped (confidence 14) [09C880F1] (AR v2)
Copy OK

Track 7

Filename E:\MUSIC\My Music\Tchaikowsky - Three Ballet´s - Previn LSO\The Sleeping Beauty\CD 3\07 Act Three- The Wedding - No. 23 Pas de quatre - Variation IV- The Diamond Dairy (Vivace).wav

Peak level 47.7 %
Extraction speed 1.9 X
Track quality 99.7 %
Test CRC E1E067A7
Copy CRC E1E067A7
Accurately ripped (confidence 12) [0A26C40B] (AR v2)
Copy OK

Track 8

Filename E:\MUSIC\My Music\Tchaikowsky - Three Ballet´s - Previn LSO\The Sleeping Beauty\CD 3\08 Act Three- The Wedding - No. 23 Pas de quatre - Coda (L'istesso tempo).wav

Peak level 60.6 %
Extraction speed 3.5 X
Track quality 100.0 %
Test CRC 6FCB3374
Copy CRC 6FCB3374
Accurately ripped (confidence 14) [83FAAF9F] (AR v2)
Copy OK

Track 9

Filename E:\MUSIC\My Music\Tchaikowsky - Three Ballet´s - Previn LSO\The Sleeping Beauty\CD 3\09 Act Three- The Wedding - No. 24 Pas de caractére- Puss-in-Boots and the White Cat (Allegro moderato).wav

Peak level 37.9 %
Extraction speed 3.4 X
Track quality 99.9 %
Test CRC 31DBC47E
Copy CRC 31DBC47E
Accurately ripped (confidence 14) [FC352C07] (AR v2)
Copy OK

Track 10

Filename E:\MUSIC\My Music\Tchaikowsky - Three Ballet´s - Previn LSO\The Sleeping Beauty\CD 3\10 Act Three- The Wedding - No. 25 Pas de quatre - Introduction (Adagio).wav

Peak level 37.4 %
Extraction speed 5.2 X
Track quality 100.0 %
Test CRC 5BE49B51
Copy CRC 5BE49B51
Accurately ripped (confidence 14) [868748A6] (AR v2)
Copy OK

Track 11

Filename E:\MUSIC\My Music\Tchaikowsky - Three Ballet´s - Previn LSO\The Sleeping Beauty\CD 3\11 Act Three- The Wedding - No. 25 Pas de quatre - Variation I- Cinderella and Prince Charming (Allegro- Tempo di valse).wav

Peak level 68.5 %
Extraction speed 4.2 X
Track quality 100.0 %
Test CRC CFE613ED
Copy CRC CFE613ED
Accurately ripped (confidence 14) [433C611B] (AR v2)
Copy OK

Track 12

Filename E:\MUSIC\My Music\Tchaikowsky - Three Ballet´s - Previn LSO\The Sleeping Beauty\CD 3\12 Act Three- The Wedding - No. 25 Pas de quatre - Variation II- The Bluebird and Princess Florine (Andantino).wav

Peak level 20.1 %
Extraction speed 3.9 X
Track quality 100.0 %
Test CRC B21D1A30
Copy CRC B21D1A30
Accurately ripped (confidence 14) [BAC01467] (AR v2)
Copy OK

Track 13

Filename E:\MUSIC\My Music\Tchaikowsky - Three Ballet´s - Previn LSO\The Sleeping Beauty\CD 3\13 Act Three- The Wedding - No. 25 Pas de quatre - Coda (Presto).wav

Peak level 78.1 %
Extraction speed 3.1 X
Track quality 99.8 %
Test CRC 67F56239
Copy CRC 67F56239
Accurately ripped (confidence 14) [1A2B236A] (AR v2)
Copy OK

Track 14

Filename E:\MUSIC\My Music\Tchaikowsky - Three Ballet´s - Previn LSO\The Sleeping Beauty\CD 3\14 Act Three- The Wedding - No. 26 Pas de caractére - Red Riding Hood and the Wolf (Allegro moderato).wav

Peak level 67.8 %
Extraction speed 4.9 X
Track quality 100.0 %
Test CRC 5D164AFF
Copy CRC 5D164AFF
Accurately ripped (confidence 14) [E33A8516] (AR v2)
Copy OK

Track 15

Filename E:\MUSIC\My Music\Tchaikowsky - Three Ballet´s - Previn LSO\The Sleeping Beauty\CD 3\15 Act Three- The Wedding - No. 26 Pas de caractére - Cinderella and Prince Charming (Allegro agitato - Tempo di valse - Vivace assai).wav

Peak level 64.8 %
Extraction speed 6.0 X
Track quality 100.0 %
Test CRC 446BAB51
Copy CRC 446BAB51
Accurately ripped (confidence 14) [AF4F1A9D] (AR v2)
Copy OK

Track 16

Filename E:\MUSIC\My Music\Tchaikowsky - Three Ballet´s - Previn LSO\The Sleeping Beauty\CD 3\16 Act Three- The Wedding - No. 27 Pas Berrichan.wav

Peak level 84.6 %
Extraction speed 3.3 X
Track quality 99.8 %
Test CRC 61C4CFD8
Copy CRC 61C4CFD8
Accurately ripped (confidence 14) [8196BF37] (AR v2)
Copy OK

Track 17

Filename E:\MUSIC\My Music\Tchaikowsky - Three Ballet´s - Previn LSO\The Sleeping Beauty\CD 3\17 Act Three- The Wedding - No. 28 Pas de duex (Aurora and Florimund) - Entrée (Allegretto - Allegro moderato).wav

Peak level 87.1 %
Extraction speed 5.7 X
Track quality 100.0 %
Test CRC 3D7FDE47
Copy CRC 3D7FDE47
Accurately ripped (confidence 14) [49B2FA27] (AR v2)
Copy OK

Track 18

Filename E:\MUSIC\My Music\Tchaikowsky - Three Ballet´s - Previn LSO\The Sleeping Beauty\CD 3\18 Act Three- The Wedding - No. 28 Pas de duex (Aurora and Florimund) - Adagio (Andate non troppo).wav

Peak level 92.0 %
Extraction speed 5.8 X
Track quality 99.9 %
Test CRC 894E03DE
Copy CRC 894E03DE
Accurately ripped (confidence 14) [D558F99D] (AR v2)
Copy OK

Track 19

Filename E:\MUSIC\My Music\Tchaikowsky - Three Ballet´s - Previn LSO\The Sleeping Beauty\CD 3\19 Act Three- The Wedding - No. 28 Pas de duex (Aurora and Florimund) - Variation I- Florimund (Vivace - Prestissimo).wav

Peak level 91.5 %
Extraction speed 5.0 X
Track quality 100.0 %
Test CRC 202874A2
Copy CRC 202874A2
Accurately ripped (confidence 14) [ED23D6D1] (AR v2)
Copy OK

Track 20

Filename E:\MUSIC\My Music\Tchaikowsky - Three Ballet´s - Previn LSO\The Sleeping Beauty\CD 3\20 Act Three- The Wedding - No. 28 Pas de duex (Aurora and Florimund) - Variation II- Aurora (Andantino).wav

Peak level 88.6 %
Extraction speed 4.4 X
Track quality 99.9 %
Test CRC 57DFE358
Copy CRC 57DFE358
Accurately ripped (confidence 14) [664DFA3F] (AR v2)
Copy OK

Track 21

Filename E:\MUSIC\My Music\Tchaikowsky - Three Ballet´s - Previn LSO\The Sleeping Beauty\CD 3\21 Act Three- The Wedding - No. 28 Pas de duex (Aurora and Florimund) - Coda (Allegro vivace).wav

Peak level 91.4 %
Extraction speed 5.8 X
Track quality 100.0 %
Test CRC 772FA641
Copy CRC 772FA641
Accurately ripped (confidence 14) [C6390C4E] (AR v2)
Copy OK

Track 22

Filename E:\MUSIC\My Music\Tchaikowsky - Three Ballet´s - Previn LSO\The Sleeping Beauty\CD 3\22 Act Three- The Wedding - No. 29 Sarabande.wav

Peak level 64.8 %
Extraction speed 7.0 X
Track quality 100.0 %
Test CRC A5D05DD6
Copy CRC A5D05DD6
Accurately ripped (confidence 14) [A2E158E0] (AR v2)
Copy OK

Track 23

Filename E:\MUSIC\My Music\Tchaikowsky - Three Ballet´s - Previn LSO\The Sleeping Beauty\CD 3\23 Act Three- The Wedding - No. 30 Finale and Apotheosis - Finale (Allegro brillante- Tempo di mazurka).wav

Peak level 95.2 %
Extraction speed 6.9 X
Track quality 99.9 %
Test CRC B64E0711
Copy CRC B64E0711
Accurately ripped (confidence 14) [CFA17B0F] (AR v2)
Copy OK

Track 24

Filename E:\MUSIC\My Music\Tchaikowsky - Three Ballet´s - Previn LSO\The Sleeping Beauty\CD 3\24 Act Three- The Wedding - No. 30 Finale and Apotheosis - Apotheosis (Andante molto maestoso).wav

Peak level 95.8 %
Extraction speed 7.4 X
Track quality 100.0 %
Test CRC C9816DBE
Copy CRC C9816DBE
Accurately ripped (confidence 14) [5A7015EA] (AR v2)
Copy OK


All tracks accurately ripped

No errors occurred

End of status report

==== Log checksum 834DBED7DB6890BAA723468D86500F587F6E13A2D9EF5216B61F8D47F58F2D52 ====

Swan Lake

Exact Audio Copy V1.0 beta 3 from 29. August 2011

EAC extraction logfile from 19. October 2017, 16:48

London Symphony Orchestra / Swan Lake

Used drive : SONY DVD RW DRU-840A Adapter: 0 ID: 1

Read mode : Secure
Utilize accurate stream : Yes
Defeat audio cache : Yes
Make use of C2 pointers : No

Read offset correction : 6
Overread into Lead-In and Lead-Out : No
Fill up missing offset samples with silence : Yes
Delete leading and trailing silent blocks : No
Null samples used in CRC calculations : Yes
Used interface : Native Win32 interface for Win NT & 2000
Gap handling : Not detected, thus appended to previous track

Used output format : User Defined Encoder
Selected bitrate : 320 kBit/s
Quality : High
Add ID3 tag : No
Command line compressor : C:\Archivos de programa\Exact Audio Copy\FLAC\FLAC.EXE
Additional command line options : -6 -V -T "ARTIST=%artist%" -T "TITLE=%title%" -T "ALBUM=%albumtitle%" -T "DATE=%year%" -T "TRACKNUMBER=%tracknr%" -T "GENRE=%genre%" -T "COMMENT=%comment%" -T "BAND=%albuminterpret%" -T "ALBUMARTIST=%albuminterpret%" -T "COMPOSER=%composer%" %haslyrics%–tag-from-file=LYRICS="%lyricsfile%"%haslyrics% -T "DISCNUMBER=%cdnumber%" -T "TOTALDISCS=%totalcds%" -T "TOTALTRACKS=%numtracks%" %hascover%–picture="%coverfile%"%hascover% %source% -o %dest%


TOC of the extracted CD

Track | Start | Length | Start sector | End sector
––––––––––––––––––––––––––––-
1 | 0:00.32 | 2:48.59 | 32 | 12690
2 | 2:49.16 | 2:58.62 | 12691 | 26102
3 | 5:48.03 | 7:15.68 | 26103 | 58795
4 | 13:03.71 | 3:43.61 | 58796 | 75581
5 | 16:47.57 | 2:13.74 | 75582 | 85630
6 | 19:01.56 | 2:27.40 | 85631 | 96695
7 | 21:29.21 | 1:16.04 | 96696 | 102399
8 | 22:45.25 | 1:09.37 | 102400 | 107611
9 | 23:54.62 | 1:08.46 | 107612 | 112757
10 | 25:03.33 | 1:45.42 | 112758 | 120674
11 | 26:49.00 | 2:26.35 | 120675 | 131659
12 | 29:15.35 | 5:43.07 | 131660 | 157391
13 | 34:58.42 | 1:37.64 | 157392 | 164730
14 | 36:36.31 | 1:56.61 | 164731 | 173491
15 | 38:33.17 | 1:58.61 | 173492 | 182402
16 | 40:32.03 | 0:44.13 | 182403 | 185715
17 | 41:16.16 | 5:58.58 | 185716 | 212623
18 | 47:14.74 | 2:37.42 | 212624 | 224440
19 | 49:52.41 | 2:46.28 | 224441 | 236918
20 | 52:38.69 | 4:59.02 | 236919 | 259345
21 | 57:37.71 | 3:19.28 | 259346 | 274298
22 | 60:57.24 | 2:25.49 | 274299 | 285222
23 | 63:22.73 | 1:40.26 | 285223 | 292748
24 | 65:03.24 | 1:47.55 | 292749 | 300828
25 | 66:51.04 | 1:26.41 | 300829 | 307319
26 | 68:17.45 | 7:18.18 | 307320 | 340187
27 | 75:35.63 | 1:29.47 | 340188 | 346909
28 | 77:05.35 | 1:42.35 | 346910 | 354594
29 | 78:47.70 | 2:57.41 | 354595 | 367910


Track 1

Filename E:\MUSIC\My Music\Tchaikowsky - Three Ballet´s - Previn LSO\Swan Lake\CD 1\01 Introduction (Modeato assai).wav

Peak level 97.4 %
Extraction speed 1.8 X
Track quality 100.0 %
Test CRC BDCA10C0
Copy CRC BDCA10C0
Accurately ripped (confidence 13) [15E99376] (AR v2)
Copy OK

Track 2

Filename E:\MUSIC\My Music\Tchaikowsky - Three Ballet´s - Previn LSO\Swan Lake\CD 1\02 No. 1 Scene (Allegro giusta).wav

Peak level 93.2 %
Extraction speed 2.0 X
Track quality 100.0 %
Test CRC 98815232
Copy CRC 98815232
Accurately ripped (confidence 13) [FDB99E34] (AR v2)
Copy OK

Track 3

Filename E:\MUSIC\My Music\Tchaikowsky - Three Ballet´s - Previn LSO\Swan Lake\CD 1\03 No. 2 Waltz (Tempo di valse).wav

Peak level 97.0 %
Extraction speed 2.2 X
Track quality 99.9 %
Test CRC 88DEAEA1
Copy CRC 88DEAEA1
Accurately ripped (confidence 13) [A78C24EB] (AR v2)
Copy OK

Track 4

Filename E:\MUSIC\My Music\Tchaikowsky - Three Ballet´s - Previn LSO\Swan Lake\CD 1\04 No. 3 Scene (Allegro moderato).wav

Peak level 97.8 %
Extraction speed 2.5 X
Track quality 100.0 %
Test CRC E310EA36
Copy CRC E310EA36
Accurately ripped (confidence 13) [8AC7DB6E] (AR v2)
Copy OK

Track 5

Filename E:\MUSIC\My Music\Tchaikowsky - Three Ballet´s - Previn LSO\Swan Lake\CD 1\05 No. 4 Pas de trois - I. Intrada (Allegro).wav

Peak level 31.9 %
Extraction speed 2.3 X
Track quality 100.0 %
Test CRC 74FD6846
Copy CRC 74FD6846
Accurately ripped (confidence 13) [8E087E81] (AR v2)
Copy OK

Track 6

Filename E:\MUSIC\My Music\Tchaikowsky - Three Ballet´s - Previn LSO\Swan Lake\CD 1\06 No. 4 Pas de trois - II. Andante sostenuto.wav

Peak level 18.8 %
Extraction speed 2.4 X
Track quality 100.0 %
Test CRC 10071054
Copy CRC 10071054
Accurately ripped (confidence 13) [0798905E] (AR v2)
Copy OK

Track 7

Filename E:\MUSIC\My Music\Tchaikowsky - Three Ballet´s - Previn LSO\Swan Lake\CD 1\07 No. 4 Pas de trois - III. Allego semplice - Presto.wav

Peak level 75.1 %
Extraction speed 2.0 X
Track quality 100.0 %
Test CRC ED72955F
Copy CRC ED72955F
Accurately ripped (confidence 13) [BA2E7C0C] (AR v2)
Copy OK

Track 8

Filename E:\MUSIC\My Music\Tchaikowsky - Three Ballet´s - Previn LSO\Swan Lake\CD 1\08 No. 4 Pas de trois - IV. Moderato.wav

Peak level 95.9 %
Extraction speed 2.1 X
Track quality 100.0 %
Test CRC 268AA89A
Copy CRC 268AA89A
Accurately ripped (confidence 13) [04CD70AA] (AR v2)
Copy OK

Track 9

Filename E:\MUSIC\My Music\Tchaikowsky - Three Ballet´s - Previn LSO\Swan Lake\CD 1\09 No. 4 Pas de trois - V. Allegro.wav

Peak level 72.7 %
Extraction speed 2.0 X
Track quality 100.0 %
Test CRC 7DE9DF45
Copy CRC 7DE9DF45
Accurately ripped (confidence 13) [B122652F] (AR v2)
Copy OK

Track 10

Filename E:\MUSIC\My Music\Tchaikowsky - Three Ballet´s - Previn LSO\Swan Lake\CD 1\10 No. 4 Pas de trois - VI. Coda (Allegro vivace).wav

Peak level 93.4 %
Extraction speed 1.6 X
Track quality 99.8 %
Test CRC 83E079E2
Copy CRC 83E079E2
Accurately ripped (confidence 13) [A2C04F39] (AR v2)
Copy OK

Track 11

Filename E:\MUSIC\My Music\Tchaikowsky - Three Ballet´s - Previn LSO\Swan Lake\CD 1\11 No. 5 Pas de deux - I. Tempo di valse.wav

Peak level 84.9 %
Extraction speed 2.7 X
Track quality 100.0 %
Test CRC FB0F6331
Copy CRC FB0F6331
Accurately ripped (confidence 13) [C2358232] (AR v2)
Copy OK

Track 12

Filename E:\MUSIC\My Music\Tchaikowsky - Three Ballet´s - Previn LSO\Swan Lake\CD 1\12 No. 5 Pas de deux - II. Andante - Allegro - Molto piu mosso.wav

Peak level 87.2 %
Extraction speed 3.2 X
Track quality 100.0 %
Test CRC 383CE5E9
Copy CRC 383CE5E9
Accurately ripped (confidence 13) [819344F5] (AR v2)
Copy OK

Track 13

Filename E:\MUSIC\My Music\Tchaikowsky - Three Ballet´s - Previn LSO\Swan Lake\CD 1\13 No. 5 Pas de deux - III. Tempo di valse.wav

Peak level 54.7 %
Extraction speed 2.6 X
Track quality 100.0 %
Test CRC 075E1F04
Copy CRC 075E1F04
Accurately ripped (confidence 13) [91D92DE3] (AR v2)
Copy OK

Track 14

Filename E:\MUSIC\My Music\Tchaikowsky - Three Ballet´s - Previn LSO\Swan Lake\CD 1\14 No. 5 Pas de deux - IV. Coda (Allegro molto vivace).wav

Peak level 88.1 %
Extraction speed 2.8 X
Track quality 100.0 %
Test CRC 09D9009C
Copy CRC 09D9009C
Accurately ripped (confidence 13) [3DBB7F53] (AR v2)
Copy OK

Track 15

Filename E:\MUSIC\My Music\Tchaikowsky - Three Ballet´s - Previn LSO\Swan Lake\CD 1\15 No. 6 Pas d'action (Andantino quasi moderato - Allegro).wav

Peak level 79.6 %
Extraction speed 2.8 X
Track quality 100.0 %
Test CRC 13510EA7
Copy CRC 13510EA7
Accurately ripped (confidence 13) [C6FC76C7] (AR v2)
Copy OK

Track 16

Filename E:\MUSIC\My Music\Tchaikowsky - Three Ballet´s - Previn LSO\Swan Lake\CD 1\16 No. 7 Subject.wav

Peak level 15.2 %
Extraction speed 0.9 X
Track quality 99.7 %
Test CRC 5F399B13
Copy CRC 5F399B13
Accurately ripped (confidence 13) [17ACA02A] (AR v2)
Copy OK

Track 17

Filename E:\MUSIC\My Music\Tchaikowsky - Three Ballet´s - Previn LSO\Swan Lake\CD 1\17 No. 8 Dance with Goblets (Tempo di polacca).wav

Peak level 97.7 %
Extraction speed 3.5 X
Track quality 100.0 %
Test CRC 5CF202F2
Copy CRC 5CF202F2
Accurately ripped (confidence 13) [17FCAEBA] (AR v2)
Copy OK

Track 18

Filename E:\MUSIC\My Music\Tchaikowsky - Three Ballet´s - Previn LSO\Swan Lake\CD 1\18 No. 9 Finale (Andante).wav

Peak level 97.2 %
Extraction speed 3.3 X
Track quality 100.0 %
Test CRC 208B2840
Copy CRC 208B2840
Accurately ripped (confidence 13) [92A155C3] (AR v2)
Copy OK

Track 19

Filename E:\MUSIC\My Music\Tchaikowsky - Three Ballet´s - Previn LSO\Swan Lake\CD 1\19 No. 10 Scene (Moderato).wav

Peak level 83.4 %
Extraction speed 3.3 X
Track quality 100.0 %
Test CRC CC66DDDC
Copy CRC CC66DDDC
Accurately ripped (confidence 13) [20762D36] (AR v2)
Copy OK

Track 20

Filename E:\MUSIC\My Music\Tchaikowsky - Three Ballet´s - Previn LSO\Swan Lake\CD 1\20 No. 11 Scene (Allegro moderato - Allegro vivo).wav

Peak level 95.3 %
Extraction speed 3.8 X
Track quality 100.0 %
Test CRC ADB31ED9
Copy CRC ADB31ED9
Accurately ripped (confidence 13) [E08096B3] (AR v2)
Copy OK

Track 21

Filename E:\MUSIC\My Music\Tchaikowsky - Three Ballet´s - Previn LSO\Swan Lake\CD 1\21 No. 12 Scene (Allegro).wav

Peak level 77.7 %
Extraction speed 3.7 X
Track quality 100.0 %
Test CRC D79C37A9
Copy CRC D79C37A9
Accurately ripped (confidence 13) [970D76D7] (AR v2)
Copy OK

Track 22

Filename E:\MUSIC\My Music\Tchaikowsky - Three Ballet´s - Previn LSO\Swan Lake\CD 1\22 No. 13 Dances of the Swans - I. Tempo di valse.wav

Peak level 79.4 %
Extraction speed 3.5 X
Track quality 100.0 %
Test CRC 3D3B71F8
Copy CRC 3D3B71F8
Accurately ripped (confidence 13) [D270BE4D] (AR v2)
Copy OK

Track 23

Filename E:\MUSIC\My Music\Tchaikowsky - Three Ballet´s - Previn LSO\Swan Lake\CD 1\23 No. 13 Dances of the Swans - II. Moderato assai - Molto piu mosso.wav

Peak level 74.6 %
Extraction speed 3.2 X
Track quality 100.0 %
Test CRC 17697712
Copy CRC 17697712
Accurately ripped (confidence 13) [7F23D782] (AR v2)
Copy OK

Track 24

Filename E:\MUSIC\My Music\Tchaikowsky - Three Ballet´s - Previn LSO\Swan Lake\CD 1\24 No. 13 Dances of the Swans - III. Tempo di valse.wav

Peak level 36.6 %
Extraction speed 3.2 X
Track quality 100.0 %
Test CRC CEA3398C
Copy CRC CEA3398C
Accurately ripped (confidence 13) [0B44BFD9] (AR v2)
Copy OK

Track 25

Filename E:\MUSIC\My Music\Tchaikowsky - Three Ballet´s - Previn LSO\Swan Lake\CD 1\25 No. 13 Dances of the Swans - IV. Dance of the Little Swans (Allegro moderato).wav

Peak level 71.9 %
Extraction speed 3.2 X
Track quality 100.0 %
Test CRC 8014366F
Copy CRC 8014366F
Accurately ripped (confidence 13) [56CEE8DF] (AR v2)
Copy OK

Track 26

Filename E:\MUSIC\My Music\Tchaikowsky - Three Ballet´s - Previn LSO\Swan Lake\CD 1\26 No. 13 Dances of the Swans - V. Andante - Andante non troppo - Allegro.wav

Peak level 77.2 %
Extraction speed 3.5 X
Track quality 99.9 %
Test CRC E336692A
Copy CRC E336692A
Accurately ripped (confidence 13) [022C2003] (AR v2)
Copy OK

Track 27

Filename E:\MUSIC\My Music\Tchaikowsky - Three Ballet´s - Previn LSO\Swan Lake\CD 1\27 No. 13 Dances of the Swans - VI. Tempo di valse.wav

Peak level 81.3 %
Extraction speed 1.7 X
Track quality 99.8 %
Test CRC 4D9EA92E
Copy CRC 4D9EA92E
Accurately ripped (confidence 13) [9220A3E0] (AR v2)
Copy OK

Track 28

Filename E:\MUSIC\My Music\Tchaikowsky - Three Ballet´s - Previn LSO\Swan Lake\CD 1\28 No. 13 Dances of the Swans - VII. Coda (Allegro vivace).wav

Peak level 80.9 %
Extraction speed 3.5 X
Track quality 100.0 %
Test CRC BA65D476
Copy CRC BA65D476
Accurately ripped (confidence 13) [44B5C175] (AR v2)
Copy OK

Track 29

Filename E:\MUSIC\My Music\Tchaikowsky - Three Ballet´s - Previn LSO\Swan Lake\CD 1\29 No. 14 Scene (Moderato).wav

Peak level 80.9 %
Extraction speed 4.0 X
Track quality 100.0 %
Test CRC 9B584D83
Copy CRC 9B584D83
Accurately ripped (confidence 13) [223B364D] (AR v2)
Copy OK


All tracks accurately ripped

No errors occurred

End of status report

==== Log checksum FC5A7DA3886BBCC5EE7AEA60C15B565F53FED135182F4DB1E82B7612573039DD ====

––––––––––––––––––––––––––––––

Exact Audio Copy V1.0 beta 3 from 29. August 2011

EAC extraction logfile from 19. October 2017, 16:48

London Symphony Orchestra / Swan Lake

Used drive : SONY DVD RW DRU-840A Adapter: 0 ID: 1

Read mode : Secure
Utilize accurate stream : Yes
Defeat audio cache : Yes
Make use of C2 pointers : No

Read offset correction : 6
Overread into Lead-In and Lead-Out : No
Fill up missing offset samples with silence : Yes
Delete leading and trailing silent blocks : No
Null samples used in CRC calculations : Yes
Used interface : Native Win32 interface for Win NT & 2000
Gap handling : Not detected, thus appended to previous track

Used output format : User Defined Encoder
Selected bitrate : 320 kBit/s
Quality : High
Add ID3 tag : No
Command line compressor : C:\Archivos de programa\Exact Audio Copy\FLAC\FLAC.EXE
Additional command line options : -6 -V -T "ARTIST=%artist%" -T "TITLE=%title%" -T "ALBUM=%albumtitle%" -T "DATE=%year%" -T "TRACKNUMBER=%tracknr%" -T "GENRE=%genre%" -T "COMMENT=%comment%" -T "BAND=%albuminterpret%" -T "ALBUMARTIST=%albuminterpret%" -T "COMPOSER=%composer%" %haslyrics%–tag-from-file=LYRICS="%lyricsfile%"%haslyrics% -T "DISCNUMBER=%cdnumber%" -T "TOTALDISCS=%totalcds%" -T "TOTALTRACKS=%numtracks%" %hascover%–picture="%coverfile%"%hascover% %source% -o %dest%


TOC of the extracted CD

Track | Start | Length | Start sector | End sector
––––––––––––––––––––––––––––-
1 | 0:00.32 | 2:48.59 | 32 | 12690
2 | 2:49.16 | 2:58.62 | 12691 | 26102
3 | 5:48.03 | 7:15.68 | 26103 | 58795
4 | 13:03.71 | 3:43.61 | 58796 | 75581
5 | 16:47.57 | 2:13.74 | 75582 | 85630
6 | 19:01.56 | 2:27.40 | 85631 | 96695
7 | 21:29.21 | 1:16.04 | 96696 | 102399
8 | 22:45.25 | 1:09.37 | 102400 | 107611
9 | 23:54.62 | 1:08.46 | 107612 | 112757
10 | 25:03.33 | 1:45.42 | 112758 | 120674
11 | 26:49.00 | 2:26.35 | 120675 | 131659
12 | 29:15.35 | 5:43.07 | 131660 | 157391
13 | 34:58.42 | 1:37.64 | 157392 | 164730
14 | 36:36.31 | 1:56.61 | 164731 | 173491
15 | 38:33.17 | 1:58.61 | 173492 | 182402
16 | 40:32.03 | 0:44.13 | 182403 | 185715
17 | 41:16.16 | 5:58.58 | 185716 | 212623
18 | 47:14.74 | 2:37.42 | 212624 | 224440
19 | 49:52.41 | 2:46.28 | 224441 | 236918
20 | 52:38.69 | 4:59.02 | 236919 | 259345
21 | 57:37.71 | 3:19.28 | 259346 | 274298
22 | 60:57.24 | 2:25.49 | 274299 | 285222
23 | 63:22.73 | 1:40.26 | 285223 | 292748
24 | 65:03.24 | 1:47.55 | 292749 | 300828
25 | 66:51.04 | 1:26.41 | 300829 | 307319
26 | 68:17.45 | 7:18.18 | 307320 | 340187
27 | 75:35.63 | 1:29.47 | 340188 | 346909
28 | 77:05.35 | 1:42.35 | 346910 | 354594
29 | 78:47.70 | 2:57.41 | 354595 | 367910


Track 1

Filename E:\MUSIC\My Music\Tchaikowsky - Three Ballet´s - Previn LSO\Swan Lake\CD 1\01 Introduction (Modeato assai).wav

Peak level 97.4 %
Extraction speed 1.8 X
Track quality 100.0 %
Test CRC BDCA10C0
Copy CRC BDCA10C0
Accurately ripped (confidence 13) [15E99376] (AR v2)
Copy OK

Track 2

Filename E:\MUSIC\My Music\Tchaikowsky - Three Ballet´s - Previn LSO\Swan Lake\CD 1\02 No. 1 Scene (Allegro giusta).wav

Peak level 93.2 %
Extraction speed 2.0 X
Track quality 100.0 %
Test CRC 98815232
Copy CRC 98815232
Accurately ripped (confidence 13) [FDB99E34] (AR v2)
Copy OK

Track 3

Filename E:\MUSIC\My Music\Tchaikowsky - Three Ballet´s - Previn LSO\Swan Lake\CD 1\03 No. 2 Waltz (Tempo di valse).wav

Peak level 97.0 %
Extraction speed 2.2 X
Track quality 99.9 %
Test CRC 88DEAEA1
Copy CRC 88DEAEA1
Accurately ripped (confidence 13) [A78C24EB] (AR v2)
Copy OK

Track 4

Filename E:\MUSIC\My Music\Tchaikowsky - Three Ballet´s - Previn LSO\Swan Lake\CD 1\04 No. 3 Scene (Allegro moderato).wav

Peak level 97.8 %
Extraction speed 2.5 X
Track quality 100.0 %
Test CRC E310EA36
Copy CRC E310EA36
Accurately ripped (confidence 13) [8AC7DB6E] (AR v2)
Copy OK

Track 5

Filename E:\MUSIC\My Music\Tchaikowsky - Three Ballet´s - Previn LSO\Swan Lake\CD 1\05 No. 4 Pas de trois - I. Intrada (Allegro).wav

Peak level 31.9 %
Extraction speed 2.3 X
Track quality 100.0 %
Test CRC 74FD6846
Copy CRC 74FD6846
Accurately ripped (confidence 13) [8E087E81] (AR v2)
Copy OK

Track 6

Filename E:\MUSIC\My Music\Tchaikowsky - Three Ballet´s - Previn LSO\Swan Lake\CD 1\06 No. 4 Pas de trois - II. Andante sostenuto.wav

Peak level 18.8 %
Extraction speed 2.4 X
Track quality 100.0 %
Test CRC 10071054
Copy CRC 10071054
Accurately ripped (confidence 13) [0798905E] (AR v2)
Copy OK

Track 7

Filename E:\MUSIC\My Music\Tchaikowsky - Three Ballet´s - Previn LSO\Swan Lake\CD 1\07 No. 4 Pas de trois - III. Allego semplice - Presto.wav

Peak level 75.1 %
Extraction speed 2.0 X
Track quality 100.0 %
Test CRC ED72955F
Copy CRC ED72955F
Accurately ripped (confidence 13) [BA2E7C0C] (AR v2)
Copy OK

Track 8

Filename E:\MUSIC\My Music\Tchaikowsky - Three Ballet´s - Previn LSO\Swan Lake\CD 1\08 No. 4 Pas de trois - IV. Moderato.wav

Peak level 95.9 %
Extraction speed 2.1 X
Track quality 100.0 %
Test CRC 268AA89A
Copy CRC 268AA89A
Accurately ripped (confidence 13) [04CD70AA] (AR v2)
Copy OK

Track 9

Filename E:\MUSIC\My Music\Tchaikowsky - Three Ballet´s - Previn LSO\Swan Lake\CD 1\09 No. 4 Pas de trois - V. Allegro.wav

Peak level 72.7 %
Extraction speed 2.0 X
Track quality 100.0 %
Test CRC 7DE9DF45
Copy CRC 7DE9DF45
Accurately ripped (confidence 13) [B122652F] (AR v2)
Copy OK

Track 10

Filename E:\MUSIC\My Music\Tchaikowsky - Three Ballet´s - Previn LSO\Swan Lake\CD 1\10 No. 4 Pas de trois - VI. Coda (Allegro vivace).wav

Peak level 93.4 %
Extraction speed 1.6 X
Track quality 99.8 %
Test CRC 83E079E2
Copy CRC 83E079E2
Accurately ripped (confidence 13) [A2C04F39] (AR v2)
Copy OK

Track 11

Filename E:\MUSIC\My Music\Tchaikowsky - Three Ballet´s - Previn LSO\Swan Lake\CD 1\11 No. 5 Pas de deux - I. Tempo di valse.wav

Peak level 84.9 %
Extraction speed 2.7 X
Track quality 100.0 %
Test CRC FB0F6331
Copy CRC FB0F6331
Accurately ripped (confidence 13) [C2358232] (AR v2)
Copy OK

Track 12

Filename E:\MUSIC\My Music\Tchaikowsky - Three Ballet´s - Previn LSO\Swan Lake\CD 1\12 No. 5 Pas de deux - II. Andante - Allegro - Molto piu mosso.wav

Peak level 87.2 %
Extraction speed 3.2 X
Track quality 100.0 %
Test CRC 383CE5E9
Copy CRC 383CE5E9
Accurately ripped (confidence 13) [819344F5] (AR v2)
Copy OK

Track 13

Filename E:\MUSIC\My Music\Tchaikowsky - Three Ballet´s - Previn LSO\Swan Lake\CD 1\13 No. 5 Pas de deux - III. Tempo di valse.wav

Peak level 54.7 %
Extraction speed 2.6 X
Track quality 100.0 %
Test CRC 075E1F04
Copy CRC 075E1F04
Accurately ripped (confidence 13) [91D92DE3] (AR v2)
Copy OK

Track 14

Filename E:\MUSIC\My Music\Tchaikowsky - Three Ballet´s - Previn LSO\Swan Lake\CD 1\14 No. 5 Pas de deux - IV. Coda (Allegro molto vivace).wav

Peak level 88.1 %
Extraction speed 2.8 X
Track quality 100.0 %
Test CRC 09D9009C
Copy CRC 09D9009C
Accurately ripped (confidence 13) [3DBB7F53] (AR v2)
Copy OK

Track 15

Filename E:\MUSIC\My Music\Tchaikowsky - Three Ballet´s - Previn LSO\Swan Lake\CD 1\15 No. 6 Pas d'action (Andantino quasi moderato - Allegro).wav

Peak level 79.6 %
Extraction speed 2.8 X
Track quality 100.0 %
Test CRC 13510EA7
Copy CRC 13510EA7
Accurately ripped (confidence 13) [C6FC76C7] (AR v2)
Copy OK

Track 16

Filename E:\MUSIC\My Music\Tchaikowsky - Three Ballet´s - Previn LSO\Swan Lake\CD 1\16 No. 7 Subject.wav

Peak level 15.2 %
Extraction speed 0.9 X
Track quality 99.7 %
Test CRC 5F399B13
Copy CRC 5F399B13
Accurately ripped (confidence 13) [17ACA02A] (AR v2)
Copy OK

Track 17

Filename E:\MUSIC\My Music\Tchaikowsky - Three Ballet´s - Previn LSO\Swan Lake\CD 1\17 No. 8 Dance with Goblets (Tempo di polacca).wav

Peak level 97.7 %
Extraction speed 3.5 X
Track quality 100.0 %
Test CRC 5CF202F2
Copy CRC 5CF202F2
Accurately ripped (confidence 13) [17FCAEBA] (AR v2)
Copy OK

Track 18

Filename E:\MUSIC\My Music\Tchaikowsky - Three Ballet´s - Previn LSO\Swan Lake\CD 1\18 No. 9 Finale (Andante).wav

Peak level 97.2 %
Extraction speed 3.3 X
Track quality 100.0 %
Test CRC 208B2840
Copy CRC 208B2840
Accurately ripped (confidence 13) [92A155C3] (AR v2)
Copy OK

Track 19

Filename E:\MUSIC\My Music\Tchaikowsky - Three Ballet´s - Previn LSO\Swan Lake\CD 1\19 No. 10 Scene (Moderato).wav

Peak level 83.4 %
Extraction speed 3.3 X
Track quality 100.0 %
Test CRC CC66DDDC
Copy CRC CC66DDDC
Accurately ripped (confidence 13) [20762D36] (AR v2)
Copy OK

Track 20

Filename E:\MUSIC\My Music\Tchaikowsky - Three Ballet´s - Previn LSO\Swan Lake\CD 1\20 No. 11 Scene (Allegro moderato - Allegro vivo).wav

Peak level 95.3 %
Extraction speed 3.8 X
Track quality 100.0 %
Test CRC ADB31ED9
Copy CRC ADB31ED9
Accurately ripped (confidence 13) [E08096B3] (AR v2)
Copy OK

Track 21

Filename E:\MUSIC\My Music\Tchaikowsky - Three Ballet´s - Previn LSO\Swan Lake\CD 1\21 No. 12 Scene (Allegro).wav

Peak level 77.7 %
Extraction speed 3.7 X
Track quality 100.0 %
Test CRC D79C37A9
Copy CRC D79C37A9
Accurately ripped (confidence 13) [970D76D7] (AR v2)
Copy OK

Track 22

Filename E:\MUSIC\My Music\Tchaikowsky - Three Ballet´s - Previn LSO\Swan Lake\CD 1\22 No. 13 Dances of the Swans - I. Tempo di valse.wav

Peak level 79.4 %
Extraction speed 3.5 X
Track quality 100.0 %
Test CRC 3D3B71F8
Copy CRC 3D3B71F8
Accurately ripped (confidence 13) [D270BE4D] (AR v2)
Copy OK

Track 23

Filename E:\MUSIC\My Music\Tchaikowsky - Three Ballet´s - Previn LSO\Swan Lake\CD 1\23 No. 13 Dances of the Swans - II. Moderato assai - Molto piu mosso.wav

Peak level 74.6 %
Extraction speed 3.2 X
Track quality 100.0 %
Test CRC 17697712
Copy CRC 17697712
Accurately ripped (confidence 13) [7F23D782] (AR v2)
Copy OK

Track 24

Filename E:\MUSIC\My Music\Tchaikowsky - Three Ballet´s - Previn LSO\Swan Lake\CD 1\24 No. 13 Dances of the Swans - III. Tempo di valse.wav

Peak level 36.6 %
Extraction speed 3.2 X
Track quality 100.0 %
Test CRC CEA3398C
Copy CRC CEA3398C
Accurately ripped (confidence 13) [0B44BFD9] (AR v2)
Copy OK

Track 25

Filename E:\MUSIC\My Music\Tchaikowsky - Three Ballet´s - Previn LSO\Swan Lake\CD 1\25 No. 13 Dances of the Swans - IV. Dance of the Little Swans (Allegro moderato).wav

Peak level 71.9 %
Extraction speed 3.2 X
Track quality 100.0 %
Test CRC 8014366F
Copy CRC 8014366F
Accurately ripped (confidence 13) [56CEE8DF] (AR v2)
Copy OK

Track 26

Filename E:\MUSIC\My Music\Tchaikowsky - Three Ballet´s - Previn LSO\Swan Lake\CD 1\26 No. 13 Dances of the Swans - V. Andante - Andante non troppo - Allegro.wav

Peak level 77.2 %
Extraction speed 3.5 X
Track quality 99.9 %
Test CRC E336692A
Copy CRC E336692A
Accurately ripped (confidence 13) [022C2003] (AR v2)
Copy OK

Track 27

Filename E:\MUSIC\My Music\Tchaikowsky - Three Ballet´s - Previn LSO\Swan Lake\CD 1\27 No. 13 Dances of the Swans - VI. Tempo di valse.wav

Peak level 81.3 %
Extraction speed 1.7 X
Track quality 99.8 %
Test CRC 4D9EA92E
Copy CRC 4D9EA92E
Accurately ripped (confidence 13) [9220A3E0] (AR v2)
Copy OK

Track 28

Filename E:\MUSIC\My Music\Tchaikowsky - Three Ballet´s - Previn LSO\Swan Lake\CD 1\28 No. 13 Dances of the Swans - VII. Coda (Allegro vivace).wav

Peak level 80.9 %
Extraction speed 3.5 X
Track quality 100.0 %
Test CRC BA65D476
Copy CRC BA65D476
Accurately ripped (confidence 13) [44B5C175] (AR v2)
Copy OK

Track 29

Filename E:\MUSIC\My Music\Tchaikowsky - Three Ballet´s - Previn LSO\Swan Lake\CD 1\29 No. 14 Scene (Moderato).wav

Peak level 80.9 %
Extraction speed 4.0 X
Track quality 100.0 %
Test CRC 9B584D83
Copy CRC 9B584D83
Accurately ripped (confidence 13) [223B364D] (AR v2)
Copy OK


All tracks accurately ripped

No errors occurred

End of status report

==== Log checksum FC5A7DA3886BBCC5EE7AEA60C15B565F53FED135182F4DB1E82B7612573039DD ====


Exact Audio Copy V1.0 beta 3 from 29. August 2011

EAC extraction logfile from 19. October 2017, 18:40

London Symphony Orchestra / Swan Lake

Used drive : SONY DVD RW DRU-840A Adapter: 0 ID: 1

Read mode : Secure
Utilize accurate stream : Yes
Defeat audio cache : Yes
Make use of C2 pointers : No

Read offset correction : 6
Overread into Lead-In and Lead-Out : No
Fill up missing offset samples with silence : Yes
Delete leading and trailing silent blocks : No
Null samples used in CRC calculations : Yes
Used interface : Native Win32 interface for Win NT & 2000
Gap handling : Not detected, thus appended to previous track

Used output format : User Defined Encoder
Selected bitrate : 320 kBit/s
Quality : High
Add ID3 tag : No
Command line compressor : C:\Archivos de programa\Exact Audio Copy\FLAC\FLAC.EXE
Additional command line options : -6 -V -T "ARTIST=%artist%" -T "TITLE=%title%" -T "ALBUM=%albumtitle%" -T "DATE=%year%" -T "TRACKNUMBER=%tracknr%" -T "GENRE=%genre%" -T "COMMENT=%comment%" -T "BAND=%albuminterpret%" -T "ALBUMARTIST=%albuminterpret%" -T "COMPOSER=%composer%" %haslyrics%–tag-from-file=LYRICS="%lyricsfile%"%haslyrics% -T "DISCNUMBER=%cdnumber%" -T "TOTALDISCS=%totalcds%" -T "TOTALTRACKS=%numtracks%" %hascover%–picture="%coverfile%"%hascover% %source% -o %dest%


TOC of the extracted CD

Track | Start | Length | Start sector | End sector
––––––––––––––––––––––––––––-
1 | 0:00.00 | 2:32.35 | 0 | 11434
2 | 2:32.35 | 2:43.06 | 11435 | 23665
3 | 5:15.41 | 8:08.38 | 23666 | 60303
4 | 13:24.04 | 1:37.60 | 60304 | 67638
5 | 15:01.64 | 2:41.14 | 67639 | 79727
6 | 17:43.03 | 1:37.70 | 79728 | 87072
7 | 19:20.73 | 3:23.05 | 87073 | 102302
8 | 22:44.03 | 1:06.48 | 102303 | 107300
9 | 23:50.51 | 0:58.25 | 107301 | 111675
10 | 24:49.01 | 1:24.35 | 111676 | 118010
11 | 26:13.36 | 1:48.12 | 118011 | 126122
12 | 28:01.48 | 4:03.55 | 126123 | 144402
13 | 32:05.28 | 0:52.25 | 144403 | 148327
14 | 32:57.53 | 0:59.71 | 148328 | 152823
15 | 33:57.49 | 2:28.09 | 152824 | 163932
16 | 36:25.58 | 2:54.38 | 163933 | 177020
17 | 39:20.21 | 4:23.03 | 177021 | 196748
18 | 43:43.24 | 2:29.71 | 196749 | 207994
19 | 46:13.20 | 2:19.56 | 207995 | 218475
20 | 48:33.01 | 4:10.03 | 218476 | 237228
21 | 52:43.04 | 3:41.50 | 237229 | 253853
22 | 56:24.54 | 1:51.04 | 253854 | 262182
23 | 58:15.58 | 2:22.61 | 262183 | 272893
24 | 60:38.44 | 4:23.71 | 272894 | 292689
25 | 65:02.40 | 3:04.41 | 292690 | 306530
26 | 68:07.06 | 6:46.62 | 306531 | 337042


Track 1

Filename E:\MUSIC\My Music\Tchaikowsky - Three Ballet´s - Previn LSO\Swan Lake\CD 2\01 No. 15 Scene (Allego giusto).wav

Peak level 85.5 %
Extraction speed 4.3 X
Track quality 100.0 %
Test CRC EDAA6995
Copy CRC EDAA6995
Accurately ripped (confidence 13) [E4C188B9] (AR v2)
Copy OK

Track 2

Filename E:\MUSIC\My Music\Tchaikowsky - Three Ballet´s - Previn LSO\Swan Lake\CD 2\02 No. 16 Dance of the Guests and the Dwarfs (Moderato assai - Allegro vivo).wav

Peak level 83.3 %
Extraction speed 4.6 X
Track quality 100.0 %
Test CRC 6FAACFC3
Copy CRC 6FAACFC3
Accurately ripped (confidence 13) [9619974D] (AR v2)
Copy OK

Track 3

Filename E:\MUSIC\My Music\Tchaikowsky - Three Ballet´s - Previn LSO\Swan Lake\CD 2\03 No. 17 Scene- Enterance and Waltz of the Special Guests (Allegro - Tempo di valse).wav

Peak level 96.2 %
Extraction speed 5.8 X
Track quality 100.0 %
Test CRC 3B58C86B
Copy CRC 3B58C86B
Accurately ripped (confidence 13) [9B4A65CB] (AR v2)
Copy OK

Track 4

Filename E:\MUSIC\My Music\Tchaikowsky - Three Ballet´s - Previn LSO\Swan Lake\CD 2\04 No. 18 Scene (Allegro - Allegro giusto).wav

Peak level 91.1 %
Extraction speed 4.8 X
Track quality 100.0 %
Test CRC 04E352EE
Copy CRC 04E352EE
Accurately ripped (confidence 13) [5CC9C6EB] (AR v2)
Copy OK

Track 5

Filename E:\MUSIC\My Music\Tchaikowsky - Three Ballet´s - Previn LSO\Swan Lake\CD 2\05 No. 19 Pas de six - Intrada.wav

Peak level 80.5 %
Extraction speed 5.7 X
Track quality 100.0 %
Test CRC 5C0C7C1A
Copy CRC 5C0C7C1A
Accurately ripped (confidence 13) [3D6AA9BE] (AR v2)
Copy OK

Track 6

Filename E:\MUSIC\My Music\Tchaikowsky - Three Ballet´s - Previn LSO\Swan Lake\CD 2\06 No. 19 Pas de six - Variation I (Allegro).wav

Peak level 66.7 %
Extraction speed 3.4 X
Track quality 99.8 %
Test CRC 56E2EBBF
Copy CRC 56E2EBBF
Accurately ripped (confidence 13) [B3576EE8] (AR v2)
Copy OK

Track 7

Filename E:\MUSIC\My Music\Tchaikowsky - Three Ballet´s - Previn LSO\Swan Lake\CD 2\07 No. 19 Pas de six - Variation II (Andante con moto).wav

Peak level 75.8 %
Extraction speed 6.3 X
Track quality 100.0 %
Test CRC BEE059B7
Copy CRC BEE059B7
Accurately ripped (confidence 13) [07B337D1] (AR v2)
Copy OK

Track 8

Filename E:\MUSIC\My Music\Tchaikowsky - Three Ballet´s - Previn LSO\Swan Lake\CD 2\08 No. 19 Pas de six - Variation III (Moderato).wav

Peak level 69.6 %
Extraction speed 4.9 X
Track quality 100.0 %
Test CRC 94606F3D
Copy CRC 94606F3D
Accurately ripped (confidence 13) [3A2C03BD] (AR v2)
Copy OK

Track 9

Filename E:\MUSIC\My Music\Tchaikowsky - Three Ballet´s - Previn LSO\Swan Lake\CD 2\09 No. 19 Pas de six - Variation IV (Allegro).wav

Peak level 78.2 %
Extraction speed 4.6 X
Track quality 100.0 %
Test CRC 0ACDEC8E
Copy CRC 0ACDEC8E
Accurately ripped (confidence 13) [B2191DE6] (AR v2)
Copy OK

Track 10

Filename E:\MUSIC\My Music\Tchaikowsky - Three Ballet´s - Previn LSO\Swan Lake\CD 2\10 No. 19 Pas de six - Variation V (Moderato - Allegro semplice).wav

Peak level 73.1 %
Extraction speed 5.4 X
Track quality 100.0 %
Test CRC 4E316F74
Copy CRC 4E316F74
Accurately ripped (confidence 13) [56BDA0DF] (AR v2)
Copy OK

Track 11

Filename E:\MUSIC\My Music\Tchaikowsky - Three Ballet´s - Previn LSO\Swan Lake\CD 2\11 No. 19 Pas de six - Coda (Allegro molto) Pas de deux (additional number).wav

Peak level 83.5 %
Extraction speed 5.8 X
Track quality 100.0 %
Test CRC E4DE6EF3
Copy CRC E4DE6EF3
Accurately ripped (confidence 13) [5DACC8F5] (AR v2)
Copy OK

Track 12

Filename E:\MUSIC\My Music\Tchaikowsky - Three Ballet´s - Previn LSO\Swan Lake\CD 2\12 No. 19 Pas de six - Introduction (Moderato - Andante).wav

Peak level 78.8 %
Extraction speed 7.1 X
Track quality 100.0 %
Test CRC 944DC182
Copy CRC 944DC182
Accurately ripped (confidence 13) [BEE0D0AC] (AR v2)
Copy OK

Track 13

Filename E:\MUSIC\My Music\Tchaikowsky - Three Ballet´s - Previn LSO\Swan Lake\CD 2\13 No. 19 Pas de six - Variation I (Allegro moderato).wav

Peak level 68.1 %
Extraction speed 4.8 X
Track quality 100.0 %
Test CRC 53EE1631
Copy CRC 53EE1631
Accurately ripped (confidence 13) [F88C4BAB] (AR v2)
Copy OK

Track 14

Filename E:\MUSIC\My Music\Tchaikowsky - Three Ballet´s - Previn LSO\Swan Lake\CD 2\14 No. 19 Pas de six - Variation II (Allegro).wav

Peak level 65.1 %
Extraction speed 5.1 X
Track quality 100.0 %
Test CRC 5C6E527D
Copy CRC 5C6E527D
Accurately ripped (confidence 13) [E3D451AB] (AR v2)
Copy OK

Track 15

Filename E:\MUSIC\My Music\Tchaikowsky - Three Ballet´s - Previn LSO\Swan Lake\CD 2\15 No. 19 Pas de six - Coda (Allegro molto vivace).wav

Peak level 80.8 %
Extraction speed 6.8 X
Track quality 100.0 %
Test CRC E7A210B3
Copy CRC E7A210B3
Accurately ripped (confidence 13) [8396ECFD] (AR v2)
Copy OK

Track 16

Filename E:\MUSIC\My Music\Tchaikowsky - Three Ballet´s - Previn LSO\Swan Lake\CD 2\16 No. 20 Hungarian Dance- Csardas (Moderato assai - Allegro moderato - Vivace).wav

Peak level 90.8 %
Extraction speed 7.2 X
Track quality 100.0 %
Test CRC 28D944E0
Copy CRC 28D944E0
Accurately ripped (confidence 13) [FB153090] (AR v2)
Copy OK

Track 17

Filename E:\MUSIC\My Music\Tchaikowsky - Three Ballet´s - Previn LSO\Swan Lake\CD 2\17 Russian Dance (Cadenza - Andante semplice - Allegro vivo) (additional number).wav

Peak level 82.0 %
Extraction speed 7.9 X
Track quality 100.0 %
Test CRC 669CB094
Copy CRC 669CB094
Accurately ripped (confidence 13) [8D22C929] (AR v2)
Copy OK

Track 18

Filename E:\MUSIC\My Music\Tchaikowsky - Three Ballet´s - Previn LSO\Swan Lake\CD 2\18 No. 21 Spanish Dance (Allegro non troppo- tempo di Bolero).wav

Peak level 75.7 %
Extraction speed 7.4 X
Track quality 100.0 %
Test CRC 3AA4E539
Copy CRC 3AA4E539
Accurately ripped (confidence 13) [E25242FA] (AR v2)
Copy OK

Track 19

Filename E:\MUSIC\My Music\Tchaikowsky - Three Ballet´s - Previn LSO\Swan Lake\CD 2\19 No. 22 Neapolitan Dance (Allegro moderato - Andantino quasi moderato).wav

Peak level 87.1 %
Extraction speed 5.3 X
Track quality 99.9 %
Test CRC 5D082B56
Copy CRC 5D082B56
Accurately ripped (confidence 13) [1ED4A935] (AR v2)
Copy OK

Track 20

Filename E:\MUSIC\My Music\Tchaikowsky - Three Ballet´s - Previn LSO\Swan Lake\CD 2\20 No. 23 Mazurka.wav

Peak level 84.3 %
Extraction speed 8.4 X
Track quality 100.0 %
Test CRC 086F9FC0
Copy CRC 086F9FC0
Accurately ripped (confidence 13) [1F470677] (AR v2)
Copy OK

Track 21

Filename E:\MUSIC\My Music\Tchaikowsky - Three Ballet´s - Previn LSO\Swan Lake\CD 2\21 No. 24 Scene (Allegro - Valse - Allegro vivo).wav

Peak level 88.3 %
Extraction speed 8.4 X
Track quality 100.0 %
Test CRC 776F2D4D
Copy CRC 776F2D4D
Accurately ripped (confidence 13) [D645E4E3] (AR v2)
Copy OK

Track 22

Filename E:\MUSIC\My Music\Tchaikowsky - Three Ballet´s - Previn LSO\Swan Lake\CD 2\22 No. 25. Entr'acte (Moderato).wav

Peak level 90.6 %
Extraction speed 7.4 X
Track quality 100.0 %
Test CRC 96A8D504
Copy CRC 96A8D504
Accurately ripped (confidence 13) [76A9B3DD] (AR v2)
Copy OK

Track 23

Filename E:\MUSIC\My Music\Tchaikowsky - Three Ballet´s - Previn LSO\Swan Lake\CD 2\23 No. 26 Scene (Allegro non troppo).wav

Peak level 85.9 %
Extraction speed 8.1 X
Track quality 100.0 %
Test CRC 66BB0DDF
Copy CRC 66BB0DDF
Accurately ripped (confidence 13) [AF15A137] (AR v2)
Copy OK

Track 24

Filename E:\MUSIC\My Music\Tchaikowsky - Three Ballet´s - Previn LSO\Swan Lake\CD 2\24 No. 27 Dance of the Little Swans (Moderato).wav

Peak level 80.0 %
Extraction speed 7.3 X
Track quality 99.9 %
Test CRC 057BB54F
Copy CRC 057BB54F
Accurately ripped (confidence 13) [3E91EF3A] (AR v2)
Copy OK

Track 25

Filename E:\MUSIC\My Music\Tchaikowsky - Three Ballet´s - Previn LSO\Swan Lake\CD 2\25 No. 28 Scene (Allegro agitato - Allegro vivace).wav

Peak level 92.9 %
Extraction speed 8.8 X
Track quality 100.0 %
Test CRC 8228E015
Copy CRC 8228E015
Accurately ripped (confidence 13) [E74AA2C0] (AR v2)
Copy OK

Track 26

Filename E:\MUSIC\My Music\Tchaikowsky - Three Ballet´s - Previn LSO\Swan Lake\CD 2\26 No. 29 Finale (Andante - Allegro agitato - Alla breve - Moderato e maestoso).wav

Peak level 97.9 %
Extraction speed 9.9 X
Track quality 100.0 %
Test CRC C459B850
Copy CRC C459B850
Accurately ripped (confidence 13) [E4F4EDB9] (AR v2)
Copy OK


All tracks accurately ripped

No errors occurred

End of status report

==== Log checksum 5656CE79788CED94772250496EE3F8663B58C2157135C3AF0C90E62CEB59CC2C ====

––––––––––––––––––––––––––––––

Exact Audio Copy V1.0 beta 3 from 29. August 2011

EAC extraction logfile from 19. October 2017, 18:40

London Symphony Orchestra / Swan Lake

Used drive : SONY DVD RW DRU-840A Adapter: 0 ID: 1

Read mode : Secure
Utilize accurate stream : Yes
Defeat audio cache : Yes
Make use of C2 pointers : No

Read offset correction : 6
Overread into Lead-In and Lead-Out : No
Fill up missing offset samples with silence : Yes
Delete leading and trailing silent blocks : No
Null samples used in CRC calculations : Yes
Used interface : Native Win32 interface for Win NT & 2000
Gap handling : Not detected, thus appended to previous track

Used output format : User Defined Encoder
Selected bitrate : 320 kBit/s
Quality : High
Add ID3 tag : No
Command line compressor : C:\Archivos de programa\Exact Audio Copy\FLAC\FLAC.EXE
Additional command line options : -6 -V -T "ARTIST=%artist%" -T "TITLE=%title%" -T "ALBUM=%albumtitle%" -T "DATE=%year%" -T "TRACKNUMBER=%tracknr%" -T "GENRE=%genre%" -T "COMMENT=%comment%" -T "BAND=%albuminterpret%" -T "ALBUMARTIST=%albuminterpret%" -T "COMPOSER=%composer%" %haslyrics%–tag-from-file=LYRICS="%lyricsfile%"%haslyrics% -T "DISCNUMBER=%cdnumber%" -T "TOTALDISCS=%totalcds%" -T "TOTALTRACKS=%numtracks%" %hascover%–picture="%coverfile%"%hascover% %source% -o %dest%


TOC of the extracted CD

Track | Start | Length | Start sector | End sector
––––––––––––––––––––––––––––-
1 | 0:00.00 | 2:32.35 | 0 | 11434
2 | 2:32.35 | 2:43.06 | 11435 | 23665
3 | 5:15.41 | 8:08.38 | 23666 | 60303
4 | 13:24.04 | 1:37.60 | 60304 | 67638
5 | 15:01.64 | 2:41.14 | 67639 | 79727
6 | 17:43.03 | 1:37.70 | 79728 | 87072
7 | 19:20.73 | 3:23.05 | 87073 | 102302
8 | 22:44.03 | 1:06.48 | 102303 | 107300
9 | 23:50.51 | 0:58.25 | 107301 | 111675
10 | 24:49.01 | 1:24.35 | 111676 | 118010
11 | 26:13.36 | 1:48.12 | 118011 | 126122
12 | 28:01.48 | 4:03.55 | 126123 | 144402
13 | 32:05.28 | 0:52.25 | 144403 | 148327
14 | 32:57.53 | 0:59.71 | 148328 | 152823
15 | 33:57.49 | 2:28.09 | 152824 | 163932
16 | 36:25.58 | 2:54.38 | 163933 | 177020
17 | 39:20.21 | 4:23.03 | 177021 | 196748
18 | 43:43.24 | 2:29.71 | 196749 | 207994
19 | 46:13.20 | 2:19.56 | 207995 | 218475
20 | 48:33.01 | 4:10.03 | 218476 | 237228
21 | 52:43.04 | 3:41.50 | 237229 | 253853
22 | 56:24.54 | 1:51.04 | 253854 | 262182
23 | 58:15.58 | 2:22.61 | 262183 | 272893
24 | 60:38.44 | 4:23.71 | 272894 | 292689
25 | 65:02.40 | 3:04.41 | 292690 | 306530
26 | 68:07.06 | 6:46.62 | 306531 | 337042


Track 1

Filename E:\MUSIC\My Music\Tchaikowsky - Three Ballet´s - Previn LSO\Swan Lake\CD 2\01 No. 15 Scene (Allego giusto).wav

Peak level 85.5 %
Extraction speed 4.3 X
Track quality 100.0 %
Test CRC EDAA6995
Copy CRC EDAA6995
Accurately ripped (confidence 13) [E4C188B9] (AR v2)
Copy OK

Track 2

Filename E:\MUSIC\My Music\Tchaikowsky - Three Ballet´s - Previn LSO\Swan Lake\CD 2\02 No. 16 Dance of the Guests and the Dwarfs (Moderato assai - Allegro vivo).wav

Peak level 83.3 %
Extraction speed 4.6 X
Track quality 100.0 %
Test CRC 6FAACFC3
Copy CRC 6FAACFC3
Accurately ripped (confidence 13) [9619974D] (AR v2)
Copy OK

Track 3

Filename E:\MUSIC\My Music\Tchaikowsky - Three Ballet´s - Previn LSO\Swan Lake\CD 2\03 No. 17 Scene- Enterance and Waltz of the Special Guests (Allegro - Tempo di valse).wav

Peak level 96.2 %
Extraction speed 5.8 X
Track quality 100.0 %
Test CRC 3B58C86B
Copy CRC 3B58C86B
Accurately ripped (confidence 13) [9B4A65CB] (AR v2)
Copy OK

Track 4

Filename E:\MUSIC\My Music\Tchaikowsky - Three Ballet´s - Previn LSO\Swan Lake\CD 2\04 No. 18 Scene (Allegro - Allegro giusto).wav

Peak level 91.1 %
Extraction speed 4.8 X
Track quality 100.0 %
Test CRC 04E352EE
Copy CRC 04E352EE
Accurately ripped (confidence 13) [5CC9C6EB] (AR v2)
Copy OK

Track 5

Filename E:\MUSIC\My Music\Tchaikowsky - Three Ballet´s - Previn LSO\Swan Lake\CD 2\05 No. 19 Pas de six - Intrada.wav

Peak level 80.5 %
Extraction speed 5.7 X
Track quality 100.0 %
Test CRC 5C0C7C1A
Copy CRC 5C0C7C1A
Accurately ripped (confidence 13) [3D6AA9BE] (AR v2)
Copy OK

Track 6

Filename E:\MUSIC\My Music\Tchaikowsky - Three Ballet´s - Previn LSO\Swan Lake\CD 2\06 No. 19 Pas de six - Variation I (Allegro).wav

Peak level 66.7 %
Extraction speed 3.4 X
Track quality 99.8 %
Test CRC 56E2EBBF
Copy CRC 56E2EBBF
Accurately ripped (confidence 13) [B3576EE8] (AR v2)
Copy OK

Track 7

Filename E:\MUSIC\My Music\Tchaikowsky - Three Ballet´s - Previn LSO\Swan Lake\CD 2\07 No. 19 Pas de six - Variation II (Andante con moto).wav

Peak level 75.8 %
Extraction speed 6.3 X
Track quality 100.0 %
Test CRC BEE059B7
Copy CRC BEE059B7
Accurately ripped (confidence 13) [07B337D1] (AR v2)
Copy OK

Track 8

Filename E:\MUSIC\My Music\Tchaikowsky - Three Ballet´s - Previn LSO\Swan Lake\CD 2\08 No. 19 Pas de six - Variation III (Moderato).wav

Peak level 69.6 %
Extraction speed 4.9 X
Track quality 100.0 %
Test CRC 94606F3D
Copy CRC 94606F3D
Accurately ripped (confidence 13) [3A2C03BD] (AR v2)
Copy OK

Track 9

Filename E:\MUSIC\My Music\Tchaikowsky - Three Ballet´s - Previn LSO\Swan Lake\CD 2\09 No. 19 Pas de six - Variation IV (Allegro).wav

Peak level 78.2 %
Extraction speed 4.6 X
Track quality 100.0 %
Test CRC 0ACDEC8E
Copy CRC 0ACDEC8E
Accurately ripped (confidence 13) [B2191DE6] (AR v2)
Copy OK

Track 10

Filename E:\MUSIC\My Music\Tchaikowsky - Three Ballet´s - Previn LSO\Swan Lake\CD 2\10 No. 19 Pas de six - Variation V (Moderato - Allegro semplice).wav

Peak level 73.1 %
Extraction speed 5.4 X
Track quality 100.0 %
Test CRC 4E316F74
Copy CRC 4E316F74
Accurately ripped (confidence 13) [56BDA0DF] (AR v2)
Copy OK

Track 11

Filename E:\MUSIC\My Music\Tchaikowsky - Three Ballet´s - Previn LSO\Swan Lake\CD 2\11 No. 19 Pas de six - Coda (Allegro molto) Pas de deux (additional number).wav

Peak level 83.5 %
Extraction speed 5.8 X
Track quality 100.0 %
Test CRC E4DE6EF3
Copy CRC E4DE6EF3
Accurately ripped (confidence 13) [5DACC8F5] (AR v2)
Copy OK

Track 12

Filename E:\MUSIC\My Music\Tchaikowsky - Three Ballet´s - Previn LSO\Swan Lake\CD 2\12 No. 19 Pas de six - Introduction (Moderato - Andante).wav

Peak level 78.8 %
Extraction speed 7.1 X
Track quality 100.0 %
Test CRC 944DC182
Copy CRC 944DC182
Accurately ripped (confidence 13) [BEE0D0AC] (AR v2)
Copy OK

Track 13

Filename E:\MUSIC\My Music\Tchaikowsky - Three Ballet´s - Previn LSO\Swan Lake\CD 2\13 No. 19 Pas de six - Variation I (Allegro moderato).wav

Peak level 68.1 %
Extraction speed 4.8 X
Track quality 100.0 %
Test CRC 53EE1631
Copy CRC 53EE1631
Accurately ripped (confidence 13) [F88C4BAB] (AR v2)
Copy OK

Track 14

Filename E:\MUSIC\My Music\Tchaikowsky - Three Ballet´s - Previn LSO\Swan Lake\CD 2\14 No. 19 Pas de six - Variation II (Allegro).wav

Peak level 65.1 %
Extraction speed 5.1 X
Track quality 100.0 %
Test CRC 5C6E527D
Copy CRC 5C6E527D
Accurately ripped (confidence 13) [E3D451AB] (AR v2)
Copy OK

Track 15

Filename E:\MUSIC\My Music\Tchaikowsky - Three Ballet´s - Previn LSO\Swan Lake\CD 2\15 No. 19 Pas de six - Coda (Allegro molto vivace).wav

Peak level 80.8 %
Extraction speed 6.8 X
Track quality 100.0 %
Test CRC E7A210B3
Copy CRC E7A210B3
Accurately ripped (confidence 13) [8396ECFD] (AR v2)
Copy OK

Track 16

Filename E:\MUSIC\My Music\Tchaikowsky - Three Ballet´s - Previn LSO\Swan Lake\CD 2\16 No. 20 Hungarian Dance- Csardas (Moderato assai - Allegro moderato - Vivace).wav

Peak level 90.8 %
Extraction speed 7.2 X
Track quality 100.0 %
Test CRC 28D944E0
Copy CRC 28D944E0
Accurately ripped (confidence 13) [FB153090] (AR v2)
Copy OK

Track 17

Filename E:\MUSIC\My Music\Tchaikowsky - Three Ballet´s - Previn LSO\Swan Lake\CD 2\17 Russian Dance (Cadenza - Andante semplice - Allegro vivo) (additional number).wav

Peak level 82.0 %
Extraction speed 7.9 X
Track quality 100.0 %
Test CRC 669CB094
Copy CRC 669CB094
Accurately ripped (confidence 13) [8D22C929] (AR v2)
Copy OK

Track 18

Filename E:\MUSIC\My Music\Tchaikowsky - Three Ballet´s - Previn LSO\Swan Lake\CD 2\18 No. 21 Spanish Dance (Allegro non troppo- tempo di Bolero).wav

Peak level 75.7 %
Extraction speed 7.4 X
Track quality 100.0 %
Test CRC 3AA4E539
Copy CRC 3AA4E539
Accurately ripped (confidence 13) [E25242FA] (AR v2)
Copy OK

Track 19

Filename E:\MUSIC\My Music\Tchaikowsky - Three Ballet´s - Previn LSO\Swan Lake\CD 2\19 No. 22 Neapolitan Dance (Allegro moderato - Andantino quasi moderato).wav

Peak level 87.1 %
Extraction speed 5.3 X
Track quality 99.9 %
Test CRC 5D082B56
Copy CRC 5D082B56
Accurately ripped (confidence 13) [1ED4A935] (AR v2)
Copy OK

Track 20

Filename E:\MUSIC\My Music\Tchaikowsky - Three Ballet´s - Previn LSO\Swan Lake\CD 2\20 No. 23 Mazurka.wav

Peak level 84.3 %
Extraction speed 8.4 X
Track quality 100.0 %
Test CRC 086F9FC0
Copy CRC 086F9FC0
Accurately ripped (confidence 13) [1F470677] (AR v2)
Copy OK

Track 21

Filename E:\MUSIC\My Music\Tchaikowsky - Three Ballet´s - Previn LSO\Swan Lake\CD 2\21 No. 24 Scene (Allegro - Valse - Allegro vivo).wav

Peak level 88.3 %
Extraction speed 8.4 X
Track quality 100.0 %
Test CRC 776F2D4D
Copy CRC 776F2D4D
Accurately ripped (confidence 13) [D645E4E3] (AR v2)
Copy OK

Track 22

Filename E:\MUSIC\My Music\Tchaikowsky - Three Ballet´s - Previn LSO\Swan Lake\CD 2\22 No. 25. Entr'acte (Moderato).wav

Peak level 90.6 %
Extraction speed 7.4 X
Track quality 100.0 %
Test CRC 96A8D504
Copy CRC 96A8D504
Accurately ripped (confidence 13) [76A9B3DD] (AR v2)
Copy OK

Track 23

Filename E:\MUSIC\My Music\Tchaikowsky - Three Ballet´s - Previn LSO\Swan Lake\CD 2\23 No. 26 Scene (Allegro non troppo).wav

Peak level 85.9 %
Extraction speed 8.1 X
Track quality 100.0 %
Test CRC 66BB0DDF
Copy CRC 66BB0DDF
Accurately ripped (confidence 13) [AF15A137] (AR v2)
Copy OK

Track 24

Filename E:\MUSIC\My Music\Tchaikowsky - Three Ballet´s - Previn LSO\Swan Lake\CD 2\24 No. 27 Dance of the Little Swans (Moderato).wav

Peak level 80.0 %
Extraction speed 7.3 X
Track quality 99.9 %
Test CRC 057BB54F
Copy CRC 057BB54F
Accurately ripped (confidence 13) [3E91EF3A] (AR v2)
Copy OK

Track 25

Filename E:\MUSIC\My Music\Tchaikowsky - Three Ballet´s - Previn LSO\Swan Lake\CD 2\25 No. 28 Scene (Allegro agitato - Allegro vivace).wav

Peak level 92.9 %
Extraction speed 8.8 X
Track quality 100.0 %
Test CRC 8228E015
Copy CRC 8228E015
Accurately ripped (confidence 13) [E74AA2C0] (AR v2)
Copy OK

Track 26

Filename E:\MUSIC\My Music\Tchaikowsky - Three Ballet´s - Previn LSO\Swan Lake\CD 2\26 No. 29 Finale (Andante - Allegro agitato - Alla breve - Moderato e maestoso).wav

Peak level 97.9 %
Extraction speed 9.9 X
Track quality 100.0 %
Test CRC C459B850
Copy CRC C459B850
Accurately ripped (confidence 13) [E4F4EDB9] (AR v2)
Copy OK


All tracks accurately ripped

No errors occurred

End of status report

==== Log checksum 5656CE79788CED94772250496EE3F8663B58C2157135C3AF0C90E62CEB59CC2C ====

The Nutcracker

Exact Audio Copy V1.0 beta 3 from 29. August 2011

EAC extraction logfile from 24. October 2017, 7:45

Tschaikowsky / Der Nussknacker - Ballett (Previn, London Symphony Orch.) - CD 1

Used drive : SONY DVD RW DRU-840A Adapter: 0 ID: 1

Read mode : Secure
Utilize accurate stream : Yes
Defeat audio cache : Yes
Make use of C2 pointers : No

Read offset correction : 6
Overread into Lead-In and Lead-Out : No
Fill up missing offset samples with silence : Yes
Delete leading and trailing silent blocks : No
Null samples used in CRC calculations : Yes
Used interface : Native Win32 interface for Win NT & 2000
Gap handling : Not detected, thus appended to previous track

Used output format : User Defined Encoder
Selected bitrate : 320 kBit/s
Quality : High
Add ID3 tag : No
Command line compressor : C:\Archivos de programa\Exact Audio Copy\FLAC\FLAC.EXE
Additional command line options : -6 -V -T "ARTIST=%artist%" -T "TITLE=%title%" -T "ALBUM=%albumtitle%" -T "DATE=%year%" -T "TRACKNUMBER=%tracknr%" -T "GENRE=%genre%" -T "COMMENT=%comment%" -T "BAND=%albuminterpret%" -T "ALBUMARTIST=%albuminterpret%" -T "COMPOSER=%composer%" %haslyrics%–tag-from-file=LYRICS="%lyricsfile%"%haslyrics% -T "DISCNUMBER=%cdnumber%" -T "TOTALDISCS=%totalcds%" -T "TOTALTRACKS=%numtracks%" %hascover%–picture="%coverfile%"%hascover% %source% -o %dest%


TOC of the extracted CD

Track | Start | Length | Start sector | End sector
––––––––––––––––––––––––––––-
1 | 0:00.00 | 3:29.52 | 0 | 15726
2 | 3:29.52 | 4:16.58 | 15727 | 34984
3 | 7:46.35 | 2:23.71 | 34985 | 45780
4 | 10:10.31 | 2:27.19 | 45781 | 56824
5 | 12:37.50 | 5:43.18 | 56825 | 82567
6 | 18:20.68 | 5:43.33 | 82568 | 108325
7 | 24:04.26 | 6:35.70 | 108326 | 138020
8 | 30:40.21 | 3:20.50 | 138021 | 153070
9 | 34:00.71 | 3:57.38 | 153071 | 170883
10 | 37:58.34 | 6:21.03 | 170884 | 199461


Track 1

Filename E:\MUSIC\My Music\Tchaikowsky - Three Ballet´s - Previn LSO\The Nutcracker\CD 1\01 Overture.wav

Peak level 40.1 %
Extraction speed 1.6 X
Track quality 100.0 %
Test CRC 828F824F
Copy CRC 828F824F
Accurately ripped (confidence 4) [9A7E8CB0] (AR v2)
Copy OK

Track 2

Filename E:\MUSIC\My Music\Tchaikowsky - Three Ballet´s - Previn LSO\The Nutcracker\CD 1\02 Act 1 - 1 The Decoration of the Christmas Tree.wav

Peak level 78.4 %
Extraction speed 1.9 X
Track quality 100.0 %
Test CRC 605A0EF0
Copy CRC 605A0EF0
Accurately ripped (confidence 4) [E63160BB] (AR v2)
Copy OK

Track 3

Filename E:\MUSIC\My Music\Tchaikowsky - Three Ballet´s - Previn LSO\The Nutcracker\CD 1\03 - 2 March.wav

Peak level 66.7 %
Extraction speed 1.9 X
Track quality 100.0 %
Test CRC 3F3A5108
Copy CRC 3F3A5108
Accurately ripped (confidence 4) [BE41B56D] (AR v2)
Copy OK

Track 4

Filename E:\MUSIC\My Music\Tchaikowsky - Three Ballet´s - Previn LSO\The Nutcracker\CD 1\04 - 3 Children's Galop & Entry Of The Parents.wav

Peak level 89.7 %
Extraction speed 2.0 X
Track quality 100.0 %
Test CRC 1682B798
Copy CRC 1682B798
Accurately ripped (confidence 4) [E0912F29] (AR v2)
Copy OK

Track 5

Filename E:\MUSIC\My Music\Tchaikowsky - Three Ballet´s - Previn LSO\The Nutcracker\CD 1\05 - 4 Arrival Of Drosselmayer.wav

Peak level 89.3 %
Extraction speed 2.4 X
Track quality 100.0 %
Test CRC 723E7753
Copy CRC 723E7753
Accurately ripped (confidence 4) [329E4ACD] (AR v2)
Copy OK

Track 6

Filename E:\MUSIC\My Music\Tchaikowsky - Three Ballet´s - Previn LSO\The Nutcracker\CD 1\06 - 5 Grandfather Dance.wav

Peak level 69.7 %
Extraction speed 2.6 X
Track quality 100.0 %
Test CRC 198AFB7D
Copy CRC 198AFB7D
Accurately ripped (confidence 4) [0FE73494] (AR v2)
Copy OK

Track 7

Filename E:\MUSIC\My Music\Tchaikowsky - Three Ballet´s - Previn LSO\The Nutcracker\CD 1\07 - 6 Scène- Clara & The Nutcracker.wav

Peak level 76.6 %
Extraction speed 2.8 X
Track quality 100.0 %
Test CRC AA1227AF
Copy CRC AA1227AF
Accurately ripped (confidence 4) [A4F4E1A8] (AR v2)
Copy OK

Track 8

Filename E:\MUSIC\My Music\Tchaikowsky - Three Ballet´s - Previn LSO\The Nutcracker\CD 1\08 - 7 Scène- Battle.wav

Peak level 83.3 %
Extraction speed 2.8 X
Track quality 100.0 %
Test CRC 665DD77C
Copy CRC 665DD77C
Accurately ripped (confidence 4) [040D3298] (AR v2)
Copy OK

Track 9

Filename E:\MUSIC\My Music\Tchaikowsky - Three Ballet´s - Previn LSO\The Nutcracker\CD 1\09 - 8 Scène- In The Pine-Forest.wav

Peak level 76.3 %
Extraction speed 2.9 X
Track quality 100.0 %
Test CRC E485CDA8
Copy CRC E485CDA8
Accurately ripped (confidence 4) [47607033] (AR v2)
Copy OK

Track 10

Filename E:\MUSIC\My Music\Tchaikowsky - Three Ballet´s - Previn LSO\The Nutcracker\CD 1\10 - 9 Waltz Of The Snowflakes.wav

Peak level 82.1 %
Extraction speed 3.3 X
Track quality 100.0 %
Test CRC A7AED80A
Copy CRC A7AED80A
Accurately ripped (confidence 4) [C8C18381] (AR v2)
Copy OK


All tracks accurately ripped

No errors occurred

End of status report

==== Log checksum 122C675CD84AF4A01D36CA0FBC30FBD7ADD6499B2E492C30C3DA843D23A4467B ====

––––––––––––––––––––––––––––––

Exact Audio Copy V1.0 beta 3 from 29. August 2011

EAC extraction logfile from 24. October 2017, 7:45

Tschaikowsky / Der Nussknacker - Ballett (Previn, London Symphony Orch.) - CD 1

Used drive : SONY DVD RW DRU-840A Adapter: 0 ID: 1

Read mode : Secure
Utilize accurate stream : Yes
Defeat audio cache : Yes
Make use of C2 pointers : No

Read offset correction : 6
Overread into Lead-In and Lead-Out : No
Fill up missing offset samples with silence : Yes
Delete leading and trailing silent blocks : No
Null samples used in CRC calculations : Yes
Used interface : Native Win32 interface for Win NT & 2000
Gap handling : Not detected, thus appended to previous track

Used output format : User Defined Encoder
Selected bitrate : 320 kBit/s
Quality : High
Add ID3 tag : No
Command line compressor : C:\Archivos de programa\Exact Audio Copy\FLAC\FLAC.EXE
Additional command line options : -6 -V -T "ARTIST=%artist%" -T "TITLE=%title%" -T "ALBUM=%albumtitle%" -T "DATE=%year%" -T "TRACKNUMBER=%tracknr%" -T "GENRE=%genre%" -T "COMMENT=%comment%" -T "BAND=%albuminterpret%" -T "ALBUMARTIST=%albuminterpret%" -T "COMPOSER=%composer%" %haslyrics%–tag-from-file=LYRICS="%lyricsfile%"%haslyrics% -T "DISCNUMBER=%cdnumber%" -T "TOTALDISCS=%totalcds%" -T "TOTALTRACKS=%numtracks%" %hascover%–picture="%coverfile%"%hascover% %source% -o %dest%


TOC of the extracted CD

Track | Start | Length | Start sector | End sector
––––––––––––––––––––––––––––-
1 | 0:00.00 | 3:29.52 | 0 | 15726
2 | 3:29.52 | 4:16.58 | 15727 | 34984
3 | 7:46.35 | 2:23.71 | 34985 | 45780
4 | 10:10.31 | 2:27.19 | 45781 | 56824
5 | 12:37.50 | 5:43.18 | 56825 | 82567
6 | 18:20.68 | 5:43.33 | 82568 | 108325
7 | 24:04.26 | 6:35.70 | 108326 | 138020
8 | 30:40.21 | 3:20.50 | 138021 | 153070
9 | 34:00.71 | 3:57.38 | 153071 | 170883
10 | 37:58.34 | 6:21.03 | 170884 | 199461


Track 1

Filename E:\MUSIC\My Music\Tchaikowsky - Three Ballet´s - Previn LSO\The Nutcracker\CD 1\01 Overture.wav

Peak level 40.1 %
Extraction speed 1.6 X
Track quality 100.0 %
Test CRC 828F824F
Copy CRC 828F824F
Accurately ripped (confidence 4) [9A7E8CB0] (AR v2)
Copy OK

Track 2

Filename E:\MUSIC\My Music\Tchaikowsky - Three Ballet´s - Previn LSO\The Nutcracker\CD 1\02 Act 1 - 1 The Decoration of the Christmas Tree.wav

Peak level 78.4 %
Extraction speed 1.9 X
Track quality 100.0 %
Test CRC 605A0EF0
Copy CRC 605A0EF0
Accurately ripped (confidence 4) [E63160BB] (AR v2)
Copy OK

Track 3

Filename E:\MUSIC\My Music\Tchaikowsky - Three Ballet´s - Previn LSO\The Nutcracker\CD 1\03 - 2 March.wav

Peak level 66.7 %
Extraction speed 1.9 X
Track quality 100.0 %
Test CRC 3F3A5108
Copy CRC 3F3A5108
Accurately ripped (confidence 4) [BE41B56D] (AR v2)
Copy OK

Track 4

Filename E:\MUSIC\My Music\Tchaikowsky - Three Ballet´s - Previn LSO\The Nutcracker\CD 1\04 - 3 Children's Galop & Entry Of The Parents.wav

Peak level 89.7 %
Extraction speed 2.0 X
Track quality 100.0 %
Test CRC 1682B798
Copy CRC 1682B798
Accurately ripped (confidence 4) [E0912F29] (AR v2)
Copy OK

Track 5

Filename E:\MUSIC\My Music\Tchaikowsky - Three Ballet´s - Previn LSO\The Nutcracker\CD 1\05 - 4 Arrival Of Drosselmayer.wav

Peak level 89.3 %
Extraction speed 2.4 X
Track quality 100.0 %
Test CRC 723E7753
Copy CRC 723E7753
Accurately ripped (confidence 4) [329E4ACD] (AR v2)
Copy OK

Track 6

Filename E:\MUSIC\My Music\Tchaikowsky - Three Ballet´s - Previn LSO\The Nutcracker\CD 1\06 - 5 Grandfather Dance.wav

Peak level 69.7 %
Extraction speed 2.6 X
Track quality 100.0 %
Test CRC 198AFB7D
Copy CRC 198AFB7D
Accurately ripped (confidence 4) [0FE73494] (AR v2)
Copy OK

Track 7

Filename E:\MUSIC\My Music\Tchaikowsky - Three Ballet´s - Previn LSO\The Nutcracker\CD 1\07 - 6 Scène- Clara & The Nutcracker.wav

Peak level 76.6 %
Extraction speed 2.8 X
Track quality 100.0 %
Test CRC AA1227AF
Copy CRC AA1227AF
Accurately ripped (confidence 4) [A4F4E1A8] (AR v2)
Copy OK

Track 8

Filename E:\MUSIC\My Music\Tchaikowsky - Three Ballet´s - Previn LSO\The Nutcracker\CD 1\08 - 7 Scène- Battle.wav

Peak level 83.3 %
Extraction speed 2.8 X
Track quality 100.0 %
Test CRC 665DD77C
Copy CRC 665DD77C
Accurately ripped (confidence 4) [040D3298] (AR v2)
Copy OK

Track 9

Filename E:\MUSIC\My Music\Tchaikowsky - Three Ballet´s - Previn LSO\The Nutcracker\CD 1\09 - 8 Scène- In The Pine-Forest.wav

Peak level 76.3 %
Extraction speed 2.9 X
Track quality 100.0 %
Test CRC E485CDA8
Copy CRC E485CDA8
Accurately ripped (confidence 4) [47607033] (AR v2)
Copy OK

Track 10

Filename E:\MUSIC\My Music\Tchaikowsky - Three Ballet´s - Previn LSO\The Nutcracker\CD 1\10 - 9 Waltz Of The Snowflakes.wav

Peak level 82.1 %
Extraction speed 3.3 X
Track quality 100.0 %
Test CRC A7AED80A
Copy CRC A7AED80A
Accurately ripped (confidence 4) [C8C18381] (AR v2)
Copy OK


All tracks accurately ripped

No errors occurred

End of status report

==== Log checksum 122C675CD84AF4A01D36CA0FBC30FBD7ADD6499B2E492C30C3DA843D23A4467B ====


Exact Audio Copy V1.0 beta 3 from 29. August 2011

EAC extraction logfile from 24. October 2017, 8:05

Tschaikowsky / Unknown CD for MusicBrainz and FreeDB

Used drive : SONY DVD RW DRU-840A Adapter: 0 ID: 1

Read mode : Secure
Utilize accurate stream : Yes
Defeat audio cache : Yes
Make use of C2 pointers : No

Read offset correction : 6
Overread into Lead-In and Lead-Out : No
Fill up missing offset samples with silence : Yes
Delete leading and trailing silent blocks : No
Null samples used in CRC calculations : Yes
Used interface : Native Win32 interface for Win NT & 2000
Gap handling : Not detected, thus appended to previous track

Used output format : User Defined Encoder
Selected bitrate : 320 kBit/s
Quality : High
Add ID3 tag : No
Command line compressor : C:\Archivos de programa\Exact Audio Copy\FLAC\FLAC.EXE
Additional command line options : -6 -V -T "ARTIST=%artist%" -T "TITLE=%title%" -T "ALBUM=%albumtitle%" -T "DATE=%year%" -T "TRACKNUMBER=%tracknr%" -T "GENRE=%genre%" -T "COMMENT=%comment%" -T "BAND=%albuminterpret%" -T "ALBUMARTIST=%albuminterpret%" -T "COMPOSER=%composer%" %haslyrics%–tag-from-file=LYRICS="%lyricsfile%"%haslyrics% -T "DISCNUMBER=%cdnumber%" -T "TOTALDISCS=%totalcds%" -T "TOTALTRACKS=%numtracks%" %hascover%–picture="%coverfile%"%hascover% %source% -o %dest%


TOC of the extracted CD

Track | Start | Length | Start sector | End sector
––––––––––––––––––––––––––––-
1 | 0:00.00 | 4:30.54 | 0 | 20303
2 | 4:30.54 | 4:33.40 | 20304 | 40818
3 | 9:04.19 | 1:10.55 | 40819 | 46123
4 | 10:14.74 | 3:11.60 | 46124 | 60508
5 | 13:26.59 | 1:07.01 | 60509 | 65534
6 | 14:33.60 | 1:07.14 | 65535 | 70573
7 | 15:40.74 | 2:17.23 | 70574 | 80871
8 | 17:58.22 | 2:56.45 | 80872 | 94116
9 | 20:54.67 | 6:54.37 | 94117 | 125203
10 | 27:49.29 | 4:56.71 | 125204 | 147474
11 | 32:46.25 | 0:40.33 | 147475 | 150507
12 | 33:26.58 | 3:28.68 | 150508 | 166175
13 | 36:55.51 | 5:02.19 | 166176 | 188844


Track 1

Filename E:\MUSIC\My Music\Tchaikowsky - Three Ballet´s - Previn LSO\The Nutcracker\CD 2\01 (EMI 72435736242) Tchaikovsky - The Nutcracker Op. 71 - 11 Act II - No. 10 Scena - Confiturembourg (The Kingdom of Sweets).wav

Peak level 59.5 %
Extraction speed 4.4 X
Track quality 100.0 %
Test CRC A9FB5CAE
Copy CRC A9FB5CAE
Accurately ripped (confidence 19) [1825A1F0] (AR v2)
Copy OK

Track 2

Filename E:\MUSIC\My Music\Tchaikowsky - Three Ballet´s - Previn LSO\The Nutcracker\CD 2\02 (EMI 72435736242) Tchaikovsky - The Nutcracker Op. 71 - 12 Act II - No. 11 Scena - (Clara and the Prince).wav

Peak level 68.1 %
Extraction speed 4.1 X
Track quality 99.9 %
Test CRC F8D5E6B2
Copy CRC F8D5E6B2
Accurately ripped (confidence 19) [A714C153] (AR v2)
Copy OK

Track 3

Filename E:\MUSIC\My Music\Tchaikowsky - Three Ballet´s - Previn LSO\The Nutcracker\CD 2\03 (EMI 72435736242) Tchaikovsky - The Nutcracker Op. 71 - 13 Act II - No. 12 Divertissement (a) Chocolate (Spanish Dance).wav

Peak level 55.9 %
Extraction speed 2.4 X
Track quality 99.8 %
Test CRC BC97F960
Copy CRC BC97F960
Accurately ripped (confidence 19) [D41A24D1] (AR v2)
Copy OK

Track 4

Filename E:\MUSIC\My Music\Tchaikowsky - Three Ballet´s - Previn LSO\The Nutcracker\CD 2\04 (EMI 72435736242) Tchaikovsky - The Nutcracker Op. 71 - 14 Act II - No. 12 Divertissement (b) Coffee (Arab Dance).wav

Peak level 23.6 %
Extraction speed 5.3 X
Track quality 100.0 %
Test CRC 54ECEFB2
Copy CRC 54ECEFB2
Accurately ripped (confidence 19) [77E7550D] (AR v2)
Copy OK

Track 5

Filename E:\MUSIC\My Music\Tchaikowsky - Three Ballet´s - Previn LSO\The Nutcracker\CD 2\05 (EMI 72435736242) Tchaikovsky - The Nutcracker Op. 71 - 15 Act II - No. 12 Divertissement © Tea (Chinese Dance).wav

Peak level 34.0 %
Extraction speed 2.5 X
Track quality 99.8 %
Test CRC 97AFC59C
Copy CRC 97AFC59C
Accurately ripped (confidence 19) [9F0274F2] (AR v2)
Copy OK

Track 6

Filename E:\MUSIC\My Music\Tchaikowsky - Three Ballet´s - Previn LSO\The Nutcracker\CD 2\06 (EMI 72435736242) Tchaikovsky - The Nutcracker Op. 71 - 16 Act II - No. 12 Divertissement (d) Trepak (Russian Dance).wav

Peak level 77.4 %
Extraction speed 4.2 X
Track quality 100.0 %
Test CRC 1FFE5A51
Copy CRC 1FFE5A51
Accurately ripped (confidence 19) [FD285EE6] (AR v2)
Copy OK

Track 7

Filename E:\MUSIC\My Music\Tchaikowsky - Three Ballet´s - Previn LSO\The Nutcracker\CD 2\07 (EMI 72435736242) Tchaikovsky - The Nutcracker Op. 71 - 17 Act II - No. 12 Divertissement (e) Flutes (Danse des Mirlitons).wav

Peak level 41.7 %
Extraction speed 5.4 X
Track quality 100.0 %
Test CRC A1301401
Copy CRC A1301401
Accurately ripped (confidence 19) [6C84F20B] (AR v2)
Copy OK

Track 8

Filename E:\MUSIC\My Music\Tchaikowsky - Three Ballet´s - Previn LSO\The Nutcracker\CD 2\08 (EMI 72435736242) Tchaikovsky - The Nutcracker Op. 71 - 18 Act II - No. 12 Divertissement (f) Mother Gigonge.wav

Peak level 73.9 %
Extraction speed 4.5 X
Track quality 99.9 %
Test CRC 9AEF03F6
Copy CRC 9AEF03F6
Accurately ripped (confidence 19) [333EAC30] (AR v2)
Copy OK

Track 9

Filename E:\MUSIC\My Music\Tchaikowsky - Three Ballet´s - Previn LSO\The Nutcracker\CD 2\09 (EMI 72435736242) Tchaikovsky - The Nutcracker Op. 71 - 19 Act II - No. 13 Waltz of the Flowers.wav

Peak level 76.7 %
Extraction speed 6.1 X
Track quality 100.0 %
Test CRC C0405685
Copy CRC C0405685
Accurately ripped (confidence 19) [9B322FA1] (AR v2)
Copy OK

Track 10

Filename E:\MUSIC\My Music\Tchaikowsky - Three Ballet´s - Previn LSO\The Nutcracker\CD 2\10 (EMI 72435736242) Tchaikovsky - The Nutcracker Op. 71 - 20 Act II - No. 14 Pas de deux.wav

Peak level 91.3 %
Extraction speed 7.2 X
Track quality 100.0 %
Test CRC 58255FAE
Copy CRC 58255FAE
Accurately ripped (confidence 19) [DE67A256] (AR v2)
Copy OK

Track 11

Filename E:\MUSIC\My Music\Tchaikowsky - Three Ballet´s - Previn LSO\The Nutcracker\CD 2\11 (EMI 72435736242) Tchaikovsky - The Nutcracker Op. 71 - 21 Act II - No. 14 (a) Variation 1- Tarantella.wav

Peak level 56.5 %
Extraction speed 4.1 X
Track quality 100.0 %
Test CRC D56BF081
Copy CRC D56BF081
Accurately ripped (confidence 19) [F92C5F03] (AR v2)
Copy OK

Track 12

Filename E:\MUSIC\My Music\Tchaikowsky - Three Ballet´s - Previn LSO\The Nutcracker\CD 2\12 (EMI 72435736242) Tchaikovsky - The Nutcracker Op. 71 - 22 Act II - No. 14 (b) Variation 2- Sugar Plum Fairy and Coda.wav

Peak level 79.8 %
Extraction speed 7.1 X
Track quality 100.0 %
Test CRC 4F3B4C8F
Copy CRC 4F3B4C8F
Accurately ripped (confidence 19) [1933479B] (AR v2)
Copy OK

Track 13

Filename E:\MUSIC\My Music\Tchaikowsky - Three Ballet´s - Previn LSO\The Nutcracker\CD 2\13 (EMI 72435736242) Tchaikovsky - The Nutcracker Op. 71 - 23 Act II - No. 15 Final. Waltz and Apotheosis.wav

Peak level 86.2 %
Extraction speed 7.7 X
Track quality 100.0 %
Test CRC 856AB8A0
Copy CRC 856AB8A0
Accurately ripped (confidence 19) [106BFE9D] (AR v2)
Copy OK


All tracks accurately ripped

No errors occurred

End of status report

==== Log checksum 42A3084FBABAE89E1E51FADC594E56749F8E44E669E9EB81BED11E1D859D5894 ====

––––––––––––––––––––––––––––––

Exact Audio Copy V1.0 beta 3 from 29. August 2011

EAC extraction logfile from 24. October 2017, 8:05

Tschaikowsky / Unknown CD for MusicBrainz and FreeDB

Used drive : SONY DVD RW DRU-840A Adapter: 0 ID: 1

Read mode : Secure
Utilize accurate stream : Yes
Defeat audio cache : Yes
Make use of C2 pointers : No

Read offset correction : 6
Overread into Lead-In and Lead-Out : No
Fill up missing offset samples with silence : Yes
Delete leading and trailing silent blocks : No
Null samples used in CRC calculations : Yes
Used interface : Native Win32 interface for Win NT & 2000
Gap handling : Not detected, thus appended to previous track

Used output format : User Defined Encoder
Selected bitrate : 320 kBit/s
Quality : High
Add ID3 tag : No
Command line compressor : C:\Archivos de programa\Exact Audio Copy\FLAC\FLAC.EXE
Additional command line options : -6 -V -T "ARTIST=%artist%" -T "TITLE=%title%" -T "ALBUM=%albumtitle%" -T "DATE=%year%" -T "TRACKNUMBER=%tracknr%" -T "GENRE=%genre%" -T "COMMENT=%comment%" -T "BAND=%albuminterpret%" -T "ALBUMARTIST=%albuminterpret%" -T "COMPOSER=%composer%" %haslyrics%–tag-from-file=LYRICS="%lyricsfile%"%haslyrics% -T "DISCNUMBER=%cdnumber%" -T "TOTALDISCS=%totalcds%" -T "TOTALTRACKS=%numtracks%" %hascover%–picture="%coverfile%"%hascover% %source% -o %dest%


TOC of the extracted CD

Track | Start | Length | Start sector | End sector
––––––––––––––––––––––––––––-
1 | 0:00.00 | 4:30.54 | 0 | 20303
2 | 4:30.54 | 4:33.40 | 20304 | 40818
3 | 9:04.19 | 1:10.55 | 40819 | 46123
4 | 10:14.74 | 3:11.60 | 46124 | 60508
5 | 13:26.59 | 1:07.01 | 60509 | 65534
6 | 14:33.60 | 1:07.14 | 65535 | 70573
7 | 15:40.74 | 2:17.23 | 70574 | 80871
8 | 17:58.22 | 2:56.45 | 80872 | 94116
9 | 20:54.67 | 6:54.37 | 94117 | 125203
10 | 27:49.29 | 4:56.71 | 125204 | 147474
11 | 32:46.25 | 0:40.33 | 147475 | 150507
12 | 33:26.58 | 3:28.68 | 150508 | 166175
13 | 36:55.51 | 5:02.19 | 166176 | 188844


Track 1

Filename E:\MUSIC\My Music\Tchaikowsky - Three Ballet´s - Previn LSO\The Nutcracker\CD 2\01 (EMI 72435736242) Tchaikovsky - The Nutcracker Op. 71 - 11 Act II - No. 10 Scena - Confiturembourg (The Kingdom of Sweets).wav

Peak level 59.5 %
Extraction speed 4.4 X
Track quality 100.0 %
Test CRC A9FB5CAE
Copy CRC A9FB5CAE
Accurately ripped (confidence 19) [1825A1F0] (AR v2)
Copy OK

Track 2

Filename E:\MUSIC\My Music\Tchaikowsky - Three Ballet´s - Previn LSO\The Nutcracker\CD 2\02 (EMI 72435736242) Tchaikovsky - The Nutcracker Op. 71 - 12 Act II - No. 11 Scena - (Clara and the Prince).wav

Peak level 68.1 %
Extraction speed 4.1 X
Track quality 99.9 %
Test CRC F8D5E6B2
Copy CRC F8D5E6B2
Accurately ripped (confidence 19) [A714C153] (AR v2)
Copy OK

Track 3

Filename E:\MUSIC\My Music\Tchaikowsky - Three Ballet´s - Previn LSO\The Nutcracker\CD 2\03 (EMI 72435736242) Tchaikovsky - The Nutcracker Op. 71 - 13 Act II - No. 12 Divertissement (a) Chocolate (Spanish Dance).wav

Peak level 55.9 %
Extraction speed 2.4 X
Track quality 99.8 %
Test CRC BC97F960
Copy CRC BC97F960
Accurately ripped (confidence 19) [D41A24D1] (AR v2)
Copy OK

Track 4

Filename E:\MUSIC\My Music\Tchaikowsky - Three Ballet´s - Previn LSO\The Nutcracker\CD 2\04 (EMI 72435736242) Tchaikovsky - The Nutcracker Op. 71 - 14 Act II - No. 12 Divertissement (b) Coffee (Arab Dance).wav

Peak level 23.6 %
Extraction speed 5.3 X
Track quality 100.0 %
Test CRC 54ECEFB2
Copy CRC 54ECEFB2
Accurately ripped (confidence 19) [77E7550D] (AR v2)
Copy OK

Track 5

Filename E:\MUSIC\My Music\Tchaikowsky - Three Ballet´s - Previn LSO\The Nutcracker\CD 2\05 (EMI 72435736242) Tchaikovsky - The Nutcracker Op. 71 - 15 Act II - No. 12 Divertissement © Tea (Chinese Dance).wav

Peak level 34.0 %
Extraction speed 2.5 X
Track quality 99.8 %
Test CRC 97AFC59C
Copy CRC 97AFC59C
Accurately ripped (confidence 19) [9F0274F2] (AR v2)
Copy OK

Track 6

Filename E:\MUSIC\My Music\Tchaikowsky - Three Ballet´s - Previn LSO\The Nutcracker\CD 2\06 (EMI 72435736242) Tchaikovsky - The Nutcracker Op. 71 - 16 Act II - No. 12 Divertissement (d) Trepak (Russian Dance).wav

Peak level 77.4 %
Extraction speed 4.2 X
Track quality 100.0 %
Test CRC 1FFE5A51
Copy CRC 1FFE5A51
Accurately ripped (confidence 19) [FD285EE6] (AR v2)
Copy OK

Track 7

Filename E:\MUSIC\My Music\Tchaikowsky - Three Ballet´s - Previn LSO\The Nutcracker\CD 2\07 (EMI 72435736242) Tchaikovsky - The Nutcracker Op. 71 - 17 Act II - No. 12 Divertissement (e) Flutes (Danse des Mirlitons).wav

Peak level 41.7 %
Extraction speed 5.4 X
Track quality 100.0 %
Test CRC A1301401
Copy CRC A1301401
Accurately ripped (confidence 19) [6C84F20B] (AR v2)
Copy OK

Track 8

Filename E:\MUSIC\My Music\Tchaikowsky - Three Ballet´s - Previn LSO\The Nutcracker\CD 2\08 (EMI 72435736242) Tchaikovsky - The Nutcracker Op. 71 - 18 Act II - No. 12 Divertissement (f) Mother Gigonge.wav

Peak level 73.9 %
Extraction speed 4.5 X
Track quality 99.9 %
Test CRC 9AEF03F6
Copy CRC 9AEF03F6
Accurately ripped (confidence 19) [333EAC30] (AR v2)
Copy OK

Track 9

Filename E:\MUSIC\My Music\Tchaikowsky - Three Ballet´s - Previn LSO\The Nutcracker\CD 2\09 (EMI 72435736242) Tchaikovsky - The Nutcracker Op. 71 - 19 Act II - No. 13 Waltz of the Flowers.wav

Peak level 76.7 %
Extraction speed 6.1 X
Track quality 100.0 %
Test CRC C0405685
Copy CRC C0405685
Accurately ripped (confidence 19) [9B322FA1] (AR v2)
Copy OK

Track 10

Filename E:\MUSIC\My Music\Tchaikowsky - Three Ballet´s - Previn LSO\The Nutcracker\CD 2\10 (EMI 72435736242) Tchaikovsky - The Nutcracker Op. 71 - 20 Act II - No. 14 Pas de deux.wav

Peak level 91.3 %
Extraction speed 7.2 X
Track quality 100.0 %
Test CRC 58255FAE
Copy CRC 58255FAE
Accurately ripped (confidence 19) [DE67A256] (AR v2)
Copy OK

Track 11

Filename E:\MUSIC\My Music\Tchaikowsky - Three Ballet´s - Previn LSO\The Nutcracker\CD 2\11 (EMI 72435736242) Tchaikovsky - The Nutcracker Op. 71 - 21 Act II - No. 14 (a) Variation 1- Tarantella.wav

Peak level 56.5 %
Extraction speed 4.1 X
Track quality 100.0 %
Test CRC D56BF081
Copy CRC D56BF081
Accurately ripped (confidence 19) [F92C5F03] (AR v2)
Copy OK

Track 12

Filename E:\MUSIC\My Music\Tchaikowsky - Three Ballet´s - Previn LSO\The Nutcracker\CD 2\12 (EMI 72435736242) Tchaikovsky - The Nutcracker Op. 71 - 22 Act II - No. 14 (b) Variation 2- Sugar Plum Fairy and Coda.wav

Peak level 79.8 %
Extraction speed 7.1 X
Track quality 100.0 %
Test CRC 4F3B4C8F
Copy CRC 4F3B4C8F
Accurately ripped (confidence 19) [1933479B] (AR v2)
Copy OK

Track 13

Filename E:\MUSIC\My Music\Tchaikowsky - Three Ballet´s - Previn LSO\The Nutcracker\CD 2\13 (EMI 72435736242) Tchaikovsky - The Nutcracker Op. 71 - 23 Act II - No. 15 Final. Waltz and Apotheosis.wav

Peak level 86.2 %
Extraction speed 7.7 X
Track quality 100.0 %
Test CRC 856AB8A0
Copy CRC 856AB8A0
Accurately ripped (confidence 19) [106BFE9D] (AR v2)
Copy OK


All tracks accurately ripped

No errors occurred

End of status report

==== Log checksum 42A3084FBABAE89E1E51FADC594E56749F8E44E669E9EB81BED11E1D859D5894 ====