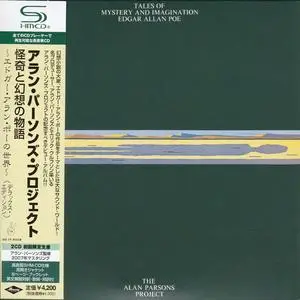 The Alan Parsons Project - Tales Of Mystery And Imagination. Edgar Allan Poe [Japan] (2008)
XLD Rip | FLAC (Tracks) +CUE, LOG | 1.1 GB | Scans
Genre: Art Rock, Prog Rock | Label: Mercury Records | Catalog Number: UICY-93860/1
2-Disk Japanese SHM-CD; Disk One is Original Mix with Bonus Tracks and Disk Two is the Remixed Version with Bonus Tracks.
Tales of Mystery and Imagination is an extremely mesmerizing aural journey through some of Edgar Allan Poe's most renowned works. With the use of synthesizers, drums, guitar, and even a glockenspiel, Parsons' shivering effects make way for an eerie excursion into Poe's well-known classics. On the album's 1987 remix, the instrumental "Dream Within a Dream" has Orson Welles narrating in front of this wispy collaboration of guitars and keyboards (Welles also narrates "Fall of the House of Usher: Prelude"). The EMI vocoder is used throughout "The Raven" with the Westminster City School Boys Choir mixed in to add a distinct flair to its chamber-like sound. Parsons' expertise surrounds this album, from the slyness that prevails in "(The System Of) Doctor Tarr and Professor Feather" to the bodeful thumping of the drums that imitate a heartbeat on "The Tell-Tale Heart." "The Fall of the House of Usher" is a lengthy but dazzling array of musicianship that keeps the album's persona intact, while enabling the listener to submerge into its frightening atmosphere. With vocalists Terry Sylvester, John Miles, and Eric Woolfson stretched across each track, this variety of different singing styles adds color and design to the album's air. Without any underlying theme to be pondered upon, Alan Parsons instead paints a vivid picture of one of the most alluring literary figures in history by musically reciting his most famous works in expert fashion.
X Lossless Decoder version 20100323 (116.7)

XLD extraction logfile from 2010-04-11 16:17:52 +0600

The Alan Parsons Project / Tales Of Mystery And Imagination (Deluxe Edition) (CD 1, Album)

Used drive : OPTIARC DVD RW AD-5670S (revision 2AHH)

Use cdparanoia mode : YES (CDParanoia III 10.2 engine)
Disable audio cache : OK for the drive with cache less than 2750KB
Make use of C2 pointers : NO
Read offset correction : 48
Max retry count : 100

TOC of the extracted CD
Track | Start | Length | Start sector | End sector
––––––––––––––––––––––––––––-
1 | 00:00:00 | 03:41:43 | 0 | 16617
2 | 03:41:43 | 03:58:14 | 16618 | 34481
3 | 07:39:57 | 04:42:37 | 34482 | 55668
4 | 12:22:19 | 04:28:40 | 55669 | 75808
5 | 16:50:59 | 04:19:44 | 75809 | 95277
6 | 21:10:28 | 05:52:26 | 95278 | 121703
7 | 27:02:54 | 02:41:31 | 121704 | 133809
8 | 29:44:10 | 01:03:67 | 133810 | 138601
9 | 30:48:02 | 04:34:72 | 138602 | 159223
10 | 35:22:74 | 00:52:63 | 159224 | 163186
11 | 36:15:62 | 04:39:73 | 163187 | 184184
12 | 40:55:60 | 03:27:20 | 184185 | 199729
13 | 44:23:05 | 03:04:38 | 199730 | 213567
14 | 47:27:43 | 01:03:60 | 213568 | 218352
15 | 48:31:28 | 08:33:06 | 218353 | 256833

List of alternate offset correction values
# | Absolute | Relative | Confidence
–––––––––––––––––––––
1 | 36 | -12 | 59
2 | 18 | -30 | 2

Track 01
Filename : /Users/gubarenko/Desktop/The Alan Parsons Project - Tales Of Mystery And Imagination (Deluxe Edition) (CD 1, Album)/01 - A Dream Within A Dream (Instrumental).flac

Pre-gap length : 00:02:00

CRC32 hash (test run) : 459C3BB1
CRC32 hash : 459C3BB1
CRC32 hash (skip zero) : A3CD2947
AccurateRip signature : 2585D1CE
->Accurately ripped! (confidence 4)
Statistics
Read error : 0
Skipped (treated as error) : 0
Edge jitter error (maybe fixed) : 0
Atom jitter error (maybe fixed) : 0
Drift error (maybe fixed) : 0
Dropped bytes error (maybe fixed) : 0
Duplicated bytes error (maybe fixed) : 0
Inconsistency in error sectors : 0

Track 02
Filename : /Users/gubarenko/Desktop/The Alan Parsons Project - Tales Of Mystery And Imagination (Deluxe Edition) (CD 1, Album)/02 - The Raven.flac

CRC32 hash (test run) : 5F8EF36A
CRC32 hash : 5F8EF36A
CRC32 hash (skip zero) : 86FF7759
AccurateRip signature : 805E42F6
->Accurately ripped! (confidence 4)
Statistics
Read error : 0
Skipped (treated as error) : 0
Edge jitter error (maybe fixed) : 0
Atom jitter error (maybe fixed) : 0
Drift error (maybe fixed) : 0
Dropped bytes error (maybe fixed) : 0
Duplicated bytes error (maybe fixed) : 0
Inconsistency in error sectors : 0

Track 03
Filename : /Users/gubarenko/Desktop/The Alan Parsons Project - Tales Of Mystery And Imagination (Deluxe Edition) (CD 1, Album)/03 - The Tell-Tale Heart.flac

CRC32 hash (test run) : 7156B100
CRC32 hash : 7156B100
CRC32 hash (skip zero) : EABF4645
AccurateRip signature : C7498462
->Accurately ripped! (confidence 4)
Statistics
Read error : 0
Skipped (treated as error) : 0
Edge jitter error (maybe fixed) : 0
Atom jitter error (maybe fixed) : 0
Drift error (maybe fixed) : 0
Dropped bytes error (maybe fixed) : 0
Duplicated bytes error (maybe fixed) : 0
Inconsistency in error sectors : 0

Track 04
Filename : /Users/gubarenko/Desktop/The Alan Parsons Project - Tales Of Mystery And Imagination (Deluxe Edition) (CD 1, Album)/04 - The Cask Of Amontillado.flac

CRC32 hash (test run) : A3496A06
CRC32 hash : A3496A06
CRC32 hash (skip zero) : 67E181E6
AccurateRip signature : B0050BB5
->Accurately ripped! (confidence 4)
Statistics
Read error : 0
Skipped (treated as error) : 0
Edge jitter error (maybe fixed) : 0
Atom jitter error (maybe fixed) : 0
Drift error (maybe fixed) : 0
Dropped bytes error (maybe fixed) : 0
Duplicated bytes error (maybe fixed) : 0
Inconsistency in error sectors : 0

Track 05
Filename : /Users/gubarenko/Desktop/The Alan Parsons Project - Tales Of Mystery And Imagination (Deluxe Edition) (CD 1, Album)/05 - (The System Of) Dr. Tarr And Professor Fether.flac

CRC32 hash (test run) : DFF3C86D
CRC32 hash : DFF3C86D
CRC32 hash (skip zero) : E561FF0C
AccurateRip signature : 03260F92
->Accurately ripped! (confidence 4)
Statistics
Read error : 0
Skipped (treated as error) : 0
Edge jitter error (maybe fixed) : 0
Atom jitter error (maybe fixed) : 0
Drift error (maybe fixed) : 0
Dropped bytes error (maybe fixed) : 0
Duplicated bytes error (maybe fixed) : 0
Inconsistency in error sectors : 0

Track 06
Filename : /Users/gubarenko/Desktop/The Alan Parsons Project - Tales Of Mystery And Imagination (Deluxe Edition) (CD 1, Album)/06 - The Fall Of The House Of Usher (Instrumental): Prelude.flac

Pre-gap length : 00:04:71

CRC32 hash (test run) : 7D8B6A26
CRC32 hash : 7D8B6A26
CRC32 hash (skip zero) : 96E028EB
AccurateRip signature : 1CD8FD69
->Accurately ripped! (confidence 4)
Statistics
Read error : 0
Skipped (treated as error) : 0
Edge jitter error (maybe fixed) : 0
Atom jitter error (maybe fixed) : 0
Drift error (maybe fixed) : 0
Dropped bytes error (maybe fixed) : 0
Duplicated bytes error (maybe fixed) : 0
Inconsistency in error sectors : 0

Track 07
Filename : /Users/gubarenko/Desktop/The Alan Parsons Project - Tales Of Mystery And Imagination (Deluxe Edition) (CD 1, Album)/07 - The Fall Of The House Of Usher (Instrumental): Arrival.flac

CRC32 hash (test run) : D5003AC4
CRC32 hash : D5003AC4
CRC32 hash (skip zero) : 5A303598
AccurateRip signature : A6596649
->Accurately ripped! (confidence 4)
Statistics
Read error : 0
Skipped (treated as error) : 0
Edge jitter error (maybe fixed) : 0
Atom jitter error (maybe fixed) : 0
Drift error (maybe fixed) : 0
Dropped bytes error (maybe fixed) : 0
Duplicated bytes error (maybe fixed) : 0
Inconsistency in error sectors : 0

Track 08
Filename : /Users/gubarenko/Desktop/The Alan Parsons Project - Tales Of Mystery And Imagination (Deluxe Edition) (CD 1, Album)/08 - The Fall Of The House Of Usher (Instrumental): Intermezzo.flac

CRC32 hash (test run) : AAA66BF1
CRC32 hash : AAA66BF1
CRC32 hash (skip zero) : 7D4730CE
AccurateRip signature : 6929D1DA
->Accurately ripped! (confidence 4)
Statistics
Read error : 0
Skipped (treated as error) : 0
Edge jitter error (maybe fixed) : 0
Atom jitter error (maybe fixed) : 0
Drift error (maybe fixed) : 0
Dropped bytes error (maybe fixed) : 0
Duplicated bytes error (maybe fixed) : 0
Inconsistency in error sectors : 0

Track 09
Filename : /Users/gubarenko/Desktop/The Alan Parsons Project - Tales Of Mystery And Imagination (Deluxe Edition) (CD 1, Album)/09 - The Fall Of The House Of Usher (Instrumental): Pavane.flac

CRC32 hash (test run) : 3D9CA251
CRC32 hash : 3D9CA251
CRC32 hash (skip zero) : 37FC11B5
AccurateRip signature : 23F44013
->Accurately ripped! (confidence 4)
Statistics
Read error : 0
Skipped (treated as error) : 0
Edge jitter error (maybe fixed) : 0
Atom jitter error (maybe fixed) : 0
Drift error (maybe fixed) : 0
Dropped bytes error (maybe fixed) : 0
Duplicated bytes error (maybe fixed) : 0
Inconsistency in error sectors : 0

Track 10
Filename : /Users/gubarenko/Desktop/The Alan Parsons Project - Tales Of Mystery And Imagination (Deluxe Edition) (CD 1, Album)/10 - The Fall Of The House Of Usher (Instrumental): Fall.flac

CRC32 hash (test run) : CB3AE94C
CRC32 hash : CB3AE94C
CRC32 hash (skip zero) : C57686E0
AccurateRip signature : 8AEBAF90
->Accurately ripped! (confidence 4)
Statistics
Read error : 0
Skipped (treated as error) : 0
Edge jitter error (maybe fixed) : 0
Atom jitter error (maybe fixed) : 0
Drift error (maybe fixed) : 0
Dropped bytes error (maybe fixed) : 0
Duplicated bytes error (maybe fixed) : 0
Inconsistency in error sectors : 0

Track 11
Filename : /Users/gubarenko/Desktop/The Alan Parsons Project - Tales Of Mystery And Imagination (Deluxe Edition) (CD 1, Album)/11 - To One In Paradise.flac

CRC32 hash (test run) : 372DB5B0
CRC32 hash : 372DB5B0
CRC32 hash (skip zero) : 7469A568
AccurateRip signature : 2AE34909
->Accurately ripped! (confidence 4)
Statistics
Read error : 0
Skipped (treated as error) : 0
Edge jitter error (maybe fixed) : 0
Atom jitter error (maybe fixed) : 0
Drift error (maybe fixed) : 0
Dropped bytes error (maybe fixed) : 0
Duplicated bytes error (maybe fixed) : 0
Inconsistency in error sectors : 0

Track 12
Filename : /Users/gubarenko/Desktop/The Alan Parsons Project - Tales Of Mystery And Imagination (Deluxe Edition) (CD 1, Album)/12 - The Raven (Original Demo).flac

Pre-gap length : 00:10:00

CRC32 hash (test run) : AEDC94BA
CRC32 hash : AEDC94BA
CRC32 hash (skip zero) : BD5A9304
AccurateRip signature : A4188891
->Accurately ripped! (confidence 4)
Statistics
Read error : 0
Skipped (treated as error) : 0
Edge jitter error (maybe fixed) : 0
Atom jitter error (maybe fixed) : 0
Drift error (maybe fixed) : 0
Dropped bytes error (maybe fixed) : 0
Duplicated bytes error (maybe fixed) : 0
Inconsistency in error sectors : 0

Track 13
Filename : /Users/gubarenko/Desktop/The Alan Parsons Project - Tales Of Mystery And Imagination (Deluxe Edition) (CD 1, Album)/13 - Edgar (Demo Of An Unreleased Track).flac

Pre-gap length : 00:00:69

CRC32 hash (test run) : C0DBA87B
CRC32 hash : C0DBA87B
CRC32 hash (skip zero) : E3CBF8EF
AccurateRip signature : CFDF0814
->Accurately ripped! (confidence 4)
Statistics
Read error : 0
Skipped (treated as error) : 0
Edge jitter error (maybe fixed) : 0
Atom jitter error (maybe fixed) : 0
Drift error (maybe fixed) : 0
Dropped bytes error (maybe fixed) : 0
Duplicated bytes error (maybe fixed) : 0
Inconsistency in error sectors : 0

Track 14
Filename : /Users/gubarenko/Desktop/The Alan Parsons Project - Tales Of Mystery And Imagination (Deluxe Edition) (CD 1, Album)/14 - Orson Wells Radio Spot.flac

Pre-gap length : 00:00:55

CRC32 hash (test run) : 774661BA
CRC32 hash : 774661BA
CRC32 hash (skip zero) : 18B67EF3
AccurateRip signature : ABD37C17
->Accurately ripped! (confidence 4)
Statistics
Read error : 0
Skipped (treated as error) : 0
Edge jitter error (maybe fixed) : 0
Atom jitter error (maybe fixed) : 0
Drift error (maybe fixed) : 0
Dropped bytes error (maybe fixed) : 0
Duplicated bytes error (maybe fixed) : 0
Inconsistency in error sectors : 0

Track 15
Filename : /Users/gubarenko/Desktop/The Alan Parsons Project - Tales Of Mystery And Imagination (Deluxe Edition) (CD 1, Album)/15 - Interview With Alan Parsons And Eric Woolfson (1976).flac

Pre-gap length : 00:02:32

CRC32 hash (test run) : DA0D45AF
CRC32 hash : DA0D45AF
CRC32 hash (skip zero) : 72F93575
AccurateRip signature : B076D412
->Accurately ripped! (confidence 4)
Statistics
Read error : 0
Skipped (treated as error) : 0
Edge jitter error (maybe fixed) : 0
Atom jitter error (maybe fixed) : 0
Drift error (maybe fixed) : 0
Dropped bytes error (maybe fixed) : 0
Duplicated bytes error (maybe fixed) : 0
Inconsistency in error sectors : 0

No errors occurred

End of status report
X Lossless Decoder version 20100323 (116.7)

XLD extraction logfile from 2010-04-11 17:03:59 +0600

The Alan Parsons Project / Tales Of Mystery And Imagination (1987 Remix)

Used drive : OPTIARC DVD RW AD-5670S (revision 2AHH)

Use cdparanoia mode : YES (CDParanoia III 10.2 engine)
Disable audio cache : OK for the drive with cache less than 2750KB
Make use of C2 pointers : NO
Read offset correction : 48
Max retry count : 100

TOC of the extracted CD
Track | Start | Length | Start sector | End sector
––––––––––––––––––––––––––––-
1 | 00:00:00 | 04:13:00 | 0 | 18974
2 | 04:13:00 | 03:57:71 | 18975 | 36820
3 | 08:10:71 | 04:39:01 | 36821 | 57746
4 | 12:49:72 | 04:33:20 | 57747 | 78241
5 | 17:23:17 | 04:21:36 | 78242 | 97852
6 | 21:44:53 | 07:01:32 | 97853 | 129459
7 | 28:46:10 | 02:39:57 | 129460 | 141441
8 | 31:25:67 | 00:59:69 | 141442 | 145935
9 | 32:25:61 | 04:36:54 | 145936 | 166689
10 | 37:02:40 | 00:51:33 | 166690 | 170547
11 | 37:53:73 | 04:54:35 | 170548 | 192632
12 | 42:48:33 | 09:14:58 | 192633 | 234240
13 | 52:03:16 | 03:08:44 | 234241 | 248384
14 | 55:11:60 | 02:38:68 | 248385 | 260302
15 | 57:50:53 | 05:22:55 | 260303 | 284507

List of alternate offset correction values
# | Absolute | Relative | Confidence
–––––––––––––––––––––
1 | 36 | -12 | 57

Track 01
Filename : /Users/gubarenko/Desktop/The Alan Parsons Project - Tales Of Mystery And Imagination (1987 Remix)/01 - A Dream Within A Dream (Instrumental).flac

Pre-gap length : 00:02:00

CRC32 hash (test run) : F59A0A6B
CRC32 hash : F59A0A6B
CRC32 hash (skip zero) : 32375646
AccurateRip signature : 05F6C418
->Accurately ripped! (confidence 15)
Statistics
Read error : 0
Skipped (treated as error) : 0
Edge jitter error (maybe fixed) : 0
Atom jitter error (maybe fixed) : 0
Drift error (maybe fixed) : 0
Dropped bytes error (maybe fixed) : 0
Duplicated bytes error (maybe fixed) : 0
Inconsistency in error sectors : 0

Track 02
Filename : /Users/gubarenko/Desktop/The Alan Parsons Project - Tales Of Mystery And Imagination (1987 Remix)/02 - The Raven.flac

CRC32 hash (test run) : 0D2A7896
CRC32 hash : 0D2A7896
CRC32 hash (skip zero) : C4B81701
AccurateRip signature : 4899AD2F
->Accurately ripped! (confidence 15)
Statistics
Read error : 0
Skipped (treated as error) : 0
Edge jitter error (maybe fixed) : 0
Atom jitter error (maybe fixed) : 0
Drift error (maybe fixed) : 0
Dropped bytes error (maybe fixed) : 0
Duplicated bytes error (maybe fixed) : 0
Inconsistency in error sectors : 0

Track 03
Filename : /Users/gubarenko/Desktop/The Alan Parsons Project - Tales Of Mystery And Imagination (1987 Remix)/03 - The Tell-Tale Heart.flac

CRC32 hash (test run) : B95E6DFF
CRC32 hash : B95E6DFF
CRC32 hash (skip zero) : 52A253B8
AccurateRip signature : B71D8FFD
->Accurately ripped! (confidence 15)
Statistics
Read error : 0
Skipped (treated as error) : 0
Edge jitter error (maybe fixed) : 0
Atom jitter error (maybe fixed) : 0
Drift error (maybe fixed) : 0
Dropped bytes error (maybe fixed) : 0
Duplicated bytes error (maybe fixed) : 0
Inconsistency in error sectors : 0

Track 04
Filename : /Users/gubarenko/Desktop/The Alan Parsons Project - Tales Of Mystery And Imagination (1987 Remix)/04 - The Cask Of Amontillado.flac

CRC32 hash (test run) : 4F30C7B4
CRC32 hash : 4F30C7B4
CRC32 hash (skip zero) : 5D6424E1
AccurateRip signature : 5F371434
->Accurately ripped! (confidence 15)
Statistics
Read error : 0
Skipped (treated as error) : 0
Edge jitter error (maybe fixed) : 0
Atom jitter error (maybe fixed) : 0
Drift error (maybe fixed) : 0
Dropped bytes error (maybe fixed) : 0
Duplicated bytes error (maybe fixed) : 0
Inconsistency in error sectors : 0

Track 05
Filename : /Users/gubarenko/Desktop/The Alan Parsons Project - Tales Of Mystery And Imagination (1987 Remix)/05 - (The System Of) Dr. Tarr and Professor Fether.flac

CRC32 hash (test run) : 824BF53B
CRC32 hash : 824BF53B
CRC32 hash (skip zero) : 55CA5EF1
AccurateRip signature : 8E7F66B7
->Accurately ripped! (confidence 15)
Statistics
Read error : 0
Skipped (treated as error) : 0
Edge jitter error (maybe fixed) : 0
Atom jitter error (maybe fixed) : 0
Drift error (maybe fixed) : 0
Dropped bytes error (maybe fixed) : 0
Duplicated bytes error (maybe fixed) : 0
Inconsistency in error sectors : 0

Track 06
Filename : /Users/gubarenko/Desktop/The Alan Parsons Project - Tales Of Mystery And Imagination (1987 Remix)/06 - The Fall of the House of Usher: i Prelude.flac

CRC32 hash (test run) : 0F27849D
CRC32 hash : 0F27849D
CRC32 hash (skip zero) : E08AC12B
AccurateRip signature : 8BEA483B
->Accurately ripped! (confidence 15)
Statistics
Read error : 0
Skipped (treated as error) : 0
Edge jitter error (maybe fixed) : 0
Atom jitter error (maybe fixed) : 0
Drift error (maybe fixed) : 0
Dropped bytes error (maybe fixed) : 0
Duplicated bytes error (maybe fixed) : 0
Inconsistency in error sectors : 0

Track 07
Filename : /Users/gubarenko/Desktop/The Alan Parsons Project - Tales Of Mystery And Imagination (1987 Remix)/07 - The Fall of the House of Usher: ii Arrival.flac

CRC32 hash (test run) : 6221EFB8
CRC32 hash : 6221EFB8
CRC32 hash (skip zero) : 2B54DF1E
AccurateRip signature : 59F2D433
->Accurately ripped! (confidence 15)
Statistics
Read error : 0
Skipped (treated as error) : 0
Edge jitter error (maybe fixed) : 0
Atom jitter error (maybe fixed) : 0
Drift error (maybe fixed) : 0
Dropped bytes error (maybe fixed) : 0
Duplicated bytes error (maybe fixed) : 0
Inconsistency in error sectors : 0

Track 08
Filename : /Users/gubarenko/Desktop/The Alan Parsons Project - Tales Of Mystery And Imagination (1987 Remix)/08 - The Fall of the House of Usher: iii Intermezzo.flac

CRC32 hash (test run) : FA4C4C29
CRC32 hash : FA4C4C29
CRC32 hash (skip zero) : BED98A24
AccurateRip signature : 727E6F34
->Accurately ripped! (confidence 14)
Statistics
Read error : 0
Skipped (treated as error) : 0
Edge jitter error (maybe fixed) : 0
Atom jitter error (maybe fixed) : 0
Drift error (maybe fixed) : 0
Dropped bytes error (maybe fixed) : 0
Duplicated bytes error (maybe fixed) : 0
Inconsistency in error sectors : 0

Track 09
Filename : /Users/gubarenko/Desktop/The Alan Parsons Project - Tales Of Mystery And Imagination (1987 Remix)/09 - The Fall of the House of Usher: iv Pavane.flac

CRC32 hash (test run) : 03931BE0
CRC32 hash : 03931BE0
CRC32 hash (skip zero) : BC40441D
AccurateRip signature : 81EF9BFE
->Accurately ripped! (confidence 14)
Statistics
Read error : 0
Skipped (treated as error) : 0
Edge jitter error (maybe fixed) : 0
Atom jitter error (maybe fixed) : 0
Drift error (maybe fixed) : 0
Dropped bytes error (maybe fixed) : 0
Duplicated bytes error (maybe fixed) : 0
Inconsistency in error sectors : 0

Track 10
Filename : /Users/gubarenko/Desktop/The Alan Parsons Project - Tales Of Mystery And Imagination (1987 Remix)/10 - The Fall of the House of Usher: v Fall.flac

CRC32 hash (test run) : 74F15018
CRC32 hash : 74F15018
CRC32 hash (skip zero) : 7EFB229D
AccurateRip signature : 88C76E92
->Accurately ripped! (confidence 14)
Statistics
Read error : 0
Skipped (treated as error) : 0
Edge jitter error (maybe fixed) : 0
Atom jitter error (maybe fixed) : 0
Drift error (maybe fixed) : 0
Dropped bytes error (maybe fixed) : 0
Duplicated bytes error (maybe fixed) : 0
Inconsistency in error sectors : 0

Track 11
Filename : /Users/gubarenko/Desktop/The Alan Parsons Project - Tales Of Mystery And Imagination (1987 Remix)/11 - To One In Paradise.flac

CRC32 hash (test run) : BE218BEF
CRC32 hash : BE218BEF
CRC32 hash (skip zero) : FF3A8B90
AccurateRip signature : 5D7F94C0
->Accurately ripped! (confidence 14)
Statistics
Read error : 0
Skipped (treated as error) : 0
Edge jitter error (maybe fixed) : 0
Atom jitter error (maybe fixed) : 0
Drift error (maybe fixed) : 0
Dropped bytes error (maybe fixed) : 0
Duplicated bytes error (maybe fixed) : 0
Inconsistency in error sectors : 0

Track 12
Filename : /Users/gubarenko/Desktop/The Alan Parsons Project - Tales Of Mystery And Imagination (1987 Remix)/12 - Eric's Guide Vocal Medley.flac

Pre-gap length : 00:09:57

CRC32 hash (test run) : BAC2D345
CRC32 hash : BAC2D345
CRC32 hash (skip zero) : 886DF13A
AccurateRip signature : 33DC30B9
->Accurately ripped! (confidence 12)
Statistics
Read error : 0
Skipped (treated as error) : 0
Edge jitter error (maybe fixed) : 0
Atom jitter error (maybe fixed) : 0
Drift error (maybe fixed) : 0
Dropped bytes error (maybe fixed) : 0
Duplicated bytes error (maybe fixed) : 0
Inconsistency in error sectors : 0

Track 13
Filename : /Users/gubarenko/Desktop/The Alan Parsons Project - Tales Of Mystery And Imagination (1987 Remix)/13 - Orson Welles Dialogue.flac

Pre-gap length : 00:00:61

CRC32 hash (test run) : E29CDB50
CRC32 hash : E29CDB50
CRC32 hash (skip zero) : F9737A01
AccurateRip signature : 839B9907
->Accurately ripped! (confidence 13)
Statistics
Read error : 0
Skipped (treated as error) : 0
Edge jitter error (maybe fixed) : 0
Atom jitter error (maybe fixed) : 0
Drift error (maybe fixed) : 0
Dropped bytes error (maybe fixed) : 0
Duplicated bytes error (maybe fixed) : 0
Inconsistency in error sectors : 0

Track 14
Filename : /Users/gubarenko/Desktop/The Alan Parsons Project - Tales Of Mystery And Imagination (1987 Remix)/14 - Sea Lions In The Departure Lounge - Sound Effects and Experiments.flac

Pre-gap length : 00:02:48

CRC32 hash (test run) : 6A1D2FBB
CRC32 hash : 6A1D2FBB
CRC32 hash (skip zero) : FC402B3D
AccurateRip signature : 1B428E97
->Accurately ripped! (confidence 13)
Statistics
Read error : 0
Skipped (treated as error) : 0
Edge jitter error (maybe fixed) : 0
Atom jitter error (maybe fixed) : 0
Drift error (maybe fixed) : 0
Dropped bytes error (maybe fixed) : 0
Duplicated bytes error (maybe fixed) : 0
Inconsistency in error sectors : 0

Track 15
Filename : /Users/gubarenko/Desktop/The Alan Parsons Project - Tales Of Mystery And Imagination (1987 Remix)/15 - GBH Mix - Unreleased Experiments.flac

Pre-gap length : 00:00:37

CRC32 hash (test run) : 94C08D0F
CRC32 hash : 94C08D0F
CRC32 hash (skip zero) : 18422F41
AccurateRip signature : 5A54DD50
->Accurately ripped! (confidence 12)
Statistics
Read error : 0
Skipped (treated as error) : 0
Edge jitter error (maybe fixed) : 0
Atom jitter error (maybe fixed) : 0
Drift error (maybe fixed) : 0
Dropped bytes error (maybe fixed) : 0
Duplicated bytes error (maybe fixed) : 0
Inconsistency in error sectors : 0

No errors occurred

End of status report
Tracklist ::
DISC 1:
01. A Dream Within A Dream (instrumental)
02. The Raven
03. The Tell-Tale Heart
04. The Cask Of Amontillado
05. (The Sytem Of) Dr. Tarr And Proffesor Fether
06. The Fall Of The House Of Usher (Instrumental): I. Prelude
07. The Fall Of The House Of Usher (Instrumental): II. Arrival
08. The Fall Of The House Of Usher (Instrumental): III. Intermezzo
09. The Fall Of The House Of Usher (Instrumental): IV. Pavane
10. The Fall Of The House Of Usher (Instrumental): V. Fall
11. To One In Paradise
12. The Raven (Bonus Track/Orignal Demo)
13. Edgar (Bonus Track/Demo)
14. Orson Welles Radio Spot
15. Interview With Alan Parsons And Eric Woolfson
DISC 2:
01. A Dream Within A Dream (instrumental)
02. The Raven
03. The Tell-Tale Heart
04. The Cask Of Amontillado
05. (The Sytem Of) Dr. Tarr And Proffesor Fether
06. The Fall Of The House Of Usher (Instrumental): I. Prelude
07. The Fall Of The House Of Usher (Instrumental): II. Arrival
08. The Fall Of The House Of Usher (Instrumental): III. Intermezzo
09. The Fall Of The House Of Usher (Instrumental): IV. Pavane
10. The Fall Of The House Of Usher (Instrumental): V. Fall
11. To One In Paradise
12. Eric's Guide (Bonus Track)
13. Orson Welles Dialogue
14. Sea Lions In the Departure Lounge (Sound Effecs And Experiments)
15. Unreleased Experiments