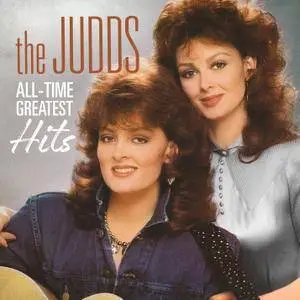 The Judds - All-Time Greatest Hits (2017)
Country, Female Vocalists | MP3 CBR 320 kbps | 01:15:36 | 177 MB
Label: Curb Records
The Judds All-Time Greatuest Hits contains 21 of the Judds' biggest hits, including 14 #1 country singles, on one disc. The twenty-one song set features each of the duo's top ten hits, as well as "You Can't Go Home Again (Flies On The Butter)," a recording from 2011. Beginning with the classic #1 hit "Mama, He's Crazy" in 1984, and continuing through 1991's "One Hundred and Two," the duo established a career that will stand with one of the top duets in Country Music history. Fourteen times the duo topped the Billboard Country Singles chart, and each of their five studio albums were certified Gold or Platinum.
TRACKLIST
01. Mama He's Crazy
02. Why Not Me
03. Girls Night Out
04. Love Is Alive
05. Have Mercy
06. Grandpa (Tell Me 'Bout The Good Old Days)
07. Rockin' With The Rhythm Of The Rain
08. Cry Myself To Sleep
09. Don't Be Cruel
10. I Know Where I'm Going
11. Maybe Your Baby's Got The Blues
12. Turn It Loose
13. Give A Little Love
14. Change Of Heart
15. Young Love (Strong Love)
16. Let Me Tell You About Love
17. One Man Woman
18. Born To Be Blue (Single Edit)
19. Love Can Build A Bridge (Single Edit)
20. One Hundred And Two
21. Flies On The Butter (You Can't Go Home Again)