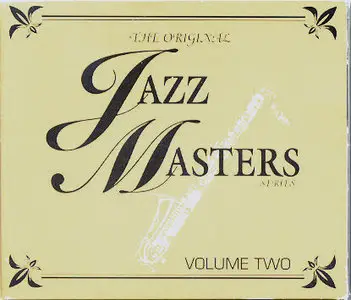 The Original Jazz Master Series - Vol. 2 - Box Set 5 CDs
MP3 (CBR): 320 Kbps | 101 Mb + 110 Mb + 97.3 Mb + 103 Mb + 97.1 Mb | Covers
Jazz | Released in 1993
This Jazz Masters collection is a great introduction to wonderful jazz. It covers a wide range of jazz, giving the listener a sound understanding of jazz. With great music, no one can go wrong with this great jazz collection. Whether you are new to jazz, or already listen to jazz and just want to expand your collection, Jazz Masters will not disappoint you. I highly recomend this great jazz collection to anyone.
If you are new to jazz or an old time jazz lover this mix will definitely make you happy for hours and hours. It's beautiful.
Highly Recomended for Jazz Lovers.
Track Listings
Disc: 1
1. On the Sunny Side of the Street - Louis Armstrong
2. Hear Me Talkin' to Ya - Ruby Braff
3. Lover Man - Sonny Stitt
4. I Can't Get Started - Teddy Wilson
5. Satin Doll - Bud Freeman
6. Nancy (With the Laughing Face) - Ben Webster
7. Honeysuckle Rose - Sidney Bechet
8. Doxy - Dexter Gordon
9. Black Lion Blues - Earl Hines
10. In Case You Didn't Know - Count Basie
Disc: 2
1. I Let a Song Go Out of My Heart/Don't Get Around Much Anymore - Duke Ellington
2. I'm an Old Cowhand (From the Rio Grande) - Duke Pearson
3. Falling in Love With Love - Grant Green
4. It Don't Mean a Thing (If It Ain't Got That Swing) - Stéphane Grappelli, Barney Kessel
5. Stalag 414 - Oscar Pettiford
6. Out of This World - Donald Byrd
7. I Will Wait for You - Barney Kessel
8. I'm Beginning to See the Light - Jay McShann
9. Nearness of You - Freddie Hubbard
10. Mean to Me - Ruby Braff
Disc: 3
1. Swingin' on Central - Nat King Cole
2. It's Only a Paper Moon - Bud Freeman
3. Moonglow - Teddy Wilson
4. Sophisticated Lady - Johnny Griffin
5. Something in Blue - Thelonious Monk
6. Bags' Groove - Duke Pearson
7. Jeep Is Jumpin' - Ben Webster
8. Skylark - Lee Konitz
9. Take Me Back to New Orleans - Chris Barber, Dr. John
10. Basin Street Blues - Louis Armstrong
Disc: 4
1. Ain't It the Truth - Count Basie
2. What Am I Here For - Count Basie
3. C Jam Blues - Sidney Bechet
4. All I Do Is Dream of You - Serge Chaloff
5. Mo' Joe - Philly Joe Jones
6. Man I Love - Thelonious Monk
7. Time After Time - Freddie Hubbard
8. Autumn Leaves - Barney Kessel
9. What a Diff'rence a Day Made - Stéphane Grappelli, Barney Kessel
10. Struttin' With Some Barbecue - Louis Armstrong
Disc: 5
1. Take the "A" Train - Ruby Braff
2. Over the Rainbow - Stéphane Grappelli, Earl Hines
3. There Will Never Be Another You - Oscar Pettiford
4. Just You, Just Me - Bud Powell
5. I Can't Get Started - Buck Clayton, Big Joe Turner
6. Kicks - Nat King Cole, Buddy Rich
7. I Guess I'll Hang My Tears Out to Dry - Dexter Gordon
8. Please Don't Talk About Me When I'm Gone - Ruby Braff, Buddy Tate
9. Stardust - Sonny Stitt
10. Chicago - Bud Freeman