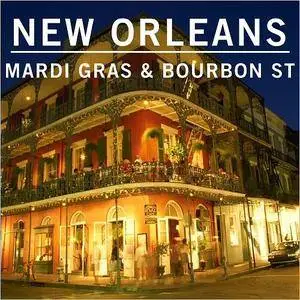 Tim Laughlin - New Orleans: Mardi Gras & Bourbon Street (2017)
Jazz | MP3 CBR 320 kbps | 00:59:14 | 140 MB
Label: Premier Tracks | Release Year: 2017
One of the brightest of the New Orleans-based clarinetists to emerge during the 1990s, Tim Laughlin has made a strong impression on the trad jazz scene. He started playing clarinet when he was nine and, other than doubling on alto a bit in high school, he has stuck to clarinet throughout his career and considers his main influence to be Pete Fountain. Tim Laughlin had several opportunities to tour Europe (most notably Germany) in the late '90s, has been an important part of the New Orleans jazz scene (including several years with the Dukes of Dixieland) and led recording sessions for Good Time Jazz and Jazzology; two dates finds him matching wits with fellow clarinetists Jack Maheu and Tom Fischer.
TRACKLIST
01. Dumaine Street Strut
02. My Poor Restless Heart
03. Decatur Street Parade
04. Clarinet Blues
05. Ill See You Again
06. Good Time In New Orleans
07. Gentilly Stomp
08. I Tried To Recall
09. Dance Of The Magnolias
10. New Orleans On Parade
11. Twilight In New Orleans
12. Roundabout