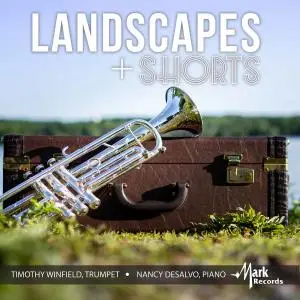 Timothy Winfield - Landscapes & Shorts (2019)
WEB FLAC (tracks+booklet) - 249 MB | Tracks: 18 | 49:11 min
Style: Classical | Label: Mark Records
Landscapes and Shorts contains original music written for Timothy Winfield, trumpet, and Nancy DeSalvo, piano, as well as a recording of one of Walter Hartleys classic instrumental compositions, Sonatina for Trumpet. Also included are world premiere recordings of Daniel Perttus Torngat, Joshua Hobbs Keystone Landscapes, Jason Howards Nine Short Shorts for Trumpet and Piano, and Josh Oxfords Beethoven in the House. Oxfords composition is written for trumpet and live electronics and employs a mix of blues and funk while also cleverly utilizing twelve-tone methods. Compositions by Perttu and Hobbs engagingly paint musical pictures of landscapes in Pennsylvania and Canada, while Howards work journeys through several short, but emotionally charged characteristic pieces.
Tracklist:
01. Torngat: I. Allegro maestoso
02. Torngat: II. Pensive
03. Torngat: III. Molto vivace
04. Keystone Landscapes (Arr. for Trumpet & Piano): I. Rolling Hills & Wilderness
05. Keystone Landscapes (Arr. for Trumpet & Piano): II. Land of Steel
06. 9 Short Shorts for Trumpet & Piano: No. 1, —
07. 9 Short Shorts for Trumpet & Piano: No. 2, —
08. 9 Short Shorts for Trumpet & Piano: No. 3, —
09. 9 Short Shorts for Trumpet & Piano: No. 4, —
10. 9 Short Shorts for Trumpet & Piano: No. 5, —
11. 9 Short Shorts for Trumpet & Piano: No. 6, —
12. 9 Short Shorts for Trumpet & Piano: No. 7, —
13. 9 Short Shorts for Trumpet & Piano: No. 8, —
14. 9 Short Shorts for Trumpet & Piano: No. 9, —
15. Sonatina for Trumpet & Piano, Op. 16: I. Allegro alla marcia
16. Sonatina for Trumpet & Piano, Op. 16: II. Adagio
17. Sonatina for Trumpet & Piano, Op. 16: III. Presto
18. Beethoven in the House


FILE: 01. Torngat_ I. Allegro maestoso.flac
Size: 23328047 Hash: 72C573D26EC61501DBC72A64AFFD8C74 Accuracy: -m0
Conclusion: CDDA 87%
Signature: 81F11656854EFC9106B591305AE09A321A7905C6
FILE: 02. Torngat_ II. Pensive.flac
Size: 12515035 Hash: 1287E0FED436483A3924ADFD882575EC Accuracy: -m0
Conclusion: CDDA 94%
Signature: 7E98B18331C02860501F15806A2E0AF545894301
FILE: 03. Torngat_ III. Molto vivace.flac
Size: 22147187 Hash: 82CBBCCE86D5287650BFAC26E0207011 Accuracy: -m0
Conclusion: CDDA 85%
Signature: 67F3AD24AF218ABA1B497AFBED583F151979706C
FILE: 04. Keystone Landscapes (Arr. for Trumpet & Piano)_ I. Rolling Hills & Wilderness.flac
Size: 26581274 Hash: F0E99518BC18D09553E9096833DFBF2F Accuracy: -m0
Conclusion: CDDA 87%
Signature: 83908DF8CBA833C9BB0E433B2773304999E427FE
FILE: 05. Keystone Landscapes (Arr. for Trumpet & Piano)_ II. Land of Steel.flac
Size: 27852909 Hash: FB13CE614A4CB8678DA1E149EBC07757 Accuracy: -m0
Conclusion: CDDA 100%
Signature: 2562C9473B876E29AD1CBD0665E0C341FA00C030
FILE: 06. 9 Short Shorts for Trumpet & Piano_ No. 1, —.flac
Size: 4342722 Hash: DFC79D7DE27CEFD9641DA13EFECFC0E5 Accuracy: -m0
Conclusion: CDDA 100%
Signature: 11318557FE723B30F2DEB2A9CC45AE0FA8309352
FILE: 07. 9 Short Shorts for Trumpet & Piano_ No. 2, —.flac
Size: 6397194 Hash: 76169C41F3985208F9C4A40E8B3BCA20 Accuracy: -m0
Conclusion: CDDA 100%
Signature: 508DA27A111C5523331FCB38E58BFB0D55175641
FILE: 08. 9 Short Shorts for Trumpet & Piano_ No. 3, —.flac
Size: 6136806 Hash: 26549EEEDE59E50FD53A5E73D4FD5996 Accuracy: -m0
Conclusion: CDDA 87%
Signature: 89D2E574514C1794262AB9AB4BB73A697CAD45DC
FILE: 09. 9 Short Shorts for Trumpet & Piano_ No. 4, —.flac
Size: 6168723 Hash: F989F182A76086161F7A688194F01FC5 Accuracy: -m0
Conclusion: CDDA 58%
Signature: 59CAABDC07B496B58F34A7659ED6DC63AEEA958D
FILE: 10. 9 Short Shorts for Trumpet & Piano_ No. 5, —.flac
Size: 6334833 Hash: F23C40D202DA4981201C89035DC3C163 Accuracy: -m0
Conclusion: CDDA 85%
Signature: 3AB32F7F88F068B0E8BA01A78299A00A48A59E79
FILE: 11. 9 Short Shorts for Trumpet & Piano_ No. 6, —.flac
Size: 8157693 Hash: 54776E47A417027E2EE65876920D26AA Accuracy: -m0
Conclusion: CDDA 100%
Signature: 3C5B3C157E87BD1CCD0C5C8E85978270FDACA484
FILE: 12. 9 Short Shorts for Trumpet & Piano_ No. 7, —.flac
Size: 9721960 Hash: F3533FB7BCCEC5EE24747C5C60274318 Accuracy: -m0
Conclusion: CDDA 87%
Signature: 9B1DB329976E82CCD867273119DD36D9BD7D7294
FILE: 13. 9 Short Shorts for Trumpet & Piano_ No. 8, —.flac
Size: 4461766 Hash: BF1BDB83100AD68331126F4E06E8C933 Accuracy: -m0
Conclusion: CDDA 100%
Signature: E738CAE1A34C001A02702331F9A1B8AF61264818
FILE: 14. 9 Short Shorts for Trumpet & Piano_ No. 9, —.flac
Size: 16610813 Hash: D60D82B6720D9A283C414FE9E1F009AA Accuracy: -m0
Conclusion: CDDA 92%
Signature: A4206881212327D796CED4469BC7DC4C3881E757
FILE: 15. Sonatina for Trumpet & Piano, Op. 16_ I. Allegro alla marcia.flac
Size: 7266867 Hash: EC6289E5FE4BFED978F05CB214D24B26 Accuracy: -m0
Conclusion: CDDA 87%
Signature: 197C9AFC2D1E4C7A507D76FDDD4C4293093FF3CF
FILE: 16. Sonatina for Trumpet & Piano, Op. 16_ II. Adagio.flac
Size: 11040689 Hash: 4018F33A07832BEF1CD90FFB8B449B81 Accuracy: -m0
Conclusion: CDDA 100%
Signature: EFC7B142A0D587DFA82383831C966F94EA1DB92C
FILE: 17. Sonatina for Trumpet & Piano, Op. 16_ III. Presto.flac
Size: 13160435 Hash: F7968B47E734EEA8025D0FEAF5569D11 Accuracy: -m0
Conclusion: CDDA 76%
Signature: 0F3B3D30BBE8FC0DD85564FE1F471AA45F918CD8
FILE: 18. Beethoven in the House.flac
Size: 31978234 Hash: 42863F5D4EF6CCB257B031A55B967BFC Accuracy: -m0
Conclusion: CDDA 100%
Signature: 7CBCE6086A57CB47789B381BB990CBE470740CAB