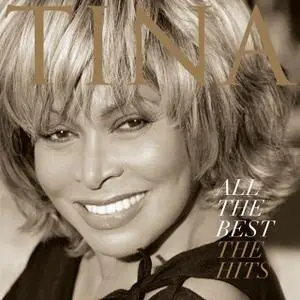 Tina Turner - All The Best: The Hits (2005)
WEB | FLAC (tracks) - 577 MB | MP3 (CBR 320 kbps) - 197 MB | 01:17:23
Genre: Pop, Rock | Label: Capitol
Capitol's 2005 collection All the Best weighs in at only 18 tracks, which is a little bit light to truly contain all of the best songs Tina Turner has recorded over her lengthy career. And, truth be told, it doesn't come close to containing all of her best – it concentrates on material she recorded from her '80s comeback, Private Dancer, on, stretching all the way into the '90s but focusing on such '80s hits as "What's Love Got to Do with It," "Private Dancer," "The Best," "Better Be Good to Me," "Typical Male," and "We Don't Need Another Hero (Thunderdome)," adding her biggest '90s hit, "I Don't Wanna Fight," plus a couple of OK but forgettable new songs. The classic 1973 version of "Nutbush City Limits" is here, but it's the only Ike & Tina cut; the version of "Proud Mary" is taken from the soundtrack of her 1993 biopic What's Love Got to Do with It. That highlights the problem with All the Best – it has many of the big hits, but for one reason or another ignores the music on which her legend is built. Still, as a summation of her comeback and beyond, it's good, and for fans who favor this sound, it's a good disc to have.
Track List:
01. I Don't Wanna Fight 4:26
02. What's Love Got To Do With It 3:47
03. Proud Mary - 1993 Version 5:26
04. Open Arms 4:01
05. Private Dancer 4:02
06. The Best 5:29
07. Let's Stay Together 5:17
08. Nutbush City Limits 2:57
09. Missing You 4:39
10. Complicated Disaster 3:42
11. It's Only Love 3:16
12. Look Me In The Heart 3:44
13. On Silent Wings 4:19
14. Two People 4:09
15. Typical Male 4:19
16. We Don't Need Another Hero (Thunderdome) 4:17
17. What You Get Is What You See 4:26
–––––––––––-
DON'T MODIFY THIS FILE
–––––––––––-
PERFORMER: auCDtect Task Manager, ver. 1.6.0 RC1 build 1.6.0.1
Copyright © 2008-2010 y-soft. All rights reserved
http://y-soft.org
ANALYZER: auCDtect: CD records authenticity detector, version 0.8.2
Copyright © 2004 Oleg Berngardt. All rights reserved.
Copyright © 2004 Alexander Djourik. All rights reserved.
FILE: 1 I Don't Wanna Fight (Single Edit).flac
Size: 35289746 Hash: C3789A60265B69A3F8A8CA04B1DEA7F8 Accuracy: -m0
Conclusion: CDDA 100%
Signature: 1F0034EE334C86A07908C534CE719FE16CDC53AA
FILE: 10 Missing You.flac
Size: 32891762 Hash: 2B4AA3787FC0626EE4E2E4A5393E8AB4 Accuracy: -m0
Conclusion: CDDA 100%
Signature: 3CF49FBB851DC7199964D8CDB4B3CB1C02EB4925
FILE: 11 Complicated Disaster.flac
Size: 28927010 Hash: BA5E915CAEAFB8851B2CBC14D4CF2346 Accuracy: -m0
Conclusion: CDDA 100%
Signature: 2EEA86EF450C6700DCDD0D178753DF16CF696504
FILE: 12 It's Only Love (with Tina Turner).flac
Size: 25057995 Hash: 6BE603F58D436C971138FD973357F447 Accuracy: -m0
Conclusion: MPEG 98%
Signature: AE416797F59922054F417B349B11A9DD5D17F96B
FILE: 13 Look Me In The Heart (2005 Remastered Version).flac
Size: 29315977 Hash: 26662B5619903C55230B35DF1F9BEE55 Accuracy: -m0
Conclusion: CDDA 100%
Signature: 7FDB6A5D6C3A9457D949F8D230717F64AF3A6495
FILE: 14 On Silent Wings (Single Edit).flac
Size: 31315579 Hash: 3B02A61FB05848C8CEEC662274FF6CFB Accuracy: -m0
Conclusion: CDDA 100%
Signature: 2BB1076CD845AEF4ADEA5354B7F1FB397935CC95
FILE: 15 Two People.flac
Size: 30365620 Hash: 5AD72A470461B91A07BEEBC82CC5796B Accuracy: -m0
Conclusion: CDDA 100%
Signature: F33070272380014DBD0A926E5134818574C409DC
FILE: 16 Typical Male.flac
Size: 29203770 Hash: 85041A4DE93B25F47B6DFBA8DBDD21EA Accuracy: -m0
Conclusion: MPEG 95%
Signature: 6866A93DAA6B5A3F2565D1F52C58FFFC87CC09E0
FILE: 17 We Don't Need Another Hero (Thunderdome).flac
Size: 29604069 Hash: 75DFD4AC744D6D2794CD302C14E7DC0B Accuracy: -m0
Conclusion: CDDA 100%
Signature: 3F28C205E73816520756567122CBAE2C2C3E58AE
FILE: 18 What You Get Is What You See.flac
Size: 29503112 Hash: 3C4EDF636B61DA7D57B0196956186227 Accuracy: -m0
Conclusion: CDDA 100%
Signature: 35B42A228CAABE3983900977C46582936F51388A
FILE: 2 What's Love Got to Do with It.flac
Size: 22865097 Hash: E04876298EE7D25CC12BA8F5B0775D0F Accuracy: -m0
Conclusion: CDDA 100%
Signature: B5B4F703B1A268AEF5CA46D249AF58802F1397C1
FILE: 3 Proud Mary.flac
Size: 35848611 Hash: 1F46A61C731DC3EDE58A46E47BCF4E36 Accuracy: -m0
Conclusion: CDDA 100%
Signature: 5AA2E33EC5B0628C6EF9B7D08412186909E1CDFD
FILE: 4 Open Arms.flac
Size: 31120396 Hash: 9DFF6160ED1FD12055610556805BC129 Accuracy: -m0
Conclusion: CDDA 100%
Signature: A79290BCEB9DB0D953299EFE94F53F446D28C7F5
FILE: 5 Private Dancer (Single Edit).flac
Size: 27605732 Hash: D4810047E9E9D86B8ECB5DA8FE9EA277 Accuracy: -m0
Conclusion: CDDA 99%
Signature: D29CFEB7A897991A02AE0E4E63AD69FE53A54296
FILE: 6 The Best.flac
Size: 31607246 Hash: CCBC3B8C36C7B70BB3D9BD85C072B872 Accuracy: -m0
Conclusion: CDDA 99%
Signature: 4618D2C4953821F7B2F8E18B158C4769BC70A7E4
FILE: 7 Better Be Good To Me.flac
Size: 41014544 Hash: 6C79B8C7A9D1890C37E616FCE46BBF86 Accuracy: -m0
Conclusion: CDDA 100%
Signature: 1B2B87A68E271DE5F77080424719E7342FA9EED5
FILE: 8 Let's Stay Together.flac
Size: 37150957 Hash: AACC5E72C9A67CBE22562EB8FA0E73ED Accuracy: -m0
Conclusion: CDDA 100%
Signature: 6FA28972143FCE7895DDF38F10F58687CB26663A
FILE: 9 Nutbush City Limits.flac
Size: 21356528 Hash: 479ED790CEAFA5B2D65EC56E5FE77B4C Accuracy: -m0
Conclusion: CDDA 100%
Signature: F1D30D0E9EA200778FEE387FC1727F37A2BE8F17