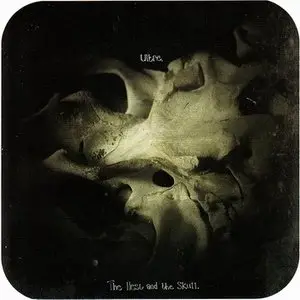 Ultre - The Nest And The Skull (2009)
Electronic | MP3 | 192Kbps (VBR) | 60MB
It would be easy to dismiss Finn McNicholas, the man being Ultre, as just another soldier of the folktronica army. While his music certainly feeds on acoustic, electric and electronic instrumentation, McNicholas is something of an all-rounder, busying himself with making music not just for himself, but also to serve as soundtrack for films, and regularly ventures into various visual art forms.
The Nest And The Skull follows a first album, All The Darkness Has Gone To Details, released in 2006 on the excellent Sheffiled-based Audiobulb, a record which quietly established Ultre as an artist to watch. Combining delicate brushes of acoustic guitar, piano and violin with electronics into hearty patchwork of sounds laid over organic beats, McNicholas create here a series of rich textural pieces which, despite their often chaotic appearance, often harbour wonderful moments where melodies sprout out of complex formations to surf the crest of deconstructed rhythmic waves or rise high above the thick clouds of sounds to take on altogether lighter shades. All along the thirteen tracks of this album, McNicholas appears in playful mood and constantly defies expectation to pull out unexpected rabbits out of his hat. How he does it is not entirely original: rhythms stutter and hiccup, sounds are distressed and erased in parts, overexposed and magnified in others, melodies fail to take shape or become recurring little volutes… The way it all hangs precariously together is no mean feat though. There is an undeniable touch of elegance and finesse running through the forty three minutes that this album lasts, and when it all comes to an end, it feels as if the story has only been partly told.
The Smirks or Ridicule Or Self Ridicule evoke the better moments of Four Tet, while Peace Corpse or Ties could almost pass for some weird post-electronic Aphex experiment and the delicate folk hues of Museum Of Air or Struggle And Nothing show McNicholas at his most refined. The album concludes with a salvo of three rather beautiful pieces. With Takas, To All The Laughing You Will Never Do and A House Under Your Head, McNicholas crafts some truly exquisite moments where his soundscapes take on a whole new, much more ambitious, dimension.
With his second album as Ultre, Finn McNicholas expands his sonic palette and finds his way through more complex and expressionist compositions to give his delicate sonic textures the sheen they deserve.
Tracklist:
Favourite Mammal
Dead Words
The Smirks
Museum Of Air
Peace Corpse
Ridicule And Self Ridicule
Lingers
Struggle And Nothing
Memory Lies
Ties
Takas
To All The Laughing You Will Never Do
A House Under Your Head