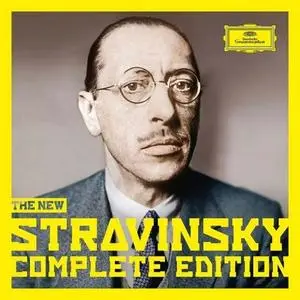 VA - The New Stravinsky Complete Edition [30CD Box Set] (2021)
MP3 320 kbps | 32h 51 min | 4.41 GB
Genre: Classical | Label: Deutsche Grammophon (DG) | Release Year: 2021
Igor Stravinsky (17 June 1882 – 6 April 1971) is widely considered one of the greatest and most influential composers of the 20th century. The New Stravinsky Complete Edition (30 CD box set), the most complete survey of the composer's works ever compiled, has been released to mark the 50th anniversary of his death.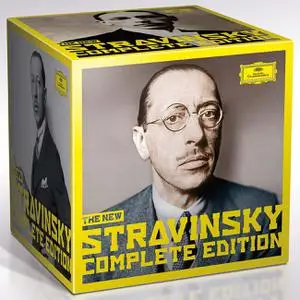 Contains CDs:
CD 1 – 12 Stage Works
Features famous ballets including Firebird, Petrushka and The Rite of Spring (all Boulez recordings), Pulcinella (Abbado) Apollon Musagète (Chailly), Agon, the operas from The Nightingale (Boulez) to The Rake's Progress (Gardiner) as well as idiosyncratic works and rarities.
CD 13 – 18 Orchestral Music
Features Stravinsky's incredible stylistic transformation from the almost traditional Symphony no. 1 in E flat to a rich array of neo-classical works including the Symphony in C and the Symphony in Three Movements, miniatures, the jazzy Ebony Concerto and Tango, the Greeting Prelude written for Pierre Monteux's 80th birthday, ascetic later works and revised versions (Suites) from Firebird and Petrushka.
CD 19 – 21 Choral Music
Features famous works including the Symphony of Psalms (Gardiner) and Mass (Bernstein), many rarities, and Stravinsky's orchestration of Bach's Vom Himmel hoch da komm ich her BWV 769, performed by the Boston Symphony Orchestra and Tanglewood Festival Chorus, conducted by Seiji Ozawa.
CD 22 – 23 Solo Vocal
Features a sequence of songs from Stravinsky's earliest period, many presented in the original voice and piano versions, as well as later arrangements for voice and chamber ensemble. Includes what may be a world-premiere recording of the short Hommage à Nadia Boulanger, written for her 70th birthday.
CD 24 – 25 Chamber Music
Features original chamber works, including great Octet and Septet, as well as many popular works arranged from ballets that are regularly played in concert.
CD 26 – 27 Piano Music
Includes Three Movements from Petrushka, neo-classical works, duets and two-piano works. Three rarely heard pieces, Scherzo in G minor of 1902, the Valse des Fleurs (piano duet) and the Souvenir d'une Marche Boche (1915), recorded by Vikingur Olaffson, are also featured.
CD 28 – 29 Historical Recordings
Features significant historical recordings including the Violin Concerto with Dushkin and Stravinsky, and The Soldier's Tale with Jean Cocteau as Narrator conducted by Igor Markevitch; plus two classic accounts of early ballets from Ansermet and Monteux; and The Star Spangled Banner arranged and conducted by Stravinsky with the LA Philharmonic Orchestra.
CD 30 Bonus Recording
Features Martha Argerich and Daniel Barenboim performing the piano duet arrangement of The Rite of Spring and Chant Funebre, discovered after the 2015 Complete Edition was released, performed by the Lucerne Festival Orchestra, conducted by Riccardo Chailly.

Stage Works
The Firebird (1909/10) = L'Oisea de Feu = Der Feuerwogel: Fairy-Tale Ballet In 2 Scenes
Conductor – Pierre Boulez
Orchestra – Chicago Symphony Orchestra*
1-1 Introduction 2:32
1-2 Scene 1 | Kashchei's Magic Garden 1:47
1-3 Appearance Of The Firebird, Pursued By Ivan Tsarevich 2:26
1-4 Dance Of The Firebird 1:22
1-5 Ivan Tsarevich Captures The Firebird 0:53
1-6 The Firebird's Entreaties – Appearance Of The Thirteen Enchanted Princesses 8:14
1-7 The Princesses' Game With The Golden Apples (Scherzo) 2:25
1-8 Sudden Appearance Of Ivan-Tsarevich 1:37
1-9 The Princesses' Round Dance (Khorovod) 3:43
1-10 Daybreak – Ivan Tsarevich Enters Kashchei's Palace 1:32
1-11 Magic Carillion, Appearance Of Kashchei's Guardian Monsters And The Capture Of Ivan Tsarevich – Arrival Of Kashchei The Immortal – Kashchei's Dialogue With Ivan Tsarevich – Intercession Of The Princesses – Appearance Of The Firebird 5:41
1-12 Dance Of The Kashchei's Retinue, Under The Firebird's Spell 0:45
1-13 Infernal Dance Of All Of Kashchei's Subjects 4:43
1-14 Lullaby (The Firebird) – Kashchei Wakes Up – Death Of Kashchei – Deep Shadows 5:17
1-15 Scene 2 | Disappearance Of The Palace And Dissolution Of Kashchei's Enchantments; Animation Of The Petrified Knights; General Rejoicing 3:13
Petrushka (1910/1): Burlesque In 4 Scenes
Conductor – Pierre Boulez
Orchestra – The Cleveland Orchestra
2-1 Scene 1: The Shrovetide Fair – Legerdemain Scene – Russian Dance 9:57
2-2 Scene 2: Petrushka's Room 4:30
2-3 Scene 3: The Moor's Room – Dance Of The Ballerina – Waltz: The Ballerina And The Moor – Petrushka 7:02
2-4 Scene 4: The Shrovetide Fair – Dance Of The Nursemaids – The Peasant And The Bear – The Jovial Merchant With Two Gypsy Girls - Dance Of The Coachmen And Grooms - The Masqueraders - The Fight: The Moor And Petrushka – Death Of Petrushka 13:29
The Rite Of Spring (1911-13) = Le Sacre Du Printemps = Die Frühlingsweihe: Scenes Of Pagan Russia In 2 Parts
Conductor – Pierre Boulez
Orchestra – The Cleveland Orchestra
2-5 Part 1: The Adoration Of The Earth: Introduction – The Augurs Of Spring (Dances Of The Young Girls) – Game Of Abduction – Spring Rounds – Games Of The Rival Tribes – Procession Of The Sage – Adoration Of The Earth – The Sage – Dance Of The Earth 15:55
2-6 Part 2: The Sacrifice: Introduction – Mystic Circles Of The Young Girls – Glorification Of The Chosen One – Evocation Of The Ancestors – Ritual Action Of The Ancestors – Sacrificial Dance (The Chosen One) 17:27
Le Rossignol - Lyric Tale In 3 Acts (1908-14)
Baritone Vocals [The Emperor Of China] – Neil Howlett
Bass Vocals [Japanese Envoy] – Brindley Sherratt
Bass Vocals [The Bonze] – Michael George (3)
Bass Vocals [The Chamberlaine] – John Tomlinson (2)
Chorus – BBC Singers
Conductor – Pierre Boulez
Contralto Vocals [Death] – Elizabeth Laurence
Libretto By, Adapted By (Text) – Igor Stravinsky, Stepan Mitousov
Orchestra – BBC Symphony Orchestra
Soprano Vocals [The Cook] – Felicity Palmer
Soprano Vocals [The Nightingale] – Phyllis Bryn-Julson
Tenor Vocals [Japanese Envoy] – Gareth Roberts, Ian Kennedy (2)
Tenor Vocals [The Fisherman] – Ian Caley
Text By – Hans Christian Andersen
3-1 Act I | Introduction 3:24
3-2 "Nevod Brosal Nebesnyy Dukh" (Fisherman) 4:22
3-3 "Akh! S Neba Vysoty Blesnuv" (Nightingale, Fisherman) 2:28
3-4 "Vot I Dostigli My Opushki Lesa" (Cook, Chorus, Chamberlain, Bonze, Nightingale) 4:15
3-5 "Akh! Pen'yu Solov'ya Vsego Priyatneye Vnimat'" (Nightingale, Chorus, Bonze, Chamberlain, Fisherman) 2:52
3-6 Act II | Entr'acte (Courants D'Air) – "Ognya, Ognya" (Chorus, Cook, Chamberlain) 2:15
3-7 Marche Chinoise – "Velikiy Imperator" (Chamberlain) 3:36
3-8 Chant Du Rossignol – "Akh! Serdtse Dobroye" (Nightingale, Emperor, Chorus, Chamberlain, Japanese Envoys) 5:37
3-9 Jeu Du Rossignol Mécanique – "Tsk, Tsk, Tsk, Tsk…" (Chorus, Emperor, Chamberlain, Fisherman's Voice) 3:47
3-10 Act III | Introduction – "My Vse Pred Toboy" (Chorus, Emperor, Nightingale) 6:17
3-11 "Mne Slushat' Nravitsya" (Death, Nightingale, Emperor) 4:52
3-12 Cortège Solennel – "Zdravstvuyte" (Emperor, Fisherman's Voice) 2:21
Le Chant Du Rossignol – Symphonic Poem (1917)
Conductor – Pierre Boulez
Orchestra – The Cleveland Orchestra
3-13 Introduction 2:25
3-14 Marche Chinoise 3:29
3-15 Chant Du Rossignol 3:32
3-16 Jeu Du Rossignol Mécanique 11:20
4-1 Renard (1915/6): A Burlesque In Song And Dance
Baritone Vocals – Derek Hammond-Stroud
Bass Vocals – Robert Lloyd (4)
Conductor – Riccardo Chailly
Libretto By, Adapted By (Text) – Igor Stravinsky
Orchestra – London Sinfonietta
Tenor Vocals – Neil Jenkins, Philip Langridge
Text By [After] – Alexander Afanasyev
Translated By [English] – Rollo H. Myers
16:15
The Soldier's Tale (1918) = Histoire Du Soldat = Die Geschichte Vom Soldaten: To Be Read, Played And Danced In 2 Parts
Bassoon – Sherman Walt
Clarinet – Harold Wright
Cornet [Cornet À Pistons] – Armando Ghitalla
Double Bass – Henry Portnoi
Ensemble – Boston Symphony Chamber Players
Libretto By – Charles-Ferdinand Ramuz, C. F. Ramuz*
Narrator – Sir John Gielgud*
Percussion – Everett Firth
Speech [The Devil] – Ron Moody
Speech [The Soldier] – Tom Courtenay
Translated By [English] – Kitty Black, Michael Flanders
Trombone – William Gibson (3)
Violin – Joseph Silverstein
4-2 Part 1 |The Soldier's March – "Down A Hot And Dusty Road" (Narrator) 1:47
4-3 "Phew, This Isn't A Bad Sort Of Spot" (Narrator, Soldier) 0:58
4-4 Music For Scene 1: Airs By A Stream 2:27
4-5 "Enter The Devil" (Narrator, Devil, Soldier) 4:01
4-6 The Soldier's March – "Down A Hot And Dusty Road" (Narrator) 1:33
4-7 "Hurray, Here We Are! We're Home At Last!" (Narrator) 2:40
4-8 Music For Scene 2: Pastorale 4:07
4-9 "The Devil Is Standing There" (Narrator, Soldier, Devil) 1:48
4-10 Music For The End Of Scene 2 0:55
4-11 "He Took Up The Book" (Narrator) 2:24
4-12 Airs By A Stream – "Just To Stretch Out On The Grass" (Narrator) 2:28
4-13 "They Have Nothing – And Yet They Have It All" (Narrator, Soldier, Devil) 3:09
4-14 Music For Scene 3: Airs By A Stream – "The Devil Has Disappeared" (Narrator) 1:01
4-15 Part 2 | The Soldier's March – "Down A Hot And Dusty Road" (Narrator) 1:39
4-16 "Now He Comes To Another Land" (Narrator) 2:12
4-17 The Royal March 2:30
4-18 "They Gave The Word For The Band To Play" (Narrator, Soldier, Devil) 4:11
4-19 The Little Concert – "Princess, Now We Can Safely Say" (Narrator) 3:04
4-20 Part 2 / 3 Dances | 1. Tango 2:23
4-21 2. Valse 1:52
4-22 3. Ragtime - "The Soldier Holds The Princess Close" (Narrator) 2:19
4-23 Part 2 | The Devil's Dance – "The Devil's Exhausted" (Narrator) 1:23
4-24 Little Chorale 0:47
4-25 The Devil's Song – "All Right! I Shall Have To Wait" (Devil) 0:45
4-26 Great Chorale – "You Must Not Seek To Add" (Narrator) 3:40
4-27 "I Have Everything, He Thinks" (Narrator) 1:58
4-28 Triumphal March Of The Devil 2:00
Pulcinella (1919/20): Ballet With Song In One Act, Based On Music By Giovanni Battista Pergolesi, Domenico Gallo, Fortunato Chelleri, Alessandro Parisotti
Arranged By – Igor Stravinsky
Bass Vocals – John Shirley-Quirk
Composed By – Alessandro Parisotti, Anonymous, Domenico Gallo, Fortunato Chelleri, Giovanni Battista Pergolesi
Conductor – Claudio Abbado
Mezzo-soprano Vocals – Teresa Berganza
Orchestra – London Symphony Orchestra*
Tenor Vocals – Ryland Davies
5-1 Overture (Gallo, Trio Sonata No. 1 In G Major, Movt. 1)
Composed By – Domenico Gallo
1:57
5-2 Seranata: "Mentre L'Erbetta, Pasce L'Agnella" (Tenor) (Pergolesi, Il Flaminio, Act I, Polidoro's Pastorale)
Composed By – Giovanni Battista Pergolesi
2:58
5-3 Scherzino (Gallo, Trio Sonata No. 2 In B Flat Major, Movt. 1)
Composed By – Domenico Gallo
1:37
5-4 Più Vivo (Pergolesi, Il Flaminio, Act III, Checca's Canzona)
Composed By – Giovanni Battista Pergolesi
0:12
5-5 Allegro (Gallo, Trio Sonata No. 2 In B Flat Major, Movt. 3)
Composed By – Domenico Gallo
1:00
5-6 Andantino (Gallo, Trio Sonata No. 8 In E Flat Major, Movt. 1)
Composed By – Domenico Gallo
1:12
5-7 Allegro (Pergolesi, Lo Frate 'nnamorato, Act I, Vanella's Aria)
Composed By – Giovanni Battista Pergolesi
1:39
5-8 "Contento Forse Vivere" (Soprano) (Pergolesi, Luce Degli Occhi Miei (Cantata))
Composed By – Giovanni Battista Pergolesi
2:01
5-9 Allegro Assai (Gallo, Trio Sonata No. 3 In C Minor, Movt. 3)
Composed By – Domenico Gallo
1:52
5-10 "Con Queste Paroline" (Bass) (Pergolesi, Il Flaminio, Act I, Vastiano's Aria)
Composed By – Giovanni Battista Pergolesi
2:14
5-11 "Sento Dire: No'ncé Pace" (Soprano, Tenor, Bass) (Pergolesi, Lo Frate 'nnamorato, Act III, Ascanio's Arioso) - "Chi Disse Ca la Femmena" (Tenor, Soprano) (Pergolesi, Lo Frate 'nnamorato, Act II, Vanella's Canzona)
Composed By – Giovanni Battista Pergolesi
6:31
5-12 Allegro (Alla Breve) (Gallo, Trio Sonata No. 7 In G Minor, Movt. 3)
Composed By – Domenico Gallo
1:15
5-13 Tarantella (Chelleri (?), Concerto No. 6 In B Flat Major, Movt. 4)
Composed By – Fortunato Chelleri
1:13
5-14 "Se Tu M'Ami" (Soprano) (Parisotti (?), Arie Antiche)
Composed By – Alessandro Parisotti
2:16
5-15 Allegro (Anon., Suite For Harpsichord No. 1 In E Major, Rondò)
Composed By – Anonymous
0:56
5-16 Gavotta Con Due Variazioni (Anon., Suite For Harpsichord No. 3 In D Major)
Composed By – Anonymous
4:09
5-17 Vivo (Pergolesi, Sonata For Violoncello And B.c. In F Major, Movt. 4)
Composed By – Giovanni Battista Pergolesi
1:30
5-18 "Pupillette, Fiammette D'Amore" (Soprano, Tenor, Bass) (Pergolesi, Lo Frate 'nnamorato, Act I, Don Pietro's Canzona)
Composed By – Giovanni Battista Pergolesi
2:20
5-19 Allegro Assai (Gallo, Trio Sonata No. 12 In E Major, Movt. 3)
Composed By – Domenico Gallo
2:01
Mavra (1921/2): Opera Buffa In One Act
Conductor – Gennadi Rozhdestvensky
Contralto Vocals [The Mother] – Anna Matyushina*
Libretto By, Adapted By (Text) – Boris Kochno
Mezzo-soprano Vocals [The Neighbour] – Nina Postavnicheva*
Orchestra – Moscow Radio Symphony Orchestra*
Soprano Vocals [Parasha] – Lyudmila Belobragina*
Tenor Vocals [The Hussar, Later Disguised As Cook] – Nikolai Gutorovich*
Text By – Alexander Pushkin*
5-20 Overture 2:38
5-21 "Drug Moy Milyy" (Parasha) 1:45
5-22 "Kolokol'chiki Zvenyat" (Hussar) 0:57
5-23 "U Pesen Vsekh Slova Odni" (Parasha, Hussar) 1:34
5-24 "Moya Strast' Sil'neye Stanovitsya" (Parasha, Hussar) 1:13
5-25 "Izbavi Bog Prislugu" (Mother, Parasha) 0:49
5-26 "Net, Ne Zabyt' Vo Veki Mne Pokoynitsu" (Mother) 2:36
5-27 "Zhelayu Zdravstvovat'!" (Neighbour, Mother) 3:37
5-28 "Gde Tak Dolgo Ty Byla?" (Mother, Neighbour, Parasha, Cook) 3:27
5-29 "Parasha!" / "Ya, Vasiliy Milyy!" (Parasha, Cook) 0:35
5-30 "Ya Pamyat'yu Ne Izmenyu" (Parasha, Cook) 4:53
5-31 "Parasha!" / "Slyshish'?" (Mother, Parasha, Cook) 0:51
5-32 "Ya Zhdu, Ya Zhdu Pokorno" (Cook) 3:07
5-33 "Pozhaluy Vremya Nastupilo Pobrit'sya" (Cook, Mother, Parasha, Neighbour) 1:45
Les Noces (Svadebka) (1914-23): Russian Choreographic Scenes With Song And Music
Bass Vocals – Paul Hudson (4)
Chorus – English Bach Festival Chorus
Chorus Master – Nicholas Cleobury
Conductor – Leonard Bernstein
Ensemble – English Bach Festival Percussion Ensemble
Libretto By – Igor Stravinsky
Mezzo-soprano Vocals – Patricia Parker
Piano – Cyprien Katsaris, Homero Francesch, Krystian Zimerman, Martha Argerich
Soprano Vocals – Anny Mory
Tenor Vocals – John Mitchinson
6-1 Part 1 | 1. At The Bride's House (The Tresses): "Kosa L' Moya Ko" 5:18
6-2 2. At The Bridegroom's House: "Prechistaya Mat', Khodi" 5:38
6-3 3. The Departure Of The Bride: "Blagoslavlyalsya Svetyël Mesyats" 2:57
6-4 Part 2 I 4. The Wedding Feast: "Yagoda S Yagodoy Sokatilasya" 9:55
Oedipus Rex (1926/7): Opera-Oratorio In 2 Acts
Baritone Vocals [Creon, Messenger] – James Morris (5)
Bass Vocals [Tiresias] – Jan-Hendrik Rootering
Chorus – Chicago Symphony Chorus
Chorus Master – Margaret Hillis
Conductor – James Levine (2)
Libretto By, Adapted By (Text) – Jean Cocteau
Mezzo-soprano Vocals [Jocasta] – Florence Quivar
Narrator – Jules Bastin
Orchestra – Chicago Symphony Orchestra*
Tenor Vocals [Oedipus] – Philip Langridge
Tenor Vocals [Shepherd] – Donald Kaasch
Text By – Sophocles
Translated By [Latin] – Jean Daniélou
6-5 Act I |"Spectateurs, Vous Allez Entendre" (Narrator) – "Caedit Nos Pestis" (Chorus, Oedipus) 8:09
6-6 "Voici Créon, Beau-Frère D'Œdipe" (Narrator) – "Respondit Deus" (Creon) 3:34
6-7 "Non Reperias Vetus Scelus" (Oedipus, Chorus) 3:33
6-8 "Œdipe Interroge La Fontaine De Vérité" (Narrator) – "Delie Exspectamus" (Chorus) 2:32
6-9 "Dicere Non Possum" (Tiresias, Oedipus) 2:42
6-10 "Invidia Fortunam Odit" (Oedipus) 2:40
6-11 "Gloria! Laudibus Regina Jocasta" (Chorus) 1:03
6-12 Act II | "La Dispute Des Princes Attire Jocaste" (Narrator) 1:13
6-13 "Gloria! Laudibus Regina Jocasta" (Chorus) 1:04
6-14 "Nonn' Erubescite, Reges" (Jocasta, Chorus, Oedipus) 7:04
6-15 "Ego Senem Cecidi" (Oedipus) 2:19
6-16 Le Témoin Du Meurtre Sort De L'Ombre" (Narrator) – "Adest Omniscius Pastor" (Chorus, Messenger, Shepherd) 3:08
6-17 "Oportebat Tacere, Nunquam Loqui" (Shepherd) 1:40
6-18 "Nonne Monstrum Rescituri" (Oedipus) 1:20
6-19 "In Monte Reppertus Est" (Shepherd, Chorus, Oedipus) – "Et Maintenant, Vous Allez Entendre" (Narrator) 3:36
6-20 "Divum Jocastae Caput Mortuum" (Messenger, Chorus) 0:40
6-21 Act II: "Divum Jocastae Caput Mortuum" (Messenger, Chorus) 2:15
6-22 "Divum Jocastae Caput Mortuum" (Messenger, Chorus) 2:54
Apollon Musagète (1927/8): Ballet In 2 Scenes
Conductor – Riccardo Chailly
Orchestra – Royal Concertgebouw Orchestra*
7-1 Scene 1 | Naissance D'Apollon 4:33
7-2 Scene 2 | Variation D'Apollon. Apollon Et Les Muses 3:10
7-3 Pas D'Action. Apollon Et Les Trois Muses, Calliope, Polymnie Et Terpsichore 4:32
7-4 Variation De Calliope (L'Alexandrin) 1:26
7-5 Variation De Polymnie 1:18
7-6 Variation De Terpsichore 1:36
7-7 Variation D'Apollon 2:16
7-8 Pas De Deux. Apollon Et Terpsichore 3:57
7-9 Coda. Apollon Et Les Muses 3:21
7-10 Apothéose 3:38
The Fairy's Kiss (1928) = Le Baiser de la Fée = Der Kuss Der Fee: Ballet In 4 Scenes
Conductor – Oliver Knussen
Orchestra – The Cleveland Orchestra
7-11 Scene 1 The Lullaby In The Storm | Andante 2:40
7-12 Allegro Sostenuto 2:00
7-13 (Fig. 27) 2:03
7-14 Andante – Vivace Agitato 1:34
7-15 Scene 2: A Village Fete | Tempo Giusto 4:13
7-16 Valse 2:44
7-17 Doppio Movimento – Più Mosso – Tempo Agitato Ma Giusto 4:01
7-18 Scene 3: At The Mill | Moderato 3:14
7-19 Allegretto Grazioso 3:05
7-20 Scene 3: At The Mill / Pas De Deux | A. Entrée. Moderato 1:31
7-21 B. Adagio 3:14
7-22 C. Variation. Allegretto Grazioso 1:13
7-23 D. Coda. Presto 2:04
7-24 Scene 3: At The Mill | Scène. Andante Non Tanto 4:53
7-25 Scene 4: Berceuse Of The Eternal Dwellings: L'Istesso Tempo (Più Lento) 5:08
Persephone (1933/4): Melodrama In 3 Scenes
Choir – London Philharmonic Choir*, Tiffin Boys' School Choir*
Conductor – Kent Nagano
Libretto By – André Gide
Orchestra – London Philharmonic Orchestra*
Speech – Anne Fournet
Tenor Vocals – Anthony Rolfe Johnson
8-1 1. The Abduction Of Persephone 9:08
8-2 2. Persephone In The Underworld 22:42
8-3 3. Persephone Reborn 16:15
Jeu de Cartes (1936): Ballet In 3 Deals
Conductor – Claudio Abbado
Orchestra – London Symphony Orchestra*
9-1 First Deal 5:24
9-2 Second Deal 9:22
9-3 Third Deal 8:04
Scènes De Ballet (1944)
Conductor – Leonard Bernstein
Orchestra – Israel Philharmonic Orchestra
9-4 Introduction. Andante 1:00
9-5 Danses (Corps De Ballet). Moderato 3:39
9-6 Variation (Ballerine). Con Moto 1:06
9-7 Pantomime. Lento 2:21
9-8 Pas De Deux. Adagio 3:03
9-9 Pantomime. Agitato Ma Tempo Giusto 0:44
9-10 Variation (Danseur). Risoluto 1:25
9-11 Variation (Ballerine). Andantino 1:16
9-12 Pantomime. Andantino 0:33
9-13 Danses (Corps De Ballet). Con Moto 1:13
9-14 Apothéose. Poco Meno Mosso 2:17
Orpheus (1947): Ballet In 3 Scenes
Orchestra – Orpheus Chamber Orchestra
9-15 Scene 1 | Lento Sostenuto 2:28
9-16 Air De Danse. Andante Con Moto 3:18
9-17 L'Ange De La Mort Et Sa Danse. L'Istesso Tempo 2:21
9-18 Interlude. L'Istesso Tempo 1:44
9-19 Scene 2 | Pas Des Furies. Agitato In Piano 2:53
9-20 Air De Danse (Orphée). Grave 2:27
9-21 Interlude. L'Istesso Tempo 0:24
9-22 Air De Danse (Conclusion). L'Istesso Tempo 0:41
9-23 Pas D'Action. Andantino Leggiadro 1:50
9-24 Pas De Deux. Andante Sostenuto 5:15
9-25 Interlude. Moderato Assai 1:10
9-26 Pas D'Action. Vivace 2:22
9-27 Scene 3 | Apothéose D'Orphée. Lento Sostenuto 2:46
The Rake's Progress
Baritone Vocals [Nick Shadow] – Bryn Terfel
Bass Vocals [Keeper of the Madhouse] – Julian Clarkson
Bass Vocals [Trulove, Anne's father] – Martin Robson (2)
Choir – The Monteverdi Choir
Conductor – John Eliot Gardiner
Libretto By – Chester Kallman, W. H. Auden
Mezzo-soprano Vocals [Baba the Turk] – Anne Sofie Von Otter
Mezzo-soprano Vocals [Mother Goose] – Anne Howells
Musical Assistance, Harpsichord – Anthony Legge
Orchestra – London Symphony Orchestra*
Soprano Vocals [Anne Trulove] – Deborah York
Tenor Vocals [Sellem, an auctioneer] – Peter Bronder
Tenor Vocals [Tom Rakewell] – Ian Bostridge
10-1 Act I | Prelude 0:32
10-2 Act I Scene 1 | Duet and Trio: "The Woods Are Green" (Anne, Rakewell, Trulove) 3:28
10-3 Recitative: "Anne, My Dear" (Trulove) 0:52
10-4.1 Recitative: "Here I Stand" (Rakewell) 2:33
10-4.2 Aria: "Since It Is Not By Merit" (Rakewell)
10-5 Recitative: "Tom Rakewell?" (Shadow, Rakewell) 1:15
10-6.1 Recitative: "Fair Lady, Gracious Gentlemen" (Shadow) 5:00
10-6.2 Aria: "I Wished But Once" (Rakewell, Shadow, Anne, Trulove)
10-7 Recitative: "I'll Call The Coachman, Sir" (Shadow, Trulove) 0:11
10-8 Duettino: "Farewell For Now" (Anne, Rakewell) 1:14
10-9 Recitative: "All Is Ready, Sir" (Shadow, Rakewell) 0:46
10-10.1 Arioso: "Dear Father Trulove" (Rakewell) 2:54
10-10.2 Terzettino: "Laughter And Light" (Rakewell, Anne, Trulove, Shadow) 2:30
10-11 Act I, Scene 2 | Chorus: "With Air Commanding And Weapon Handy" (Chorus) 2:30
10-12 Recitative and Scene: "Come, Tom" (Shadow, Rakewell, Mother Goose) 3:17
10-13 Chorus: "Soon Dawn Will Glitter" (Chorus) 0:36
10-14 Recitative: "Sisters Of Venus, Brothers Of Mars" (Shadow) 0:56
10-15 Cavatina: "Love, Too Frequently Betrayed" (Rakewell) 2:44
10-16 Chorus: "How Sad A Song" (Chorus, Mother Goose) 1:04
10-17 Chorus: "The Sun Is Bright, The Grass Is Green" (Chorus, Shadow) 2:05
10-18 Act I Scene 3 | Recitative: "No Word From Tom" (Anne) 1:56
10-19 Aria: "Quietly, Night" (Anne, Trulove) 2:11
10-20 Recitative: "My Father! Can I Desert Him" (Anne) 1:00
10-21 Cabaletta: "I Go, I Go To Him" (Anne) 2:42
10-22 Act II Scene 1 | Aria: "Vary The Song, O London, Change!" (Rakewell) 2:50
10-23 Recitative: "Nature, Green Unnatural Mother" (Rakewell) 2:23
10-24 Aria (Reprise): "Always The Quarry" (Rakewell) 1:34
10-25 Recitative: "Master, Are You Alone?" (Shadow, Rakewell) 1:07
10-26 "Come Master, Observe The Host" (Shadow) 1:11
10-27 Aria: "In Youth The Panting Slave" (Shadow) 1:58
10-28 Duet-Finale: "My Tale Shall Be Told" (Rakewell, Shadow) 2:21
10-29 Act II Scene 2 | Introduction 1:50
10-30.1 Recitative: "How Strange" (Anne) 3:28
10-30.2 Arioso: "O Heart Be Stronger" (Anne)
10-31 Duet: "Anne! Here!" (Rakewell, Anne) 2:31
10-32 Recitative: "My Love, Am I To Remain In Here For Ever?" (Baba, Anne, Rakewell) 0:58
10-33 Trio: "Could It Then Have Been Known" (Anne, Rakewell, Baba) 3:07
10-34 Finale: "I Have Not Run Away" (Baba, Rakewell, Chorus) 2:24
11-1.1 Act II Scene 3 | Aria: "As I Was Saying" (Baba, Rakewell) 3:33
11-1.2 Baba's Song: "Come, Sweet, Come" (Baba, Rakewell)
11-1.3 Aria: Scorned! Abused!" (Baba)
11-2 Recitative: "My Heart Is Cold, I Cannot Weep" (Rakewell) 0:21
11-3 Pantomime: "Fa La La" (Shadow) 1:04
11-4 Recitative – Arioso – Recitative: "Oh, I Wish It Were True" (Rakewell, Shadow) 1:44
11-5 Duet: Thanks To This Excellent Device" (Rakewell, Shadow) 1:39
11-6 Recitative: "Forgive Me, Master" (Shadow) 2:20
11-7 Act III Scene 1 | "Ruin, Disaster, Shame" (Chorus, Anne, Sellem) 3:03
11-8 Recitative: "Ladies, Both Fair And Gracious" (Sellem) 1:28
11-9.1 Aria: "Who Hears Me, Knows Me" (Sellem, Chorus) 3:31
11-9.2 Bidding Scene: "Seven – Eleven" (Chorus, Sellem)
11-9.3 Aria: "Behold It, Roman, Moral" (Sellem, Chorus)
11-9.4 Bidding Scene: "Fifteen – And A Half" (Chorus, Sellem)
11-9.5 Recitative: "Wonderful" (Sellem)
11-9.6 Aria (Cont.): "An Unknown Object Draws Us" (Sellem, Chorus)
11.9.7 Final Bidding Scene: "Fifty – Fifty-Five" (Chorus, Sellem, Baba)
11-10.1 Aria: "Sold! Annoyed!" (Baba, Chorus, Rakewell, Shadow) 2:12
11-10.2 Recitative: "Now What Was That!" (Chorus, Baba, Anne, Sellem)
11-11.1 Duet: "You Love Him" (Baba, Anne, Chorus, Sellem) 4:02
11-11.2 Ballad Tune: "If Boys Had Wings" (Rakewell, Shadow, Anne, Baba, Sellem, Chorus)
11-12.1 Stretto-Finale: "I Go To Him" (Anne, Baba, Sellem, Chorus) 1:53
11-12.2 Ballad Tune (Reprise): "Who Cares A Fig" (Rakewell, Shadow, Baba, Chorus)
11-13 Act III, Scene 2 | Prelude 2:06
11-14 Duet: "How Dark And Dreadful Is This Place" (Rakewell, Shadow) 4:14
11-15 Recitative: "Very Well, Then, My Dear And Good Tom" (Shadow, Rakewell) 1:05
11-16 Duet: "Well, Then" - "My Heart Is Wild With Fear" (Shadow, Rakewell, Anne) 6:35
11-17 "I Burn! I Burn! I Freeze!" (Shadow) 2:17
11-18 "With Roses Crowned" (Rakewell) 1:23
11-19.1 Act III Scene 3 | Arioso: "Prepare Yourselves, Heroic Shades" (Rakewell) 3:22
11-19.2 Recitative: "Madmen's Words Are All Untrue" (Chorus, Rakewell)
11-10.3 Chorus – Minuet: "Leave All Love And Hope Behind" (Chorus)
11-20 Recitative: "There He Is. Have No Fear" (Keeper, Anne, Rakewell) 0:56
11-21 Arioso: "I Have Waited" (Rakewell) 1:01
11-22 Duet: "In A Foolish Dream" (Rakewell, Anne) 2:36
11-23 Recitative: "I Am Exceedingly Weary" (Rakewell) 0:57
11-24 Lullaby: "Gently, Little Boat" (Anne) 3:00
11-25 Recitative: "Anne, My Dear, The Tale Is Ended Now" (Trulove, Anne) 0:50
11-26 Duettino: "Every Wearied Body" (Anne, Trulove) 1:38
11-27 Finale – Recitative: "Where Art Thou, Venus?" (Rakewell, Chorus) 2:51
11-28 Mourning Chorus: "Mourn For Adonis" (Chorus) 1:39
11-29 Epilogue | "Good People, Just A Moment" (Anne, Baba, Rakewell, Shadow, Trulove) 2:29
Agon (1953-57): Ballet For 12 Dancers
Conductor – Vladimir Ashkenazy
Orchestra – Deutsches Symphonie-Orchester Berlin
12-1 Pas De Quatre 1:49
12-2 Double Pas De Quatre 1:27
12-3 Triple Pas De Quatre. Coda 1:01
12-4 Prelude 0:57
12-5 First Pas De Trois: A. Saraband Step 1:24
12-6 First Pas De Trois: B. Gailliarde 1:19
12-7 First Pas De Trois: C. Coda 1:28
12-8 Interlude 0:56
12-9 Second Pas De Trois: A. Bransle Simple 0:59
12-10 Second Pas De Trois: B. Bransle Gay 0:47
12-11 Second Pas De Trois: C. Bransle Double 1:45
12-12 Interlude 0:57
12-13 Pas De Deux 4:31
12-14 Coda 1:41
12-15 Four Duos 0:36
12-16 Four Trios – Coda 2:32
The Flood (1961/2): Musical Play For Three Solo Voices, Speakers, Chorus And Orchestra
Adapted By (Text) – Robert Craft
Bass Vocals [God, Noah's Son] – David Wilson-Johnson, Stephen Richardson (2)
Choir – New London Chamber Choir
Chorus Master – James Wood (4)
Conductor – Oliver Knussen
Narrator – Michael Berkeley
Orchestra – London Sinfonietta
Speech [Noah's Wife] – Lucy Shelton
Speech [Noah] – Bernard Jacobson
Tenor Vocals [Lucifer/Satan, Caller] – Peter Hall (8)
Text By – Book of Genesis, York and Chester miracle plays*
12-17 Prelude: "Te Deum Laudamus" (Chor, Narrator, God, Lucifer/Satan) 5:46
12-18 Melodrama: "In A Worm's Likeness Will He Wend" (Narrator, Satan, God, Noah) 3:49
12-19 The Building Of The Ark (Choreography) 2:32
12-20 The Catalogue Of The Animals: "The Lord Bade That I Should Bring" (Noah, Caller) 1:32
12-21 The Comedy (Noah And His Wife): "Wife, Come In!" (Noah, Noah's Wife, Noah's Sons) 1:35
12-22 The Flood (Choreography) 2:34
12-23 The Covenant Of The Rainbow: "A Covenant, Noah, With Thee I Make" (God, Noah, Satan, Narrator, Chor) 3:30
Orchestral Music
Symphony In E Flat Major Op. 1 (1905-07)
Conductor – Mikhail Pletnev
Orchestra – Russian National Orchestra
13-1 1. Allegro Moderato 11:05
13-2 2. Scherzo. Allegretto 5:40
13-3 3. Largo 11:24
13-4 4. Finale. Allegro Molto 7:22
13-5 Scherzo Fantastique Op. 3 (1907/8)
Conductor – Pierre Boulez
Orchestra – The Cleveland Orchestra
11:26
13-6 Feu D'Artifice Op. 4 (1908)
Conductor – Pierre Boulez
Orchestra – Chicago Symphony Orchestra*
3:55
4 Études For Orchestra (1928/9): Arr. Of 3 Pieces For String Quartet (1914) And Étude For Pianola (1917)
Conductor – Pierre Boulez
Orchestra – Chicago Symphony Orchestra*
13-7 1. Danse. Con Moto 0:59
13-8 2. Excentrique. Moderato 2:11
13-9 3. Cantique. Largo 3:38
13-10 Madrid. Allegro Con Moto 2:48
13-11 Song Of The Volga Boatmen Arr. For Wind Instruments And Percussion (1917)
Conductor – Robert Craft
Orchestra – Philharmonia Orchestra
1:19
13-12 Ragtime For 11 Instruments (1917/8)
Ensemble – Boston Symphony Chamber Players
4:31
13-13 Symphonies Of Wind Instruments (1920) = Symphonies D'instruments À Vent = Bläsersymphonien
Conductor – Pierre Boulez
Orchestra – Berliner Philharmoniker
9:12
Suite No. 1 For Small Orchestra (1925): Arr. Of Nos. 1-4 From 5 Easy Pieces For Piano Duet
Orchestra – Orpheus Chamber Orchestra
14-1 1. Andante 1:20
14-2 2. Napolitana 1:13
14-3 3. Española 1:09
14-4 4. Balalaika 0:59
Suite No. 2 For Small Orchestra (1915-21): Arr. Of 3 Easy Pieces For Piano Duet And No. 5 From 5 Easy Pieces For Piano Duet
Orchestra – Orpheus Chamber Orchestra
14-5 1. March 1:16
14-6 2. Waltz 2:01
14-7 3. Polka 1:00
14-8 4. Galop 1:48
Concerto For Piano And Wind Instruments (1923/4)
Conductor – Vladimir Ashkenazy
Orchestra – Deutsches Symphonie-Orchester Berlin
Piano – Olli Mustonen
14-9 1. Largo - Allegro 7:13
14-10 2. Largo 6:25
14-11 3. Allegro 4:37
Capriccio For Piano And Orchestra (1928/9)
Conductor – Vladimir Ashkenazy
Orchestra – Deutsches Symphonie-Orchester Berlin
Piano – Olli Mustonen
14-12 1. Presto 6:22
14-13 2. Andante Rapsodico 5:51
14-14 3. Allegro Capriccioso Ma Tempo Giusto 5:08
Violin Concerto In D (1931)
Conductor – Paul Sacher
Orchestra – Philharmonia Orchestra
Violin – Anne-Sophie Mutter
14-15 1. Toccata 5:51
14-16 2. Aria I 4:09
14-17 3. Aria II 5:13
14-18 4. Capriccio 5:49
Divertimento (1934): Arr. From The Ballet The Fairy's Kiss
Conductor – Semyon Bychkov
Orchestra – Orchestre De Paris
15-1 1. Sinfonia 6:15
15-2 2. Danses Suisses 7:00
15-3 3. Scherzo 3:49
15-4 4. Pas De Deux | Adagio 3:49
15-5 Variation 1:21
15-6 Coda 2:37
15-7 Praeludium For Jazz Ensemble (1936/7)
Ensemble – Orpheus Chamber Orchestra
1:58
Concerto In E Flat Major "Dumbarton Oaks" For Chamber Orchestra (1937/8)
Conductor – Pierre Boulez
Orchestra – Ensemble Intercontemporain
15-8 1. Tempo Giusto 4:52
15-9 2. Allegretto 5:17
15-10 3. Con Moto 5:16
Symphony In C (1938-40)
Conductor – Leonard Bernstein
Orchestra – Israel Philharmonic Orchestra
15-11 1. Moderato Alla Breve 9:31
15-12 2. Larghetto Concertante 6:16
15-13 3. Allegretto 5:05
15-14 4. Largo – Tempo Giusto, Alla Breve 7:30
Danses Concertantes For Chamber Orchestra (1940-42)
Orchestra – Orpheus Chamber Orchestra
16-1 1. Marche-Introduction. ♩ = 96 2:00
16-2 2. Pas D'Action. Con Moto 3:29
16-3 3. Thème Varié. Lento - Var. I–IV 8:19
16-4 4. Pas De Deux. Risoluto 5:36
16-5 5. Marche-Conclusion. ♩ = 96 0:56
16-6 Circus Polka For A Young Elephant (1942)
Conductor – Rafael Kubelik
Orchestra – Berliner Philharmoniker
3:23
Four Norwegian Moods (1942)
Conductor – Riccardo Chailly
Orchestra – The Cleveland Orchestra
16-7 1. Intrada 2:21
16-8 2. Song 2:44
16-9 3. Wedding Dance 1:21
16-10 4. Cortège 2:14
Ode (1943): Elegiacal Chant In 3 Parts For Orchestra
Conductor – Oliver Knussen
Orchestra – The Cleveland Orchestra
16-11 Eulogy. Lento 3:45
16-12 Eclogue. Con Moto 2:45
16-13 Epitaph. Lento 3:26
16-14 Scherzo À La Russe (1945) 3:40
Symphony In 3 Movements (1942-45)
Conductor – Leonard Bernstein
Orchestra – Israel Philharmonic Orchestra
16-15 1. ♩ = 160 10:05
16-16 2. Andante 6:14
16-17 2. Interlude. L'Istesso Tempo 0:25
16-18 3. Con Moto 6:11
17-1 Ebony Concerto For Clarinet And Jazz Band (1945)
Clarinet – Michel Arrignon
Conductor – Pierre Boulez
Ensemble – Ensemble Intercontemporain
8:52
Concerto In D For String Orchestra (1946)
Orchestra – Orpheus Chamber Orchestra
17-2 1. Vivace 5:55
17-3 2. Arioso. Andantino 2:36
17-4 3. Rondo. Allegro 3:18
17-5 Concertino For 12 Instruments (1952): Arr. Of Concertino For String Quartet
Orchestra – Orpheus Chamber Orchestra
6:20
17-6 Tango For 19 Instruments (1953): Arr. Of Tango For Piano
Orchestra – Orpheus Chamber Orchestra
3:26
17-7 Greeting Prelude After C. F. Summy's Happy Birthday To You (1955) For The 80th Birthday Of Pierre Monteux
Conductor – Sir Charles Mackerras
Orchestra – The London Philharmonic Orchestra
0:57
Movements For Piano And Orchestra (1958/9)
Conductor – Oliver Knussen
Orchestra – Deutsches Symphonie-Orchester Berlin
Piano – Olli Mustonen
17-8 1. ♪ = 110 3:18
17-9 2. ♪ = 52 1:39
17-10 3. ♪ = 72 1:01
17-11 4. ♪ = 80 1:46
17-12 5. ♪ = 104 1:54
Monumentum Pro Gesualdo di Venosa Ad CD Annum (1960): 3 Madrigals Of Gesualdo Recomposed For Chamber Orchestra
Arranged By – Igor Stravinsky
Composed By – Carlo Gesualdo
Conductor – Dennis Russell Davies
Orchestra – Stuttgarter Kammerorchester
17-13 1. Asciugate I Begli Occhi (Vol. V/14) 2:18
17-14 2. Ma Tu, Cagion Di Quella (Vol. V/18) 1:57
17-15 3. Beltà, Poi Che T'Assenti (Vol. IV/2) 2:35
17-16 8 Instrumental Miniatures For 15 Players (1962): Arr. Of The Five Fingers For Piano
Orchestra – Orpheus Chamber Orchestra
8:12
17-17 Variations For Orchestra (1963/4): Aldous Huxley In Memoriam
Conductor – Oliver Knussen
Orchestra – London Sinfonietta
5:04
17-18 Canon On A Russian Popular Tune (1965)
Conductor – Mikhail Pletnev
Orchestra – Russian National Orchestra
0:55
The Firebird: Suite (1945) = L'Oisea de Feu = Der Feuerwogel
Conductor – Mikhail Pletnev
Orchestra – Russian National Orchestra
18-1 1. Introduction - Prelude And Dance Of The Firebird – Variations (Firebird) 4:40
18-2 2. Pantomime I 0:26
18-3 3. Pas De Deux. The Firebird And Ivan Tsarevich 4:49
18-4 4. Pantomime II 0:26
18-5 5. Scherzo. Dance Of The Princesses 2:17
18-6 6. Pantomime III 1:15
18-7 7. Rondo (Khorovod) 4:47
18-8 8. Infernal Dance 4:34
18-9 9. Lullaby. The Firebird 3:17
18-10 10. Finale 3:13
Petrushka (1946 Version): Burlesque In 4 Scenes
Conductor – Leonard Bernstein
Orchestra – Israel Philharmonic Orchestra
Piano – Boris Berman
18-11 Scene 1 | The Shrovetide Fair 7:08
18-12 Legerdemain Scene – Russian Dance 2:46
18-13 Scene 2 | Petrushka's Room 4:17
18-14 Scene 3 | The Moor's Room – Dance Of The Ballerina 3:26
18-15 Waltz: The Ballerina And The Moor 3:18
18-16 Scene 4 | The Shrovetide Fair (Towards Evening) 1:04
18-17 Dance Of The Nursemaids 2:39
18-18 The Bear And The Peasant 1:28
18-19 The Jovial Merchant With Two Gypsy Girls 1:10
18-20 Dance Of The Coachmen And The Grooms 2:06
18-21 The Masqueraders 1:29
18-22 The Scuffle: Blackamoor And Petrushka 0:45
18-23 Death Of Petrushka 0:44
18-24 The Police And The Juggler 1:15
18-25 Apparition Of Petrushka's Double 0:49
Choral Music
19-1 Le Roi Des Étoiles (Zvezdolikiy) (1911/2): Sung In Russian
Chorus – The Cleveland Orchestra Chorus
Chorus Master – Gareth Morrell
Conductor – Pierre Boulez
Orchestra – The Cleveland Orchestra
Text By – Konstantin Dmitrievich Balmont
5:31
4 Russian Peasant Songs (1914-17): Sung In Russian
Adapted By (Text) – Alexander Afanasyev
Choir – Chœur de Radio France
Chorus Master – Jacques Jouineau
Conductor – Pierre Boulez
Text By – Traditional
19-2 1. On Saints' Day In Chigisakh 0:42
19-3 2. Ovsen 0:32
19-4 3. The Pike 0:52
19-5 4. Master Portly 1:10
19-6 Pater Noster (Otche Nash) (1926): Sung In Russian
Choir – Netherlands Chamber Choir*
Conductor – Reinbert de Leeuw
1:29
Symphony Of Psalms (1930)
Choir – The Monteverdi Choir
Conductor – John Eliot Gardiner
Orchestra – The London Symphony Orchestra
19-7 1. Exaudi Orationem Meam (Psalm 38, 13-14) 3:03
19-8 2. Exspectans Exspectavi Dominum (Psalm 39, 2-4) 5:51
19-9 3. Alleluia, Laudate Dominum (Psalm 150) 11:17
19-10 Credo (Simvol Very) (1932): Sung In Russian
Choir – Netherlands Chamber Choir*
Conductor – Reinbert de Leeuw
2:26
19-11 Ave Maria (Bogoroditse Devo) (1934): Sung In Russian
Choir – Netherlands Chamber Choir*
Conductor – Reinbert de Leeuw
1:11
19-12 Babel (1944): Cantata For Narrator, Male Chorus And Orchestra
Chorus – The Simon Joly Male Chorus*
Conductor – Robert Craft
Narrator – David Wilson-Johnson
Orchestra – The Philharmonia*
Text By – Genesis 11, 1-9*
4:50
Mass For Mixed Chorus And Double Wind Quintet (1944-48)
Choir – Trinity Boys Choir*
Chorus – English Bach Festival Chorus
Chorus Master – David Squibb
Conductor – Leonard Bernstein
Ensemble – Members Of The English Bach Festival Orchestra
19-13 Kyrie 3:13
19-14 Gloria 4:20
19-15 Credo 5:25
19-16 Sanctus 3:58
19-17 Agnus Dei 3:26
Cantata (1951/2): For Soprano, Tenor, Female Chorus And A Small Instrumental Ensemble
Chorus – Netherlands Chamber Choir*
Conductor – Reinbert de Leeuw
Ensemble – Schönberg Ensemble
Soprano Vocals – Rosemary Hardy
Tenor Vocals – Ian Bostridge
Text By – Anonymous 15th- And 16th-Century English Verse*
20-1 A Lyke-Wake Dirge, Versus I (Prelude): "This Ae Nighte" (Chorus) 1:50
20-2 Ricercar I: "The Maidens Came" (Soprano) 4:01
20-3 A Lyke-Wake Dirge, Versus II (1st Interlude): "If Ever Thou Gav'st Hos'n" (Chorus) 1:48
20-4 Ricercar II (Sacred History): "Tomorrow Shall Be" (Tenor) 10:37
20-5 A Lyke-Wake Dirge, Versus III (2nd Interlude): "From Whinnymuir" (Chorus) 1:45
20-6 Westron Wind (Soprano) 2:04
20-7 A Lyke-Wake Dirge, Versus IV (Postlude): "If Ever Thou Gav'st Meat" (Chorus) 2:25
Canticum Sacrum Ad Honorem Sancti Marci Nominis (1955) For Tenor, Baritone, Mixed Chorus And Orchestra
Baritone Vocals – Marcus Creed
Chorus – Choir Of Christ Church Cathedral, Oxford*
Conductor – Simon Preston
Orchestra – Philip Jones Ensemble*
Tenor Vocals – Richard Morton (4)
Text By – Vulgate*
20-8 Dedicatio: "Urbi Venetiae, In Laude Sancti Sui Presidis" (Tenor, Baritone) 0:48
20-9 1. "Euntes In Mundum" (Chorus) 2:09
20-10 2. "Surge, Aquilo" (Tenor) 2:49
20-11 3. Ad Tres Virtutes Horationes: Caritas: "Diliges Dominum Deum" (Chorus) - Spes: "Qui Confidunt In Domino" (Tenor, Baritone, Chorus) - Fides: "Credidi, Propter Quod Locutus Sum" (Chorus) 8:00
20-12 4. Brevis Motus Cantilenae: "Jesus Autem Ait Illi" (Baritone, Chorus) 3:18
20-13 5. "Illi Autem Profecti" (Chorus) 2:07
Threni Id Est: Lamentationes Jeremiae Prophetae (1957/8) For Soprano, Alto, 2 Tenor And 2 Bass Soloists, Chorus And Orchestra
Bass Vocals – David Wilson-Johnson, Martin Robson (2)
Chorus – Simon Joly Chorale
Conductor – Robert Craft
Mezzo-soprano Vocals – Jennifer Lane (2)
Orchestra – The Philharmonia*
Soprano Vocals – Julie Moffat
Tenor Vocals – Joseph Cornwell, Martyn Hill
20-14 "Incipit Lamentatio Jeremiae Prophetae" (Soprano, Mezzo-Soprano) 0:50
20-15 De Elegia Prima: "Aleph. Quomodo Sedet Sola Civitas" (Chorus, Tenor I) 1:50
20-16 De Elegia Prima: Diphona I: "Plorans Ploravit" (Tenor I, Tenor II, Chorus) 2:34
20-17 De Elegia Prima: Diphona Ii: "Vide, Domino" (Tenor I, Tenor II, Chor) 2:50
20-18 De Elegia Tertia: 1. Querimonia: "Aleph. Ego Vir Videns" (Chorus, Bass II, Tenor I, Bass I, Tenor II) 7:00
20-19 De Elegia Tertia: 2. Sensus Spei: "Heth. Misericordiae Domini" (Soli, Chorus) 7:23
20-20 De Elegia Tertia: 3. Solacium: "Res. Judicasti, Domine" (Chorus, Soprano, Mezzo-Soprano, Tenor I, Bass I & II) 3:59
20-21 De Elegia Quinta: "Oratio Jeremiae Prophetae" (Soli, Chorus) 2:18
Von Himmel Hoch, Da Komm Ich Her (1956): Canonic Variations BWV 769 By Johann Sebastian Bach Arr. For Mixed Chorus And Orchestra By Igor Stravinsky
Arranged By – Igor Stravinsky
Chorus – Tanglewood Festival Chorus
Composed By – Johann Sebastian Bach
Conductor – Seiji Ozawa
Orchestra – Boston Symphony Orchestra
21-1 Chorale 0:47
21-2 Var. 1: Nel Canone All'Ottava 1:16
21-3 Var. 2: Alio Modo, Nel Canone Alla Quinta 1:12
21-4 Var. 3: In Canone Alla Settima 2:10
21-5 Var. 4: In Canone All'Ottava Per Augmentationem 2:33
21-6 Var. 5: L'Altra Sorte Del Canone Al Rovescio 2:35
Tres Sacrae Cantiones After Carlo Gesualdo Di Venosa (1957-59)
Arranged By – Igor Stravinsky
Chorus – Netherlands Chamber Choir*
Composed By – Carlo Gesualdo
Conductor – Reinbert de Leeuw
21-7 1. Da Pacem, Domine 2:05
21-8 2. Assumpta Est Maria 2:12
21-9 3. Illumina Nos 2:40
A Sermon, A Narrative And A Prayer (1960/1): Cantata For Speaker, Mezzo-soprano, Tenor, Mixed Chorus And Orchestra
Chorus – Gregg Smith Singers
Conductor – Robert Craft
Mezzo-soprano Vocals – Jennifer Lane (2)
Orchestra – The Philharmonia*
Speech – David Wilson-Johnson
Tenor Vocals – Joseph Cornwell, Martyn Hill
Text By – St. Paul's Epistles, Acts Of The Apostles*
21-10 1. A Sermon (Chorus, Tenor) 4:21
21-11 2. A Narrative (Speaker, Mezzo-Soprano, Tenor) 7:42
21-12 3. A Prayer (Mezzo-Soprano, Tenor, Chorus)
Text By – Thomas Dekker
4:34
21-13 Anthem "The Dove Descending Breaks The Air" (1962)
Chorus – Netherlands Chamber Choir*
Conductor – Reinbert de Leeuw
Text By – T. S. Eliot
2:18
21-14 Introitus (T.S. Eliot In Memoriam) (1965)
Chorus – Netherlands Chamber Choir*
Conductor – Reinbert de Leeuw
4:06
Requiem Canticles (1965/6) For Contralto, Bass, Chorus And Orchestra
Bass Vocals – David Wilson-Johnson
Chorus – New London Chamber Choir
Conductor – Oliver Knussen
Contralto Vocals – Susan Bickley
Orchestra – London Sinfonietta
21-9 1. Prelude 1:11
21-10 2. Exaudi (Chorus) 1:38
21-11 3. Dies Irae (Chorus) 0:52
21-12 4. Tuba Mirum (Bass) 1:09
21-13 5. Interlude 3:08
21-14 6. Rex Tremendae (Chor) 1:13
21-15 7. Lacrimosa (Contralto) 1:49
21-16 8. Libera Me (Chorus) 1:03
21-17 9. Postlude 2:25
Solo Vocal
22-1 Storm Cloud (1902): Sung In Russian
Piano – John Constable
Soprano Vocals – Lucy Shelton
Text By – Alexander Pushkin*
1:44
22-2 The Mushrooms Going To War (1904): Sung In Russian
Bass Vocals – Mikhail Svetlov*
Piano – Doris Stevenson
Text By – Traditional
6:00
Faun And Shepherdess Op. 2 (1906): Sung In Russian
Conductor – Oliver Knussen
Orchestra – The Cleveland Orchestra
Soprano Vocals – Lucy Shelton
Text By – Alexander Pushkin*
22-3 1. The Shepherdess 3:14
22-4 2. The Faun 3:22
22-5 3. The River 3:27
3 Little Songs "Recollections Of My Childhood" (1906-13): Sung In Russian
Piano – John Constable
Soprano Vocals – Lucy Shelton
Text By – Traditional
22-6 1. The Magpie 0:22
22-7 2. The Rook 0:47
22-8 3. The Jackdaw 0:40
22-9 Pastorale (1907): Song Without Words
Piano – John Constable
Soprano Vocals – Lucy Shelton
2:02
2 Songs Op. 6 (1907/8): Sung In Russian
Piano – John Constable
Soprano Vocals – Lucy Shelton
Text By – Sergey Gorodetzky*
22-10 1. Spring (The Cloister) 5:42
22-11 2. A Song Of The Dew (Mystic Song Of The Ancient Russian Flagellants) 4:22
2 Poems Of Paul Verlaine Op. 9 (1910, Arr. 1951/2): Sung In Russian
Baritone Vocals – John Shirley-Quirk
Conductor – Pierre Boulez
Ensemble – Ensemble Intercontemporain
Text By – Paul Verlaine
22-12 2. The White Moon 3:27
22-13 1. Sleep 1:31
2 Poems Of Konstantin Balmont (1911): Sung In Russian
Piano – John Constable
Soprano Vocals – Lucy Shelton
Text By – Konstantin Dmitrievich Balmont
22-14 1. Forget-me-nots 1:14
22-15 2. The Dove 1:39
3 Japanese Lyrics (1912/3): Sung In Russian
Conductor – Pierre Boulez
Ensemble – Ensemble Intercontemporain
Soprano Vocals – Phyllis Bryn-Julson
Translated By – A. Brandt*
22-16 1. Akahito 0:49
22-17 2. Mazatsumi 1:01
22-18 3. Tsaraiuki 1:31
4 Pleasant Songs (Pribaoutki) (1914): Sung In Russian
Baritone Vocals – John Shirley-Quirk
Conductor – Pierre Boulez
Ensemble – Ensemble Intercontemporain
Text By – Traditional
22-19 1. Uncle Pierre 0:51
22-20 2. Natashka 0:26
22-21 3. The Colonel 0:48
22-22 4. The Old Man And The Hare 2:19
Cat's Cradle Songs (1915): Sung In Russian
Conductor – Pierre Boulez
Ensemble – Ensemble Intercontemporain
Mezzo-soprano Vocals – Ann Murray
Text By – Traditional
22-23 1. On The Stove 0:41
22-24 2. At Home 1:00
22-25 3. Lullaby 1:18
22-26 4. The Cat Has… 0:52
3 Children's Tales (1916/7): Sung In Russian
Piano – John Constable
Soprano Vocals – Lucy Shelton
Text By – Traditional
22-27 1. Tilim-bom 1:09
22-28 2. Geese And Swans 0:31
22-29 3. The Bear's Song 3:16
22-30 Berceuse (1917): Sung In Russian
Piano – John Constable
Soprano Vocals – Lucy Shelton
Text By – Igor Stravinsky
1:17
4 Russian Songs (1918/9): Sung In Russian
Piano – John Constable
Soprano Vocals – Lucy Shelton
Text By – Traditional
23-1 1. The Drake 1:16
23-2 2. Counting Song 0:54
23-3 3. The Sparrow 1:06
23-4 4. Dissident Song 1:39
23-5 Song Of Parasha From The Opera Mavra (1921/2): Sung In Russian
Adapted By (Text) – Boris Kochno
Conductor – Pierre Boulez
Orchestra – Ensemble Intercontemporain
Soprano Vocals – Phyllis Bryn-Julson
Text By – Alexander Pushkin*
2:11
23-6 Tilim-bom Arr. For Voice And Orchestra (1923) From 3 Children's Tales: Sung In Russian
Conductor – Pierre Boulez
Orchestra – Ensemble Intercontemporain
Soprano Vocals – Phyllis Bryn-Julson
Text By – Traditional
1:13
23-7 Pastorale Arr. For Voice And Wind Instruments (1923): Song Without Words
Conductor – Pierre Boulez
Ensemble – Ensemble Intercontemporain
Soprano Vocals – Phyllis Bryn-Julson
1:55
3 Little Songs "Recollections Of My Childhood" Arr. For Voice And Small Orchestra (1929/30): Sung In Russian
Conductor – Pierre Boulez
Orchestra – Ensemble Intercontemporain
Soprano Vocals – Phyllis Bryn-Julson
Text By – Traditional
23-8 1. The Magpie 1:03
23-9 2. The Rook 1:04
23-10 3. The Jackdaw 1:00
23-11 Petit Ramusianum Harmonique (1937): Hommage À C. F. Ramuz
Baritone Vocals – Martin Bruns*
Text By – Charles-Albert Cingria, Igor Stravinsky
2:06
23-12 Hommage À Nadia Boulanger: "Diex, Com Leur Avient" (1947): Petit Canon Pour La Fête De Nadia Boulanger
Mezzo-soprano Vocals – Ronnita Miller
Soprano Vocals – Heidi Stober
Text By – Jean de Meung
0:31
3 Songs From William Shakespeare (1953)
Conductor – Pierre Boulez
Ensemble – Ensemble Intercontemporain
Mezzo-soprano Vocals – Ann Murray
Text By – William Shakespeare
23-13 1. Musick To Heare (Sonnet No. 8) 2:54
23-14 2. Full Fadom Five (The Tempest, I/2) 1:58
23-15 3. When Dasies Pied (Love's Labour Lost, V/2) 2:22
4 Songs For Voice, Flute, Harp And Guitar (1953/4) Arr. Of Nos. 1 & 4 From 4 Russian Songs And Nos. 2 & 1 From 3 Children's Tales: Sung In Russian
Conductor – Pierre Boulez
Ensemble – Ensemble Intercontemporain
Soprano Vocals – Phyllis Bryn-Julson
Text By – Traditional
23-16 1. The Drake 1:15
23-17 2. A Russian Spiritual 2:05
23-18 3. Geese And Swans 0:32
23-19 4. Tilim-bom 1:11
2 Poems Of Konstantin Balmont Arr. For Voice And Chamber Orchestra (1954): Sung In Russian
Conductor – Pierre Boulez
Orchestra – Ensemble Intercontemporain
Soprano Vocals – Phyllis Bryn-Julson
Text By – Konstantin Dmitrievich Balmont
23-20 1. Forget-me-nots 1:16
23-21 2. The Dove 1:39
23-22 In Memoriam Dylan Thomas: "Do Not Go Gently Into That Good Night" (1954)
Conductor – Pierre Boulez
Ensemble – Ensemble Intercontemporain
Tenor Vocals – Robert Tear
Text By – Dylan Thomas
7:49
Abraham And Isaac (1962/3): Sacred Ballad For Baritone And Chamber Orchestra
Baritone Vocals – David Wilson-Johnson
Conductor – Oliver Knussen
Orchestra – London Sinfonietta
Text By – Genesis 22, 1-19*
23-23 Vay'hi Ahar Hadvarim Ha'ēleh V'ha'Elohim 3:24
23-24 Vayikakh Avrahem Et Atzē Ha'olah 4:20
23-25 Vayi Sa Avrahem Et Ēnav Vayat V'hinēh 3:35
23-26 Elegy For J. F. K.: "When A Just Man Dies" (1964)
Baritone Vocals – John Shirley-Quirk
Conductor – Pierre Boulez
Ensemble – Ensemble Intercontemporain
Text By – W. H. Auden
1:48
23-27 The Owl And The Pussy-Cat (1966)
Piano – John Constable
Soprano Vocals – Lucy Shelton
Text By – Edward Lear (2)
3:06
2 Sacred Songs (1968) Arr. From Spanisches Liederbuch By Hugo Wolf
Conductor – Pierre Boulez
Ensemble – Ensemble Intercontemporain
Mezzo-soprano Vocals – Ann Murray
23-28 1. Herr, Was Trägt Der Boden Hier
Text By – Anonymous
Translated By – Paul Heyse
2:34
23-29 2. Wunden Trägst Du, Mein Geliebter
Text By – José de Valdivielso
Translated By – Emanuel Geibel
5:07
Chamber Music
3 Pieces For String Quartet (1914)
Cello – Eric Bartlett
Viola – Maureen Gallagher
Violin – Naoko Tanaka, Todd Phillips (4)
24-1 1. ♩ = 126 0:56
24-2 2. ♩ = 76 2:16
24-3 3. Half Note = 40 4:11
24-4 Duet "Lied Ohne Name" For 2 Bassoons (1916-18)
Bassoon – Dennis Godburn, Frank Morelli
0:52
24-5 Pour Pablo Picasso For Clarinet Solo (1917)
Clarinet – Charles Neidich
0:26
24-6 3 Pieces For Clarinet Solo (1918)
Clarinet – Alain Damiens
4:03
The Soldier's Tale: Concert Suite (1918/9)
Conductor – Pierre Boulez
Ensemble – Members of the Cleveland Orchestra
24-7 1. The Soldier's March 1:48
24-8 2. Airs By A Stream 2:41
24-9 3. Pastorale 3:56
24-10 4. The Royal March 2:42
24-11 5. The Little Concert 3:07
24-12 6. Three Dances: Tango - Valse - Ragtime 6:15
24-13 7. The Devil's Dance 1:23
24-14 8. Great Chorale 2:43
24-15 9. Triumphal March Of The Devil 2:21
24-16 La Marseillaise After Claude-Joseph Rouget De Lisle (1919)
Arranged By – Igor Stravinsky
Composed By – Rouget de Lisle
Violin – Isabelle van Keulen
1:13
24-17 Concertino For String Quartet (1920)
Conductor – Pierre Boulez
Ensemble – Ensemble Intercontemporain
6:34
Octet For Wind Instruments (1922/3)
Ensemble – Members Of The Orpheus Chamber Orchestra*
24-18 1. Sinfonia. Lento - Allegro Moderato 3:54
24-19 2. Tema Con Variazioni. Andantino 7:31
24-20 3. Finale. Tempo Giusto 3:26
Duo Concertant For Violin And Piano (1931/2)
Piano – Olli Mustonen
Violin – Isabelle van Keulen
25-1 1. Cantilène 2:54
25-2 2. Églogue 1 2:20
25-3 3. Églogue 2 3:06
25-4 4. Gigue 3:51
25-5 5. Dithyrambe 2:55
Suite Italienne (1932) Arr. From The Ballet Pulcinella By Igor Stravinsky And Gregor Piatigorsky
Arranged By – Gregor Piatigorsky, Igor Stravinsky
Cello – Mischa Maisky
Composed By – Igor Stravinsky
Piano – Martha Argerich
25-6 1. Introduzione. Allegro Moderato 2:15
25-7 2. Serenata. Larghetto 3:07
25-8 3. Aria. Allegro Alla Breve 5:32
25-9 4. Tarantella. Vivace 2:06
25-10 5. Minuetto E Finale. Moderato - Molto Vivace 4:40
25-11 Pastorale Arr. For Violin And Piano By Igor Stravinsky And Samuel Dushkin (1933)
Arranged By – Igor Stravinsky, Samuel Dushkin
Composed By – Igor Stravinsky
Piano – Olli Mustonen
Violin – Isabelle van Keulen
3:19
Divertimento After The Ballet The Fairy's Kiss Arr. For Violin And Piano By Igor Stravinsky And Samuel Dushkin (1934)
Arranged By – Igor Stravinsky, Samuel Dushkin
Composed By – Igor Stravinsky
Piano – Olli Mustonen
Violin – Isabelle van Keulen
25-12 1. Sinfonia 6:30
25-13 2. Danses Suisses 4:45
25-14 3. Scherzo 3:11
25-15 4. Pas De Deux. Adagio - Variation - Coda 6:13
25-16 Élégie For Viola Solo (1944)
Viola – Gérard Caussé
5:10
Septet For Clarinet, Horn, Bassoon, Violin, Viola, Violoncello And Piano (1952/3)
Ensemble – Members Of The Boston Symphony Chamber Players*
25-17 1. ♩ = 88 3:12
25-18 2. Passacaglia. ♩ = 60 5:06
25-19 3. Gigue. ♪. = 112-116 3:29
25-20 Epitaphium For Flute, Clarinet And Harp (1959)
Conductor – Pierre Boulez
Ensemble – Ensemble Intercontemporain
1:36
25-21 Double Canon For String Quartet (1959)
Conductor – Pierre Boulez
Ensemble – Ensemble Intercontemporain
1:41
25-22 Fanfare For A New Theatre For 2 Trumpets (1964)
Trumpet – Chris Gekker, Raymond Mase
0:41
Piano Music
26-1 Scherzo In G Minor (1902)
Piano – Víkingur Ólafsson
2:14
Piano Sonata In F Sharp Minor (1903/4)
Piano – Paul Crossley (2)
26-2 1. Allegro 11:24
26-3 2. Scherzo. Vivo 4:46
26-4 3. Andante 7:15
26-5 4. Finale. Allegro - Andante 6:08
4 Études For Piano Op. 7 (1908)
Piano – Marie-Françoise Bucquet
26-6 1. Con Moto 1:13
26-7 2. Allegro Brillante 2:56
26-8 3. Andantino 2:43
26-9 4. Vivo 2:11
26-10 Valse Des Fleurs For Piano Duet (1914)
Piano – Halla Oddný Magnúsdóttir, Víkingur Ólafsson
0:35
3 Easy Pieces For Piano Duet (1914/5)
Piano – Katia Et Marielle Labèque
26-11 1. Marche 1:09
26-12 2. Valse 1:49
26-13 3. Polka 0:43
26-14 Souvenir D'Une Marche Boche (1915)
Piano – Víkingur Ólafsson
1:38
5 Easy Pieces For Piano Duet (1917)
Piano – Katia Et Marielle Labèque
26-15 1. Andante 1:08
26-16 2. Española 0:47
26-17 3. Balalaika 0:47
26-18 4. Napolitana 0:56
26-19 5. Galop 1:38
26-20 Valse Pour Les Enfants (1916/7)
Piano – Marie-Françoise Bucquet
1:04
26-21 Ragtime (1917/8) Arr. Of Ragtime For 11 Instruments
Piano – Marie-Françoise Bucquet
4:48
26-22 Piano-Rag-Music (1919)
Piano – Marie-Françoise Bucquet
3:12
The Five Fingers (1921): Eight Very Easy Tunes On Five Notes
Piano – Marie-Françoise Bucquet
26-23 1. Andantino 0:50
26-24 2. Allegro 0:51
26-25 3. Allegretto 0:44
26-26 4. Larghetto 0:56
26-27 5. Moderato 0:39
26-28 6. Lento 0:53
26-29 7. Vivo 0:28
26-30 8. Pesante 1:20
3 Movements From Petrushka (1921)
Piano – Maurizio Pollini
27-1 1. Russian Dance 2:32
27-2 2. Petrushka's Room 4:17
27-3 3. The Shrovetide Fair 8:27
Piano Sonata (1924)
Piano – Marie-Françoise Bucquet
27-4 1. ♩ = 112 3:34
27-5 2. Adagietto 5:04
27-6 3. ♩ = 112 2:59
Serenade In A (1925)
Piano – Marie-Françoise Bucquet
27-7 1. Hymne 2:53
27-8 2. Romanza 2:55
27-9 3. Rondoletto 2:55
27-10 4. Cadenza Finale 3:51
Concerto For 2 Solo Pianos (1932-35)
Piano – Alfons & Aloys Kontarsky
27-11 1. Con Moto 6:33
27-12 2. Notturno. Adagietto 5:30
27-13 3. Quattro Variazioni 4:42
27-14 4. Preludio E Fuga. Lento 5:09
27-15 Tango (1940)
Piano – Marie-Françoise Bucquet
3:59
27-16 Circus Polka For A Young Elephant (1942) Arr. Of Circus Polka For Orchestra
Piano – Marie-Françoise Bucquet
3:47
Sonata For 2 Pianos (1943/4)
Piano – Alfons & Aloys Kontarsky
27-17 1. Moderato 4:21
27-18 2. Theme With Variations. Largo 4:27
27-19 3. Allegretto 2:00
Historical Recordings
Violin Concerto In D (1935 Recording)
Conductor – Igor Stravinsky
Orchestra – Orchestre Lamoureux*
Violin – Samuel Dushkin
28-1 1. Toccata 5:57
28-2 2. Aria I 4:18
28-3 3. Aria II 4:32
28-4 4. Capriccio 6:05
28-5 The Star-Spangled Banner (1941): National Anthem Of The United States Of America
Composed By – John Stafford Smith
Orchestra – Los Angeles Philharmonic*
Orchestrated By, Arranged By, Conductor – Igor Stravinsky
1:46
The Soldier's Tale (1962 Recording): To Be Read, Played And Danced In 2 Parts
Bassoon – Henri Helaerts
Clarinet – Ulysse Delecluse
Conductor – Igor Markevitch
Double Bass – Joachim Gut
Libretto By – Charles-Ferdinand Ramuz
Narrator – Jean Cocteau
Percussion – Charles Peschier
Speech [The Devil] – Peter Ustinov
Speech [The Princess] – Anne Tonietti
Speech [The Soldier] – Jean-Marie Fertey
Trombone – Roland Schnorkh
Trumpet – Maurice André
Violin – Manoug Parikian
28-6 Part 1 | The Soldier's March – "Entre Denges Et Denezy" (Narrator) – "Voilà Un Joli Endroit" (Soldier, Narrateur) 2:33
28-7.1 Music For Scene 1: Airs By A Stream – "Le Diable Paraît" (Narrator) 6:32
28-7.2 "Donnez-moi Votre Violon" (Devil, Soldier, Narrator)
28-8.1 The Soldier's March - "Entre Denges Et Denezy" (Narrator) 4:03
28-8.2 "Bravo! Ça Y Est!" (Soldier, Narrator)
28-9 Music For Scene 2: Pastorale – "Ah! Brigand!" (Soldier, Devil) 3:49
28-10 Music For The End Of Scene 2 – "Il S'Est Mis À Lire Le Livre" (Narrator, Soldier, Devil) 5:42
28-11 Music For The End Of Scene 2 – "Regardez, Monsieur" (Devil, Soldier, Narrator) 1:46
28-12 Music For Scene 3: Airs By A Stream – "Il Prend Le Livre" (Narrator) 0:57
28-13.1 Part 2 | The Soldier's March – "Entre Denges Et Denezy" (Narrator) 2:55
28-13.2 "Un Autre Pays À Présent" (Narrator, Soldier)
28-14 The Royal March – "On A Fait Marcher La Musique" (Soldier, Devil, Narrator) 6:37
28-15.1 The Little Concert – "Mademoiselle, À Présent, On Peut Le Dire" (Narrator) 2:53
28-15.2 "La Princesse Est Couchée" (Narrator)
28-16.1 Part 2 3 Dances | 1. Tango – "La Princesse Ouvre Les Yeux" (Narrator) 6:44
28-16.2 2. Valse – "La Princesse Danse" (Narrator) -
28-16.3 3. Ragtime – "La Princesse Sourit" (Narrator)
28-16.4 Part 2 | "Le Soldat Et La Princesse Tombent Dans Les Bras L'Un De L'Autre" (Narrator, Devil, Soldier)
28-17.1 The Devil's Dance – "Le Diable Danse" (Narrator) 1:25
28-17.2 "Il Tombe À Terre, Épuise" (Narrator)
28-18 Little Chorale 0:40
28-19 The Devil's Song – "Ça Va Bien Pour Le Moment" (Devil) 0:35
28-20 Great Chorale – "Il Ne Faut Pas Vouloir Ajouter" (Narrator, Princess, Soldier) 4:48
28-21 Triumphal March Of The Devil – "Le Soldat A Baissé La Tête" (Narrator, Princess) 2:04
Petrushka - Burlesque In 4 Scenes (1957 Recording)
Conductor – Ernest Ansermet
Orchestra – L'Orchestre De La Suisse Romande
29-1 Scene 1: The Shrovetide Fair – Legerdemain Scene – Russian Dance 9:57
29-2 Scene 2: Petrushka's Room 4:19
29-3 Scene 3: The Moor's Room – Dance Of The Ballerina – Waltz: The Ballerina And The Moor – Petrushka 7:27
29-4 Scene 4: The Shrovetide Fair – Dance Of The Nursemaids – The Peasant And The Bear - The Jovial Merchant With Two Gypsy Girls - Dance Of The Coachmen And Grooms – Masqueraders – The Fight: The Moor And Petrushka – Death Of Petrushka 13:26
The Rite Of Spring (1956 Recording): Scenes Of Pagan Russia In 2 Parts
Conductor – Pierre Monteux
Orchestra – The Paris Conservatoire Orchestra*
29-5 Part 1 The Adoration Of The Earth: Introduction 3:06
29-6 The Augurs Of Spring (Dances Of The Young Girls) 3:20
29-7 Game Of Abduction 1:27
29-8 Spring Rounds 3:19
29-9 Games Of The Rival Tribes 2:01
29-10 The Adoration Of The Earth: Procession Of The Sage – Adoration Of The Earth 0:45
29-11 The Sage 0:21
29-12 Dance Of The Earth 1:16
29-13 Part 2: The Sacrifice | Introduction 3:49
29-14 Mystic Circles Of The Young Girls 3:06
29-15 Glorification Of The Chosen One 1:40
29-16 Evocation Of The Ancestors 0:43
29-17 Ritual Action Of The Ancestors 3:16
29-18 Sacrificial Dance (The Chosen One) 4:38
Bonus
30-1 Chant Funèbre Op. 5 (1908): In Memory Of Nikolai Rimsky-Korsakov, Rediscovered In 2015
Conductor – Riccardo Chailly
Orchestra – Lucerne Festival Orchestra
10:30
The Rite Of Spring – Version For Piano Duet (1913): Scenes Of Pagan Russia In 2 Parts
Piano – Daniel Barenboim, Martha Argerich
30-2 Part 1: The Adoration Of The Earth: Introduction – The Augurs Of Spring (Dances Of The Young Girls) – Game Of Abduction – Spring Rounds – Games Of The Rival Tribes – Procession Of The Sage – Adoration Of The Earth – The Sage – Dance Of The Earth 14:50
30-3 Part 2: The Sacrifice: Introduction – Mystic Circles Of The Young Girls – Glorification Of The Chosen One – Evocation Of The Ancestors – Ritual Action Of The Ancestors – Sacrificial Dance (The Chosen One) 17:26