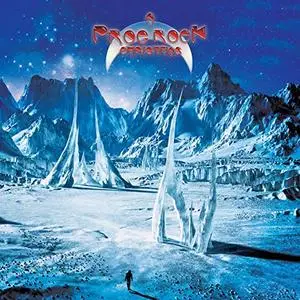 VA - A Prog Rock Christmas (2019)
WEB FLAC (Tracks) - 315 MB | Cover | MP3 CBR 320 kbps - 121 MB | 00:48:52
Rock, Progressive Rock | Label: Purple Pyramid Records
Join producer Billy Sherwood (Yes, Circa) for an expansive musical journey through Christmas classics of yesterday and today, all performed by leading figures in Prog Rock music!Includes gorgeous performances by guitar legend Steve Morse, angelic vocalists Annie Haslam (of Renaissance) and Sonja Kristina (of Curved Air) PLUS Martin Turner (of Wishbone Ash), Simon House (of Hawkwind) and a special guest performance by actor Malcolm McDowell!Available on both CD in an attractive digipak and on limited edition vinyl in your choice of RED or WHITE!
TRACKLIST
01. Jon Davison - Run with the Fox
02. Kasim Sulton - Christmas Lights
03. Steve Morse - Carol of the Bells
04. Annie Haslam - The Twelve Days of Christmas
05. Billy Sherwood & Patrick Moraz - Wonderful Christmastime
06. Martin Turner - I Believe in Father Christmas
07. Leslie Hunt & Robin McAuley - Fairytale of New York
08. Sonja Kristina - O Come All Ye Faithful
09. Thijs Van Leer - A Christmas Song
10. Malcolm Mcdowell - You're a Mean One, Mr. Girnch
11. Geoff Downes - Linus & Lucy (Charlie Brown Christmas Theme)
12. Nik Turner & Simon House - Silent Night
13. John Wetton - Happy Christmas (War Is Over)
–––––––––––-
DON'T MODIFY THIS FILE
–––––––––––-
PERFORMER: auCDtect Task Manager, ver. 1.6.0 RC1 build 1.6.0.1
Copyright © 2008-2010 y-soft. All rights reserved
http://y-soft.org
ANALYZER: auCDtect: CD records authenticity detector, version 0.8.2
Copyright © 2004 Oleg Berngardt. All rights reserved.
Copyright © 2004 Alexander Djourik. All rights reserved.
FILE: 13. John Wetton - Happy Christmas (War Is Over).flac
Size: 25880544 Hash: FD28FE07E9A2B936210AC4FDE4E065FD Accuracy: -m0
Conclusion: CDDA 100%
Signature: 1DE70FE8BD5EAE922938909013D67991DBDE6F5F
FILE: 12. Nik Turner & Simon House - Silent Night.flac
Size: 36665563 Hash: 7E1510FC55EC41C9AB4DF3AF9525FDD6 Accuracy: -m0
Conclusion: CDDA 100%
Signature: 6BCEC02FB55D001CF847A40703D0F32B5AEB0723
FILE: 11. Geoff Downes - Linus & Lucy (Charlie Brown Christmas Theme).flac
Size: 22567092 Hash: B27338E57FA0F33FBB9B3BEE0B521F5B Accuracy: -m0
Conclusion: CDDA 100%
Signature: 437136C3A0E348F3707CE923AAD1E870C86125F5
FILE: 10. Malcolm Mcdowell - You're a Mean One, Mr. Girnch.flac
Size: 19968077 Hash: 9CE5CDA8E7F008375F1811D35F8853C3 Accuracy: -m0
Conclusion: CDDA 100%
Signature: ACD9B62764EDC9E5C3827CDAA43A05126B1CA436
FILE: 09. Thijs Van Leer - A Christmas Song.flac
Size: 15222805 Hash: 6790B9EBE6C7A7D72FF4091AF4CB6084 Accuracy: -m0
Conclusion: CDDA 100%
Signature: A20F7E13A13C7F8F699452645F17BB5177EA1355
FILE: 08. Sonja Kristina - O Come All Ye Faithful.flac
Size: 26230223 Hash: F0784D45A16449EDF79CEE77B6240B12 Accuracy: -m0
Conclusion: CDDA 99%
Signature: 4BA9CAEC425506ECFE3AD56156F2377AF1AC5271
FILE: 07. Leslie Hunt & Robin McAuley - Fairytale of New York.flac
Size: 28268494 Hash: E7D7B1933FFC9A258515403960CD2377 Accuracy: -m0
Conclusion: CDDA 100%
Signature: 6CAA7A10A370382A801C86D2E356090347E172F7
FILE: 06. Martin Turner - I Believe in Father Christmas.flac
Size: 20600724 Hash: 0FA3C075AADC13F7D143CDFD10CC1A15 Accuracy: -m0
Conclusion: CDDA 100%
Signature: D1FFDD8921C5A7A556D51CA84D3865D05DA45952
FILE: 05. Billy Sherwood & Patrick Moraz - Wonderful Christmastime.flac
Size: 31605525 Hash: 751E09CC54E825E832295F627AEE2A7E Accuracy: -m0
Conclusion: MPEG 95%
Signature: DE36FBDC2258A5CB1F856F591744E48EB0AFD552
FILE: 04. Annie Haslam - The Twelve Days of Christmas.flac
Size: 29802263 Hash: F0DA2FD2767A11A6E396DB629450DBD1 Accuracy: -m0
Conclusion: CDDA 100%
Signature: 93D61EE29D360A9DB55C810030F59F1E18DF7C8E
FILE: 03. Steve Morse - Carol of the Bells.flac
Size: 17567842 Hash: 2D6D22FBEC1915909B1AA96CD59BBC1C Accuracy: -m0
Conclusion: CDDA 99%
Signature: 599925032C8B9B8F75219981AA77CB0079392A9E
FILE: 02. Kasim Sulton - Christmas Lights.flac
Size: 27878167 Hash: 2EE55D5A869029A15B03BBBD541A3336 Accuracy: -m0
Conclusion: MPEG 95%
Signature: E65B9CEF38B3C39E463C35DFB069D760A0EBC8E2
FILE: 01. Jon Davison - Run with the Fox.flac
Size: 27898781 Hash: E4108CBB5EFC450A7DC2265DDC9A5A6F Accuracy: -m0
Conclusion: CDDA 100%
Signature: FB3ECE2489D03B876F3E1A66CB1765E5B0DD7CA0
All thanks go to the original releaser