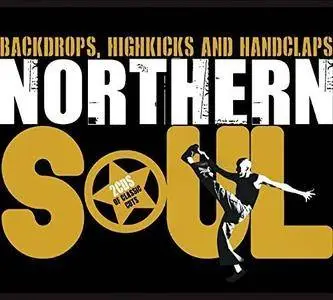 V.A. - Northern Soul: Backdrops, Highkicks And Handclaps (2016)
Soul, Funk | MP3 320 kbps | 105:49 min | ~244 Mb
Label: Metro Select | Tracks: 40 | Rls.date: 2016
Northern Soul was the peoples soul, the beat that kept the faith. This collection brings you mighty mod dancers, rare gems and the sounds that kept dancefloors filled in Wigan, Blackpool and Stoke throughout the 70s. Featuring classics from The Showstoppers, Brother To Brother, Timebox, Donnie Elbert and many more, your feet will be flying from start to finish.
TRACKLIST
CD 1
1. The Showstoppers - Ain't Nothing But A House Party [ 2:36]
2. A Band Of Angels - (Accept My) Invitation [ 3:01]
3. The Alan Bown Set - Gonna Fix You Good (Everytime You're Bad)[ 2:40]
4. The John Schroeder Orchestra - Soul For Sale [ 2:17]
5. Helen Shapiro - Take Me For A While [ 2:39]
6. Donnie Elbert - Where Did Our Love Go [ 3:12]
7. Brother To Brother - In The Bottle [ 3:15]
8. Larry Saunders - On The Real Side [ 3:31]
9. Frankie Crocker - Ton Of Dynamite [ 2:40]
10.The Sapphires - Gotta Have Your Love [ 2:14]
11.Lorraine Silver - Lost Summer Love [ 2:01]
12.Timebox - Soul Sauce [ 2:54]
13.The Javells Feat. Nosmo King - Goodbye (Nothing To Say) [ 2:45]
14.Joya Landis - I Love You Baby [ 2:43]
15.The Carstairs - It Really Hurts Me Girl [ 3:29]
16.The Mike Cotton Sound - Step Out Of Line [ 2:42]
17.Lloyd & Glen - Mini Skirts And Go Go Boots [ 2:34]
18.Bobby Rio - Ask The Lonely [ 2:38]
19.Jimmy James & The Vagabonds - This Heart Of Mine [ 2:28]
20.Petula Clark - You're The One [ 2:22]
CD 2
1. Kim D - The Real Thing [ 2:06]
2. Jason Knight - Love Is Getting Stronger [ 2:09]
3. The Heartstoppers - Marching Out Of Your Life [ 2:58]
4. Jackie Trent - You Baby [ 2:36]
5. Kenny Bernard - Ain't No Soul (Left In These Old Shoes) [ 2:02]
6. The Devonnes - I'm Gonna Pick Up My Toys (And Go Home) [ 3:29]
7. Sylvia - It's A Good Life [ 2:17]
8. The Rimshots - Do What You Feel [ 3:43]
9. Retta Young - You Beat Me To The Punch [ 2:58]
10.Willie & The Mighty Magnificents - Check It Baby [ 2:15]
11.The Ferris Wheel - Number One Guy [ 1:55]
12.Leonard Whiting - That's What Mama Say [ 1:55]
13.The Playthings - Stop What You're Doing [ 2:36]
14.Father's Angels - Bok To Bach [ 2:47]
15.Ebony Keyes - If You Knew [ 2:45]
16.Margo & The Marvettes - When Love Slips Away [ 2:58]
17.Willie & West - Get Away From Me Girl [ 2:07]
18.Geno Washington - If This Is Love (I'd Rather Be Lonely) [ 2:38]
19.The Three Tops - Do It Right (Soul Version) [ 2:51]
20.The Cherry People - And Suddenly [ 2:03]