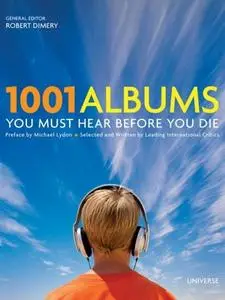 V.A. - 1001 Albums You Must Hear Before You Die: CD01-CD50 (1955-1965)
FLAC (*tracks , scans) | Run Time: 1d 14:15:49 | 13.2 Gb | Scans - 843 Mb
Genre: Rock, Pop, Alternative, Indie, Electronic | Label: Universe
The ultimate compendium of a half century of the best music, now revised and updated. 1001 Albums You Must Hear Before You Die is a highly readable list of the best, the most important, and the most influential pop albums from 1955 through today. Carefully selected by a team of international critics and some of the best-known music reviewers and commentators, each album is a groundbreaking work seminal to the understanding and appreciation of music from the 1950s to the present. Included with each entry are production details and credits as well as reproductions of original album cover art. Perhaps most important of all, each album featured comes with an authoritative description of its importance and influence.
Contents:
001. Frank Sinatra - In The Wee Small Hours (1955)
002. Elvis Presley - Elvis Presley (1956)
003. The Louvin Brothers - Tragic Songs Of Life (1956)
004. Louis Prima - The Wildest! (1956)
005. Fats Domino - This Is Fats (1956)
006. Duke Ellington - Ellington At Newport (1956)
007. Frank Sinatra - Songs For Swingin' Lovers! (1956)
008. The Cricets - The "Chirping" Crickets (1957)
009. Count Baise - The Atomic Mr.Basie (1957)
010. Thelonious Monk - Brilliant Corners (1957)
011. Sabu - Palo Congo (1957)
012. Miles Davis - Birth Of The Cool (1957)
013. Machito - Kenya (1957)
014. Little Richard - Here's Little Richard (1957)
015. Tito Puente And His Orchestra - Dance Mania,vol.1 (1958)
016. Billie Holiday - Lady In Satin (1958)
017. Jack Elliott - Jack Takes The Floor (1958)
018. Sarah Vaughan - Sarah Vaughan At Mister Kelly's (1958)
019. Ella Fitzgerald - Sings The Gershwin Song Book (1959)
020. Ray Charles - The Genius Of Ray Charles (1959)
021. Miles Davis - Kind Of Blue (1959)
022. Marty Robbins - Gunfighter Ballads And Trail Songs (1959)
023. The Dave Brubeck Quartet - Time Out (1959)
024. Joan Baez - Joan Baez (1960)
025. Elvis Presley - Elvis Is Back! (1960)
026. Miriam Makeba - Miriam Makeba (1960)
027. The Everly Brothers - A date With The Everly Brothers (1960)
028. Jimmy Smith - Back At The Chicken Shack (1960)
029. Muddy Waters - Muddy Waters At Newport (1960)
030. Bill Evans - Sunday At The Village Vanguard (1961)
031. Ray Charles - Modern Sounds In Country And Western Music (1962)
032. Booker T. And The M.G.s - Green Onions (1962)
033. Stan Getz And Charlie Byrd - Jazz Samba (1962)
034. Ray Price - Night Life (1962)
035. The Beatles - With Te Beatles (1963)
036. Bob Dylan - The Freewheelin' Bob Dylan (1963)
037. Phil Spector - A Christmas Gift For You (1963)
038. Sam Cooke - Live At The Harlem Square Club (1963)
039. Charles Mingus - The Black Saint And The Sinner Lady (1963)
040. James Brown - Live At The Apollo (1963)
041. stan Getz And Joao Gilberto - Getz/Gilberto (1963)
042. The Beatles - A Hard Day's Night (1964)
043. Jacques Brel - Olympia 64 (1964)
044. Solomon Burke - Rock'n'Soul (1964)
045. Dusty Springfield - A Girl called Dusty (1964)
046. The Rolling Stones - The Rolling Stones (1964)
047. Buck Owens and His Buckaroos - I've Got A Tiger By The Tail (1965)
048. Jerry Lee Lewis - Live At The star Club, Hamburg (1965)
049. The Sonics - Here Are The Sonics (1965)
050. Bob Dylan - Bringing It All Back Home (1965)
Frank Sinara - In the Wee Small Hours of the Morning (3:04)
Frank Sinara - Last Night When We Were Young (3:21)
Frank Sinara - I'll Be Around (3:00)
Frank Sinara - Ill Wind (3:50)
Frank Sinara - It Never Entered My Mind (2:45)
Frank Sinara - Dancing on the Ceiling (3:01)
Frank Sinara - I'll Never Be the Same (3:08)
Frank Sinara - This Love of Mine (3:37)
Frank Sinara - Mood Indigo (3:32)
Frank Sinara - Glad to Be Unhappy (2:41)
Frank Sinara - I Get Along Without You Very Well (3:44)
Frank Sinara - Deep in a Dream (2:55)
Frank Sinara - I See Your Face Before Me (3:26)
Frank Sinara - Can't We Be Friends (2:54)
Frank Sinara - When Your Lover Has Gone (3:12)
Frank Sinara - What Is This Thing Called Love (2:38)
Elvis Presley - Blue Suede Shoes (2:01)
Elvis Presley - I'll Never Let You Go (2:26)
Elvis Presley - Blue Moon (2:41)
Elvis Presley - Money Honey (2:35)
Elvis Presley - I'm Counting On You (2:25)
Elvis Presley - I Got A Woman (2:25)
Elvis Presley - One-Sided Love Affair (2:11)
Elvis Presley - I Love Ypu Because (2:44)
Elvis Presley - Just Becase (2:34)
Elvis Presley - Tutti Frutti (1:59)
Elvis Presley - Tryin' To Get You (2:33)
Elvis Presley - I'm Gonna Sit Right Down And Cry (2:03)
The Louvin Brothers - Kentucky (2:40)
The Louvin Brothers - I'll Be All Smiles Tonight (3:14)
The Louvin Brothers - Let Her Go, God Bless Her (2:55)
The Louvin Brothers - What Is Home Without Love (3:00)
The Louvin Brothers - A Tiny Broken Heart (2:33)
The Louvin Brothers - In The Pines (3:14)
The Louvin Brothers - Alabama (2:43)
The Louvin Brothers - Katie Dear (2:33)
The Louvin Brothers - My Brother's Will (3:15)
The Louvin Brothers - Knoxville Girl (3:48)
The Louvin Brothers - Take The News To Mother (2:47)
The Louvin Brothers - Mary Of The Wild Moor (3:13)
Louis Prima - Medley: Just A Gigolo / I Ain't Got Nobody (4:49)
Louis Prima - (Nothing's Too Good) For My Baby (2:43)
Louis Prima - The Lip (2:23)
Louis Prima - Body And Soul (3:29)
Louis Prima - Oh Marie (2:35)
Louis Prima - Medley: Basin Street Blues / When It's Sleepy Time Down South (4:19)
Louis Prima - Jump, Jive, An' Wail (3:33)
Louis Prima - Buono Sera (3:04)
Louis Prima - Night Train (2:52)
Louis Prima - I'll Be Glad When You're Dead, You Rascal You (3:14)
Fats Domino - Blueberry Hill (2:37)
Fats Domino - Honey Chile (2:00)
Fats Domino - What's The Reason (I'm Not Pleasing You) (2:15)
Fats Domino - Blue Monday (2:32)
Fats Domino - So Long (2:23)
Fats Domino - La-La (2:24)
Fats Domino - Troubles Of My Own (2:27)
Fats Domino - You Done Me Wrong (2:14)
Fats Domino - Reeling And Rocking (2:31)
Fats Domino - The Fat Man's Hop (2:37)
Fats Domino - Poor, Poor Me (2:20)
Fats Domino - Trust In Me (2:41)
Duke Ellington - Star Spangled Banner (1:14)
Duke Ellington - Father Norman O'Connor Introduces Duke & The Orchestra/Duke Introduces Tune & Anderson, Jackson, & Procope (3:39)
Duke Ellington - Black And Tan Fantasy (6:20)
Duke Ellington - Duke Introduces Cook & Tune (0:26)
Duke Ellington - Tea For Two (3:35)
Duke Ellington - Duke & Band Leave Stage/Father Norman O'Connor Talks About The Festival (2:45)
Duke Ellington - Take The A Train (4:21)
Duke Ellington - Duke Announces Strayhorn's A Train & Nance/Duke Introduces Festival Suite, Part I & Hamilton (0:41)
Duke Ellington - Part I - Festival Junction [Live] (8:04)
Duke Ellington - Duke Announces Soloists; Introduces Part II [Live] (0:42)
Duke Ellington - Part II - Blues To Be There [Live] (7:14)
Duke Ellington - Duke Announces Nance & Procope; Introduces Part III [Live] (0:14)
Duke Ellington - Part III - Newport Up [Live] (5:31)
Duke Ellington - Duke Announces Hamilton, Gonsalves, & Terry/Duke Introduces Carney & Tune [Live] (0:26)
Duke Ellington - Sophisticated Lady [Live] (3:53)
Duke Ellington - Duke Announces Grissom & Tune [Live] (0:16)
Duke Ellington - Day In, Day Out [Live] (3:50)
Duke Ellington - Duke Introduces Tune(S) And Paul Gonsalves Interludes [Live] (0:25)
Duke Ellington - Diminuendo In Blue And Crescendo In Blue [Live] (14:20)
Duke Ellington - Announcements, Pandemonium [Live] (0:43)
Duke Ellington - Pause (0:06)
Duke Ellington - Duke Introduces Johnny Hodges (0:18)
Duke Ellington - I Got It Bad (And That Ain't Good) (3:38)
Duke Ellington - Jeep's Blues (5:08)
Duke Ellington - Duke Calms Crowd, Introduces Nance & Tune (0:09)
Duke Ellington - Tulip Or Turnip (2:49)
Duke Ellington - Riot Prevention (1:06)
Duke Ellington - Skin Deep (9:12)
Duke Ellington - Mood Indigo (1:20)
Duke Ellington - Studio Concert (3:58)
Duke Ellington - Father Norman O'Connor Introduces Duke Ellington/Duke Introduces New Work, Part I And Hamilton (1:01)
Duke Ellington - Part I-Festival Junction (8:46)
Duke Ellington - Duke Announces Soloists; Introduces Part II (0:30)
Duke Ellington - Part II-Blues To Be There (7:53)
Duke Ellington - Duke Announces Nance & Procope; Introduces Part III (0:10)
Duke Ellington - Part III-Newport Up (5:12)
Duke Ellington - Duke Announces Hamilton, Gonsalves, & Terry/Pause/Duke Introduces Johnny Hodges (0:25)
Duke Ellington - I Got It Bad (And That Ain't Good) (3:48)
Duke Ellington - Jeep's Blues (4:31)
Duke Ellington - Pause Track (0:06)
Frank Sinatra - You Make Me Feel So Young (2:56)
Frank Sinatra - It Happened in Monterey (2:35)
Frank Sinatra - You're Getting to be a Habit with Me (2:19)
Frank Sinatra - You Brought a New Kind of Love to Me (2:47)
Frank Sinatra - Too Marvelous for Words (2:29)
Frank Sinatra - Old Devil Moon (3:56)
Frank Sinatra - Pennies From Heaven (2:43)
Frank Sinatra - Love is Here to Stay (2:41)
Frank Sinatra - I've Got You Under My Skin (3:45)
Frank Sinatra - I Thought About You (2:31)
Frank Sinatra - We'll Be Together Again (4:28)
Frank Sinatra - Makin' Whoopee (3:08)
Frank Sinatra - Swingin' Down the Lane (2:55)
Frank Sinatra - Anything Goes (2:43)
Frank Sinatra - How About You (2:49)
Buddy Holly & The Crickets - Oh, Boy! (2:08)
Buddy Holly & The Crickets - Not Fade Away (2:22)
Buddy Holly & The Crickets - You've Got Love (2:09)
Buddy Holly & The Crickets - Maybe Baby (2:03)
Buddy Holly & The Crickets - It's Too Late (2:24)
Buddy Holly & The Crickets - Tell Me How (2:00)
Buddy Holly & The Crickets - That'll Be The Day (2:17)
Buddy Holly & The Crickets - I'm Looking For Someone To Love (1:58)
Buddy Holly & The Crickets - An Empty Cup (And A Broken Date) (2:13)
Buddy Holly & The Crickets - Send Me Some Lovin' (2:35)
Buddy Holly & The Crickets - Last Night (1:55)
Buddy Holly & The Crickets - Rock Me My Baby (1:50)
Buddy Holly & The Crickets - Think It Over (Bonustrack) (1:47)
Buddy Holly & The Crickets - Fool's Paradise (Bonustrack) (2:30)
Buddy Holly & The Crickets - Lonesome Tears (Bonustrack) (1:48)
Buddy Holly & The Crickets - It's So Easy (Bonustrack) (2:09)
Count Basie - The Kid From Red Bank (2:41)
Count Basie - Duet (4:11)
Count Basie - After Supper (3:26)
Count Basie - Flight Of The Foo Birds (3:23)
Count Basie - Double-O (2:46)
Count Basie - Teddy The Toad (3:19)
Count Basie - Whirly-Bird (3:51)
Count Basie - Midnite Blue (4:28)
Count Basie - Splanky (3:36)
Count Basie - Fantail (2:56)
Count Basie - Li'l Darlin' (4:50)
Count Basie - Silks And Satins (Bonustrack) (4:05)
Count Basie - Sleepwalker's Serenade (Alternative Take) Bonustrack (3:36)
Count Basie - Sleepwalker's Serenade (Bonustrack) (3:38)
Count Basie - The Late Late Show (Bonustrack) (2:51)
Count Basie - The Late Late Show (Vocal Version) Bonustrack (3:02)
Thelonious Monk - Brilliant Corners (7:44)
Thelonious Monk - Ba-Lue Bolivar Ba-Lues Are (13:06)
Thelonious Monk - Pannonica (8:49)
Thelonious Monk - I Surrender, Dear (5:26)
Thelonious Monk - Bemsha Swing (7:40)
Sabu Martinez - El Cumbanchero (5:39)
Sabu Martinez - Billumba-Palo Congo (6:09)
Sabu Martinez - Choferito-Plena (4:04)
Sabu Martinez - Asabache (4:25)
Sabu Martinez - Simba (5:58)
Sabu Martinez - Rhapsodia del Maravilloso (4:41)
Sabu Martinez - Aggo Elegua (4:31)
Sabu Martinez - Tribilin Cantore (5:19)
Miles Davis - Move (2:35)
Miles Davis - Jeru (3:15)
Miles Davis - Moon Dreams (3:21)
Miles Davis - Venus De Milo (3:14)
Miles Davis - Budo (2:34)
Miles Davis - Deception (2:50)
Miles Davis - Godchild (3:12)
Miles Davis - Boplicity (3:02)
Miles Davis - Rocker (3:07)
Miles Davis - Israel (2:19)
Miles Davis - Rouge (3:17)
Miles Davis - Darn That Dream (3:26)
Machito - Wild Jungle (2:47)
Machito - Congo Mulence (2:56)
Machito - Kenya (3:28)
Machito - Oyeme (3:13)
Machito - Holiday (2:49)
Machito - Cannonology (2:31)
Machito - Frenzy (2:42)
Machito - Blues A La Machito (3:03)
Machito - Conversation (2:58)
Machito - Tin Tin Deo (2:57)
Machito - Minor Rama (3:03)
Machito - Tururato (3:11)
Little Richard - Tutti Frutti (2:23)
Little Richard - True, Fine Mama (2:40)
Little Richard - Can't Believe You Wanna' Leave (2:25)
Little Richard - Ready Teddy (2:06)
Little Richard - Baby (2:03)
Little Richard - Slippin' and Slidin' (2:42)
Little Richard - Long Tall Sally (2:07)
Little Richard - Miss Ann (2:14)
Little Richard - Oh Why? (2:07)
Little Richard - Rip It Up (2:21)
Little Richard - Jenny Jenny (2:02)
Tito Puente - El Cayuco (2:38)
Tito Puente - Complicación (3:23)
Tito Puente - 3-D Mambo (2:25)
Tito Puente - Llegó Miján (3:14)
Tito Puente - Cuando te Vea (4:15)
Tito Puente - Hong Kong Mambo (3:48)
Tito Puente - Mambo Gozón (2:47)
Tito Puente - Mi chiquita quiere Bembé (3:57)
Tito Puente - Varsity Drag (2:52)
Tito Puente - Estoy siempre junto a Tí (3:14)
Tito Puente - Agua limpia todo (2:57)
Tito Puente - Saca tu mujer (3:04)
Billie Holiday - I'm A Fool To Want You (3:30)
Billie Holiday - Glad To Be Unhappy (4:13)
Billie Holiday - I'll Be Around (3:29)
Billie Holiday - The End Of A Love Affair (4:49)
Billie Holiday - For Heaven's Sake (3:32)
Billie Holiday - You Don't Know What Love Is (3:54)
Billie Holiday - I Get Along Without You Very Well (3:04)
Billie Holiday - For All We Know (2:57)
Billie Holiday - Violets For Your Furs (3:30)
Billie Holiday - You've Changed (3:23)
Billie Holiday - It's Easy To Remember (4:07)
Billie Holiday - But Beautiful (4:36)
Ramblin' Jack Elliott - San Francisco Bay Blues (3:00)
Ramblin' Jack Elliott - Ol' Riley (2:03)
Ramblin' Jack Elliott - The Boll Weevil (3:07)
Ramblin' Jack Elliott - Bed Bug Blues (3:01)
Ramblin' Jack Elliott - New York Town (3:24)
Ramblin' Jack Elliott - Old Blues (3:30)
Ramblin' Jack Elliott - Grey Goose (1:43)
Ramblin' Jack Elliott - Mule Skinner's Blues (5:25)
Ramblin' Jack Elliott - East Texas Talking Blues (2:36)
Ramblin' Jack Elliott - Cocaine (2:27)
Ramblin' Jack Elliott - Dink's Song (3:22)
Ramblin' Jack Elliott - Black Baby (1:39)
Ramblin' Jack Elliott - Salty Dog (2:34)
Ramblin' Jack Elliott - Brother Won't You Join in the Line? (2:34)
Ramblin' Jack Elliott - There are Better Things to Do (3:24)
Sarah Vaughan - September In The Rain (3:34)
Sarah Vaughan - Dream (4:43)
Sarah Vaughan - I'm Gonna Sit Right Down And Write Myself A Letter (3:13)
Sarah Vaughan - It's Got To Be Love (2:31)
Sarah Vaughan - Alone (5:16)
Sarah Vaughan - If This Isn't Love (2:24)
Sarah Vaughan - Embraceable You (2:46)
Sarah Vaughan - Lucky In Love (2:10)
Sarah Vaughan - Dancing In The Dark (3:36)
Sarah Vaughan - Poor Butterfly (4:44)
Sarah Vaughan - Sometimes I'm Happy (1:59)
Sarah Vaughan - Willow Weep For Me (5:18)
Sarah Vaughan - I Cover The Waterfront (4:07)
Sarah Vaughan - Just One Of Those Things (3:12)
Sarah Vaughan - Be Anything But Darling Be Mine (4:49)
Sarah Vaughan - Thou Swell (2:42)
Sarah Vaughan - Stairway To The Stars (5:05)
Sarah Vaughan - Honeysuckle Rose (3:37)
Sarah Vaughan - Just A Gigolo (4:16)
Sarah Vaughan - How High The Moon (2:59)
Ella Fitzgerald - Ambulatory Suite: Promenade (Walking the Dog)/March of the Swiss Soldiers/Fidgety Feet (7:16)
Ella Fitzgerald - Nice Work If You Can Get It (3:34)
Ella Fitzgerald - Just Another Rhumba (5:37)
Ella Fitzgerald - 'S Wonderful (3:30)
Ella Fitzgerald - How Long Has This Been Going On? (3:46)
Ella Fitzgerald - The Man I Love (3:52)
Ella Fitzgerald - That Certain Feeling (3:04)
Ella Fitzgerald - By Strauss (2:31)
Ella Fitzgerald - Someone to Watch over Me (4:33)
Ella Fitzgerald - The Real American Folk Song (3:45)
Ella Fitzgerald - Who Cares? (3:07)
Ella Fitzgerald - The Preludes: Prelude I/Prelude II/Prelude III (6:34)
Ella Fitzgerald - Sam and Delilah (3:17)
Ella Fitzgerald - But Not for Me (3:34)
Ella Fitzgerald - My One and Only (2:37)
Ella Fitzgerald - (I've Got) Beginner's Luck (3:10)
Ella Fitzgerald - Let's Call the Whole Thing Off (4:28)
Ella Fitzgerald - Oh, Lady Be Good (4:02)
Ella Fitzgerald - Things Are Looking Up (3:04)
Ella Fitzgerald - Looking for a Boy (3:06)
Ella Fitzgerald - Strike Up the Band (2:35)
Ella Fitzgerald - Soon (2:22)
Ella Fitzgerald - I've Got a Crush on You (3:30)
Ella Fitzgerald - Bidin' My Time (2:41)
Ella Fitzgerald - Aren't You Kind of Glad We Did? (3:30)
Ella Fitzgerald - Of Thee I Sing (Baby) (3:09)
Ella Fitzgerald - 'The Half of It, Dearie' Blues (3:47)
Ella Fitzgerald - I Was Doing All Right (3:28)
Ella Fitzgerald - He Loves and She Loves (2:48)
Ella Fitzgerald - They All Laughed (3:05)
Ella Fitzgerald - My Cousin in Milwaukee (3:09)
Ella Fitzgerald - Somebody from Somewhere (3:08)
Ella Fitzgerald - A Foggy Day (3:33)
Ella Fitzgerald - Clap Yo' Hands (2:30)
Ella Fitzgerald - For You, for Me, for Evermore (3:25)
Ella Fitzgerald - Stiff Upper Lip (2:52)
Ella Fitzgerald - Boy Wanted (3:35)
Ella Fitzgerald - Love Is Sweeping the Country (3:26)
Ella Fitzgerald - Embraceable You (4:53)
Ella Fitzgerald - I Can't Be Bothered Now (2:50)
Ella Fitzgerald - Boy! What Love Has Done to Me! (3:49)
Ella Fitzgerald - Fascinating Rhythm (3:25)
Ella Fitzgerald - Funny Face (3:24)
Ella Fitzgerald - Lorelei (3:22)
Ella Fitzgerald - Oh, So Nice (3:41)
Ella Fitzgerald - Let's Kiss and Make Up (3:52)
Ella Fitzgerald - I Got Rhythm (3:07)
Ella Fitzgerald - Somebody Loves Me (2:37)
Ella Fitzgerald - Treat Me Rough (2:56)
Ella Fitzgerald - Cheerful Little Earful (2:08)
Ella Fitzgerald - Our Love Is Here to Stay (3:54)
Ella Fitzgerald - Slap That Bass (3:22)
Ella Fitzgerald - Isn't It a Pity (3:26)
Ella Fitzgerald - Shall We Dance (3:09)
Ella Fitzgerald - Love Walked In (3:53)
Ella Fitzgerald - You've Got What Gets Me (2:15)
Ella Fitzgerald - They Can't Take That Away from Me (3:09)
Ray Charles - Let The Good Times Roll <S. Theard, F. Moore> (2:51)
Ray Charles - Don't Let The Sun Catch You Cryin' <J. Greene> (3:44)
Ray Charles - Am I Blue <G. Clarke, H. Akst> (3:36)
Ray Charles - Come Rain or Come Shine <J. Mercer, H. Arlen> (3:39)
Ray Charles - It Had to Be You <G. Kahn, I. Jones> (2:42)
Ray Charles - Alexander's Ragtime Band <I. Berlin> (2:51)
Ray Charles - Two Years of Torture <P. Mayheld, C. J. Morris> (3:24)
Ray Charles - When Your Lover Has Gone <E. A. Swan> (2:49)
Ray Charles - Deed I Do <W. Hirsch, F. Rose> (2:25)
Ray Charles - Just for A Thrill <L. Armstrong, D. Raye> (3:24)
Ray Charles - You Won't Let Me Go <B. Allen, B. Johnson> (3:19)
Ray Charles - Tell Me You'll Wait for Me <C. Brown, O. Moore> (3:23)
Miles Davis - So What (9:10)
Miles Davis - Freddie Freeloader (9:47)
Miles Davis - Blue In Green (5:37)
Miles Davis - All Blues (11:37)
Miles Davis - Flamenco Sketches (9:22)
Marty Robbins - Big Iron (3:58)
Marty Robbins - El Paso (4:21)
Marty Robbins - In The Valley (1:51)
Marty Robbins - The Little Green Valley (2:30)
Marty Robbins - The Hanging Tree (2:53)
Marty Robbins - Saddle Tramp (2:06)
Marty Robbins - El Paso (Full-Length Version) (4:38)
Marty Robbins - A Hundred And Sixty Acres (1:42)
Marty Robbins - They're Hanging Me Tonight (3:06)
Marty Robbins - Cool Water (3:11)
Marty Robbins - Billy The Kid (2:21)
Marty Robbins - Utah Carol (3:15)
Marty Robbins - The Strawberry Roan (3:25)
Marty Robbins - The Master's Call (3:07)
Marty Robbins - Running Gun (2:12)
The Dave Brubeck Quartet - Blue Rondo a' la Turk (6:46)
The Dave Brubeck Quartet - Strange Meadow Lark (7:24)
The Dave Brubeck Quartet - Take Five (5:26)
The Dave Brubeck Quartet - Three to Get Ready (5:25)
The Dave Brubeck Quartet - Kathy's Waltz (4:50)
The Dave Brubeck Quartet - Everybody's Jumpin' (4:24)
The Dave Brubeck Quartet - Pick Up Sticks (4:16)
Joan Baez - Silver Dagger (2:32)
Joan Baez - Little Moses (3:31)
Joan Baez - Mary Hamilton (5:57)
Joan Baez - Henry Martin (4:15)
Joan Baez - El Preso Numero Nueve (2:50)
Joan Baez - Girl Of Constant Sorrow (Previously Unreleased) (1:45)
Joan Baez - I Know You Rider (Previously Unreleased) (3:46)
Joan Baez - John Riley (Previously Unreleased Verse) (4:22)
Joan Baez - East Virginia (3:43)
Joan Baez - Fare Thee Well (3:21)
Joan Baez - House Of The Rising Sun (2:56)
Joan Baez - All My Trials (4:40)
Joan Baez - Wildwood Flower (2:37)
Joan Baez - Donna Donna (3:12)
Joan Baez - John Riley (3:53)
Joan Baez - Rake And Rambling Boy (1:59)
Elvis Presley - Make Me Know It (2:04)
Elvis Presley - Fever (3:35)
Elvis Presley - The Girl Of My Best Friend (2:26)
Elvis Presley - I WIll Be Home Again (2:38)
Elvis Presley - Dirty, Dirty Feeling (1:36)
Elvis Presley - The Thrill Of Your Love (3:05)
Elvis Presley - Soldier Boy (3:10)
Elvis Presley - Such a Night (3:55)
Elvis Presley - It Feels So Right (2:14)
Elvis Presley - Girl Next Door Went A'Walking (2:17)
Elvis Presley - Like a Baby (2:43)
Elvis Presley - Reconsider Baby (3:42)
Miriam Makeba - The Retreat Song (2:36)
Miriam Makeba - Suliram (2:46)
Miriam Makeba - The Click Song (2:33)
Miriam Makeba - Umhome (1:20)
Miriam Makeba - Olilili (2:35)
Miriam Makeba - Lakutshn, Ilanga (2:10)
Miriam Makeba - Mbube (3:21)
Miriam Makeba - The Naughty Little Flea (3:49)
Miriam Makeba - Where Does It Lead? (2:32)
Miriam Makeba - Nomeva (2:40)
Miriam Makeba - House of the Rising Sun (1:59)
Miriam Makeba - Saduva (2:30)
Miriam Makeba - One More Dance (2:43)
Miriam Makeba - Iya Guduza (2:14)
Everly Brothers - Made To Love (2:05)
Everly Brothers - That's Just Too Much (2:41)
Everly Brothers - Stick With Me Baby (1:57)
Everly Brothers - Baby What You Want Me To Do (2:20)
Everly Brothers - Sigh, Cry, Almost Die (2:18)
Everly Brothers - Always It's You (2:30)
Everly Brothers - Love Hurts (2:23)
Everly Brothers - Lucille (2:32)
Everly Brothers - So How Come (No One Loves Me) (2:18)
Everly Brothers - Donna, Donna (2:15)
Everly Brothers - A Change Of Heart (2:07)
Jimmy Smith - Back at the Chicken Shack (8:03)
Jimmy Smith - When I Grow Too Old to Dream (9:54)
Jimmy Smith - Minor Chant (7:34)
Jimmy Smith - Messy Bessie (12:29)
Jimmy Smith - On the Sunny Side of the Street (5:47)
Muddy Waters - I Got My Brand On You (4:50)
Muddy Waters - (I'm Your) Hoochie Coochie Man (2:57)
Muddy Waters - Baby, Please Don't Go (3:04)
Muddy Waters - Soon Forgotten (4:17)
Muddy Waters - Tiger In Your Tank (4:32)
Muddy Waters - I Feel So Good (3:01)
Muddy Waters - I've Got My Mojo Working (4:27)
Muddy Waters - I've Got My Mojo Working, Part 2 (2:55)
Muddy Waters - Goodbye Newport Blues (4:53)
Muddy Waters - I Got My Brand On You (mono) (2:22)
Muddy Waters - Soon Forgotten (mono) (2:41)
Muddy Waters - Tiger In Your Tank (mono) (2:17)
Muddy Waters - Meanest Woman (mono) (2:18)
Bill Evans - Gloria's Step (take 2) (6:13)
Bill Evans - Jade Visions (take 1) (5:13)
Bill Evans - My Man's Gone Now (6:26)
Bill Evans - Solar (8:57)
Bill Evans - Alice in Wonderland (take 2) (8:37)
Bill Evans - All of You (take 2) (8:21)
Bill Evans - Jade Visions (take2) (3:46)
Bill Evans - Gloria's Step (take 3) (6:57)
Bill Evans - Alice in Wonderland (take 1) (7:05)
Bill Evans - All of You (take 3) (8:06)
Ray Charles - Bye Bye, Love (2:12)
Ray Charles - You Don't Know Me (3:16)
Ray Charles - Half As Much (3:28)
Ray Charles - I Love You So Much It Hurts (3:35)
Ray Charles - Just a Little Lovin' (3:29)
Ray Charles - Born to Lose (3:18)
Ray Charles - Worried Mind (2:57)
Ray Charles - It Makes No Difference Now (3:36)
Ray Charles - You Win Again (3:31)
Ray Charles - Careless Love (4:01)
Ray Charles - I Can't Stop Loving You (4:14)
Ray Charles - Hey, Good Lookin' (2:14)
Ray Charles - You Are My Sunshine (3:01)
Ray Charles - Here We Go Again (3:18)
Ray Charles - That Lucky Old Sun (4:21)
Booker T. & The M.G.'s - Green Onions (2:55)
Booker T. & The M.G.'s - Cant Sit Down (2:50)
Booker T. & The M.G.'s - A Woman A Lover A Friend (2:33)
Booker T. & The M.G.'s - Comin Home Baby (3:15)
Booker T. & The M.G.'s - Green Onions Live From 54 B (3:46)
Booker T. & The M.G.'s - Cant Sit Down Live From 54 (4:57)
Booker T. & The M.G.'s - RinkyDink (2:40)
Booker T. & The M.G.'s - I Got A Woman (3:33)
Booker T. & The M.G.'s - Mo Onions (2:54)
Booker T. & The M.G.'s - Twist And Shout (2:12)
Booker T. & The M.G.'s - Behave Yourself (3:57)
Booker T. & The M.G.'s - Stranger On The Shore (2:21)
Booker T. & The M.G.'s - Lonely Avenue (3:27)
Booker T. & The M.G.'s - One Who Really Loves You (2:24)
Stan Getz - Desafinado (5:51)
Stan Getz - Samba Dees Days (3:35)
Stan Getz - O Pato (2:31)
Stan Getz - Samba Triste (4:47)
Stan Getz - Samba de Uma Nota Sу (6:12)
Stan Getz - E Luxo Sу (3:42)
Stan Getz - Bahia [aka 'Baia'] (6:41)
Stan Getz - Desafinado [45 rpm issue] (2:02)
Ray Price - Introduction and Theme / Night LIfe (6:48)
Ray Price - Lonely Street (3:01)
Ray Price - The Wild Side Of Life (2:59)
Ray Price - Sittin' And Thinkin' (2:47)
Ray Price - The twenty fourth hour (2:53)
Ray Price - A Girl In The Night (2:49)
Ray Price - Pride (2:39)
Ray Price - There's No Fool Like A Young Fool (2:58)
Ray Price - If She Could See Me Now (2:42)
Ray Price - Bright Lights And Blonde Haired Women (2:26)
Ray Price - Are You Sure (2:23)
Ray Price - Let Me Talk To You (3:05)
The Beatles - It Won't Be Long (2:13)
The Beatles - You Really Got A Hold On Me (3:01)
The Beatles - I Wanna Be Your Man (1:59)
The Beatles - Devil In Her Heart (2:26)
The Beatles - Not A Second Time (2:06)
The Beatles - Money (That's What I Want) (2:49)
The Beatles - All I've Got To Do (2:02)
The Beatles - All My Loving (2:07)
The Beatles - Don't Bother Me (2:28)
The Beatles - Little Child (1:46)
The Beatles - Till There Was You (2:13)
The Beatles - Please Mister Postman (2:34)
The Beatles - Roll Over Beethoven (2:45)
The Beatles - Hold Me Tight (2:31)
Bob Dylan - Blowin' In The Wind (2:49)
Bob Dylan - Talkin' World War III Blues (6:27)
Bob Dylan - Corrina, Corrina (2:44)
Bob Dylan - Honey, Just Allow Me One More Chance (2:01)
Bob Dylan - I Shall Be Free (4:50)
Bob Dylan - Girl From The North Country (3:23)
Bob Dylan - Masters Of War (4:38)
Bob Dylan - Down The Highway (3:32)
Bob Dylan - Bob Dylan's Blues (2:28)
Bob Dylan - A Hard Rain's A-Gonna Fall (6:56)
Bob Dylan - Don't Think Twice, It's All Right (3:40)
Bob Dylan - Bob Dylan's Dream (5:02)
Bob Dylan - Oxford Town (1:50)
Love, Darlene - White Christmas (2:56)
Ronettes, The - Frosty the Snowman (2:17)
Bob B. Soxx & the Blue Jeans - Bells of St. Mary (2:51)
Crystals, The - Santa Claus Is Coming to Town (3:27)
Ronettes, The - Sleigh Ride (3:04)
Love, Darlene - Marshmallow World (2:28)
Ronettes, The - I Saw Mommy Kissing Santa Claus (2:42)
Crystals, The - Rudolph the Red Nosed Reindeer (2:33)
Love, Darlene - Winter Wonderland (2:27)
Crystals, The - Parade of the Wooden Soldiers (2:57)
Love, Darlene - Christmas (Baby Please Come Home) (2:46)
Bob B. Soxx & the Blue Jeans - Here Comes Santa Claus (2:08)
Spector, Phil - Silent Night (2:10)
Sam Cooke - Feel It (3:46)
Sam Cooke - Chain Gang (3:11)
Sam Cooke - Cupid (2:47)
Sam Cooke - Medley: It's All Right / For Sentimental Reasons (5:08)
Sam Cooke - Twisting the Night Away (4:20)
Sam Cooke - Somebody Have Mercy (4:44)
Sam Cooke - Bring It On Home to Me (5:37)
Sam Cooke - Nothing Can Change This Love (3:45)
Sam Cooke - Having a Party (4:09)
Charles Mingus - Track A - Solo Dancer (6:39)
Charles Mingus - Track B - Duet Solo Dancers (6:46)
Charles Mingus - Track C - Group Dancers (7:23)
Charles Mingus - Mode D - Trio and Group Dancers + Mode E - Single Solos and Group Dance + Mod… (18:38)
James Brown - Introduction to James Brown (1:48)
James Brown - Ill Go Crazy (2:05)
James Brown - Try Me (2:26)
James Brown - Think (1:57)
James Brown - I Dont Mind (2:39)
James Brown - Lost Someone (10:43)
James Brown - Medley (6:26)
James Brown - Night Train (3:28)
James Brown - Think (2:00)
James Brown - Medley I Found Someone/Why Do You Do Me I Want You So Bad (2:10)
James Brown - Lost Someone (2:42)
James Brown - Ill Go Crazy (2:17)
Getz - The Girl From Ipanema (5:24)
Getz - Corcovado (Quiet Nights of Quiet Stars) - 45 rpm Issue (2:20)
Getz - Doralice (2:46)
Getz - Para Machuchar Meu Coracao (5:05)
Getz - Desafinado (Off Key) (4:15)
Getz - Corcovado (Quiet Nights of Quiet Stars) (4:16)
Getz - So Danco Samba (3:45)
Getz - O Grande Amor (5:27)
Getz - Vivo Sonhando (Dreamer) (3:04)
Getz - The Girl From Ipanema - 45 rpm Issue (2:54)
The Beatles - A Hard Day's Night (2:33)
The Beatles - And I Love Her (2:30)
The Beatles - Any Time At All (2:13)
The Beatles - Can't Buy Me Love (2:11)
The Beatles - I Should Have Known Better (2:44)
The Beatles - I'll Be Back (2:22)
The Beatles - I'll Cry Instead (1:48)
The Beatles - I'm Happy Just To Dance With You (1:57)
The Beatles - If I Fell (2:20)
The Beatles - Tell Me Why (2:09)
The Beatles - Things We Said Today (2:37)
The Beatles - When I Get Home (2:19)
The Beatles - You Can't Do That (2:37)
Jacques Brel - Amsterdam (3:20)
Jacques Brel - Les timides (3:41)
Jacques Brel - Le dernier repas (3:34)
Jacques Brel - Les jardins du casino (3:30)
Jacques Brel - Les vieux (4:10)
Jacques Brel - Les toros (2:38)
Solomon Burke - Goodbye Baby (Baby Goodbye) (3:22)
Solomon Burke - Cry to Me (2:31)
Solomon Burke - Won't You Give Him (One More Chance) (2:33)
Solomon Burke - If You Need Me (2:34)
Solomon Burke - Hard Ain't It Hard (2:49)
Solomon Burke - Can't Nobody Love You (2:33)
Solomon Burke - Just Out of Reach (2:50)
Solomon Burke - You're Good for Me (2:51)
Solomon Burke - You Can't Love'em All (2:46)
Solomon Burke - Someone to Love Me (3:04)
Solomon Burke - Beautiful Brown Eyes (3:47)
Solomon Burke - He'll Have to Go (3:19)
Dusty Springfield - Mama Said (2:14)
Dusty Springfield - Will You Love Me Tomorrow (2:40)
Dusty Springfield - Wishin' And Hopin' (2:56)
Dusty Springfield - Don't You Know (2:53)
Dusty Springfield - I Only Want To Be With You (alternate mix) (2:42)
Dusty Springfield - He's Got Something (2:50)
Dusty Springfield - Every Day I Have To Cry (2:30)
Dusty Springfield - Can I Get A Witness (2:46)
Dusty Springfield - All Cried Out (3:05)
Dusty Springfield - I Wish I'd Never Loved You (3:40)
Dusty Springfield - Once upon A Time (1:57)
Dusty Springfield - You Don't Own Me (2:30)
Dusty Springfield - Summer Is Over (3:44)
Dusty Springfield - Do Re Mi (2:23)
Dusty Springfield - When The Lovelight Starts Shining thru His Eyes (3:07)
Dusty Springfield - My Colouring Book (3:03)
Dusty Springfield - Mockingbird (2:34)
Dusty Springfield - Twenty-Four Hours From Tulsa (3:07)
Dusty Springfield - Nothing (2:29)
Dusty Springfield - Anyone Who Had A Heart (3:11)
The Rolling Stones - Route 66 (2:22)
The Rolling Stones - Can I Get A Witness (2:58)
The Rolling Stones - You Can Make It If You Try (2:03)
The Rolling Stones - Walking The Dog (3:10)
The Rolling Stones - Not Fade Away (Unreleased Version) (1:48)
The Rolling Stones - And Mr. Spector And Mr. Pitney Came Too (2:48)
The Rolling Stones - Andrew's Blues (Unreleased Version) (3:01)
The Rolling Stones - Poison Ivy (Original Pop Version) (2:35)
The Rolling Stones - Fortune Teller (Unreleased) (2:16)
The Rolling Stones - It Should Be You (Unreleased) (1:21)
The Rolling Stones - Tell Me (Unreleased Version) (2:48)
The Rolling Stones - I Just Wanna Make Love To You (2:19)
The Rolling Stones - Fortune Teller (Take I Unreleased) (2:06)
The Rolling Stones - Honest I Do (2:11)
The Rolling Stones - Mona (3:36)
The Rolling Stones - Now I've Got A Witness (2:31)
The Rolling Stones - Little By Little (2:41)
The Rolling Stones - I'm A King Bee (2:37)
The Rolling Stones - Carol (2:36)
The Rolling Stones - Tell Me (You're Coming Back) (4:08)
Buck Owens - I've Got a Tiger by the Tail (2:13)
Buck Owens - Cryin' Time (2:31)
Buck Owens - A Maiden's Prayer (2:34)
Buck Owens - Memphis (2:28)
Buck Owens - This Ol' Heart (Live Version) (1:14)
Buck Owens - Act Naturally (Live Version) (2:28)
Buck Owens - Trouble and Me (1:55)
Buck Owens - Let the Sad Times Roll On (2:15)
Buck Owens - Wham Bam (2:03)
Buck Owens - If You Fall Out of Love With Me (2:17)
Buck Owens - Fallin' For You (2:03)
Buck Owens - We're Gonna Let the Good Times Roll (2:16)
Buck Owens - The Band Keeps Playin' On (3:03)
Buck Owens - Streets of Laredo (2:57)
Jerry Lee Lewis - Mean Woman Blues (4:01)
Jerry Lee Lewis - Your Cheatin' Heart (2:59)
Jerry Lee Lewis - Hound Dog (2:20)
Jerry Lee Lewis - Long Tall Sally (1:51)
Jerry Lee Lewis - Whole Lotta Shakin' Goin' On (4:29)
Jerry Lee Lewis - Down the Line (2:57)
Jerry Lee Lewis - High School Confidential (2:25)
Jerry Lee Lewis - Money (4:38)
Jerry Lee Lewis - Matchbox (2:47)
Jerry Lee Lewis - What'd I Say, Part 1 (2:19)
Jerry Lee Lewis - What'd I Say, Part 2 (3:05)
Jerry Lee Lewis - Great Balls of Fire (1:54)
Jerry Lee Lewis - Good Golly Miss Molly (2:20)
Jerry Lee Lewis - Lewis Boogie (2:04)
The Sonics - The Witch (2:40)
The Sonics - Do You Love Me (2:18)
The Sonics - Roll Over Beethoven (2:49)
The Sonics - Boss Hoss (2:24)
The Sonics - Dirty Robber (2:02)
The Sonics - Have Love Will Travel (2:40)
The Sonics - Psycho (2:17)
The Sonics - Money (2:00)
The Sonics - Walkin' The Dog (2:45)
The Sonics - Night Time Is The Right Time (2:58)
The Sonics - Strychnine (2:13)
The Sonics - Good Golly Miss Molly (2:08)
The Sonics - Keep A Knockin' (1:55)
The Sonics - Don't Believe In Christmas (1:46)
The Sonics - Santa Claus (2:52)
The Sonics - The Village Idiot (2:38)
Bob Dylan - Subterranean Homesick Blues (2:20)
Bob Dylan - She Belongs To Me (2:52)
Bob Dylan - Maggie's Farm (3:55)
Bob Dylan - Love Minus Zero - No Limit (2:51)
Bob Dylan - Outlaw Blues (3:01)
Bob Dylan - On The Road Again (2:35)
Bob Dylan - Bob Dylan's 115th Dream (6:30)
Bob Dylan - Mr. Tambourine Man (5:34)
Bob Dylan - Gates Of Eden (5:45)
Bob Dylan - It's Alright, Ma (I'm Only Bleeding) (7:34)
Bob Dylan - It's All Over Now, Baby Blue (4:15)
All 50 auCDtect files included…